Our 2011 trip to Vancouver a wonderful vacation that you will want to experience.
Jason and I had been planning our Seattle & Vancouver trip for over 6 months before we actually went on it. Part of the reason was because we had free airfare thanks to our miles on our United credit card and we had to book far out since there were blackout dates and more restrictions with free tickets. When July finally came around, we were surprised we had even remembered trip!
The flight took about 5 hours and 15 minutes. Wasn't too bad. As we approached Seattle, you could see Mt. Rainier poking through the clouds. I could not believe how big it was! My friend, Pam, who is from Seattle, told me we'd see it and that it was a big mountain, but I couldn't fathom how big it really was.
When we got to Seattle-Tacoma International airport, we went to the car rental counter and got our reserved rental car from Thrifty. Here's a hint: as soon as you know when you're going on vacation, book your rental car. I was able to save $60/day because of this. When I booked, it was $20.83 a day and I checked a day before heading out on vacation and the price had shot up to $80/day! Ridiculous! It really adds up too because of the insurance on the car and the other random taxes and surcharges. Our final total ended up being $301 — that was the $20/day rate. Can you imagine the total cost at the $80/day rate??
Anyway, after we got our rental, we headed straight up to Vancouver, British Columbia. Oh yeah, another money saving tip: if you have a portable GPS system, bring that with you on your trip so you can use it in your rental car without having to rent one of theirs. I brought along my Garmin and it worked like a charm!
The drive to Vancouver wasn't bad. It was a little over 3 hours. There was nice scenery all the way there since you're driving towards the mountains. It was really green too once you got closer to Vancouver. You obviously have to cross the border and do the immigration customs and stuff but other than that, it was a pretty quick drive. I think the longest thing was customs and then when we got to this tunnel, it merged into one lane so we were stopped for a while. Oh, note this: in Vancouver, they "turn on and off" their lanes based on rush hour. They have red X's and green arrows to dictate lane usage. It's pretty smart.
We booked our Vancouver hotel through Hotwire and got really lucky. We got the Sheraton Wall Centre hotel. It was in a prime location downtown and we were able to walk to everything!
After we checked in and laid around in our room, we decided to take a walk downtown to get to know the area. Oh, and if you exchange your USDs for Canadian $$ at the hotel desk, you don't have to pay the extra fee that currency exchange places charge you.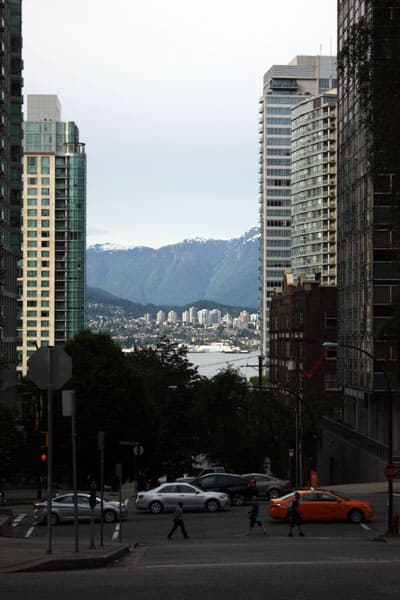 Vancouver is a truly beautiful, beautiful city. When we were there, the weather was only about 60-65 degrees each day and there was barely any humidity. However, if you ask the locals, they'll think that the weather is "warm" and the humidity is "high." Haha, such a different reaction. The above picture gives a glimpse of the view that you get just from walking around downtown streets.
Vancouver has a lot of Asian influence, most prominent is the Japanese influence. There were so many fresh sushi places and many Asian stores around. The city made me feel like I was back in Taiwan.
Jason and I Yelp'd a Japanese tapas (haha yes, Japanese tapas) place called Guu.
It was a short walk from our hotel and it had great reviews. We went right when they opened for dinner and we're lucky we did because that place gets packed, and they tend to sell out of certain dishes. Their menu is different every day, or at least the special menu is. They have a generic menu but the special menu is where it's at!
Now I'm going to make you hungry by doing a photobomb of our dinner :)
Hip & trendy place, we sat at the bar in front of where they made the sushi and other food.
Cute custom chopsticks sleeve
The dish on the left was off their special menu. It was crispy noodles with king dungeness crab. They didn't skimp on the meat either! The dish to the right was tuna sashimi and the dish at the very top was deep fried tofu in a savory broth.
This was the Yaki Udon.
This was a dish called the Gin Dara. It's miso marinated black cod with miso mayo. It's to die for. The fish melted like butter in your mouth. So good!
After dinner, Jason and I went and walked around the infamous shopping district, Robson Street. It's a nice little area with stores that are unique to Canada but then you have the typical Gap, Aldo, etc. Like I mentioned before, the Asian influence definitely shows on Robson Street. They have a lot of bubble tea stores and one in particular that Jason and I went into, Bubble World, had Taiwanese people working there. I immediately knew this was going to be good. I was right. They made it just like they did in Taiwan and it was even as large as they made them in Taiwan (meaning the size of the drink — 1 size and lots of bubbles!). I even spoke to them in Chinese so that was fun.
The next day, Jason and I woke up really early, partly due to jet lag but more importantly, we wanted to cram a lot in our only full day in Vancouver. We grabbed a quick bite to eat from Starbucks (and coffee, of course) then we got in our rental car and drove out of the city towards the Sea to Sky highway. This drive is extremely scenic and there are many stops along the way into parks and little towns. This is the number 1 thing to do. It really shows the beauty of Vancouver.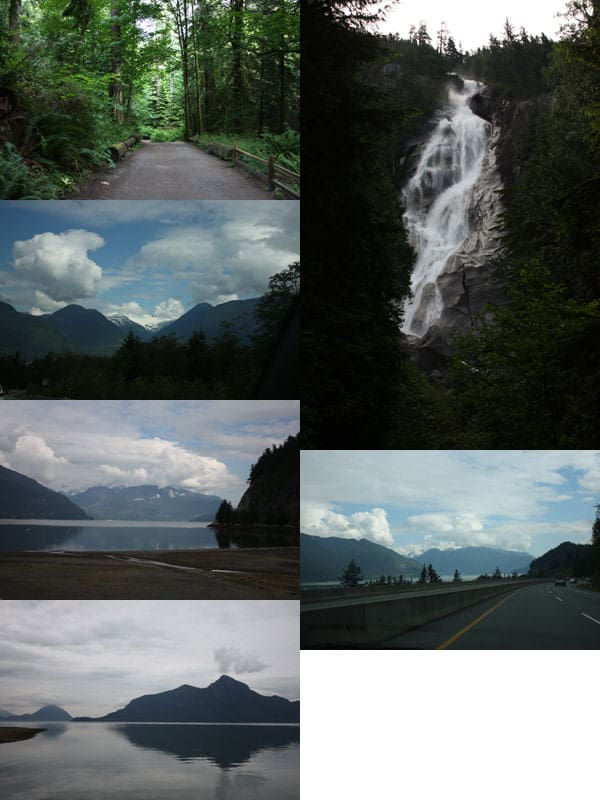 As you can see from the pictures above, it is very picturesque and romantic. The waterfall is a 3000 ft. waterfall hidden in a park called Shannon Falls. You must definitely stop here, it is breathtaking. Also, we accidentally took Marine Drive instead of Route 99 (it all becomes one after Marine Drive ends) and we were able to go to another park called Lighthouse Park. It's an incredibly huge forest park area and that's where that first picture was taken. Very lush and green. We didn't drive all the way up to Whistler. We drove until the town of Squamish and then turned around. Pretty much after Squamish, you start going up to the sky (mountains) and up to Whistler.
The drive took a total about 4 hours, with our stop-offs and picture moments. It's a fairly easy drive on a nice day. We got back to our hotel a little after 1pm or 2pm and we got lunch at a food truck called Japadog. They're hot dogs but Japanese style. Crazy toppings and completely different from any hot dog stand. They were SO freaking delicious and they toast your buns too!! You have to give this a try. There are knock-off stands too. Don't be fooled, Japadog is the original and the best! We went to the one on Burrard and Smithe Street. The menus are different at every location.
This was the Terimayo. It has teriyaki sauce, seaweed, japanese mayo on a beef hotdog.
This was the Oroshi. It's grated radish and soy sauce on a pork bratwurst.
After our midday snack, we ventured off to the Gastown district and Chinatown. Um, let's just say Gastown is not what you expect. It's trendy but it's also kind of scary. We only went there to see the Steam Clock, which is some tourist attraction but it was really a waste of time because it was anything short of exciting. Chinatown: doesn't exist. According to our map, we were in Chinatown, but we were in a druggie neighborhood. It was really scary and we probably could've gotten mugged or something. There was a guy that was drugged up out of his mind in the middle of the street saying "hot dogs for sale…" and there was nothing around him that would even indicate a hot dog stand. Yeah, we bolted out of there and went back to our hotel to relax and research something for dinner. Moral of this story: Gastown is cool to go to if you have time. Avoid Chinatown.
For dinner, we went to Kadoya Japanese Restaurant off Davie Street. We wanted to get our sushi fix in because this area is probably where you can get the freshest wild salmon and sashimi.
Fresh wild salmon and toro sashimi
One was off the special menu and the other one was on the regular menu. I forgot the names of them lol
This was off the special menu too. Again, forgot what it was called.
In summary, Vancouver is awesome. We would totally come back again to do some of the stuff we missed. If you have time, go to Stanley Park on your way up to the Sea to Sky highway. That was one of the places we missed and it's really pretty since it's right along the water/coast and you look into the city. The food here is phenomenal, as you can tell from the pictures. The people here are really nice too. Renting a car was definitely a smart move on our part since obviously if you wanted to do the Sea to Sky highway, you need one. As far as downtown though, everything is walking distance. I hope this has helped you plan out part of your trip to Vancouver if you decide to go. Feel free to email me or leave a comment here if you have questions! :)
Stay tuned for the Seattle post!