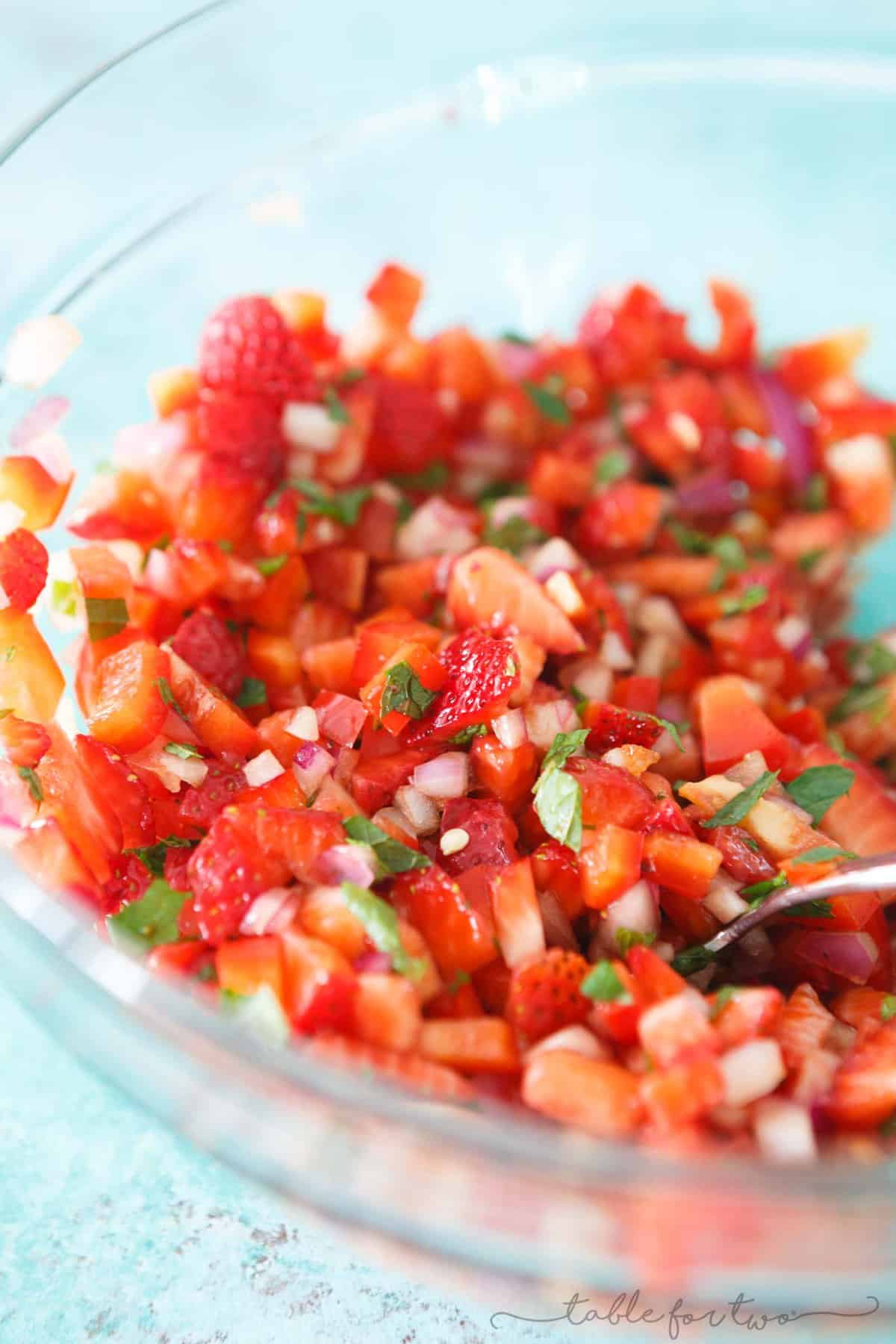 Happy happy Monday! Typically, our weekends are a little anti-climatic. We're usually running around doing errands and/or hanging out with friends but this weekend we didn't have any plans and it was surprisingly really nice. Since we didn't have any plans and the weather was nice (meaning, the humidity was bearable and low), we decided to go for an evening walk at a town center near our house.
On our drive there, we spotted a husky wandering around on the sidewalk of a busy street. We thought maybe the owner was just letting it walk off-leash or something but we didn't see anyone around. The dog looked a bit distressed and lost so I made Jason turn the car around.
I literally would not have been able to forgive myself if we left and later found it got hit by a car and/or I probably wouldn't have been able to sleep that night because I'd be up thinking about what happened to the dog.
Long story short, we were able to get the sweet girl to come to us and since we had Winston in the car with us (he was freaking his shit, lol), we had a leash so we were able to leash the dog to get her to not run around (she had her harness on her). Thankfully she had her tags and we called the number on the tag and were able to safely walk her home. ❤️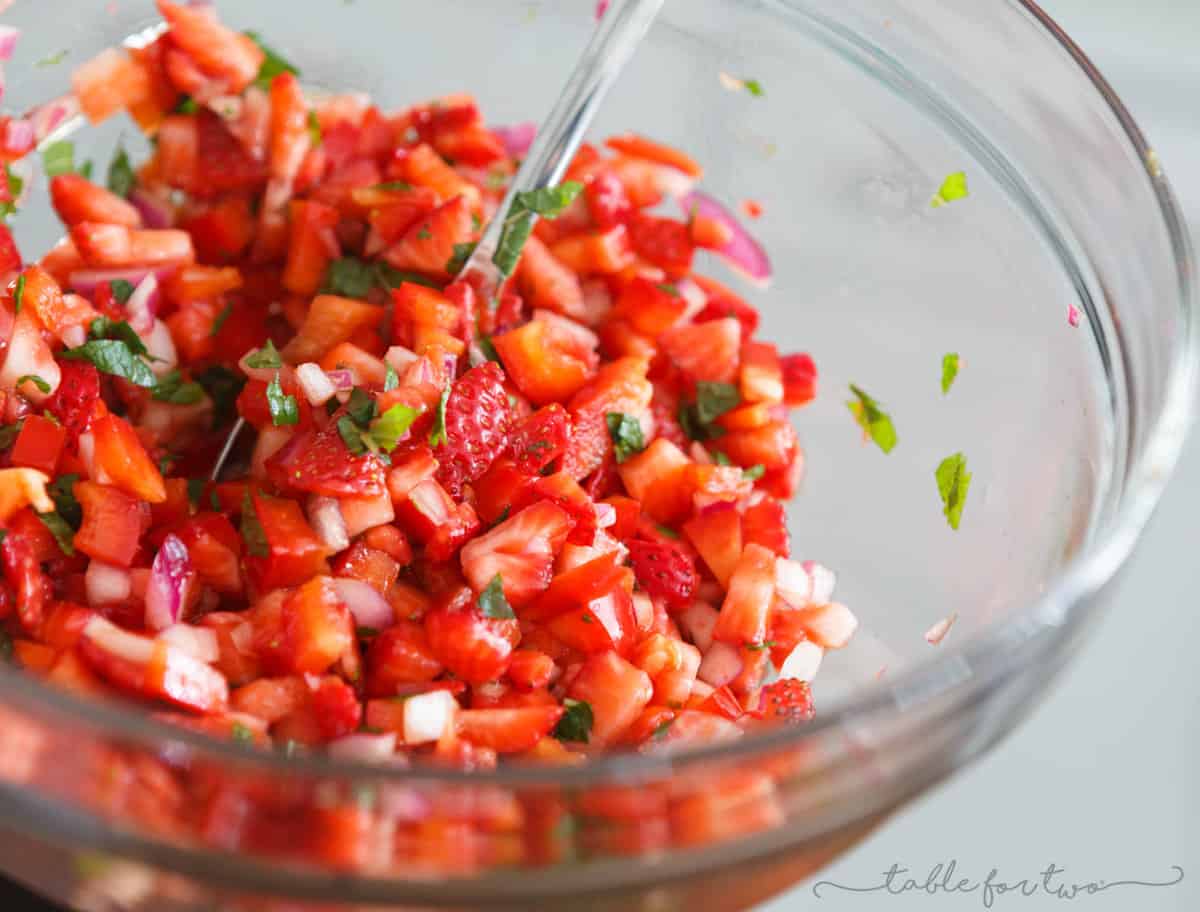 When we first moved into our house, I really wanted an herb garden. However, I don't really have a green thumb so I wanted to start small — with plants that I know would thrive and ones that are forgiving. I bought a few mint pots and planted them. They are thriving and I have so much fresh mint that I'm constantly trying to figure out what to make with them!
Since strawberries are in season and my mint garden is overabundant, I decided to make a quick strawberry mint salsa!
It's super refreshing and different than your typical salsa. It's basically a fruit salsa and I find it wonderful to have during the summer months. Pita chips, tortilla chips, any vessel to get these into your mouth is applicable here!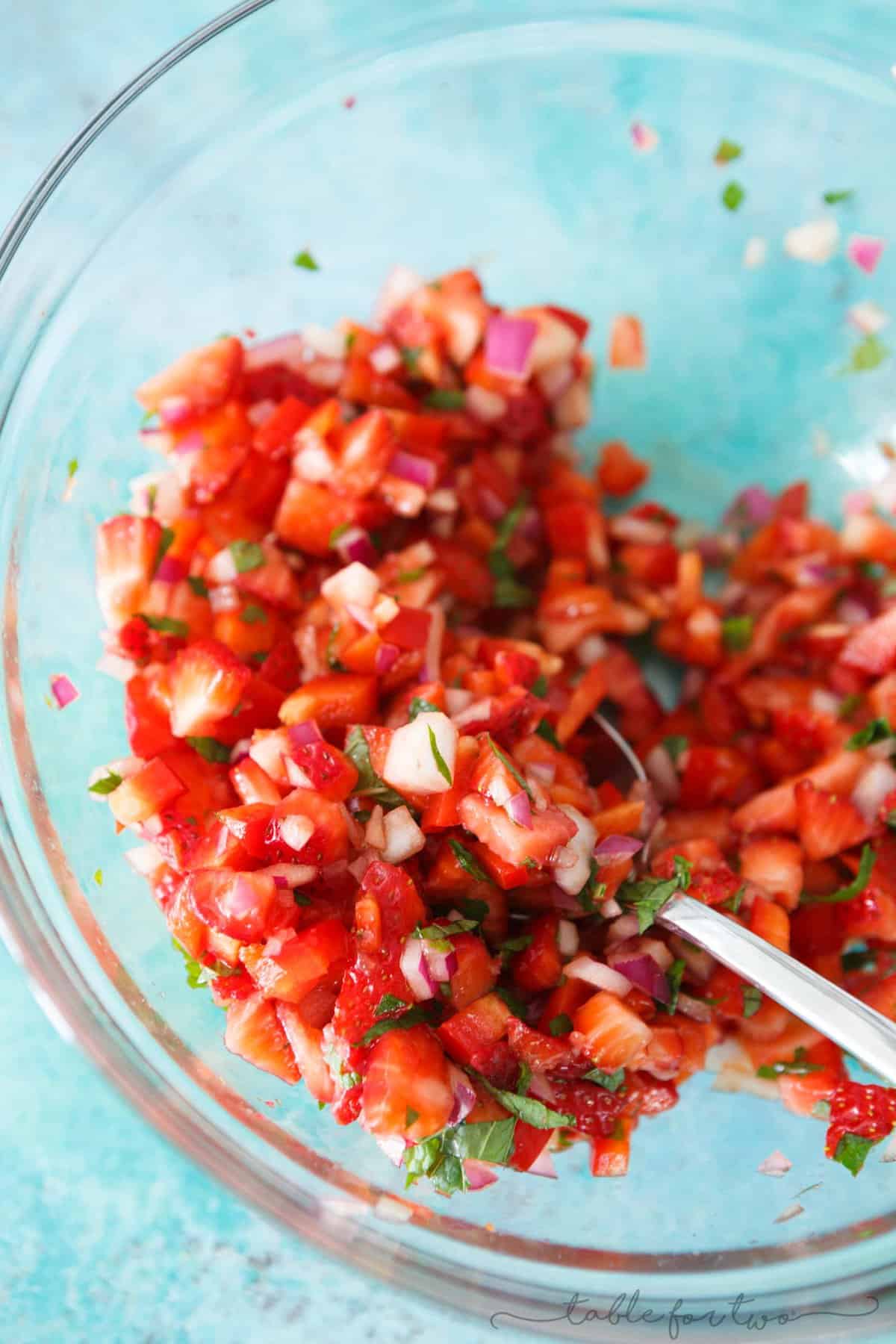 Be sure to check out the fun video below!
Strawberry Mint Salsa
A refreshing summer salsa that uses strawberries and mint because we know the abundance of these ingredients in the summertime!
Servings are adjustable but please note that results, timing, and cookware may vary when adjusting servings.
Ingredients
3

cups

chopped strawberries

1/4

cup

chopped red onions

1

large red bell pepper, chopped

1 1/2

teaspoons

balsamic vinegar

Handful of mint leaves, chopped
Instructions
In a large bowl, add all the ingredients and toss to incorporate. Refrigerate for 1-2 hours if desired to eat chilled.

Serve with pita chips or tortilla chips.