Peanut Butter Granola
Peanut butter granola is so versatile and a great healthy snack alternative. You can put it on top of Greek yogurt or you can eat it for a snack. Either way – this will be gone in no time so be sure to whip up a large batch! I couldn't stop eating it :) It's super easy to make, as well!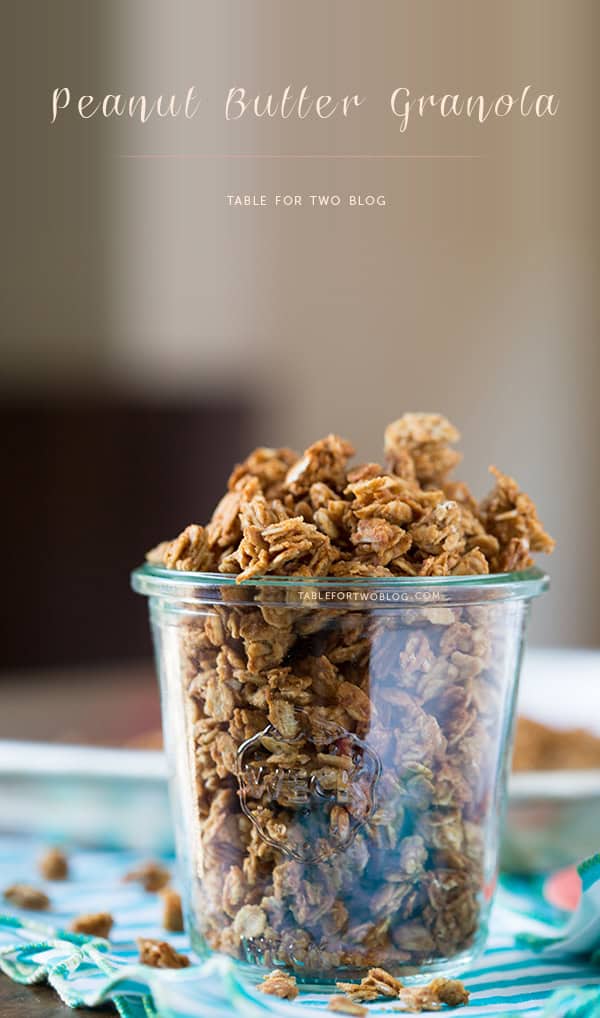 I think I need another two days to recover from what was a whirlwind week last week. I mean, it really could not have been any crazier – which is why I haven't had the time to post anything for a week. My apologies but seriously – life comes first!
Monday was all dandy but then Tuesday was when everything hit the fan. I found out on Tuesday morning that my grandfather, who had been battling pancreatic cancer, passed away, I had my Food Network/ELLE Decor/House Beautiful video shoot at my house, and then to top it all off, a pipe above our laundry room had a leak and soaked the entire ceiling so we had to rip it all down to patch the pipe. We now have to figure out if it's worth it to re-route the pipe (long story about how dumb the builder was) or to just patch it up and pray it doesn't happen again. We also have to find someone to come replace the drywall. On top of all this, I was heading out of town to Nashville on Thursday so I'm pretty overwhelmed, to say the least. I hope this week goes smoother than last week and I hope I have time to just breathe since I feel like all I've been doing is go, go, go.
I can't wait to share with y'all my Nashville trip. I had the BEST TIME and this just totally solidifies my goal of moving down there one day. I ate SO much and spent time with many good friends. It was unforgettable. I have plenty of pictures so this'll be a two-parter. Be on the lookout for it!
Like I mentioned, I ate A LOT this weekend. If you have been following me on Instagram, you'll have seen all the food I consumed. This totally calls for a detox and this peanut butter granola is perfect for that. I can put it atop Greek yogurt and add some fresh fruit for a healthy breakfast or snack. You HAVE to make this. My mother-in-law sent me this recipe & it's seriously so addicting and really easy to whip up. I would double up if I were you – I ate my batch way too fast!
Julie Wampler
Yields 2
Peanut Butter Granola
5 minPrep Time
15 minCook Time
20 minTotal Time
Ingredients
4 tbsp. creamy peanut butter
4 tbsp. honey
1/2 tsp. ground cinnamon
1/2 tsp. vanilla extract
2 cups old-fashioned rolled oats (NOT quick oats)
Instructions
Preheat oven to 325 degrees Fahrenheit. Line a baking sheet with parchment paper or a silicone baking mat.
In a large bowl, combine peanut butter and honey and pop in the microwave for about 30-45 seconds until the peanut butter and honey have all melted. Stir together and then add in the cinnamon and vanilla extract.
Add in the oats and stir until all the oats are coated with the mixture.
Spread in a single layer on the baking sheet and bake for about 15 minutes. It may take more or less time for yours to turn a golden brown. Ovens vary. Mine took about 15 minutes. It will still look soft when you take it out. It's ok - it hardens up :)
Store in mason jars or any airtight container. These would make cute gifts too!
Notes
Feel free to add any favorite dried fruits or nuts to this! It's very easy to customize to your tastes.
http://www.tablefortwoblog.com/peanut-butter-granola/
All photography & content © 2011-2016 Table for Two, LLC & Julie Wampler, unless otherwise noted. All Rights Reserved. Table for Two is a registered mark owned by Julie Wampler.
Posted on June 24, 2013