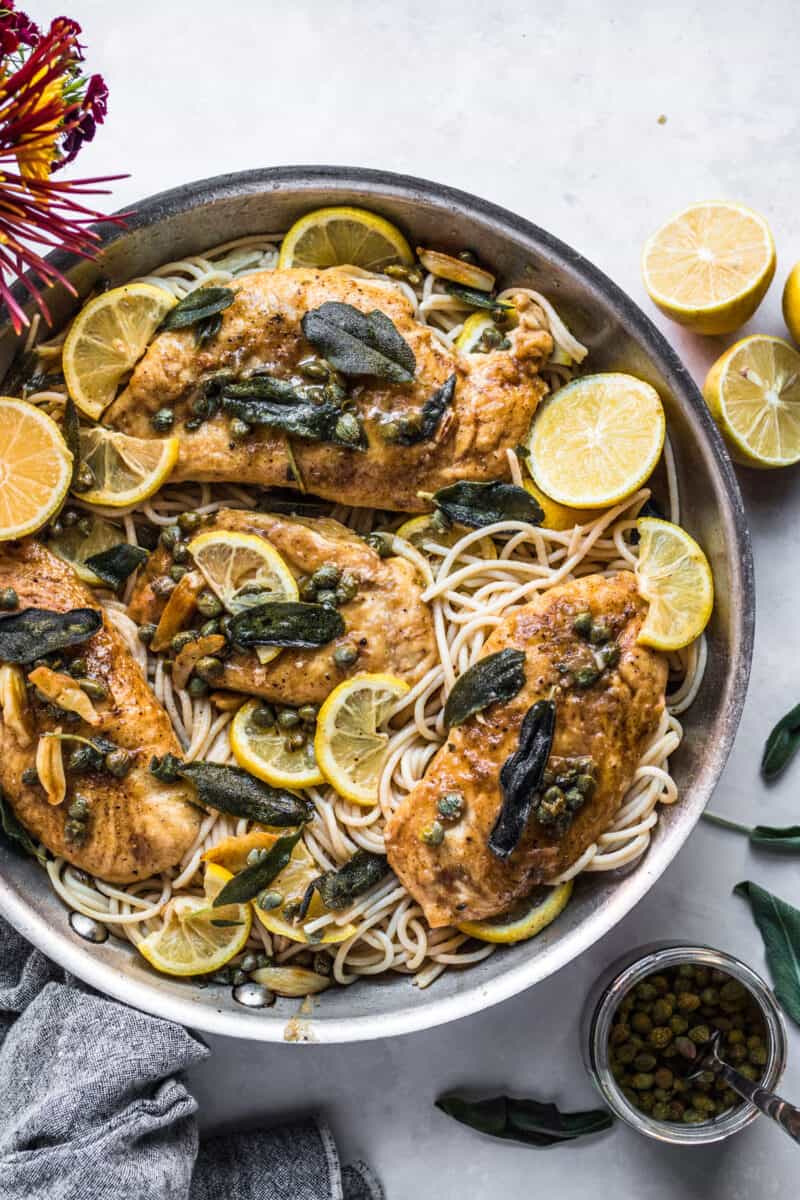 Easy Chicken Piccata recipe
It's a constant cycle of trying to find quick and easy dinners. You can never have too many in your arsenal.
Who would disagree with quick dinners? It keeps everyone hungry from going hangry ;)
I remember when I first had chicken piccata. It was at an Italian restaurant (of course) and I fell in love with the flavors.
I will note that this particular dish is classically made with thin cuts of veal but chicken seems to be easier to source and honestly it's a meat that more people are accustomed to.
A very tasty chicken dish
If you were to ask my what I think makes this easy chicken piccata recipe taste so good, I would have to say that I believe it's the sauce and the crispy sage and garlic. They're definitely the star of the show (aside from the chicken) and I would take no shortcuts with making it.
The lemon gives it a fresh and bright flavor paired with the earthy sage and zing from the garlic.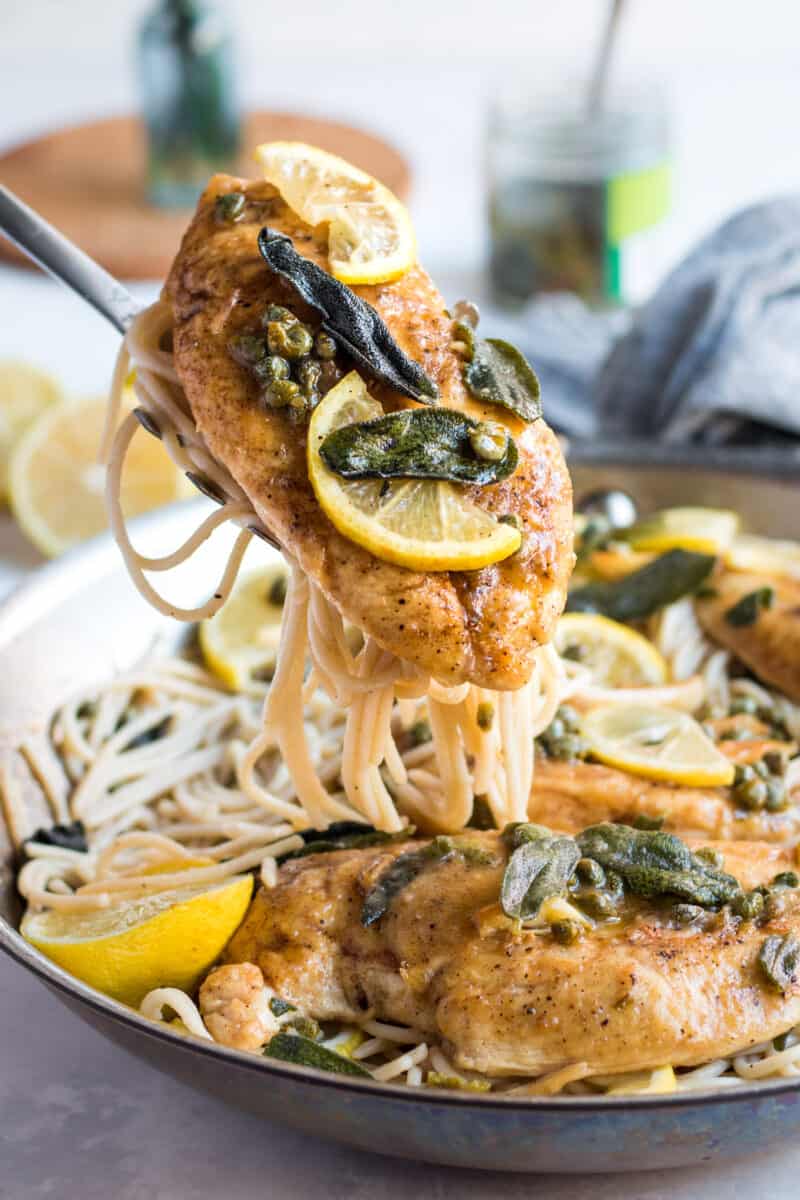 How to ensure sage and garlic don't burn when making them crispy
You'll want to watch it carefully and swirl the pan often. Also, low heat helps even though it is often one of those situations you want to hurry so you turn the heat up. Trust me this is not the time to do so!
As soon as you see the garlic turn brown, you want to take it out otherwise it can go from toasty crispy garlic to burnt bitter garlic! Same with the sage.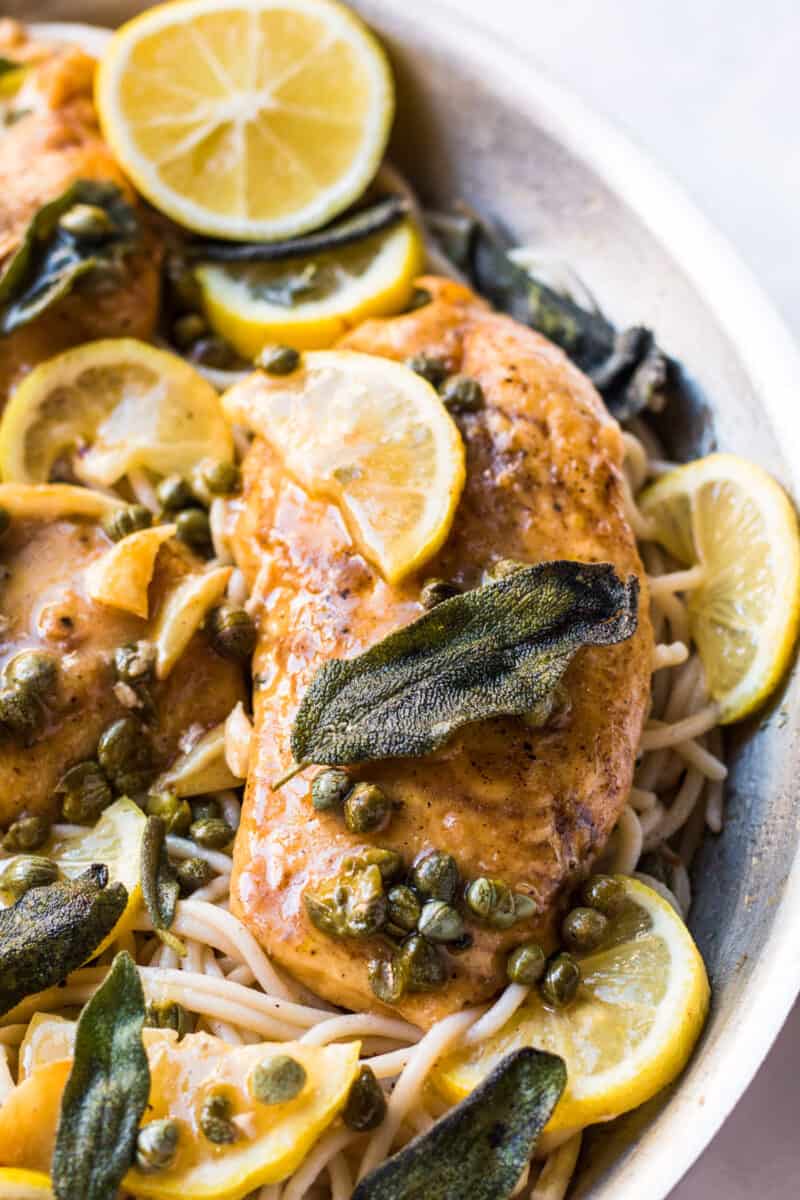 Tips for making this easy chicken piccata recipe
For the chicken, I carefully sliced the chicken in half lengthwise, then pounded them between parchment until they were no more than 1/4″ thick.
Depending on the type of broth you use, you may need to adjust salt to taste at the end of the dish
The amount of broth you use while cooking the chicken may vary a bit based on how thick the chicken, how long it takes to cook, how hot your burner is, etc. I recommend adding 1/3 – 1/2 of the broth and then slowly adding the rest as the chicken comes close to being fully cooked.
If you end up adding too much broth and the sauce looks too thin, you can create a slurry by adding a teaspoon or two of flour to a small bowl and adding a few tablespoons of broth and then adding a small amount of the slurry to the pan. Give everything in the pan a stir or shake to combine until the sauce thickens.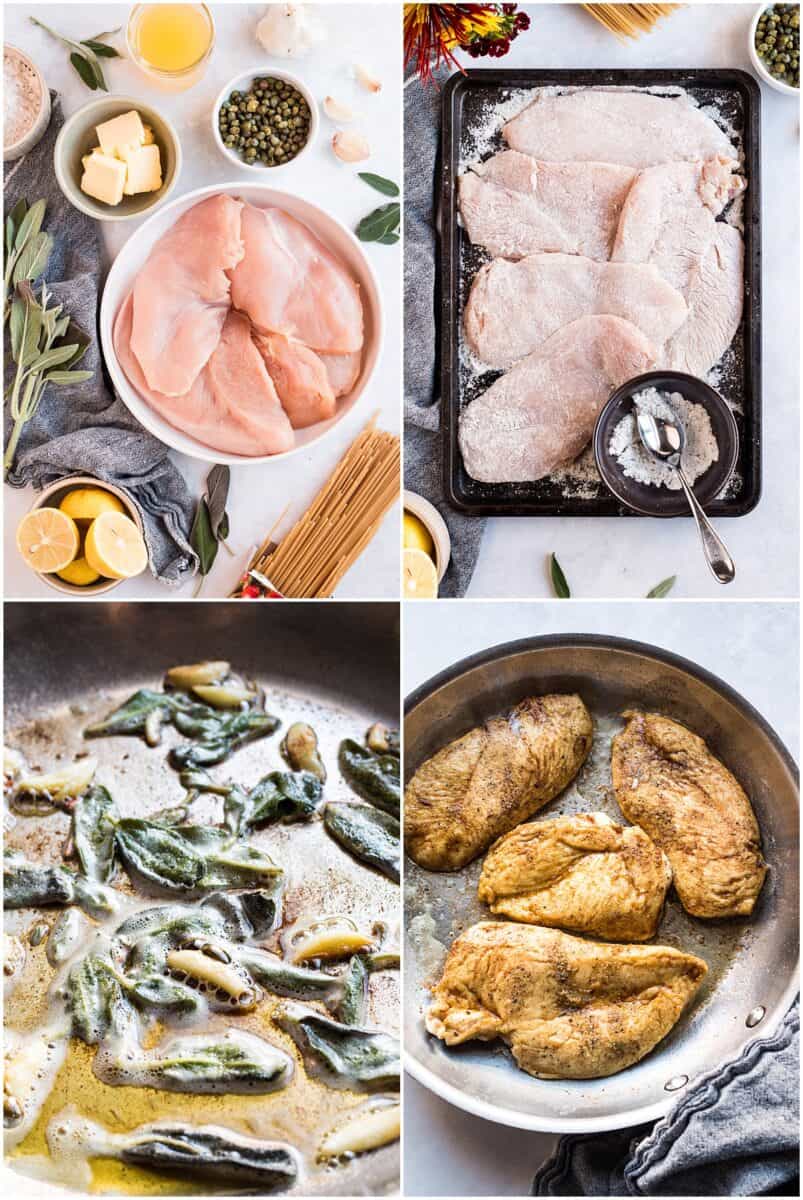 Other easy chicken recipes
Chicken with Tomato Herb Pan Sauce
Chicken Piccata
This classic chicken piccata dish is so simple and easy to make!
Servings are adjustable but please note that results, timing, and cookware may vary when adjusting servings.
Ingredients
1.5

pounds

chicken breasts

sliced in half lengthwise

1/4

cup

all-purpose flour

1

teaspoon

black pepper

3/4

teaspoon

kosher salt

12

oz.

spaghetti pasta
For the crispy sage and garlic
5

tablespoons

unsalted butter

6

cloves

garlic,

smashed

1

bunch of fresh sage,

about 20-25 sage leaves, or more if you'd like

3/4

cup

chicken broth

2

teaspoons

lemon juice

3

tablespoons

capers,

rinsed

Sliced lemons
For the sauce
2

tablespoons

unsalted butter

2

tablespoons

capers,

rinsed

Juice from 1/2 lemon

3-4

tablespoons

chicken broth

Salt and pepper,

to taste

Slices of lemon
Instructions
Slice your chicken breasts lengthwise so you have two thin pieces for each breast. Place them between two pieces of parchment paper and pound them with a meat mallet so they are about ¼" thick. In a bowl, combine the flour, salt and pepper. Rub the flour mixture all over the sliced chicken.

Heat the 5 tablespoons of butter in a skillet over medium heat. Once the butter is melted and bubbling, add the sage leaves and garlic. Let the sage and garlic fry in the pan, gently moving it around the pan once or twice. Once the garlic begins to brown, remove it from the pan. Remove the sage from the pan when they begin to turn a little dark and crisp on the edges. By this point, you should have a nice garlic and sage infused brown butter. Swirl the bubbling browned butter around in the pan, then add the floured chicken breasts to the pan.

Let the chicken sear in the pan for 2-3 minutes. Flip the chicken over and sear for an additional 2-3 minutes. Add half of the chicken broth to the pan around the chicken and bring the broth to a simmer. Simmer for an additional 2 minutes, then add the lemon juice.

While the chicken is cooking, prepare the pasta according to the package instructions. Drain the pasta but don't rinse it. Set it aside.

Add the capers to the pan with the chicken in it along with the remaining broth and browned garlic. Continue cooking the chicken until the internal temperature reaches 165 degrees Fahrenheit and the sauce has thickened. Remove the chicken and sauce from the pan and set aside.

Heat the remaining butter to the pan and let it melt and brown slightly. Add the pasta to the pan and toss it in the butter. Add the broth, capers, lemon juice and a few sliced lemon pieces. Season with salt and pepper to taste. Toss until the pasta is coated in the lemon butter sauce. The starch from the pasta will help to thicken any broth you add. If you find the pasta to be a bit dry, you can add a little more broth and toss until it's well combined with the pasta.

Place the chicken back on top of the pasta in the pan and pour the sauce on top. Top with the sage, lemon slices and a sprinkle of salt and pepper