Chocolate chocolate donuts are what the name says! A cakey chocolate donut topped with a chocolate ganache glaze and optionally, chopped pecans added on for the extra crunch!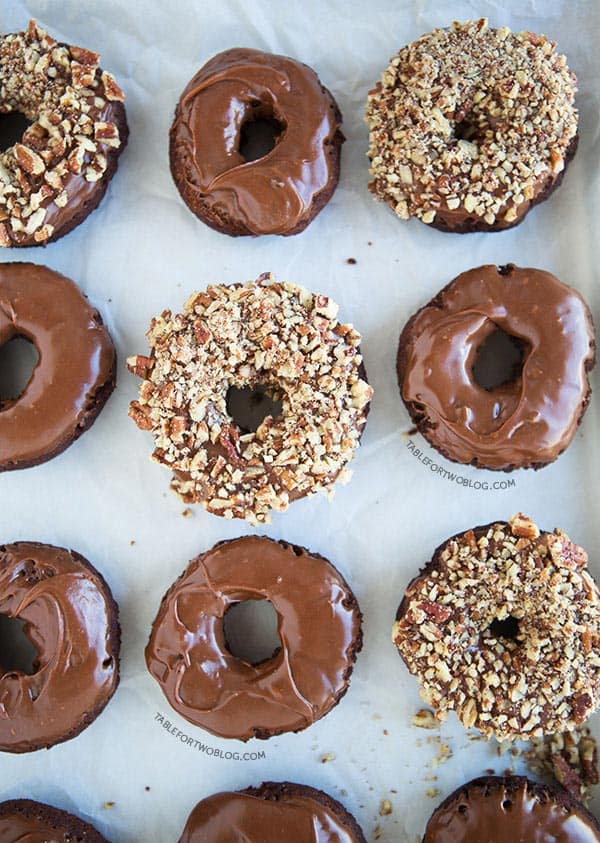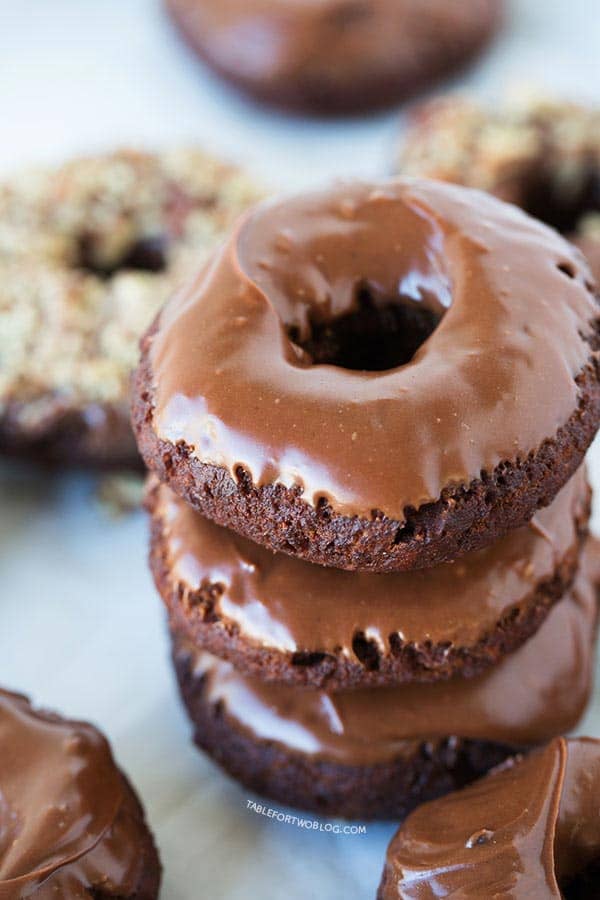 If you were to ask me my least favorite doctor in the world, I would have to say the dentist. It's ironic that I'm saying that because I'm posting a sweet donut post today, but I really do loathe the dentist. I don't loathe my dentist on a personal level; he's a great guy and we've been going to him since I was old enough to have to get my teeth cleaned, but I loathe the dentist on a general level. Like, if I never had to go, I'd be happy. Although, we all know why dental cleanings every 6 months is imperative. It's all these darn sweet treats! ;)
Anyway, so I had my regular teeth cleaning on Saturday. Well, Wednesday, Thursday, and today, I'm left with freaking inflamed gums and an infection of some sort, and it's making my lymph nodes go completely whack on me. I'm in such excruciating pain! Thank goodness there are such miracle pills called ibuprofen because I honestly don't know if I would be able to be polite right now if you came up to talk to me :)
Despite being in a freakish amount of pain (yes, already spoke with doctor), I would still eat one of these chocolate, chocolate donuts. Actually, no, I'd eat two because I need to sample both versions. OF COURSE.
These were so chocolatey delicious and the perfect treat for those who are craving chocolate, or pecans, or donuts, or fried things in general.
It's the last day of donut week, too! I hope you've enjoyed our frying adventures this week as we brought you some sinfully delicious fried dough! Here's a recap of this past week:
Monday: Triple Coconut Donuts
Wednesday: Sugared Donuts
Print
Chocolate Chocolate Donut
Chocolate chocolate donuts are what the name says! A cakey chocolate donut topped with a chocolate ganache glaze and optionally, chopped pecans added on for the extra crunch!
Servings (adjustable, but please note that results, timing, and cookware may vary when adjusting servings):
14
-16
Ingredients
3 1/4

cups

bread flour

sifted

3/4

cup

cocoa powder

1

teaspoon

baking powder

1

teaspoon

baking soda

3/4

teaspoon

kosher salt

1/2

teaspoon

ground cinnamon

1

cup

granulated sugar

4

tablespoon

unsalted butter,

melted

3

oz

bittersweet chocolate,

grated

2

teaspoon

vanilla extract

3/4

cup

buttermilk

2

eggs,

plus 2 yolks

1

quart

canola oil,

for forming and frying

3

oz

unsweetened chocolate,

grated

2

cups

confectioners' sugar

1/4

cup

heavy cream

1

cup

chopped pecans

(optional)
Instructions
Whisk flour, cocoa powder, baking powder, baking soda, salt, and cinnamon in a bowl.

In the bowl of a stand mixer, beat together sugar, butter, chocolate, vanilla extract, buttermilk, and eggs + yolks until incorporated.

Slowly add the dry ingredients to the bowl of the stand mixer and mix until a soft, sticky dough forms.

In a 5 1/2 quart dutch-oven, or similar, heat up 1 quart (4 cups) of canola oil to 370 degrees Fahrenheit.

While the oil is heating up, using lightly oiled hands, roll 1/4 cup of dough into a loose ball and gently pat down on it forming a disc. Using your thumb, form a 1 1/2-inch hole in the center (or you can use a small biscuit cutter to cut out the center). Do this for the remaining dough.

Once the oil has heat up to the correct temperature, gently drop the donuts, 2-3 at a time, into the hot oil and fry until puffed and golden on both sides, about 3 minutes.

Using a slotted spoon or spider strainer, transfer donuts to a wire rack covered with two paper towel layers to cool completely. Repeat until all donuts have been fried.

While the donuts are cooling, make the glaze.

In a medium bowl big enough for you to dip the donuts, whisk together chocolate and confectioners sugar. In a small pot, bring cream and 2 tbsp. of water to a boil then pour over chocolate and confectioners sugar. Let sit for 2 minutes then whisk everything together.

Dip the tops of the donuts in the chocolate glaze. If topping with pecans, immediately dip into chopped pecans.
Notes
Nutrition Facts
Chocolate Chocolate Donut
Amount Per Serving (1 donut)
Calories 325
Calories from Fat 180
% Daily Value*
Fat 20g31%
Carbohydrates 42g14%
Protein 7g14%
* Percent Daily Values are based on a 2000 calorie diet.
*Nutrition facts are an estimate and not guaranteed to be accurate.
There are affiliate links within this post.