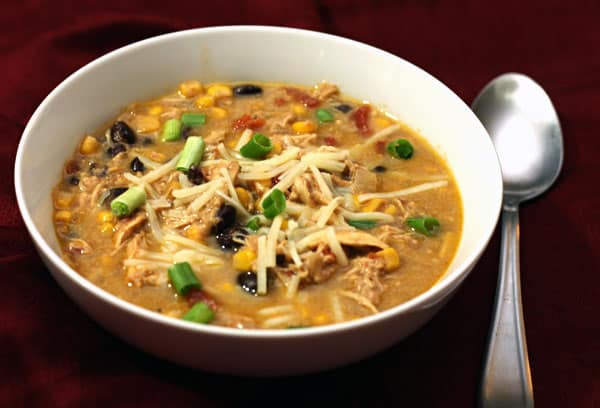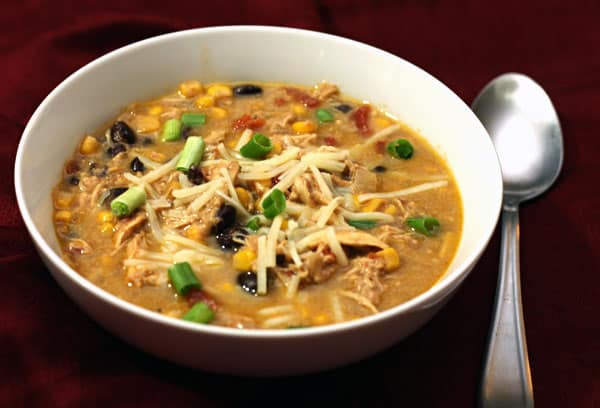 Crockpot meals are lifesavers and they're delicious. They make all my meats so tender and they make all the flavors of whatever I'm making play with each other for 8 hours to give me the most flavorful dishes.
Did you know I'm scared of using a crockpot during the day? I have this fear that if I leave it on to cook while I'm at work, my house will burn down and I'll come home to nothing. Yeah, big fear of mine, which is why I always turn my crockpot on before I go to bed and let it cook overnight while I'm sleeping. It always wakes me up though cause of the smell — but I'm ok with that.
It's funny — my coworker, when I told her this fear, said, "so, you'd rather die in a fire in your sleep than be away from home while the fire is happening?" and my rational was that I could save all my precious things in the middle of the night, since I assume the fire would wake me up (?) than being at work and not having control of it.
Putting the fears aside, let's talk about this chicken enchilada soup. Flavors = awesome. If you're craving Mexican, this is the soup for you. If you know you're going to have a busy day and you just want to come home to an easy meal, then you should totally make this. This makes A LOT so you will definitely have leftovers too :) this soup is extremely filling too. It's full of shredded chicken in every bite and you've got the corn & beans to fill you up as well. Jason could not get enough of this soup. He had two huge bowls of it and kept saying how awesome it was. Ahh, my job here is done. Now go dig out your crockpot & make this for dinner :)
Print
slow cooker chicken enchilada soup
slow cooker chicken enchilada soup is bursting with flavor and made so easy in the slow cooker!
Total Time:
8
hrs
15
mins
Servings (adjustable, but please note that results, timing, and cookware may vary when adjusting servings):
4
-6
Ingredients
3

tbsp

unsalted butter

3

tbsp

flour

1/2

cup

chicken broth

2

cups

milk

1: 10

oz

can of enchilada sauce

1: 15

oz

can black beans

rinsed and drained

1: 14.5

oz

can Rotel diced tomatoes and green chilies

1: 10

oz

package frozen corn

1

medium onion,

diced

1

green pepper,

diced

8

chicken tenderloins or 2 whole chicken breasts
Instructions
In a large skillet, melt the butter over medium low heat and stir in the flour until smooth and bubbly.

Remove from heat and add in the chicken broth and 1/2 cup of milk, stirring to make sure there are no lumps.

Return to heat and bring to a gentle boil, stirring until it thickens. Then in a large bowl, whisk in the enchilada sauce and the chicken broth mixture.

Continue to whisk the mixture as you add the rest of the milk.

In a crockpot, combine the beans, tomatoes, frozen corn, onions, and green peppers.

Place the chicken tenderloins or breasts on top of this mixture.

Pour the sauce you just made over the chicken & veggie ingredients in the crockpot.

Cover and cook on low for 6-8 hours or high for 3-4 hours.

Right before serving, take out the chicken and shred it. Then add it back into the pot and mix to combine well.

You can top this with whatever cheese you like and whatever toppings (olives, guacamole, sour cream, etc.)