Slow Cooker Pumpkin Coconut Curry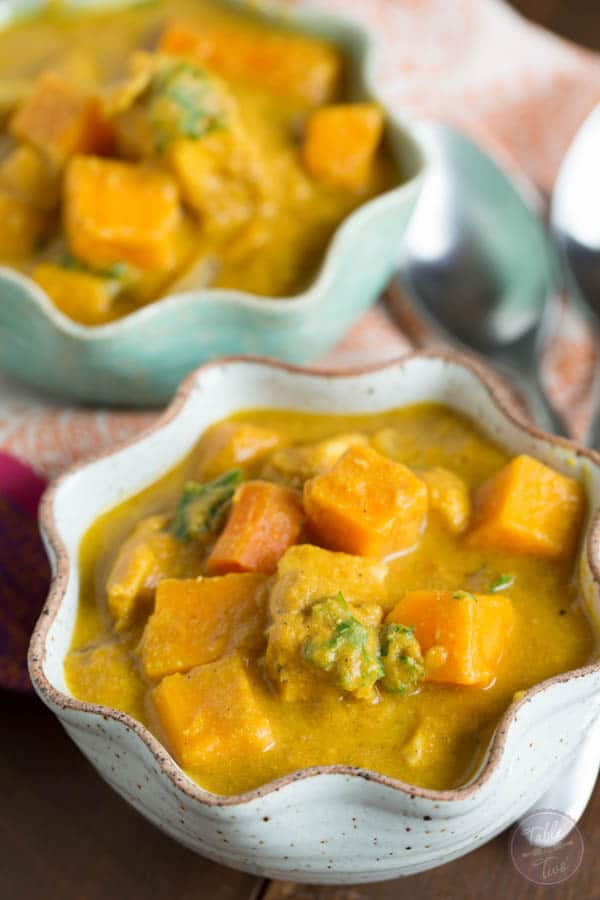 It's gotten to the point in the year where it's nice during the day and freezing cold at night. We still haven't officially turned our heat on yet so every morning this week has been extremely hard to wake up because being under warm covers is just so much nicer than standing in an icebox of a bedroom. Or worse – the cold tile floor in the bathroom! I'm curious as to when we'll give in and finally turn the heat on. It's still that weird period because if you have the heat on, the house gets so warm during the day so you want the A/C but then at night you'll have to switch to heat.
With the cooler weather, I noticed I'm eating a lot more, haha – it's so weird. I totally act like a hibernating bear when cooler weather hits. Food keeps me warm, therefore, I'm eating more ;) maybe that's just my own excuse but I've definitely noticed it! Might need to hit up the barre more often this winter if I want to keep off the extra pounds!
It also doesn't help that this slow cooker pumpkin coconut curry is the best Fall dish I've made to date and we've eaten so much of it. Yes, that's a very bold statement but it's so true! Keep reading below!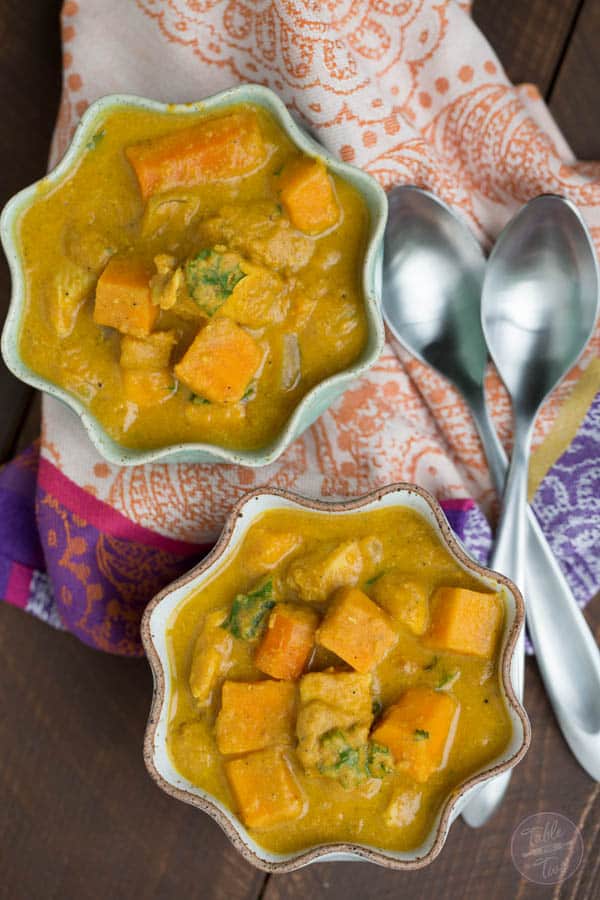 This slow cooker pumpkin coconut curry doesn't really look like much but let me tell you something: it is the most delicious dinner you will eat this season. This dish reminds me of a dish you'd get in an authentic Indian restaurant. Now, I'm not saying mine is an authentic Indian dish by any means but the flavors and ingredients could totally pass for one.
It's hard to even describe to you how delicious this slow cooker pumpkin coconut curry is. It's slightly sweet but has the right amount of savory notes to it and it gets better and better each day. It makes a good amount and we were ecstatic for dinner every night that we had leftovers of this. It's super filling and it's perfect to have over rice. It's become a staple in our house and I've already made it twice. It's a KEEPER! I gave some to our friends who love Indian food and they adored it. If you love the flavors of Indian cuisine, you'll fall in love with this dish :) oh, and did I mention how easy this is to prep?! Just check out the recipe below!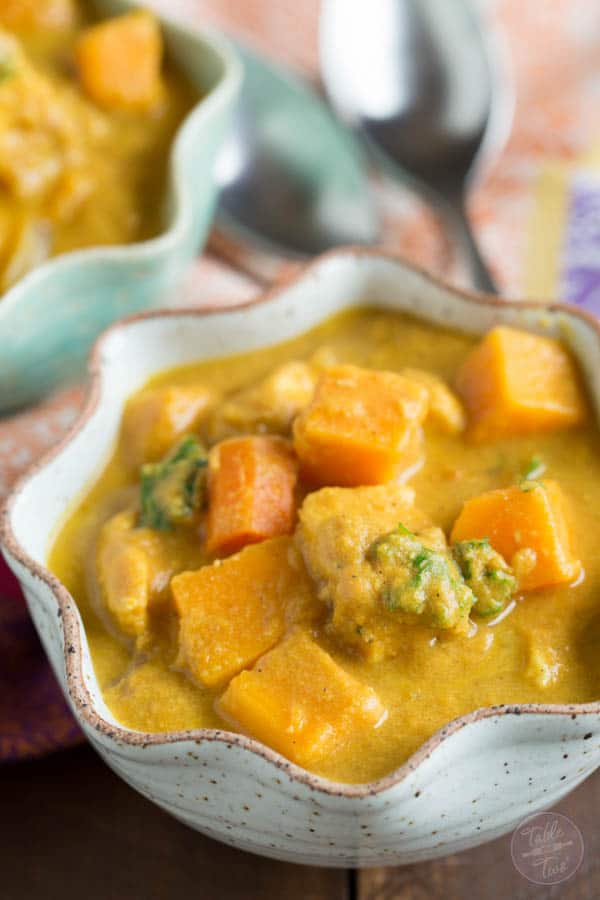 Slow Cooker Pumpkin Coconut Curry
If you love the flavors of Indian cuisine, this slow cooker dish is a KEEPER!
Ingredients
1: 15

ounce

can of unsweetened coconut milk (full fat,

not light)

2

cups

pumpkin puree,

not pumpkin pie filling

1

cup

chicken stock

1/2

tablespoon

curry powder

1/4

teaspoon

tumeric powder

2

teaspoon

garam masala

1/2

teaspoon

Kosher salt

1/4

teaspoon

ground black pepper

1/2

large onion,

diced

1

clove

garlic,

minced

3

carrots,

cut into 1-inch pieces

3

cups

sweet potatoes.

cut into 1-inch cubes

2

chicken breasts,

cut into 1-inch cubes

Juice of 1 lime
Instructions
In the insert of a

4-quart or larger slow cooker

, add the coconut milk, pumpkin puree, chicken stock, curry powder, tumeric powder, garam masala, salt, and pepper. Whisk together to make sure it is all combined and spices are evenly distributed.

Add the onion, garlic, carrots, sweet potatoes, chicken breasts, and lime juice to the mixture. Stir to coat and incorporate.

Cook on low for 6 hours.

Serve over rice!

Refrigerate leftovers in an airtight container for up to seven days.
Recipe Video
Recipe Notes
Do not omit any of the spices as they are essential for this curry to taste just as made. Most of the spices are available at your local grocery store and if not, widely available on Amazon: Tumeric powder, Garam masala, Curry powder
There are affiliate links within this post.
Posted on October 06, 2014