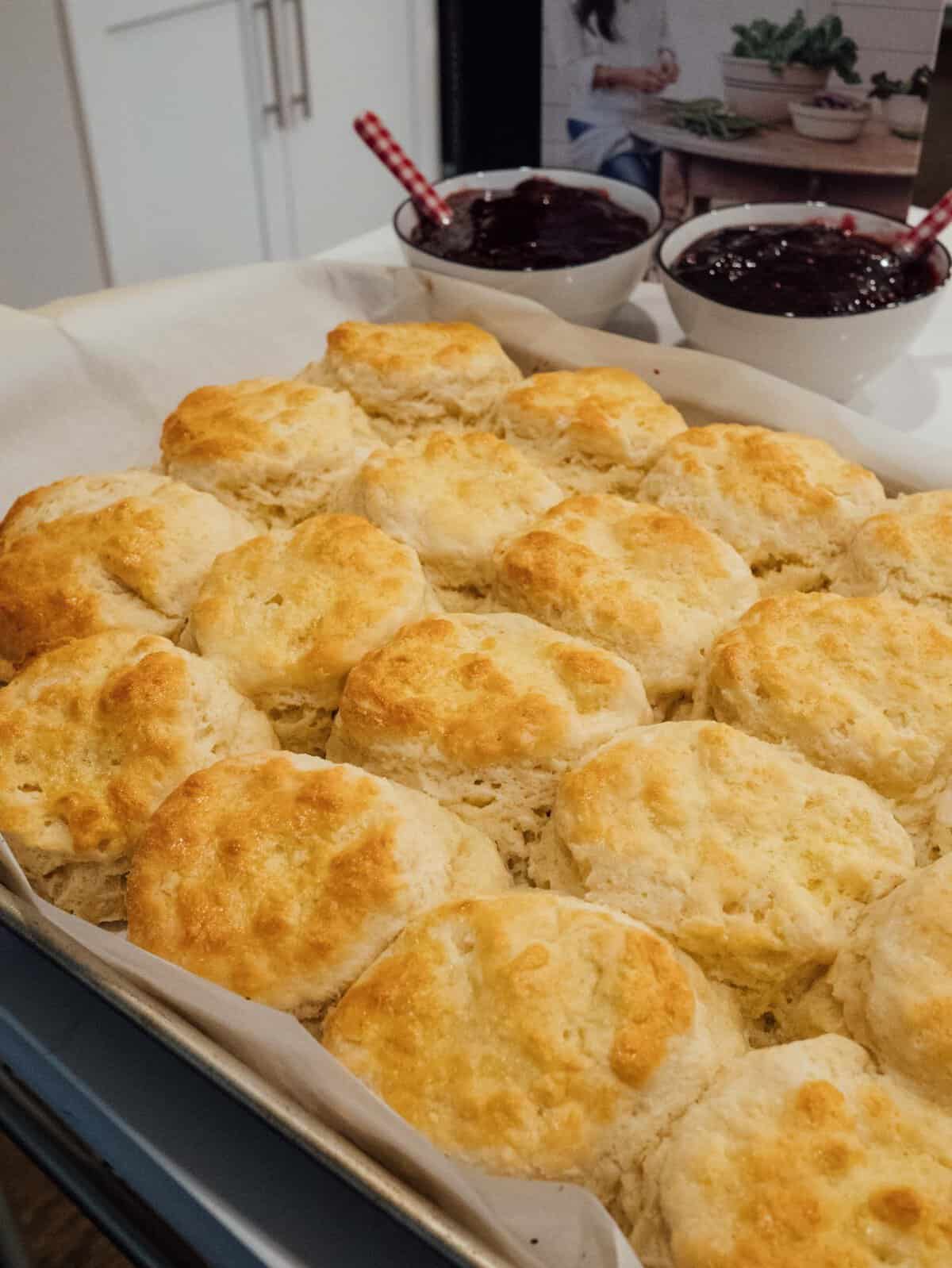 Joanna Gaines is brilliant. I wish I could take credit for these fluffy, buttery biscuits but I owe all the credit to her.
These biscuits were beyond anything I've ever tasted from a biscuit. In fact, these biscuits reminded me of biscuits you get at a southern cafe or a fried chicken fast food place.
I know you might think that it's demeaning to compare homemade biscuits to a fast food place but I think that's what she was going for.
She wanted you to be able to make the buttery, tender, fluffy biscuits you get at fast food places or restaurants right in your own home.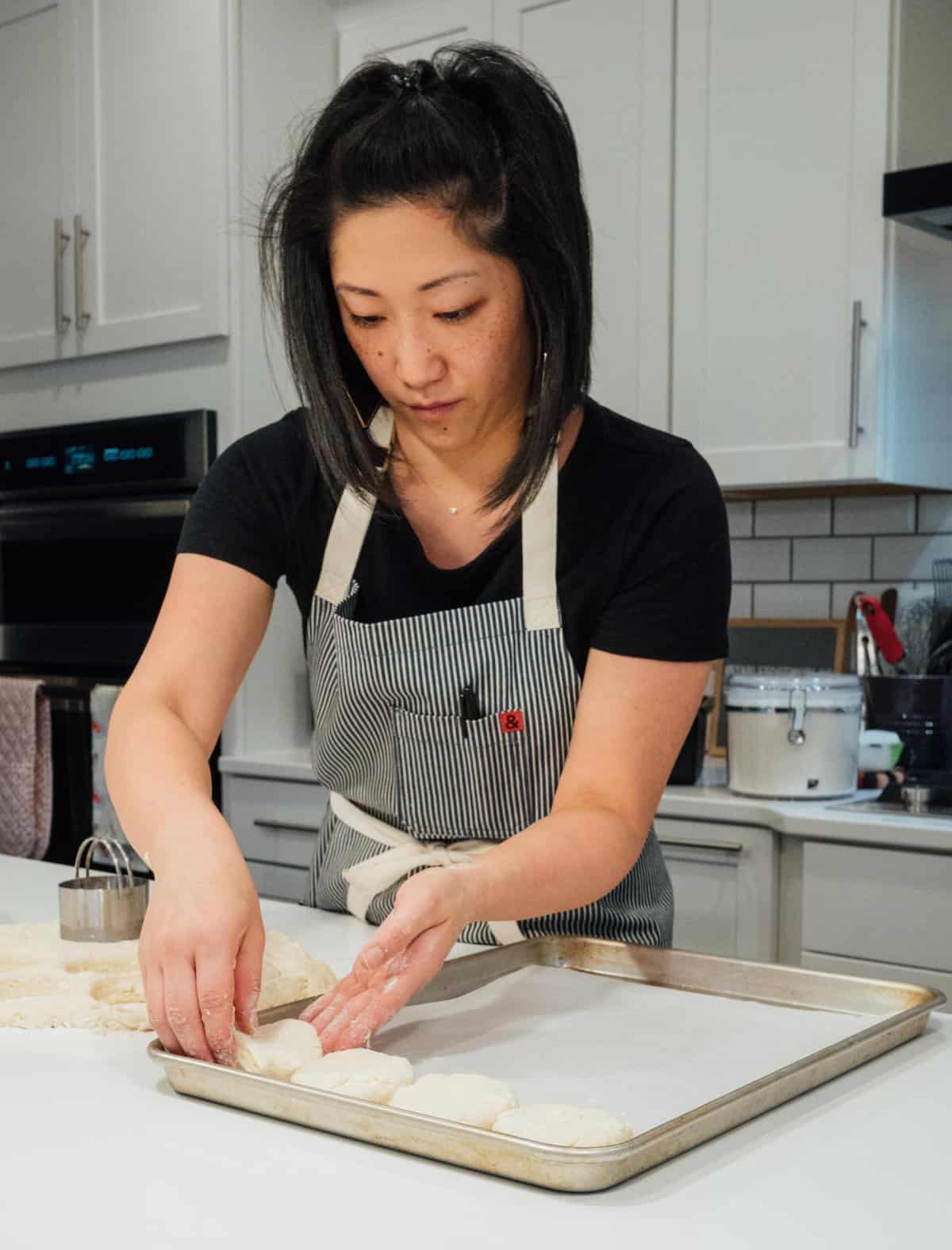 About the most fluffy and buttery biscuits ever!
Joanna Gaines certainly achieved what she set out to do. These biscuits were melt in your mouth and I could not get enough of them.
At first I thought I was going to halve this recipe, because it said it made 20, and I'm so glad I didn't because that would have been a terrible decision.
In one sitting, I ate three biscuits. Everyone who came over had at least two on their plate. I had only eight biscuits left at the end of the night!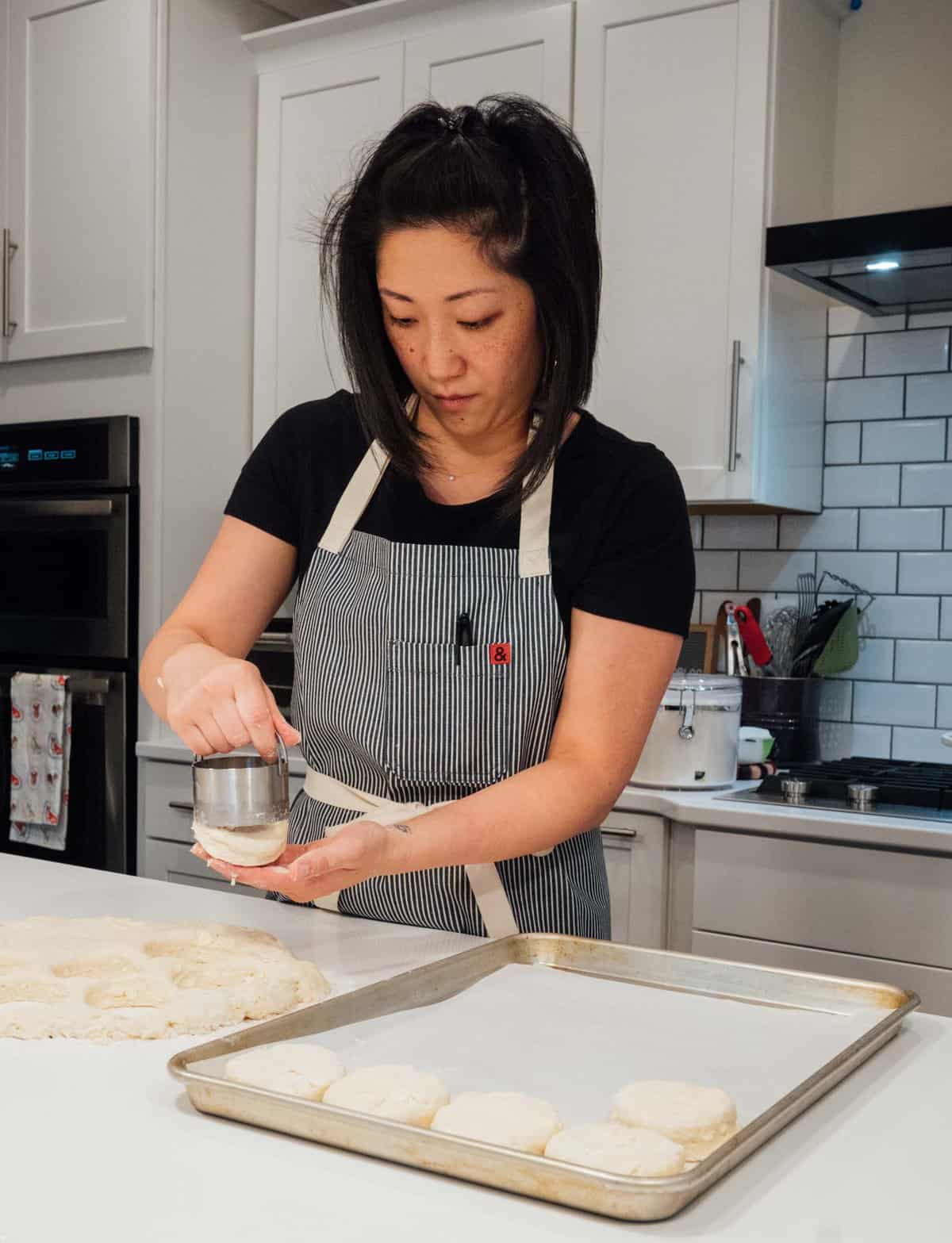 I made black pepper sausage gravy to go on top of the biscuits because all biscuits should be served with white gravy, jam, or clotted cream.
I couldn't find clotted cream around here, even at the British market. I think it was the wedding of Harry and Meghan that caused all the clotted cream to be sold out!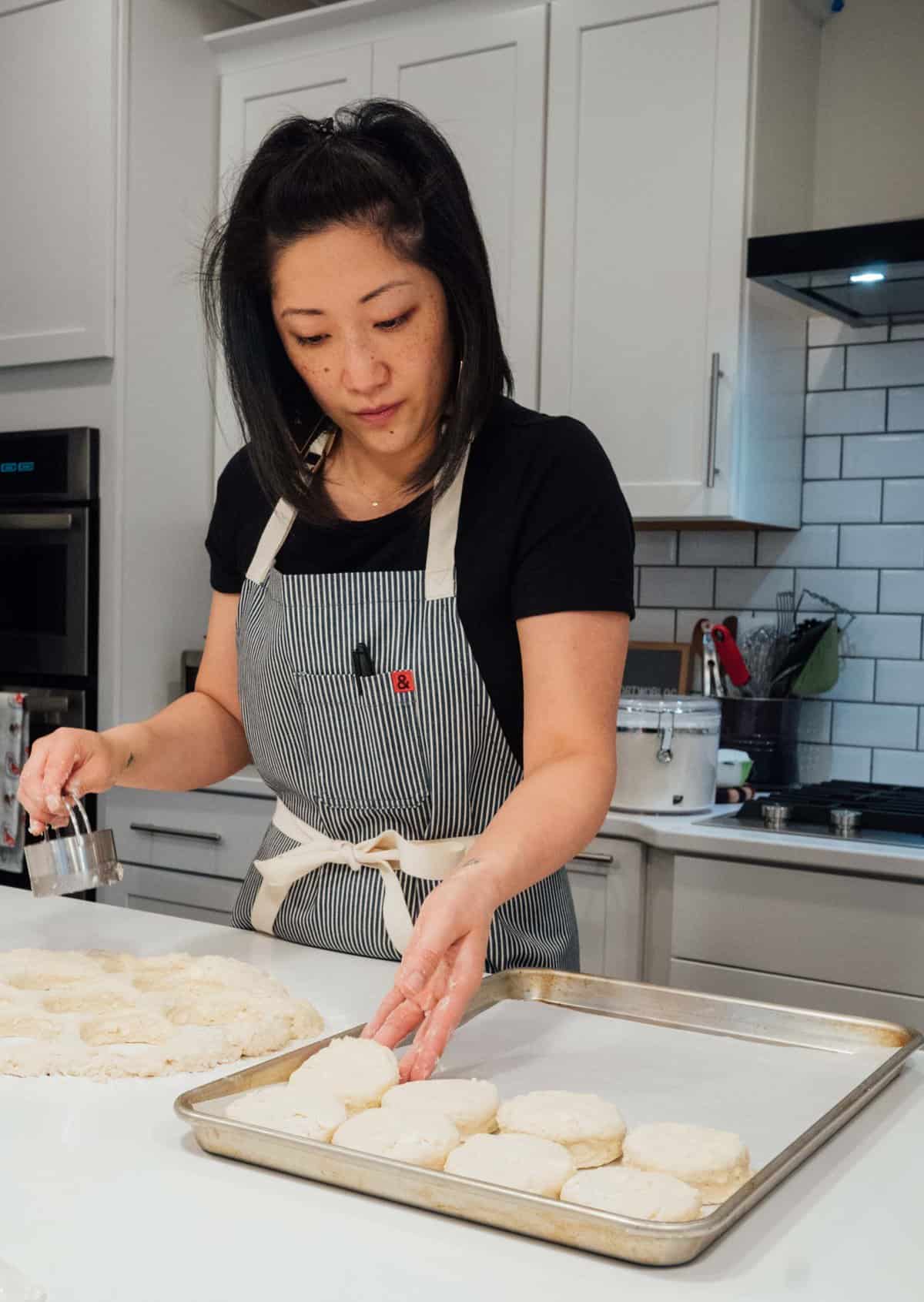 The biscuits were pretty easy to make. Standard butter, flour, pastry cutter.
It does require at least 30 minutes chill time so keep that in mind if you are making this for breakfast. You can keep it in the fridge overnight too if you are prepping ahead of time.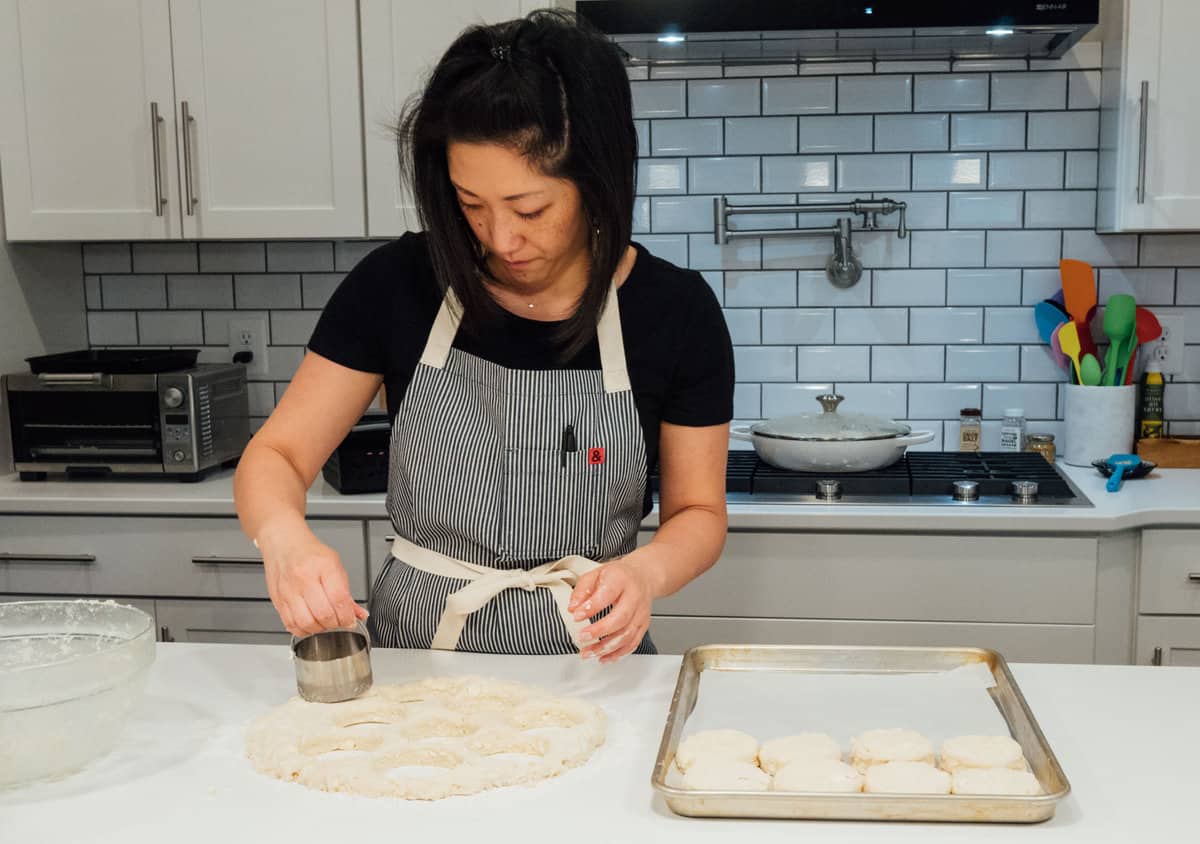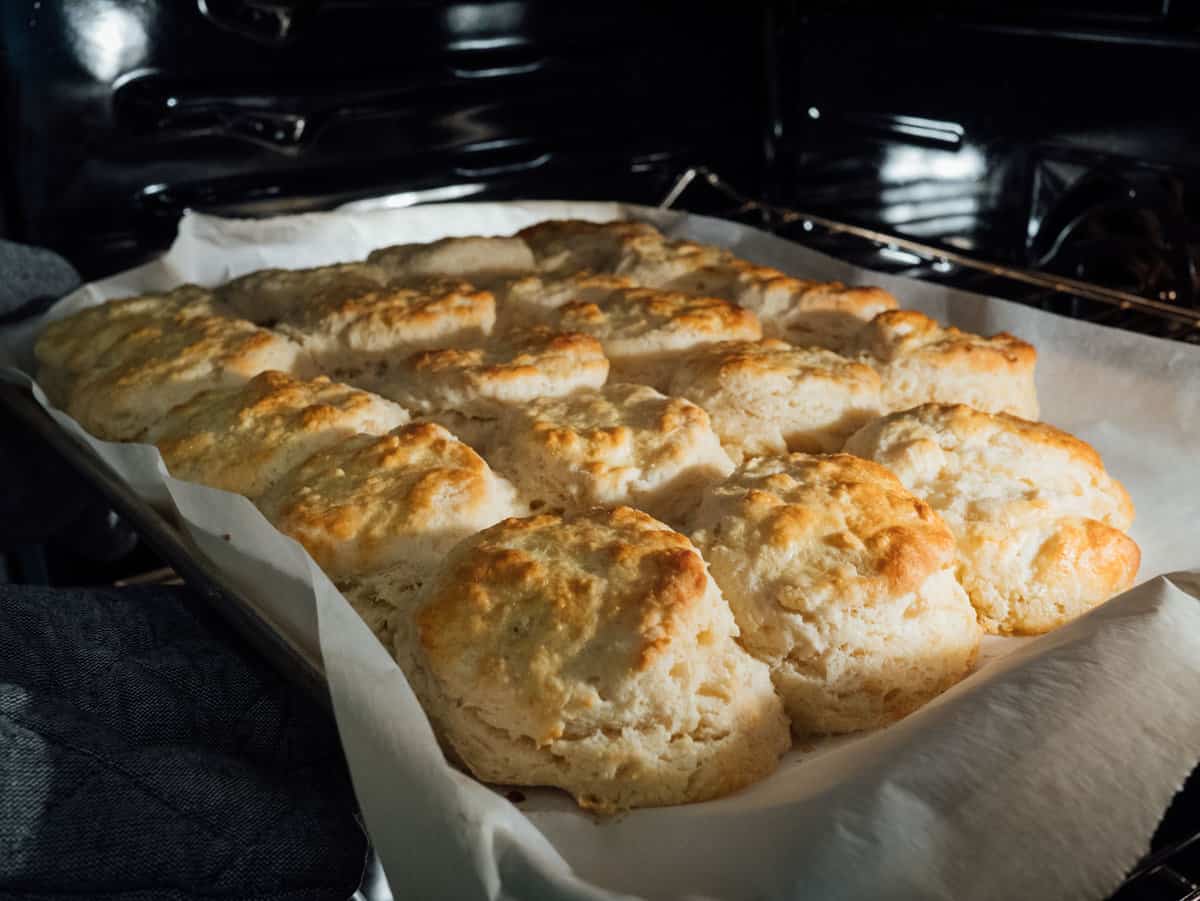 They really rise high. I think the key is to use self-rising flour AND additional baking powder AND baking soda.
They were still incredibly tender and fluffy, though.
I can't stop dreaming of these.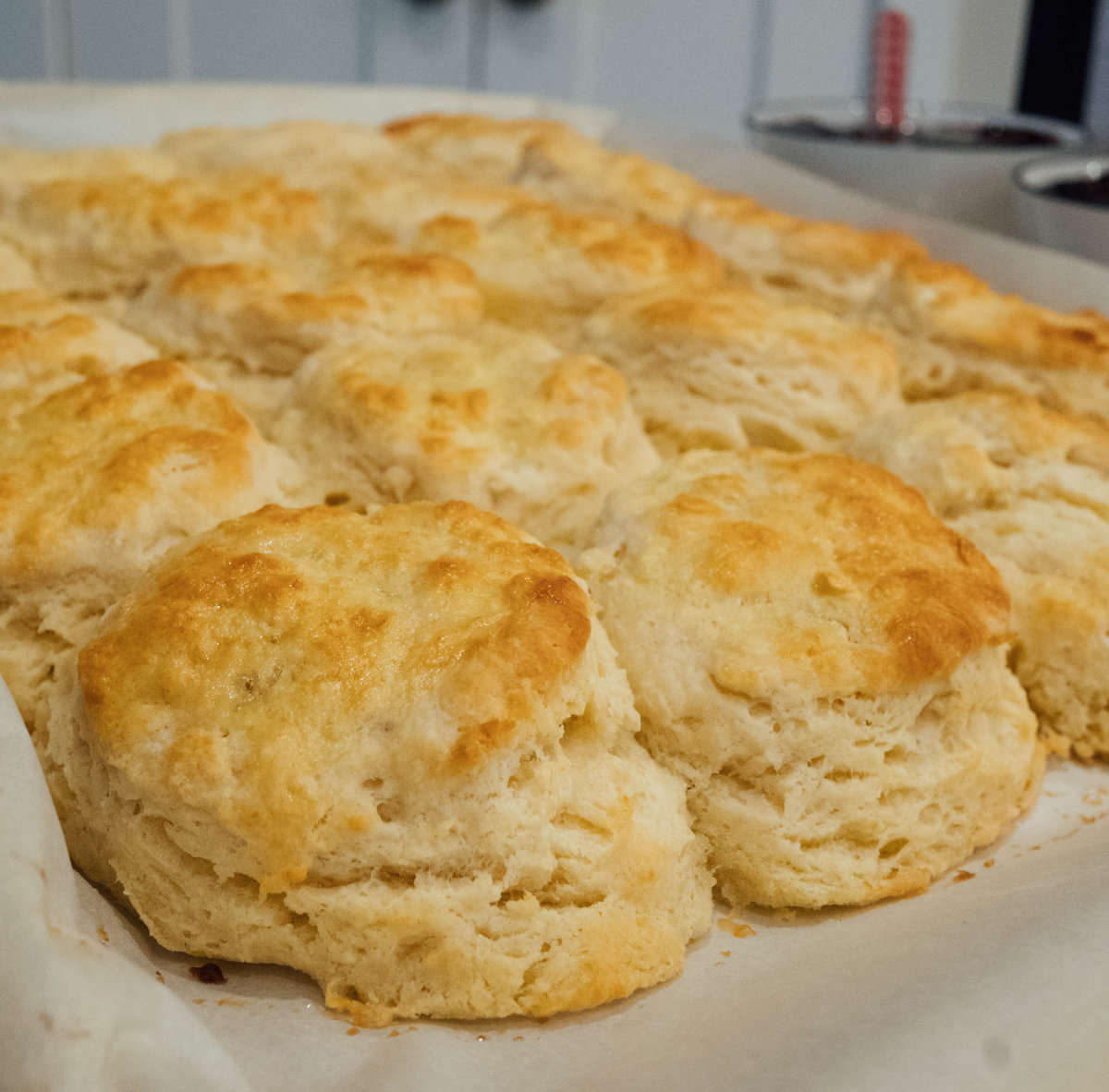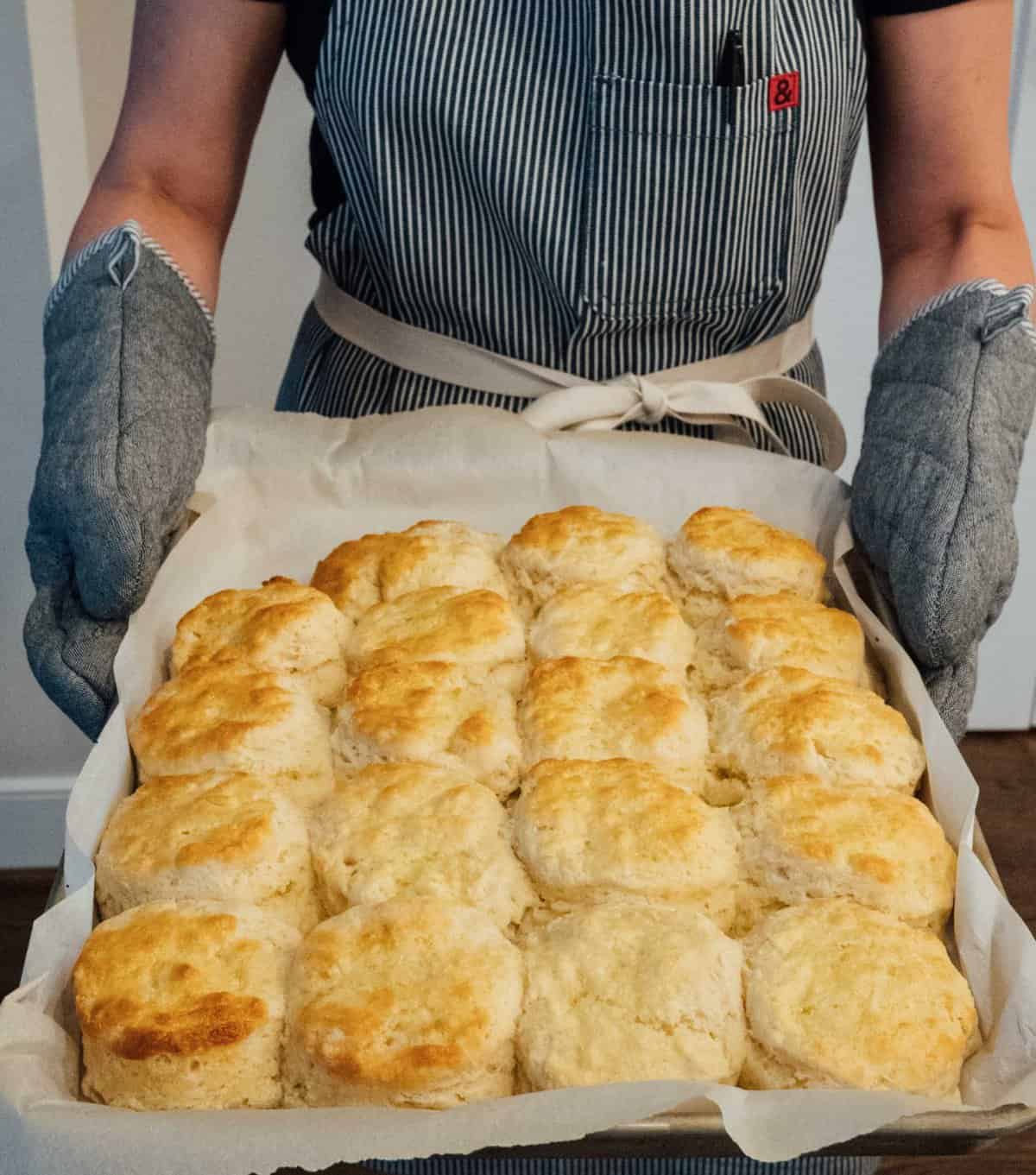 I would have kept the entire tray for myself had it not been for cookbook club ;)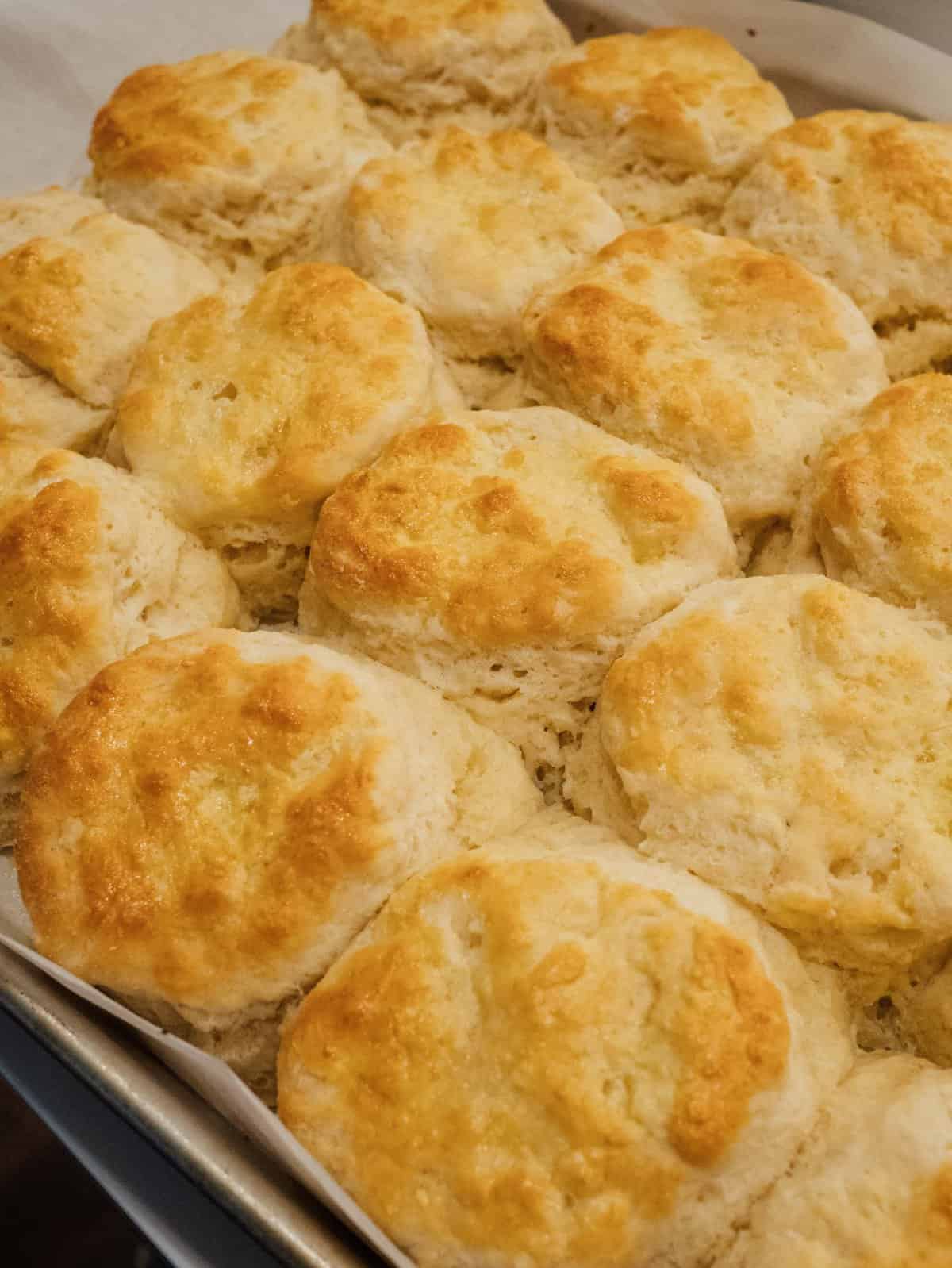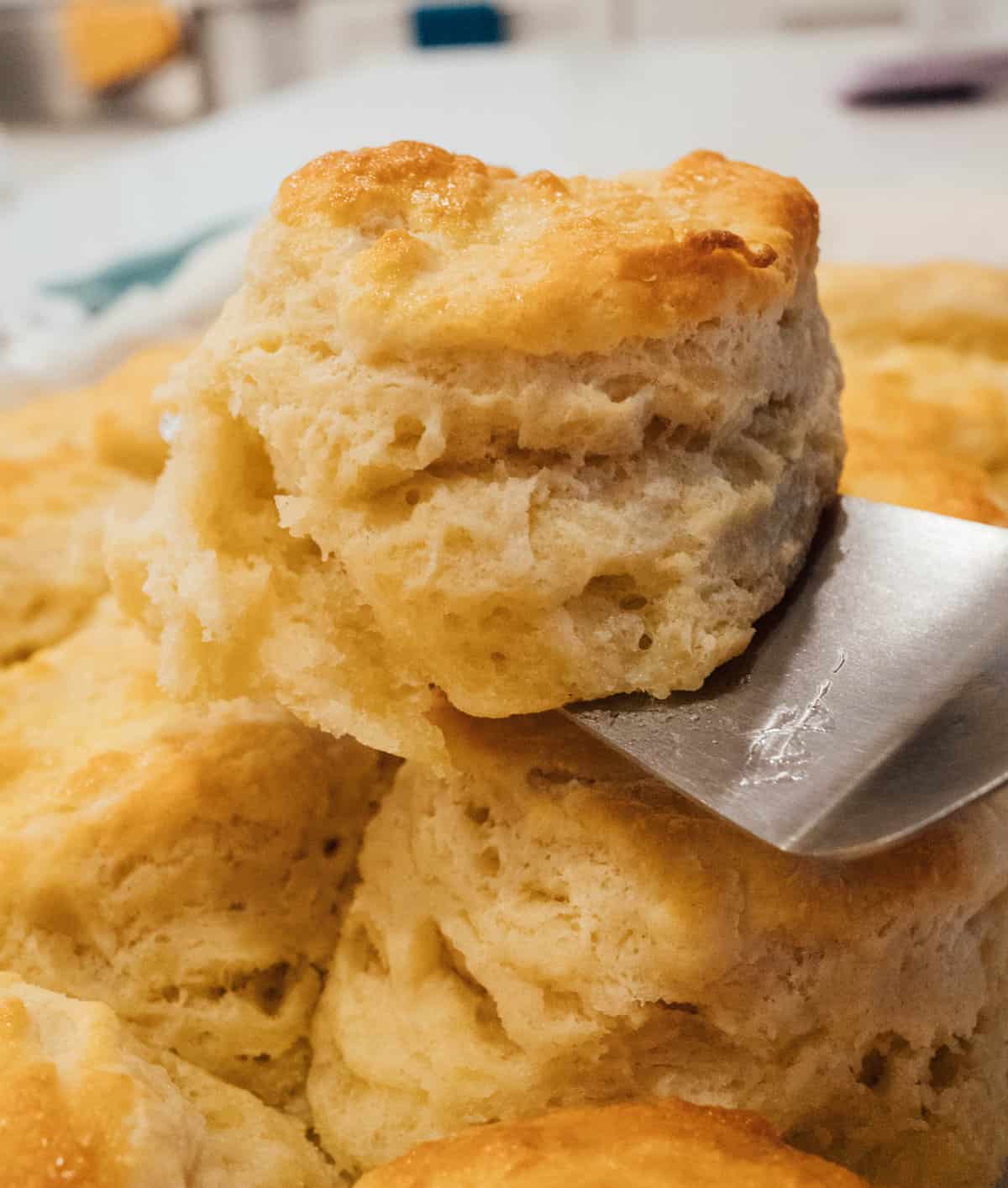 Go grab all the ingredients and these biscuits this weekend. You will NOT regret that decision. Not one bit.
Blackberry lemon jam or blueberry lavender jam on top of these biscuits would be the perfect addition with some salted butter!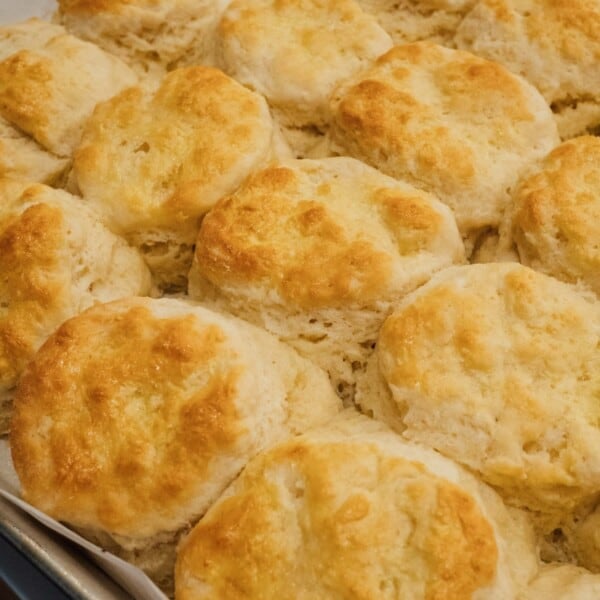 The Most Fluffy and Buttery Biscuits Ever
These biscuits rival any restaurant or fast food joint. They're so tender, fluffy, and buttery. They're the best biscuits I've ever made at home!
Ingredients
4

cups

self-rising flour, plus more for dusting

2

tablespoons

baking powder

1

teaspoon

baking soda

3/4

pound

(3 sticks) salted butter,

cold, cut into 1/2-inch cubes

2

large eggs, beaten PLUS 1 large egg for brushing

1 1/2

cups

buttermilk, plus more as needed and for brushing
Instructions
In a large bowl, whisk together flour, baking powder, and baking soda.

Add the butter and using a pastry blender, cut the butter into the flour until pea-like crumbs form.

Stir in the two beaten eggs with a wooden spoon until just combined. Then pour in the buttermilk until the dough comes together into a sticky mass. You may need more buttermilk if it's still too dry and there is flour still at the bottom of your bowl. I ended up having to add in 1/2 cup more. DO NOT add 1/2 cup more all at the same time. Do 1 tablespoon at a time until the right consistency is reached.

Cover the bowl and refrigerate for at least 30 minutes.

When ready, preheat oven to 400 degrees Fahrenheit and line a baking sheet with parchment paper.

Dust a little flour onto your work surface then put the dough onto the work surface and use your hands (flour them) to press into a round, roughly 14 inch diameter and 1/2 inch thick. See photos in the blog post.

Use a floured 2 3/4-inch round biscuit cutter to cut out about 20 biscuits. Reform the scraps of dough into a circle again to cut more.

Transfer biscuits to prepared baking sheet and arrange them so they are touching each other. See photos in the blog post.

In a small dish, beat together remaining egg and 1 tablespoon of buttermilk then brush on top of the biscuits.

Bake for 15-20 minutes, or until the tops are golden brown.

Let cool slightly before devouring! They're best eaten out of the oven, day of.

Serve with your favorite sausage gravy, jam, or clotted cream.
Recipe Notes
From Magnolia Table cookbook by Joanna Gaines
Nutrition Facts
The Most Fluffy and Buttery Biscuits Ever
Amount Per Serving (1 biscuit)
Calories 236
Calories from Fat 126
% Daily Value*
Total Fat 14g 22%
Total Carbohydrates 24g 8%
Protein 4g 8%
* Percent Daily Values are based on a 2000 calorie diet.
*Nutrition facts are an estimate and not guaranteed to be accurate.
There is an affiliate link in this post.