Honey Soy Chicken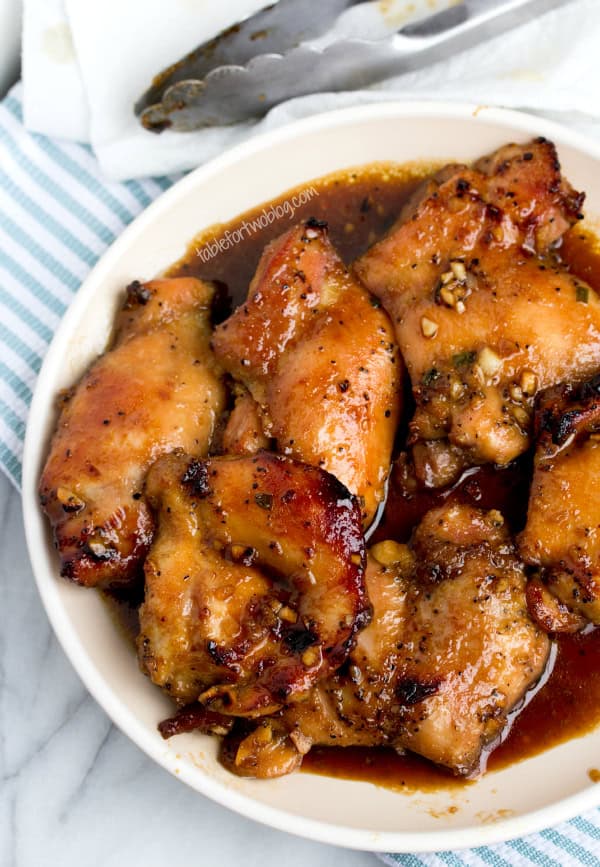 So you know my chicken dish, Holy Yum Chicken? Well, this is holy yum chicken's Asian sister.
Equally easy to make and equally delicious.
Again, FOLLOW THE INSTRUCTIONS. I won't mislead you. I won't lie to you about something. My results are the pictures above! So clearly, it worked with the recipe below!
It's as every bit delicious as holy yum chicken, just obviously different flavor profiles. Jason prefers this Asian version but I prefer the mustardy version that the holy yum chicken offers. Definitely all taste preference but honestly, I could never say no to garlic, honey, ginger, soy sauce, and sesame oil. Your house will smell ridiculously good.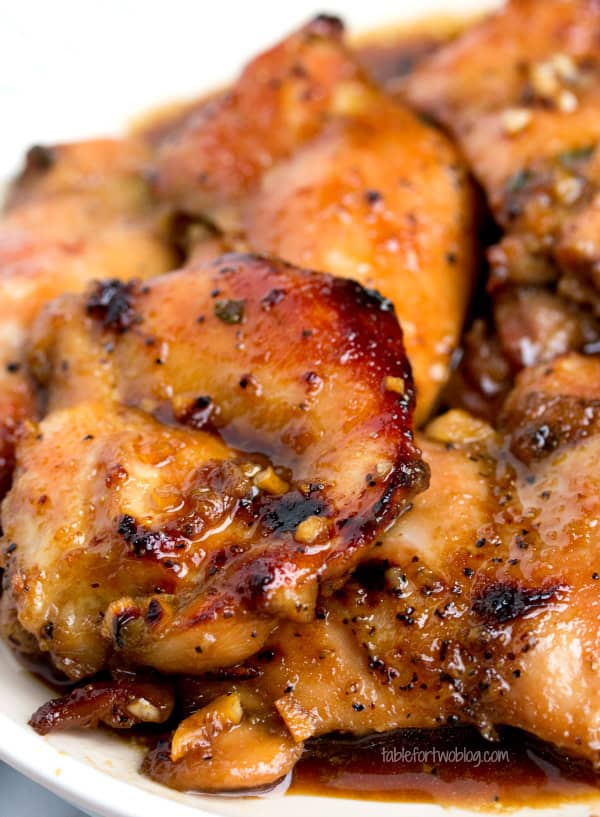 I'm not writing a whole lot today..just got a TON of things going on at the moment. You would think things would calm down after the wedding, huh? Nope. Especially since I'll be out of town again next week…got a lot of loose ends to tie up! *sigh* it never ends here!
Enjoy the recipe :) I bet you already have all ingredients in your pantry!
DISCLAIMER:
If you don't follow directions and want to improvise, that is definitely ok! But please do not come back to yell at me for a failed dish. The instructions are laid out completely above because I have tested it myself and it works the way it's written above.
If you do not use the right equipment it will likely not turn out either. 8×8″ pan means 8×8″ pan. 2 layers of foil means 2 layers of foil. Why? 8×8″ pan will keep the sauce together and compact and won't cause it to spread out over a large surface area. If you put it in a larger pan, it will spread, therefore, causing the sauce to get cooked off and you'll end up with dry chicken and little to no sauce. Double layering the foil insulates the sauces and the chicken, it'll keep the sauce from burning on the scalding hot pan.
Yes, it really is cooked at 425 degrees. I'm not going to lie to you. Yes, it's high but it also works (proof: above pictures!)
If you're using (thin cut) chicken breasts, reduce cooking time by 10-15 minutes or you'll end up with dry chicken.
Honey Soy Chicken
This chicken is so flavorful and will make your house smell oh-so-good!
Ingredients
1 1/2 - 2

pounds

boneless

skinless chicken thighs (most of the fat cut and discarded)

3

tbsp

vegetable oil

3

tbsp

low sodium soy sauce

1

tsp

sesame oil

5

tbsp

honey

4

cloves

of garlic,

minced

1/2

tsp

ground ginger

1/2

tsp

ground black pepper
Instructions
Preheat oven to 425 degrees Fahrenheit. Line a 8x8" oven-proof pan with 2 layers of tin foil. I HIGHLY advise using foil in this dish because soy sauce & honey are STICKY and tend to adhere heavily on glass dishes when cooked at high temperatures. Unless you want to be scrubbing forever, use the foil!

In small bowl, whisk together vegetable oil, soy sauce, sesame oil, honey, garlic, ground ginger, and pepper.

Place the chicken thighs in the foil layered pan then pour the mixture on top of it. Turn the chicken around in the sauce to make sure it gets all coated.

Bake, uncovered, for 40 minutes, checking occasionally to make sure the tops are not browning too quickly. If they are, cover with foil and resume baking until chicken is done.

Remove from oven and let chicken sit for 5 minutes then transfer to a plate. Do NOT discard the liquid.

Immediately after plating chicken, pour sauce over top of chicken. It's delicious so you want all the sauce you can get!

Serve with white or brown rice and some steamed veggies.
Recipe Notes
Video for the recipe can be seen by clicking here!
Lots of people are saying their sauce is runny. It's supposed to be runny like you can see in the photos. There's nothing in the ingredients that would make the sauce thick. I did mention that soy sauce and honey are both sticky ingredients when cooked at high heat but that doesn't mean the sauce is going to be thick. I'm saying that the excess sauce that may be on the sides of your baking dish or foil will be sticky/crusty. Hope that clarifies things!
Source: adapted from She Wears Many Hats
Posted on May 09, 2013