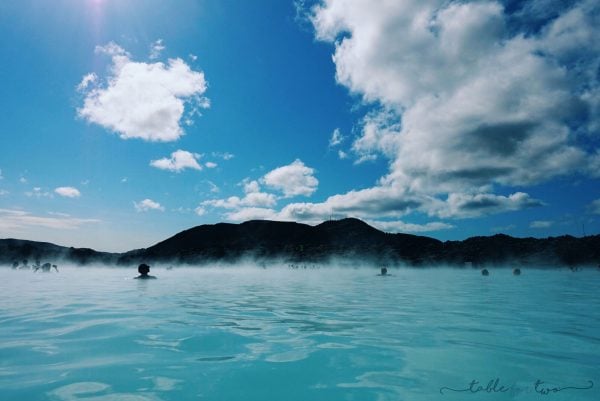 We flew into Keflavik International Airport (KEF) and arrived at 7:00am local time. As soon as we landed, we went through customs (super quick) and went to baggage claim to grab our bags. After we grabbed our bags, we went out to the arrivals area and I stopped into their version of 7-11 and picked up two SIM cards for our phones. I'll be doing a post later on how to stay connected in Iceland!
A gentleman from GO Car Rental met us shortly thereafter and took us out to our car. He explained driving laws in Iceland and where we can and cannot go with our car. Luckily, Iceland drives on the right side of the road and there is literally no traffic anywhere (aside from the big city of Reykjavik) so it was actually extremely easy to drive in Iceland. It was almost always an open road and there was never really anyone around us until we got to the popular destinations. It was really nice given that we live in one of the most congested areas in the country. GO Car Rental kindly lent us a GPS system as well. While yes, you can use Google Maps on your phone, it was really convenient to have this GPS system in the car so you didn't have to burn data using your phone.
After a quick walk around the car and signing some documents, we were off! First stop? Blue Lagoon!
Blue Lagoon is a must. Yes, it is a tourist attraction but after hopping off the plane, your body will thank you for going. It's also about a 20-minute drive from the airport so I definitely suggest going from the airport or before the airport on your way out. Reykjavik is about 45 minutes from the airport so you don't want to have to tail back just to go to Blue Lagoon.
When you get there, it's like a spa oasis. Quick facts about what Blue Lagoon really is: it's a geothermal spa and it's made from the geothermal water (it stays about 98-104 degrees F year-round) that pretty much powers the entire country. Iceland is so awesome in that they use geothermal energy for all their electricity and heating.
So the water in the Blue Lagoon is made up of minerals and silica and because of this, it can be rough on your hair. It will dry the heck out of it so if you can, tie your hair and don't go for a dip unless you want to use boatloads of conditioner in it for the next few days. Also, if you're on the more conservative side, do know that you have to shower completely naked prior to entering the lagoon. At first I was like OMG NOOOO but then I'm like…we all have the same body parts so whatever. They're very strict on this as cleanliness is for everyone's sake. They have lockers there for you to stash all your belongings and you can bring your camera out to the lagoon with you (at your own risk, of course) and go in and out of the lockers as many times as you want.
Oh, also, while you're in the water, you can walk up to the mud bar and get a silica mask to put all over your face and then wash it off after it dries. It makes your skin so incredibly soft and smooth. I was kind of skeptical about it until I tried it. I had a few acne spots prior to the trip because of how hot and humid DC was and the silica mask completely dried them out and they were no longer an issue the next day :)
Highly recommend pre-booking your trip to the Blue Lagoon since it fills up so fast. We did the Premium package, which includes a towel and bathrobe.
Since we booked the Premium package at the Blue Lagoon, that got us a reserved table at their restaurant, LAVA. We did this also because since we had gotten off the plane at 7am, we knew we'd be hungry by the time the restaurant opened at 11:30am. The food was pretty good (the photo above is of the artic char, which is a pretty popular dish in Iceland) and we also got complimentary sparkling wine :)
After our bellies were full and our muscles relaxed, we hopped in our car and headed towards Reykjavik to check into our AirBnb and a partial day of sight-seeing!
Our AirBnb was awesome. Right in the heart of Reykjavik and we were walking distance to EVERYTHING! We were able to see the top of the Hallgrímskirkja church (above) from our flat. First things first, we needed fuel aka coffee. So we walked down the street to Te & Kaffi. Really good coffee. I'd say they're like the Starbucks of Iceland since they are pretty prevalent, but I can't really say that because Starbucks doesn't have good coffee, haha
We also walked down to the harbor, did a little shopping along the streets (it's all pedestrian so no cars drive through, it's pretty nice), and then we came upon a gastropub (Sæta Svínið) that looked enticing. We had worked up an appetite and by then it was already almost dinner time so we stopped on in and ordered a bunch of small plates.
We tried horse (!!) for the first time and had the classic Icelandic flatbread with smoked salmon on top! We also ordered fried cod and avocado fries. Everything was delicious and I'm not sure if this was a tourist spot or not but on our last day in Iceland, we walked back down to this area and since it was sunny and warm, this place was PACKED.
Also, Iceland is known for their hot dogs. Which is so completely weird because hot dogs here are like fast food and gross. And I mean, it's by no means 'fancy' in Iceland and I think it's also meant to be fast food as well, but there's just something so different about having a hot dog in Iceland that doesn't make it seem gross or weird. I think it's perception. In America, a hot dog is meh and in Iceland a hot dog is part of Iceland's national food. Their hot dogs are made of lamb and topped with a mix of fresh and fried onions, remoulade, and mustard. There are a couple stands in Reykjavik and you must grab one! One of the stands is called Bæjarins Beztu Pylsur and the other one is down right next to the gastropub.
When you go down to the harbor in Reykjavik, you must go to Valdís. It's a completely homemade ice cream shop with so many flavors! They have outlandish flavors such as pepper (yes, like ground black pepper) but they also have your classics. Take a number and take a gander at all their flavors. It's hard to choose just one!
And that was our first day in Iceland! Tomorrow, we hit the road and go on the Golden Circle drive! :)