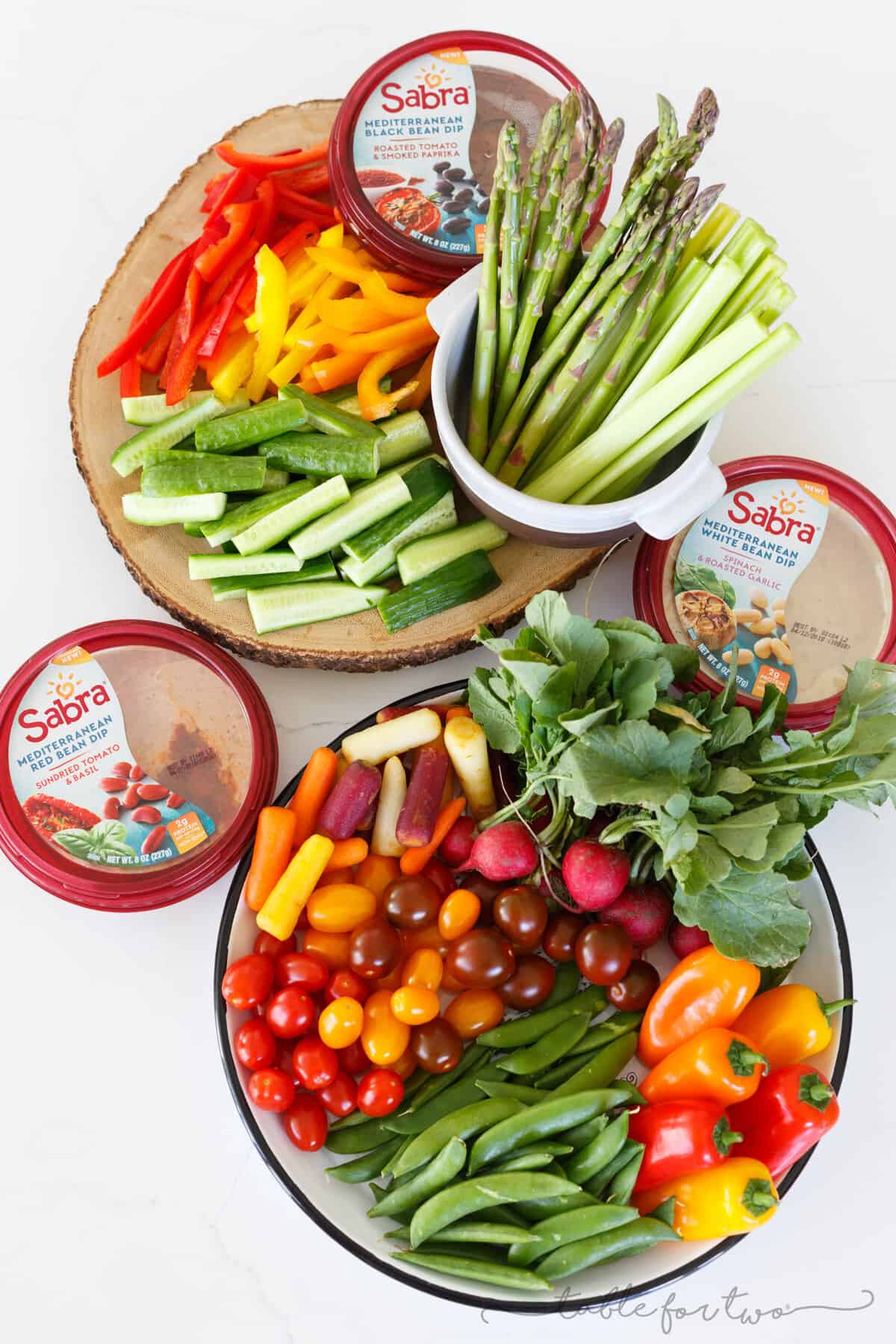 We're all about meat and cheese boards but WHAT ABOUT THE VEGGIES?! I mean, sure, a veggie board isn't totally fun but when you call it a crudite platter, it sounds way fancier and posh.
Plus, there is always a need for veggies at parties. I'm not saying that you can't have your queso and chips and guac but sometimes you don't need all that. Sometimes you just want some fresh veggies and dip. Well, I'm here to show you how I created my crudite platter.
It's really the easiest thing to do and I'm no expert at arranging these platters (as you can tell from my Dutch cheese tasting party) but as long as it's colorful and has dips that everyone will love…you'll be just fine!
This is a sponsored post with Sabra. All opinions are my own!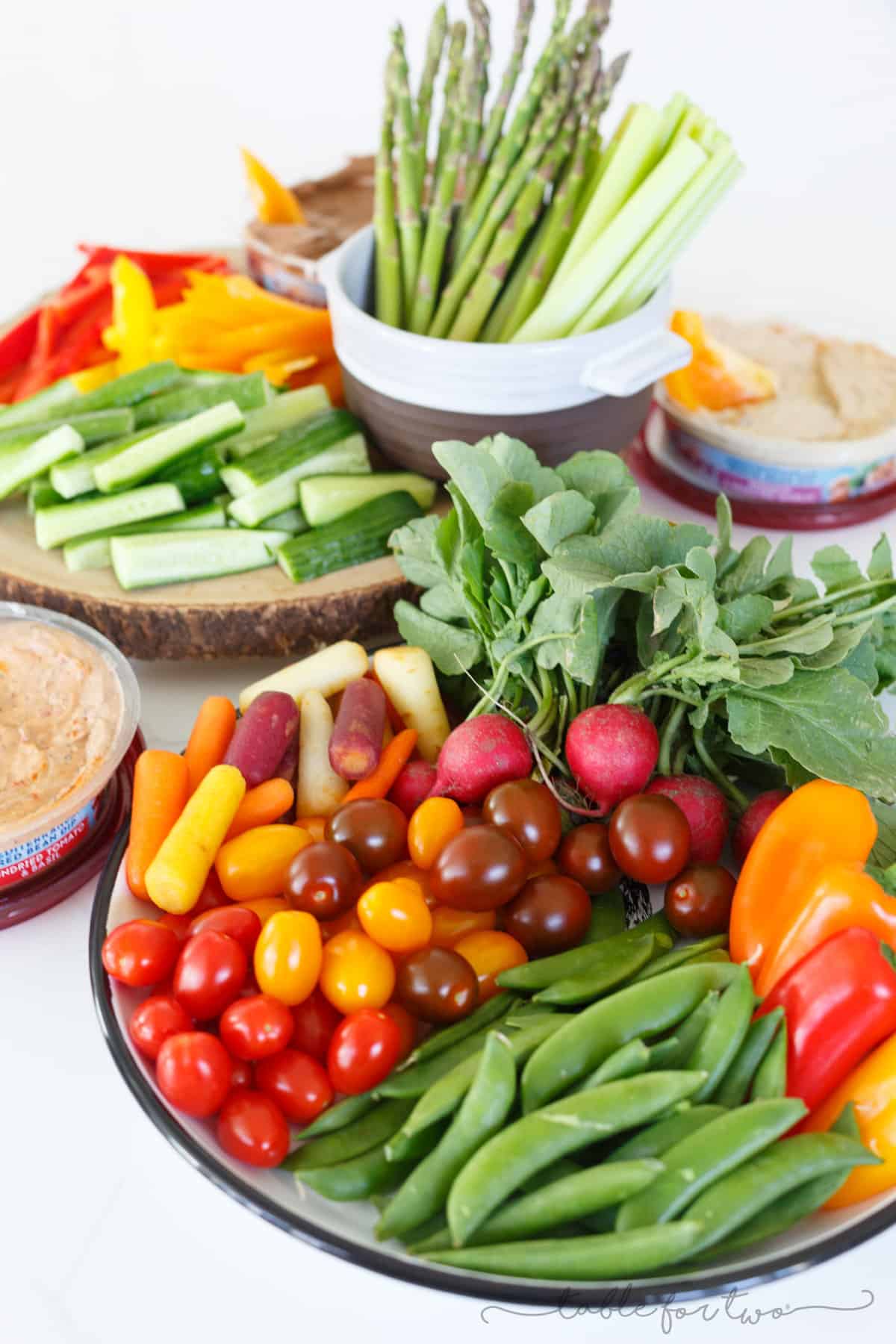 First, you need veggies. Bright colored veggies because you eat with your eyes first and who doesn't want to see a platter of bright, fresh veggies?
Second, you'll need dips!
I chose Sabra's new Mediterranean bean dips for my crudite platter this time. They have three delicious flavors and they're all unique in their own way. They're made with white, red, or black beans and it's great for those who are looking to live a more plant-based lifestyle or for those who simply want flavorful bean dip!
That dip above that I'm dipping a bell pepper into is their Red Bean with Sundried Tomato & Basil. The two other flavors they have are White Bean with Spinach and Roasted Garlic and Black Bean with Roasted Tomato and Paprika.
So much bold flavor packed into these dips and there's 2 grams of protein in each serving! Perfect snackable dip to add to your day. Pair it with veggies or spread it thinly on a wrap with deli meat for a satisfying lunch!
You can find them at your grocer's deli dip section.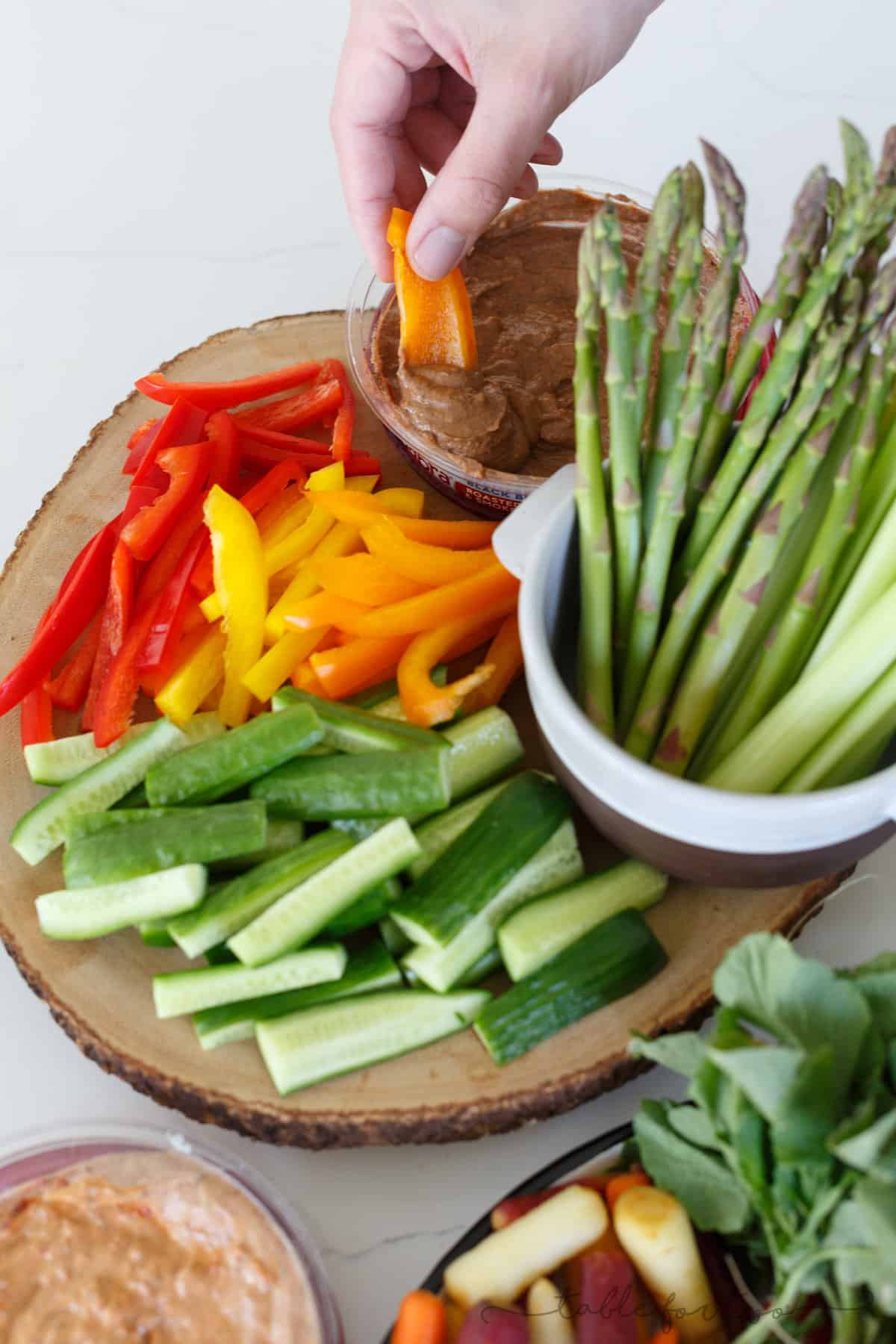 Spring is right around the corner and farmer's markets are the perfect place to get fresh veggies and produce! After you've gotten your bunch of veggies and produce that you want to put on your crudite platter, start assembling!
I like using a large platter and placing contrasting colored veggies together. Honestly, any which way you display them, it will be delicious no matter what!
I also like using different bowls to hold longer stalks of veggies like asparagus and celery. You can also play around with different kinds of platters or decor that you may have around the house.
Happy crudite platter building!