This one-pot Tex-Mex orzo is full of delicious Tex-Mex flair!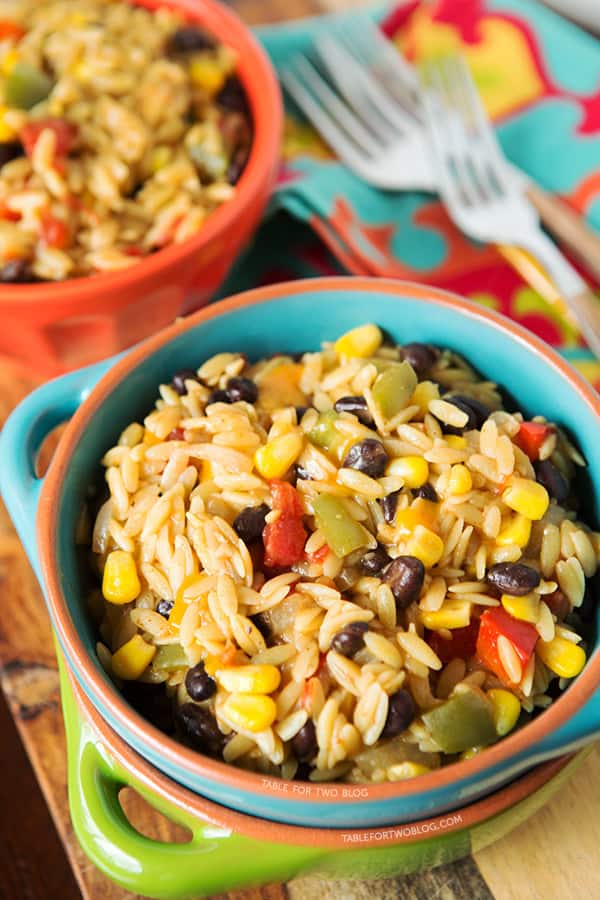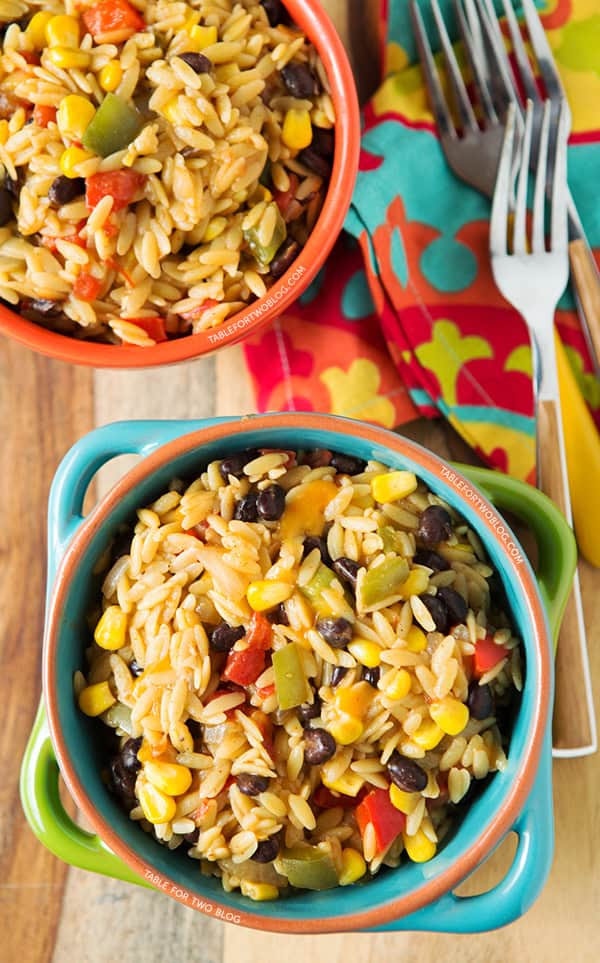 They're calling for 5-18 inches of snow for us. Yeah, it's a pretty big range but it all depends on how the storm swings. If it swings more East then we're pretty much SOL. It'll cripple the entire DC area and we probably will have a week off of work. Haha, I'm actually kind of hoping for 18 inches just because that last "big" snow storm we got was in 2010 and it's been long overdue. I would love nothing more than vegging on the couch and watching tv and movies.
So yesterday, I had the lovely privilege of having an all saltines/bread/white rice and pedialyte diet. Oh my gosh. If I have to eat another saltine cracker for the rest of the year, I might just gag. I typically love saltines but when it's all you can eat, it gets old pretty fast. However, my pedialyte tasted like HARIBO GUMMY BEARS. So yummy – if you can even say that about an electrolyte drink. Oh, but let's not even talk about how I couldn't have my morning cup of COFFEE. Holy hell in a handbasket. Seriously the most crippling thing ever. Even ibuprofen couldn't keep the pounding headache away. Now I don't ever want to know what it's like for a drug addict to kick their habit. I mean, the side effects of caffeine withdrawal is already way more than I can handle, I can't imagine something more hardcore. I like how I'm talking about drugs & withdrawal right now…who am I?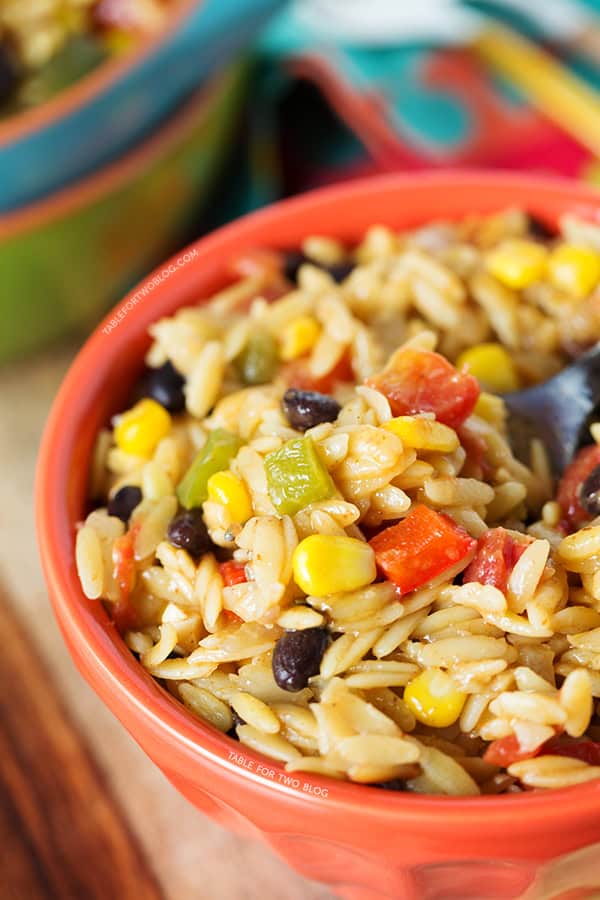 There are a bunch of trends in the food blog realm. Last year it was salted everything, kale, brown butter, quinoa, cookies baked into other baked goods baked into another baked good and then topped with a cookie crust, and some more I can't think of off the top of my head. It seems to me like this year it's starting off with one-pot dishes. I LOVE one-pot dishes and it's a trend I can definitely get behind and never be tired of. Who doesn't love less dishes to clean and less of a mess on the stovetop? *Hands raised high*
I threw this dish together on a whim one night. I checked what we had in our pantry and fridge and 40 minutes later, we had this piping hot and flavorful tex-mex-inspired dish! It's got a bit of a kick to it so if you don't like spice, I'd cut back on the chili powder!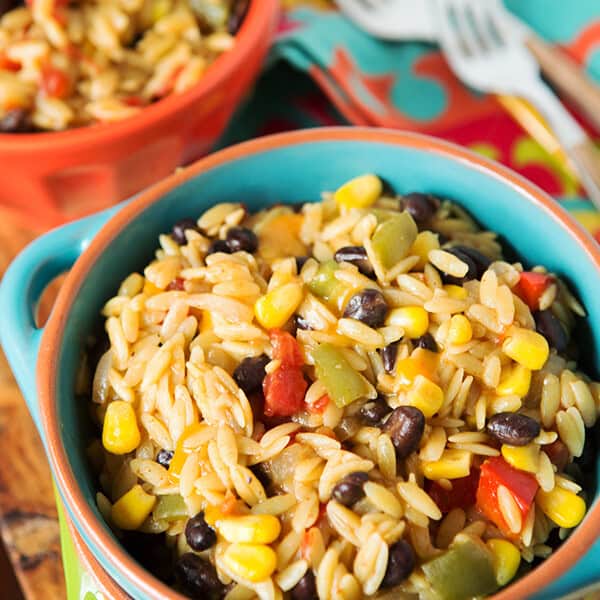 Print
One-Pot Tex-Mex Orzo
One pot is all you need for this Tex-Mex orzo! So much flavor in this pasta dish!
Servings (adjustable, but please note that results, timing, and cookware may vary when adjusting servings):
6
Ingredients
2

tbsp

olive oil

1

red bell pepper,

diced

1

green bell pepper,

diced

3

cloves

of garlic,

minced

1

yellow onion,

diced

2

tsp

ground cumin

1

tsp

chili powder

Salt and pepper,

to taste

1: 15.5

ounce

can black beans,

drained and rinsed

1: 10

ounce

can diced tomatoes & green chilies,

undrained

1 1/2

cups

frozen corn

3 1/2

cups

chicken stock (or chicken broth

vegetable broth, whatever you have on hand)

16

oz

orzo pasta
Instructions
In a large pot over medium high heat, add olive oil and heat until shimmering.

Add red bell pepper, green bell pepper, garlic, and onions. Sauté for 3-5 minutes, until just softened and fragrant. Add cumin, chili powder, salt, and pepper and stir until combined.

Add the black beans, diced tomatoes & green chilies, corn, and orzo. Stir to combine.

Slowly add the chicken stock then bring mixture to a boil, turn the heat to medium low, cover and let simmer until orzo has fully cooked through and absorbed most to all the liquid, about 13 minutes, stirring occasionally.

Serve hot and enjoy!
Notes
Nutrition Facts
One-Pot Tex-Mex Orzo
Amount Per Serving (1 serving)
Calories 477
Calories from Fat 81
% Daily Value*
Fat 9g14%
Carbohydrates 83g28%
Protein 19g38%
* Percent Daily Values are based on a 2000 calorie diet.
*Nutrition facts are an estimate and not guaranteed to be accurate.