Tender blueberry muffins
If you and I walked into a bakery together and saw a case full of many varieties of muffins, I would immediately reach for a blueberry muffin.
There is something about bakery-style tender blueberry muffins that I simply cannot resist.
I'm not a huge blueberry fan by any means (they aren't typically the first fruit I reach for), but when it comes to muffin flavors? Hands down a blueberry muffin gets my vote, through and through!
There is something about the flavor of the blueberries throughout a muffin that gives it the perfect texture and flavor.
I'd be curious what flavor muffin you would reach for if all the varieties were in front of you!
What is the secret to tender blueberry muffins?
I truly believe that the secret to tender blueberry muffins lies in the ingredients and method of making the batter.
We all know that leavening agents react to acids and that's what makes baked goods rise.
However, there are caveats to this and the type of baking powder you are using.
Baking powders can be fast-acting, slow-acting, or double-acting, depending on the acid or acids they contain, according to Shirley Corriher.
"Some acids react with liquid, while others react with heat. Double-acting powders usually contain two acids—one for liquid, the other for heat."
And there we have it.
I use double-acting, aluminum-free baking powder (see more below on aluminum-free).
Aluminum-free baking powders react with liquid and not with heat.
This makes them faster acting because as soon as you add the liquid (buttermilk, which has acid in it so it reacts kind of like how when you mix baking soda and vinegar together), you gotta move fast and get these into the oven promptly because most of the bubbles (reaction) are released shortly after mixing.
However, if you use baking powders with aluminum, their action is delayed until you put them in the oven.
So there is definitely a trade-off.
If your muffins aren't getting that high-rise and tender dough, I highly suggest you take a look at your baking powder (check the date, too, because they do expire and expired baking powder won't do anything for you).
They also don't say baking is a science for nothing. It truly is! And here is one more tip to tender blueberry muffins:
DON'T OVER-MIX YOUR BATTER!
Over-mixing batter is like 80% of the culprit when it comes to people running to me saying their muffins/cakes/breads were too dense. You just want to use the cut and fold method when mixing light batters like this blueberry muffin batter and STOP when all the flour has been incorporated.
You don't need to keep stirring it at all! Leave it alone :)
Can you use frozen blueberries to make tender blueberry muffins?
When it comes to blueberry recipes, I really try to use fresh blueberries so long as they are seasonal and affordable.
There is just something about fresh, plump blueberries that frozen blueberries can't replicate.
However, there are times that frozen blueberries must be used and for these muffins, if you can't use fresh blueberries, using frozen blueberries is absolutely okay.
I will say that I would rinse them off in tepid water and dry them with a paper towel prior to incorporating into the batter because they tend to be a more liquidy than fresh blueberries and they bleed into the batter.
What if I don't have buttermilk?
You can make your own by using the 1:1 ratio.
1 cup of whole milk to 1 tablespoon of white vinegar. Stir and let it sit for 10 minutes and you should have homemade buttermilk!
Definitely don't skip the buttermilk. You won't get tender blueberry muffins!
The tip that ensures your blueberries won't sink in your blueberry muffins!
Coat your fresh blueberries (you can't really do this with frozen) in a light dusting of flour!
How to showcase blueberries on top of your muffins
Once you've put the batter into the muffin liners, gently press two or three blueberries onto the top of the batter.
Do I have to use decorating sugar on top?
You don't have to but I think it gives it a nice crunch, texture, and a little sparkle!

How to store tender blueberry muffins properly
You can store them in a container on the countertop for up to 5 days.
I don't typically like putting the lid on the container because it tends to make the tops of the muffins sticky and moist so I typically keep the lid ajar.
Can you freeze these muffins?
You can. You'll need to let the muffins cool completely and then place them in freezer-safe plastic bags or freezer-safe glass containers.
When ready to eat, thaw by putting them out at room temperature or in a toaster oven or microwave.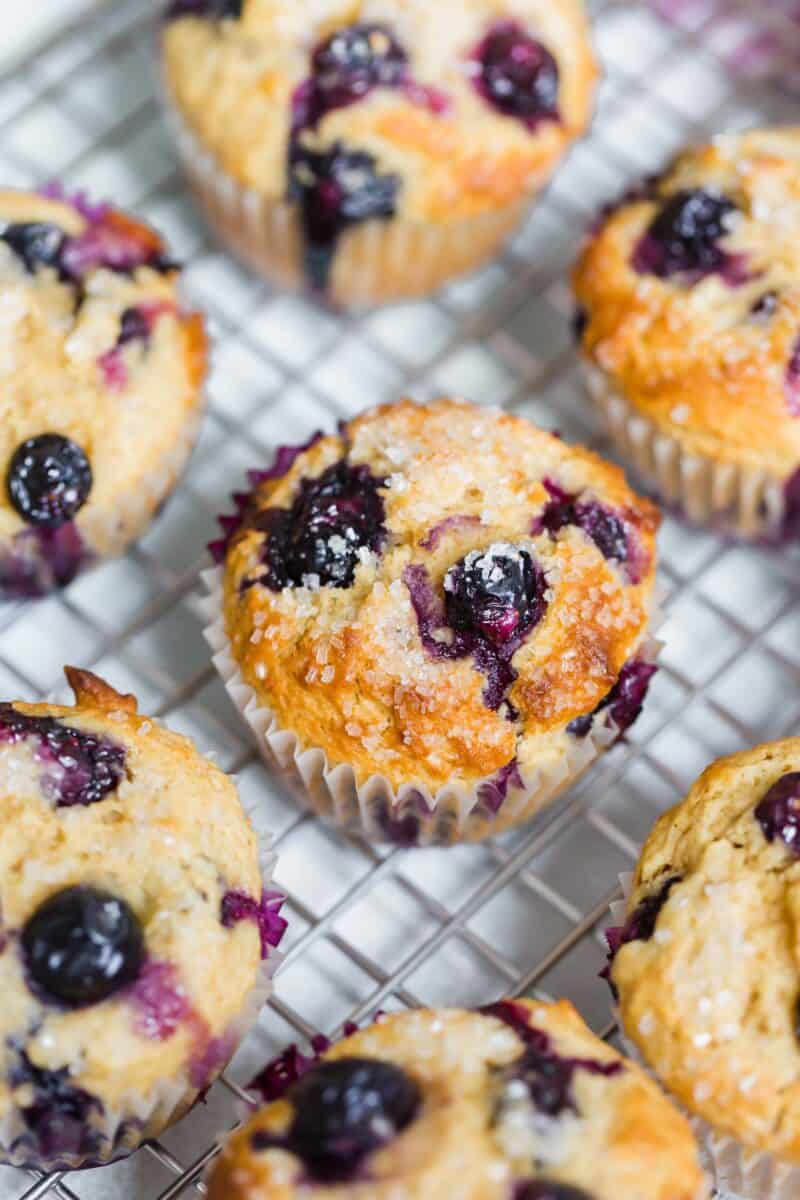 More muffin recipes you may like:
Double dark chocolate banana muffins
Peanut butter and chocolate banana muffins
Spiced orange and carrot whole wheat muffins
Healthy chocolate zucchini muffins
Take a pad of butter and slather it onto that warm, tender blueberry muffin! You won't regret it one bit!
Tender Blueberry Overload Muffins
Save
Saved!
Rate
Print
Ingredients
1

cup

all-purpose flour

1

cup

whole wheat flour

½

cup

granulated sugar

1

tablespoon

baking powder

½

teaspoon

kosher salt

½

cup

unsalted butter

,

melted and cooled

¼

cup

packed dark brown sugar

2

large eggs

,

room temperature

¾

cup

buttermilk

,

room temperature

1 ½

teaspoons

vanilla extract

1 ⅔

cups

fresh blueberries

,

plus more for topping

2

tablespoons

sparkling sugar / decorating sugar
The default measuring system for this website is US Customary. Unit conversions are provided for convenience and as a courtesy only. While we strive to provide accurate unit conversions, please be aware that there may be some discrepancies.
Instructions
Preheat oven to

400

°F

and line two muffin pans with muffin liners. Lightly spray the muffin liners with cooking spray (I prefer coconut oil baking spray from Trader Joe's) and set aside.

In a large bowl, whisk together both flours, granulated sugar, baking powder, and salt. Set aside.

In the bowl that you melted the butter, add dark brown sugar and whisk until clumps are dissolved and broken up. Add the eggs, buttermilk, and vanilla extract. Whisk until combined.

Make a well in the center of the dry ingredients then pour the wet ingredients in and gently incorporate the flour into the wet mixture until just combined and no flour remains at the bottom of the bowl.

In a small bowl, toss fresh blueberries in 1 tablespoon of flour.

Gently fold in the blueberries into the batter then using a large cookie scoop, fill muffin cups with batter and add two to three blueberries on top, gently pressing it into the batter. Do not press it so that it completely sinks into the batter; you just want it to not roll off so a gentle press will do!

Evenly divide and sprinkle decorating sugar on the top of the batter.

Bake for 18-20 minutes, or until the tops of the muffin are starting to brown and a toothpick insert into the center comes out clean.

Let cool for 5 minutes in muffin pan then place on a wire cooling rack to cool completely.

Store at room temperature for no longer than 5 days.
Recipe Notes
If you don't want to use or don't have whole wheat flour, you can just use two cups of all-purpose flour.
NUTRITION FACTS
Serving:
1
Muffin
|
Calories:
148
kcal
|
Carbohydrates:
21
g
|
Protein:
3
g
|
Fat:
6
g
|
Fiber:
1
g
|
Sugar:
10
g
This website provides approximate nutrition information for convenience and as a courtesy only. Nutrition information can vary for a variety of reasons. For the most precise nutritional data use your preferred nutrition calculator based on the actual ingredients you used in the recipe.