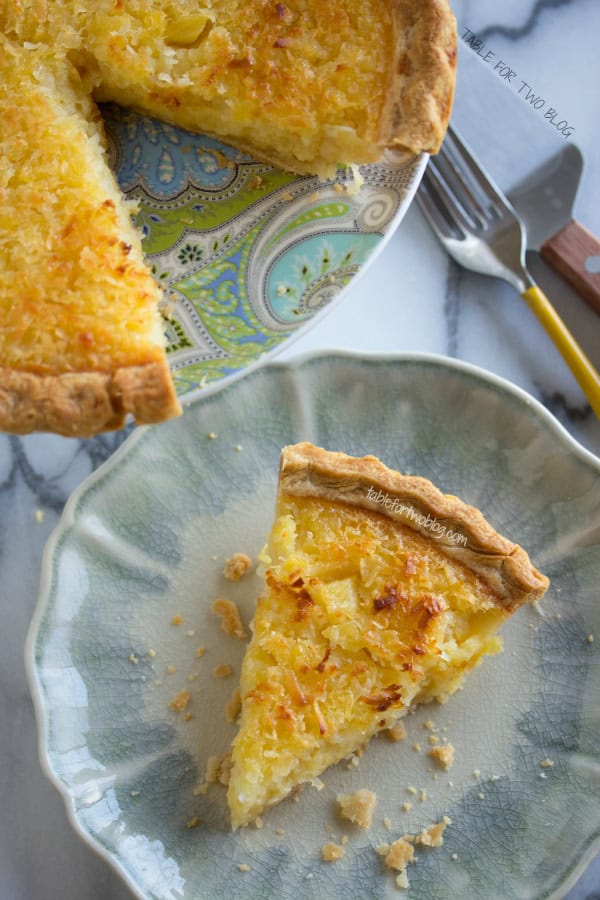 You know that saying, "easy as pie?" I never really understood it. To me, pie isn't really that easy to make. I think pies actually take quite a while to make, depending on what type you're making. Or at least for me, all the pies I've ever made have taken me forever. Maybe it's the perfectionist in me and I like crimping it perfectly and I like making the lattice top. I mean, I get it – it's one of those old sayings that have been passed down, but I sometimes take things literally so I guess I never really got it…until I made this pie. Unlike all the other pies I've made before, this one really is EASY. It's one bowl and you even buy the crust pre-made. My aunt made this pie and brought it to dinner one night it looked and smelled so good. I couldn't wait to dig in after dinner. As soon as I took a bite, it reminded me of somewhere tropical (hence the name) and also it was kind of like a pina colada in pie form.
I wish I had some of this pie left. Although it was made weeks ago, yesterday would've been a good day to take a bite of this pie and pretend I was in a tropical paradise. I was in the exact opposite place. I was in bed majority of the day feeling like absolute death because I was running a 101 degree fever. Fevers are not fun. I can deal with congestion and coughing, but once that fever hits, it completely shuts you down. Your entire body aches and you feel so weak and cold. Ugh, just even thinking about it makes me cringe. Thankfully there's ibuprofen, but I'm just wanting to kick this cold so bad. I need to at least be 70% better by Friday since I'll be heading out of town again. Luckily it's to somewhere warm – Orlando, FL! Most importantly, DISNEY WORLD. And I definitely do NOT want to be in bed all day ;)
Oh, so on Saturday, Jason and I went on our first married date night since we got back from our honeymoon. We went for sushi – always a good choice when it's warm out. We then went and saw Iron Man 3. SO good. I loved how funny it was (RDJ is always so funny!) and I loved all the explosions and action. Has anyone see it yet? I know most of you probably went to see The Great Gatsby this weekend, right? I'm waiting til the crowds die down for that one. I hate going to movies opening weekend! It's just such a huge cluster.
Tropical Pie
This pie is reminiscent of a piña colada and the recipe is "easy as pie" to make!
Servings are adjustable but please note that results, timing, and cookware may vary when adjusting servings.
Ingredients
1: 9

inch

frozen pie crust

1/2

cup

granulated sugar

1/2

cup

light corn syrup

3

tbsp

all purpose flour

3

eggs

1: 8

oz

can of crushed pineapples,

undrained

1

tsp

vanilla extract

1

cup

sweetened coconut flakes

1/3

cup

butter,

melted
Instructions
Preheat oven to 350 degrees Fahrenheit. Bring frozen pie crust out of freezer and set aside.

In a large bowl, whisk together sugar, corn syrup, and flour. Add eggs in, one at a time, and whisk together until well incorporated. Add in the crushed pineapples, vanilla, and sweetened coconut flakes. Whisk well to combine.

Pour batter into pie crust and using a pastry brush, brush the top with the melted butter.

Bake for 50 minutes.

Let cool completely before slicing and serving.
Notes
Servings: 8 Slices
*Nutrition facts are an estimate and not guaranteed to be accurate.
Nutrition Facts
Tropical Pie
Amount Per Serving (1 Slice)
Calories 388
Calories from Fat 180
% Daily Value*
Fat 20g31%
Carbohydrates 53g18%
Protein 5g10%
* Percent Daily Values are based on a 2000 calorie diet.