Aug

01
Cheesy Grilled Pesto Chicken and Sundried Tomato Sandwich
If I could profess my love to melty, cheesy sandwiches, I totally would. I practically have a different sandwich a day at work because of the proliferous amount of sandwich shops near my office and now with food trucks taking over the city, there's even more sandwich love to give! However, as much as I love eating sandwiches made by a café or food truck, I must say that making it at home is way better and I can control the toppings, the type of cheese I use, and basically every ingredient.
The one ingredient combo that I completely, utterly adore is pesto and sundried tomatoes. I don't exactly know when this love affair started but I would try to figure out different ways to combine it in everything I ate: in pastas, in sandwiches, in cereal. Just kidding on that last one, but you see what I mean? Obsessed.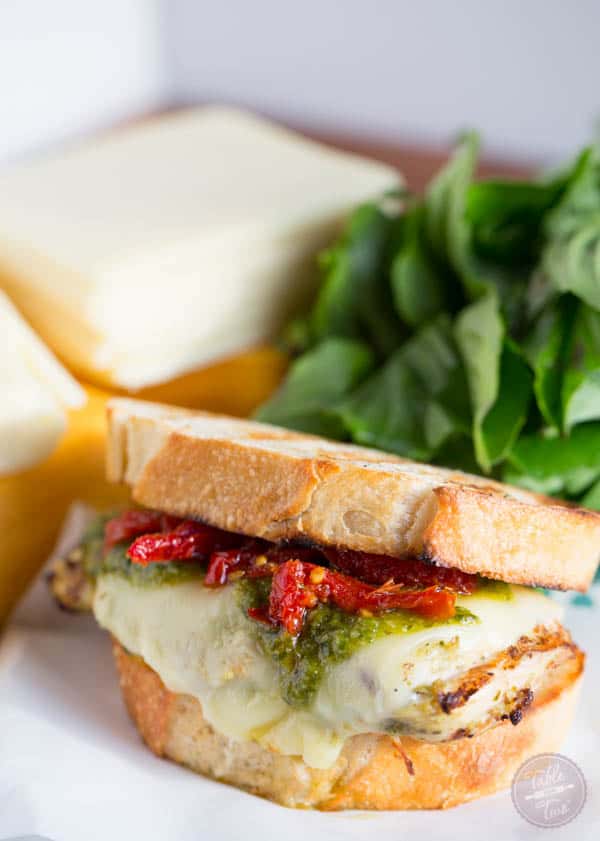 Land O'Lakes recently released a new, versatile deli cheese product: LAND O LAKES® Sharp Cheddar American Blend . It has the sharp, bold flavor of natural cheddar, and melts smooth like American, so when I was coming up with an idea for a sandwich, pesto and sundried tomatoes came immediately to mind along with Sharp Cheddar American Blend. It was pretty much a no-brainer for me. I would've used a cheese that is typically paired with pesto and sundried tomato but why not use something bold and unique? It also melts SO well. I feel that is key to a warm sandwich – you can't have cheese that is rock hard and so stiff that it doesn't melt and give you that gooey effect. LAND O LAKES® Sharp Cheddar American Blend? Winner in both taste and melt-ability!
LAND O LAKES® Sharp Cheddar American Blend has been a staple on our lunch sandwiches. I love the bold flavor of both the yellow and white but most importantly, the sharp taste is definitely not something to be missed. I LOVE a good SHARP cheddar and it's typically what I always go for, and Sharp Cheddar American Blend is perfection. You know what else is perfection? How easy it is to get this in your own house.You can get LAND O LAKES® Sharp Cheddar American Blend at the deli counter. Sharp Cheddar American Blend is available in yellow or white, and can be sliced just the way you like it: thick or thin, by the pound, or just a few slices at a time.
Okay, so get excited because to celebrate the launch of Sharp Cheddar American Blend and its bold and melty flavors, Land O'Lakes is helping me host a giveaway!
Giveaway includes a Hamilton Beach® Gourmet Panini Press, a Land O'Lakes grilling utensil kit and coupons for Sharp Cheddar American Blend – all items that can help you make your own tasty summer recipe, including my cheesy grilled pesto chicken and sundried tomato sandwich! If you need even more delicious recipes featuring LAND O LAKES® Sharp Cheddar American Blend, visit: http://www.landolakes.com/Products/Custom/2222297.aspx and be sure to visit Land O'Lakes on Facebook for more fun ideas!
Cheesy Grilled Pesto Chicken and Sundried Tomato Sandwich
Prep time:
Cook time:
Total time:
Ingredients:
2 chicken breasts
½ cup of basil pesto (homemade or store-bought), divided
2 tablespoons sundried tomatoes in olive oil
4 slices of Land O Lakes Sharp Cheddar American Blend
4 slices of bread
Instructions:
Preheat your grill on high.
Using ¼ cup of basil pesto, brush chicken breasts with pesto.
Grill the chicken breasts until cooked through (the insides reaching 160 degrees Fahrenheit). Before you bring the chicken inside, place 2 slices of cheese on each chicken breast and close the lid of the grill to let it melt.
To assemble the sandwich: place one chicken breast on one slice of bread, top with bit of the remaining basil pesto then top with 1 tablespoon of sundried tomatoes. Place the other slice of bread on top. Repeat with the other sandwich.
I have partnered with Land O'Lakes for an exclusive endorsement of Land O Lakes® Sharp Cheddar American Blend. This blog post is sponsored by Land O'Lakes. All opinions are 100% my own. Thank you for supporting brands I love so I can continue to bring you unique and delicious recipes!