This buffalo ranch chicken pasta packs in some heat!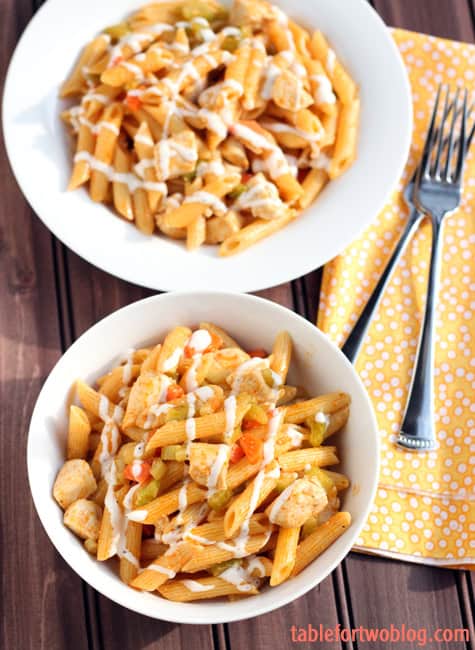 Being sick in the summertime is not fun. I remember when I was younger, being sick in the summer was like a curse. I'd much prefer being sick in the winter because it seems like the norm. Cold weather = sniffly noses, right? Although, obviously, no one wants to ever be sick, but if I had to choose, I would choose curling up in front of the fireplace nursing my cold instead of when the sun is shining outside and I could be by the pool.

I had sinus pressure all weekend and I could've sworn my head was going to implode any minute. Instead of taking congestion medicine, I should've made myself another batch of this pasta dish. When we ate this a couple weeks ago, our sinuses were wiiiide open, haha
I posted a picture of these on Instagram and a lot of people thought they were fries – which got me craving buffalo fries with ranch dipping sauce. Uh, dangerously awesome.
Sorry, these are no french fries but it's still a dangerous pasta dish. The heat is addicting. It's a good hurt. And it's actually REALLY good cold, as I discovered. The following day when I brought leftovers for lunch to work, I was too lazy to go to the microwave (I know, that's like ultimate lazy) so I ate it cold. Not too shabby. I could totally see myself whipping up a batch of this for a party, really! It'd be like a cold pasta dish like macaroni salad or something but with buffalo sauce. Yum, right??
Anyway, excuse me while I go shove a couple spoonfuls of this in my mouth to clear my sinuses – natural remedies, ya know? ;)