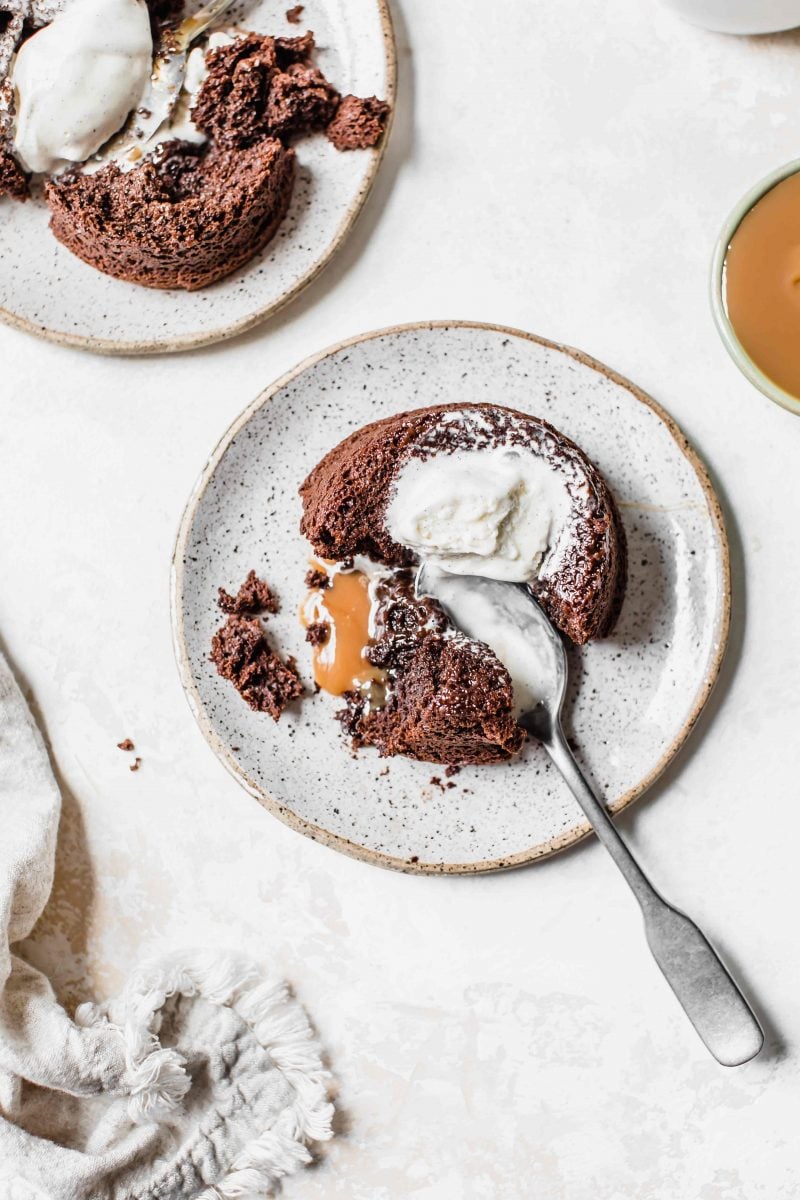 If you were to ask me what I'd choose to eat for dessert, I will always say some sort of chocolate.
Whenever we go out to eat, I always look at the dessert menu first.
I need to know what to save room in my stomach for, you know?!
If there's anything chocolate on the menu — and there usually is — I usually always choose that.
My favorite is a super decadent chocolate cake but I will also take any type of chocolate dessert.
I feel like molten lava cake is a very popular one to have on menus but I've always dreamed about making it at home myself.
Insert salted caramel molten lava cakes.
Absolutely, 100% drool-worthy.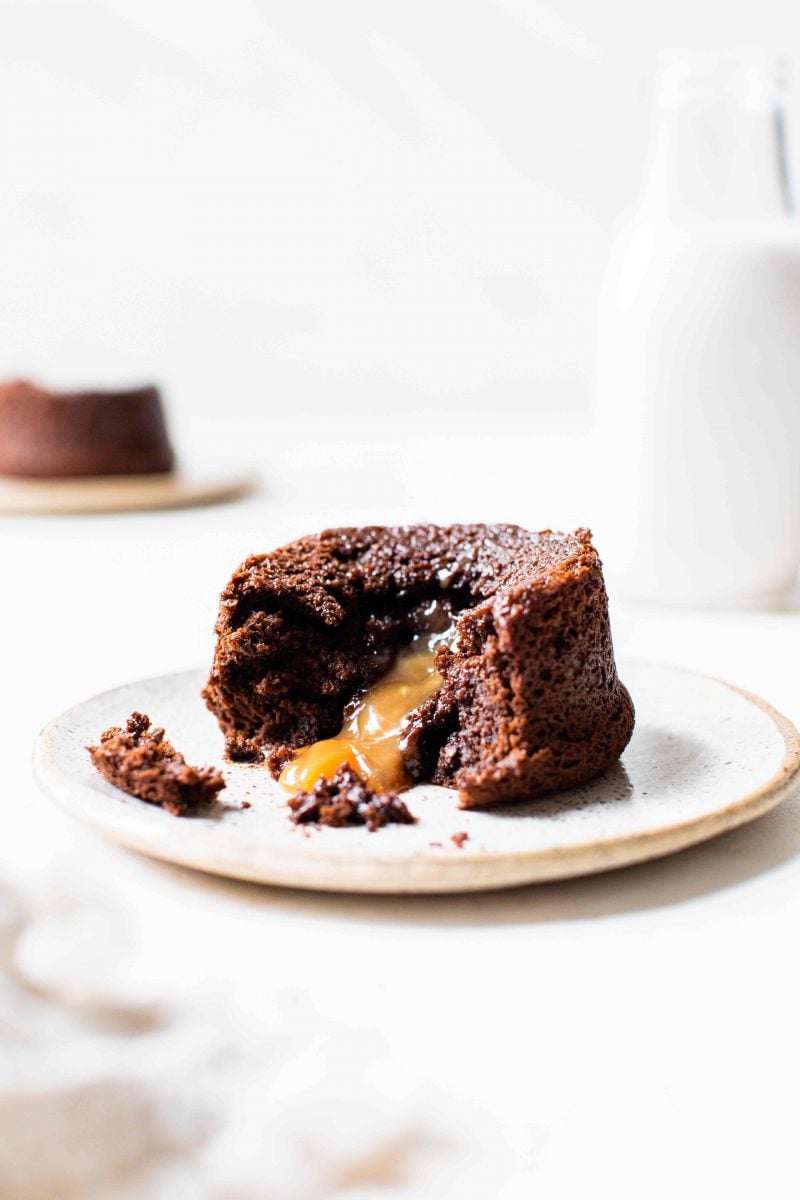 What is a molten lava cake?
A molten lava cake is kind of like emulating a volcano.
Hot, gooey chocolate liquid is in the center of the half-baked cake and when you slice it in half, it all oozes out into a river of chocolate goodness.
Mine doesn't stay liquid in the center
You've cooked it too long!
You need to cook it JUST until the center is slightly jiggly and then immediately pull it out of the oven otherwise it'll keep baking.
Mine fell apart when I inverted it
That's probably because it was not structurally cooked enough.
The sides may have looked cooked but it couldn't structurally hold itself when you inverted it.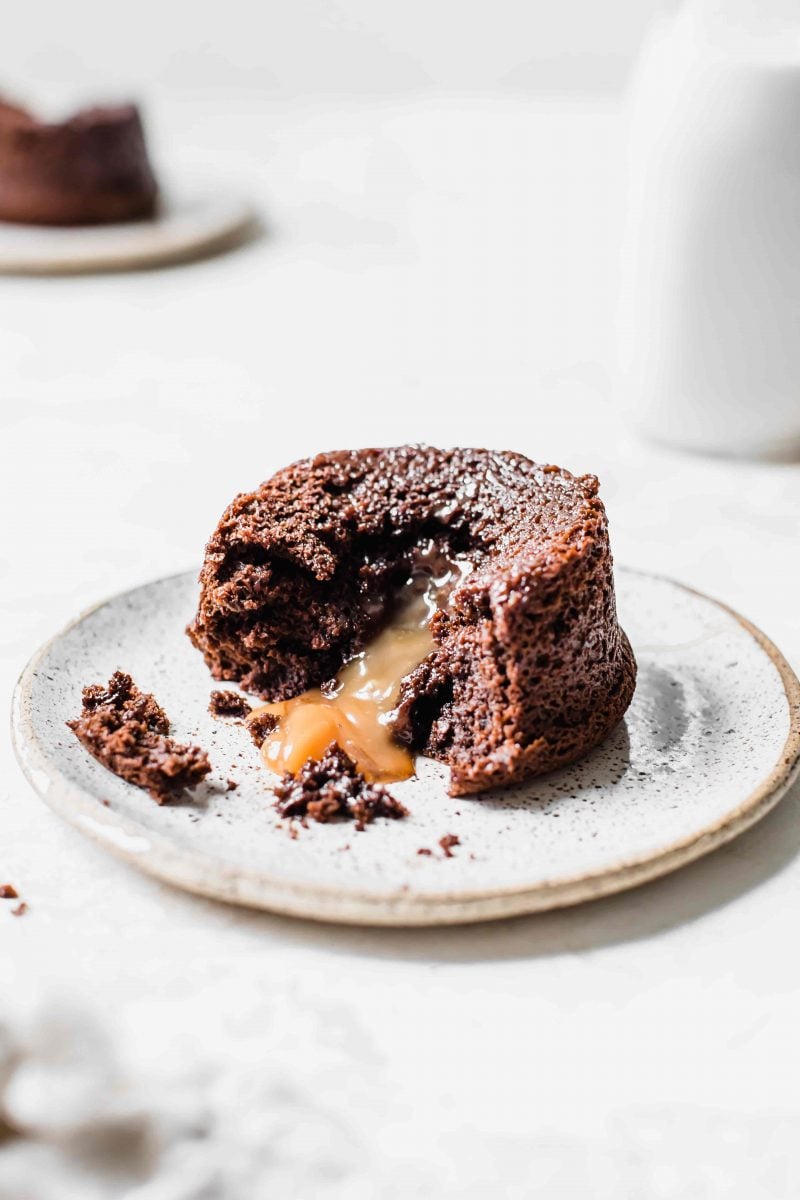 I don't like dark chocolate.
You can make this with semisweet chocolate chips, if you prefer or milk chocolate.
What can I serve this with?
A giant scoop of ice cream on top, DUH!
Do I have to use the salted caramel?
No, you certainly don't have to but that's a third of the goodness, isn't it?!
Can I make this ahead of time?
You can make the batter ahead of time but no, this cake needs to be made and eaten immediately.
So I can't freeze it.
Correct.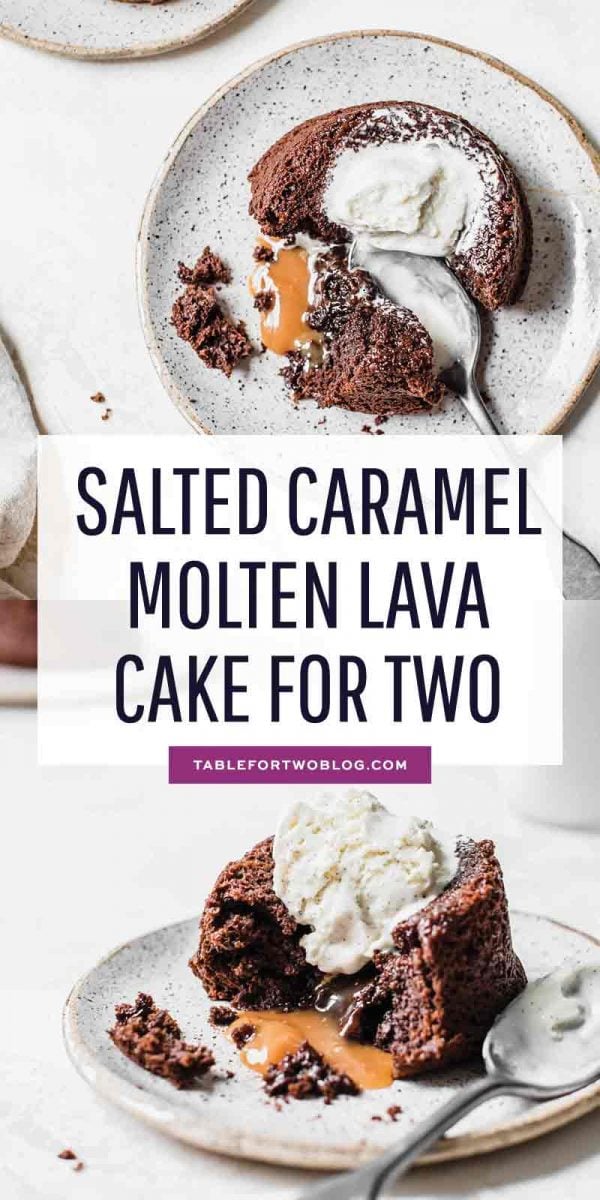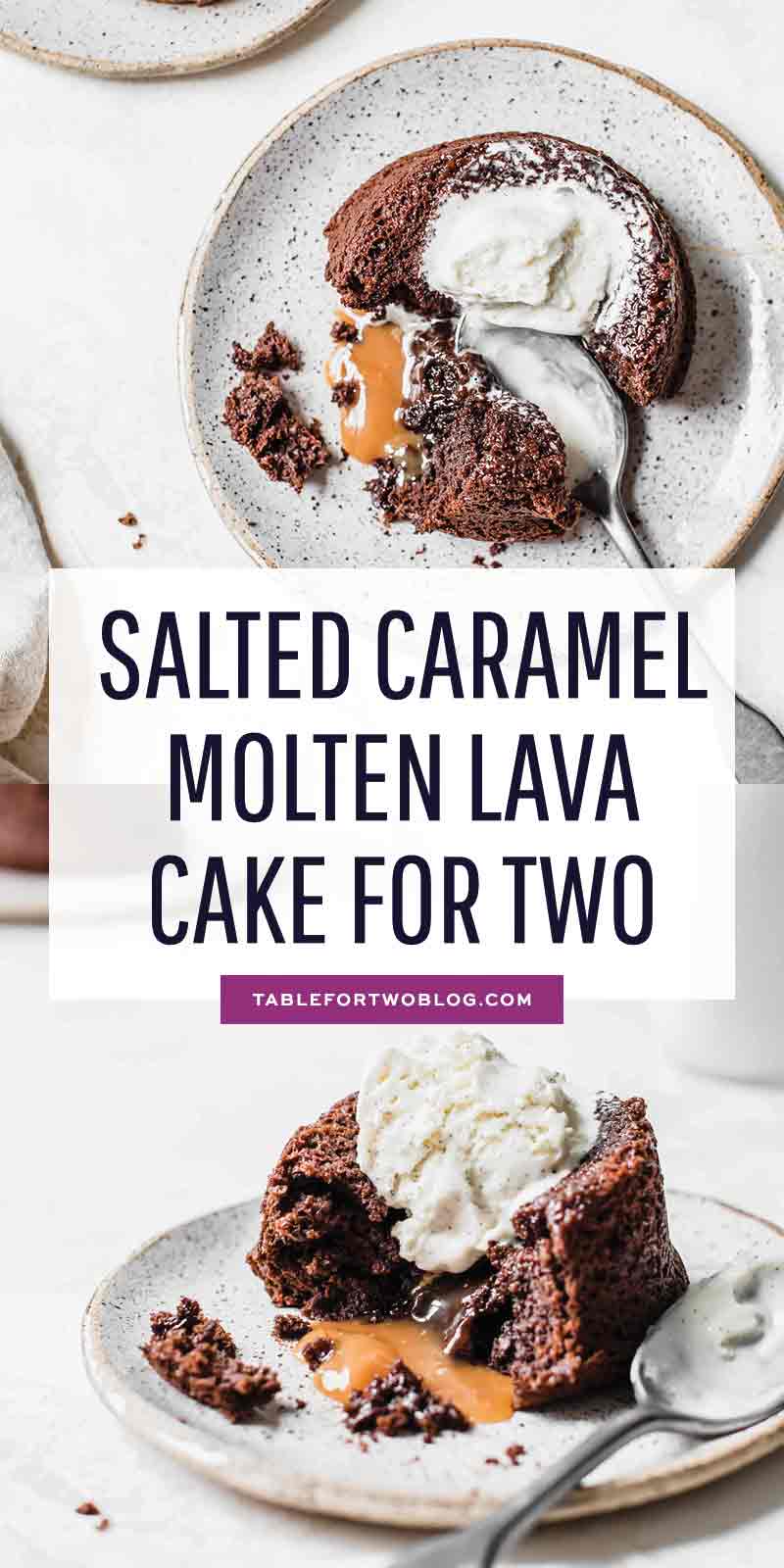 Salted Caramel Molten Lava Cakes for Two
The perfect treat for you and yours on any night of the week!
Servings are adjustable but please note that results, timing, and cookware may vary when adjusting servings.
Ingredients
3/4

cup

dark chocolate chunks

2

tablespoons

unsalted butter

2

teaspoon

granulated sugar

2

tablespoons

all-purpose flour

1/2

teaspoon

baking powder

1

large egg

1

tablespoon

milk

1/2

teaspoon

vanilla extract

2

teaspoons

salted caramel sauce,

divided

Vanilla ice cream for topping
Instructions
Preheat oven to 400 degrees Fahrenheit.

Place a heat-proof glass bowl over a pot of simmering water or use a double-boiler.

Melt chocolate and butter together then remove from heat.

In a small bowl, whisk together sugar, flour, and baking powder.

Add egg, milk, and vanilla extract to the chocolate mixture. Whisk to incorporate.

Add the dry mixture to the wet mixture then whisk until fully incorporated.

Divide batter amongst 2 well-greased 6-ounce ramekins.

Add 1 teaspoon of salted caramel into the center of the batter in each ramekin.

Bake for 13-15 minutes or until the edges of the cake are set and the center is only slightly jiggly.

Invert the ramekin onto a plate, top with ice cream, and serve.
Notes
Nutrition Facts
Salted Caramel Molten Lava Cakes for Two
Amount Per Serving (1 cake)
Calories 323
Calories from Fat 171
% Daily Value*
Fat 19g29%
Carbohydrates 31g10%
Protein 6g12%
* Percent Daily Values are based on a 2000 calorie diet.
*Nutrition facts are an estimate and not guaranteed to be accurate.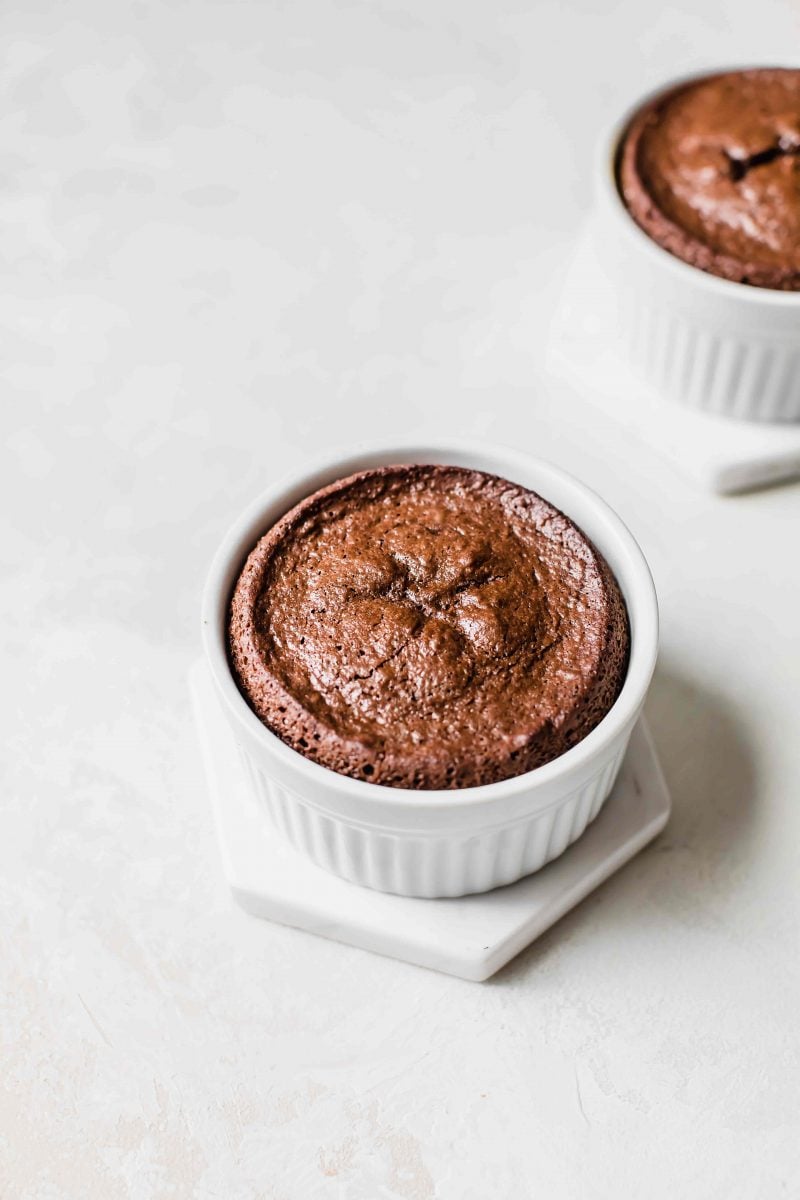 Photography by Erin Alvarez