Juuuust in case you didn't know, Christmas is only three days away! It's kind of crazy we're reaching the end of December, huh? It's supposed to rain all day here on Christmas Eve and it's only going to be a balmy 60 degrees. On Christmas, it's just going to be sunny in the 50's. No white Christmas here for us! What about where you live?
So, I started my own Harry Potter marathon on Saturday! Over Black Friday, I picked up a crazy good deal on the entire HP DVD set and I haven't had a chance to dive into it. I always miss the marathons on TV so I decided to just start one on my own time ;) I forgot how YOUNG these actors were when they first started! I also forgot how much I've missed from the first ones. It made me think of the very last Harry Potter movies and how everything turned out in the end. It's kinda fun watching the first one and knowing everything that they didn't know, if that makes sense. Like, how horrible Professor Snape was made out to be or how much a mystery Voldemort was in the beginning. It's just fun to re-live it all :)
Anyone seeing any movies on Christmas day? I want to see Unbroken!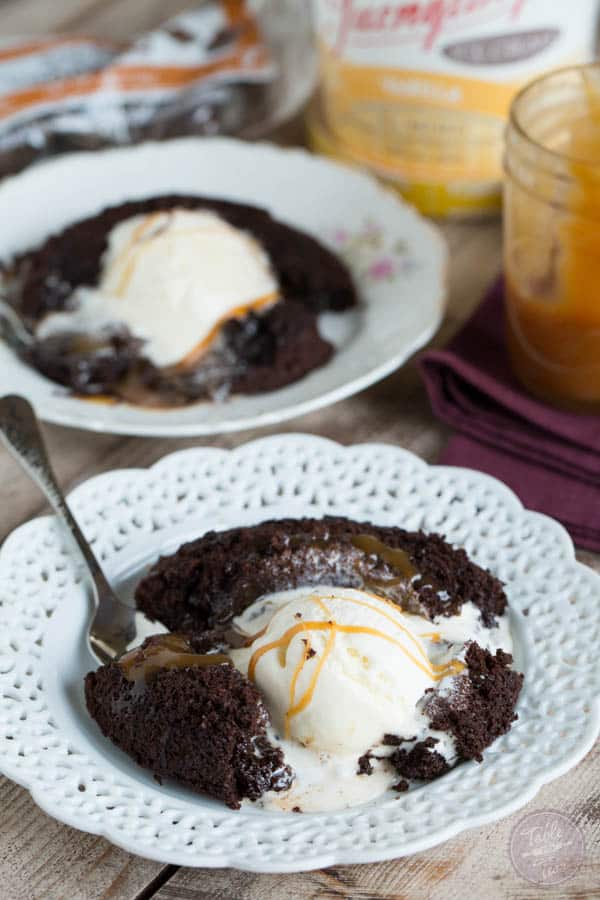 I know there's an obnoxious amount of photos for this recipe but I just couldn't decide and leave out any of the decadence! Let me tell ya – photographing a molten lava cake is NOT easy! It looked horrible and like a pile of poo without the ice cream on top. Such a shame I had to add creamy vanilla ice cream atop these salted caramel molten lava cakes for two ;)
Anyway – if you have a hankering for cake for you and your hunny, I highly suggest whipping up a batch of this and topping it with some ice cream! The salted caramel is an extra touch and if you don't want to, that's fine too. I just love adding salted caramel to my desserts!
This is what it's supposed to look like before you flip it over :) doesn't it look so decadent?! You know you want to dig right in!!
Salted Caramel Molten Lava Cakes for Two
The perfect treat for you and yours on any night of the week!
Ingredients
3/4

cup

dark chocolate chunks

2

tablespoons

unsalted butter

2

teaspoon

granulated sugar

2

tablespoons

all-purpose flour

1/2

teaspoon

baking powder

1

large egg

1

tablespoon

milk

1/2

teaspoon

vanilla extract

2

teaspoons

salted caramel sauce,

divided

Vanilla ice cream for topping
Instructions
Preheat oven to 400 degrees Fahrenheit.

Place a heat-proof glass bowl over a pot of simmering water or use a double-boiler.

Melt chocolate and butter together then remove from heat.

In a small bowl, whisk together sugar, flour, and baking powder.

Add egg, milk, and vanilla extract to the chocolate mixture. Whisk to incorporate.

Add the dry mixture to the wet mixture then whisk until fully incorporated.

Divide batter amongst 2 well-greased 6-ounce ramekins.

Add 1 teaspoon of salted caramel into the center of the batter in each ramekin.

Bake for 13-15 minutes or until the edges of the cake are set and the center is only slightly jiggly.

Invert the ramekin onto a plate, top with ice cream, and serve.