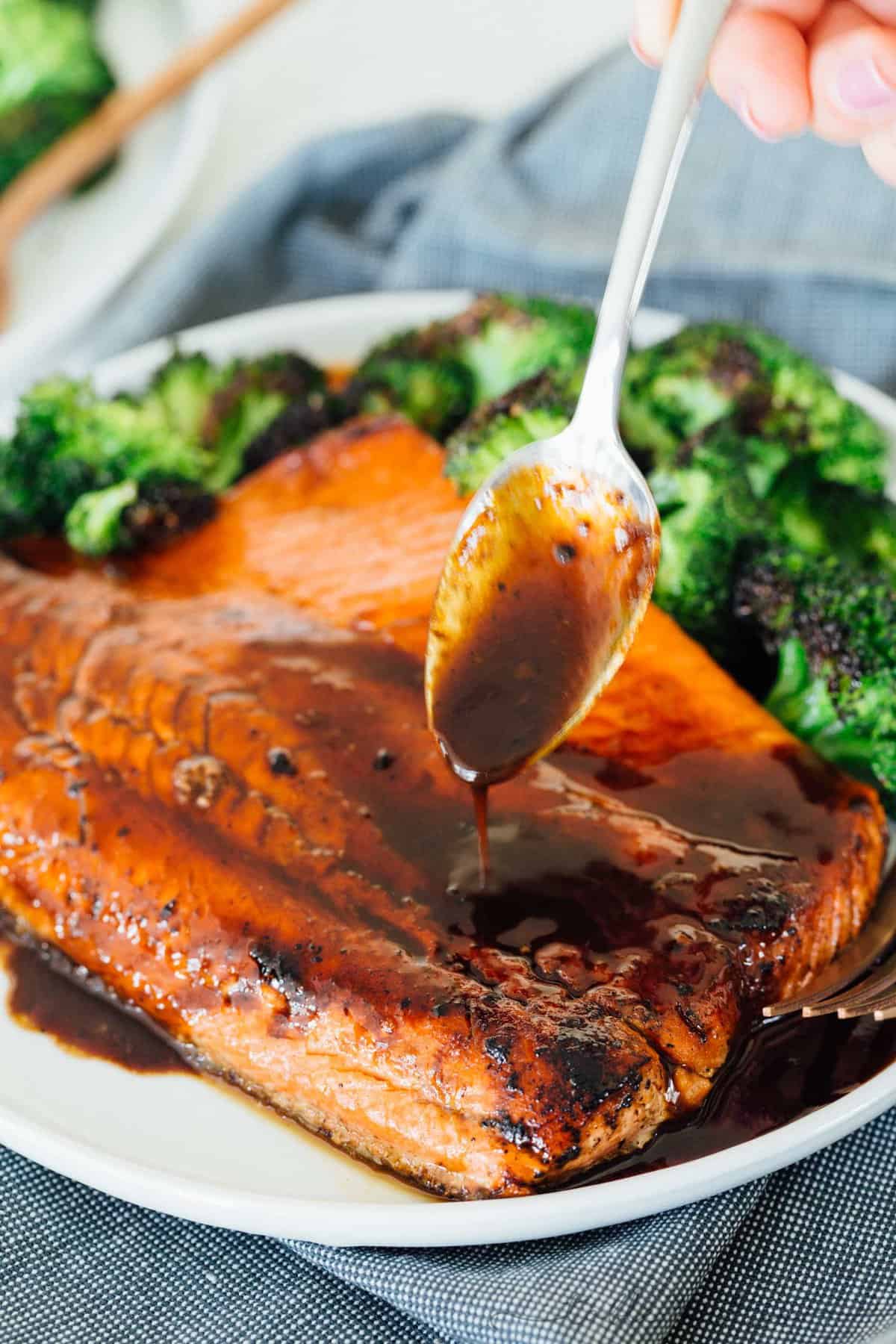 Are you ready for a super easy salmon recipe that is going to blow your mind?!
This sugared soy sauce salmon will take you 10 minutes to make and it got a salty/sweet combination that goes so well with the buttery, flakey salmon.
Growing up, my mom would make the simplest salmon for dinner (spoiler alert: it's this one).
It was always delicious and one of my brother and I's favorites.
I asked her one day what she used to make it so good and I expected a long ingredient list, but to my surprise, she replied with "soy sauce and sugar."
Now why didn't I think of that?
The soy sauce gives the salmon a good salty flavor, while the sugar cuts the saltiness and gives you a sugary flavor that you taste near the end of your bite.
It's so good, and it makes such a good crust on top too.
My mouth is seriously watering as I write this and look at the picture above.
It also reminds me of my mom and ties to me to childhood so that's always a good memory.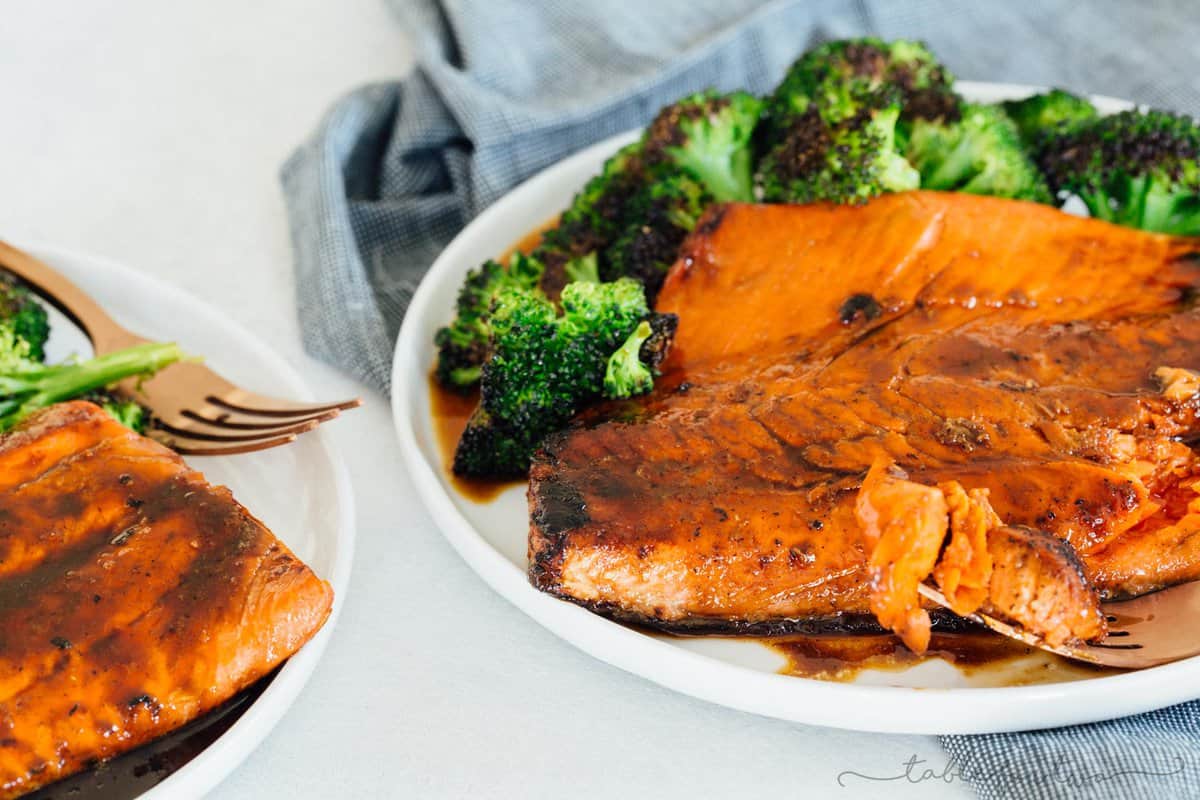 What kind of salmon can I use?
I would go to your local grocery store and find whatever fresh salmon you can get.
I prefer wild salmon like sockeye or coho but if you can't find that, totally okay.
Just make sure it's fresh, raw salmon; not pre-cooked or anything.
How do I prep the salmon to cook?
First, you'll want to make sure the pin bones are pulled out.
If you run your fingers down the middle of the salmon, you can usually find where the pin bones are.
We just use tweezers to pull them out but you can buy specific fish pin bone tweezers too.
You don't need to do anything to the skin because you won't be eating it.
If you have a large piece of salmon, go ahead and slice it in half after you pull out the pin bones.
Can I use another kind of seafood with this recipe?
Salmon is sturdier than other fish and while I would think you probably use this on shrimp, I would say that just use salmon for this recipe.
The crust is the best part anyway!
Will the sugar burn?
No, it shouldn't burn. You're not keeping it in the skillet for long.
Salmon doesn't take long to cook. It goes fast!
Once you start seeing the sugary crust form, you can turn the heat down if your salmon hasn't fully cooked through yet.
Or just flip it to the other side.
If you like this sugared soy sauce salmon recipe, here are some other salmon recipes to try:
Grab the recipe below or save this image on Pinterest to make this recipe later!
Print
Sugared Soy Sauce Salmon
A childhood favorite! My mom used to make this dish for us all the time. It's easy to make and delicious, so I can see why this was on regular rotation!
Servings (adjustable, but please note that results, timing, and cookware may vary when adjusting servings):
2
Ingredients
2

salmon filets, about 1 pound total

2/3

cup

low sodium soy sauce

1 1/2

tablespoon

brown sugar

1

tablespoon

granulated sugar,

to sprinkle on top of the fish for the crust
Instructions
In a small bowl, mix the soy sauce and brown sugar together.

In a baking dish or rectangular casserole dish, pour in the soy sauce mixture.

Put in your salmon filets, flesh side down.

Marinate them for about 10 minutes.

In a skillet, on medium-high heat, add in some vegetable oil and put in your salmon filets, skin side down (very important, not flesh side).

Let skin side down cook about 3 minutes then sprinkle sugar on top of the salmon (flesh side) then flip and cook the other side until salmon is cooked through.

If you're afraid of the flesh side of the salmon burning, you can turn the heat down to about medium-low. Salmon doesn't take very long to cook so it shouldn't burn (keep an eye on it!). It'll be a nice dark brown crust on top.

Serve with white rice or whatever else you like.
Notes
Nutrition Facts
Sugared Soy Sauce Salmon
Amount Per Serving (1 piece of salmon)
Calories 524
Calories from Fat 162
% Daily Value*
Fat 18g28%
Carbohydrates 22g7%
Protein 62g124%
* Percent Daily Values are based on a 2000 calorie diet.
*Nutrition facts are an estimate and not guaranteed to be accurate.
There is an affiliate link in this post.