Summer Panzanella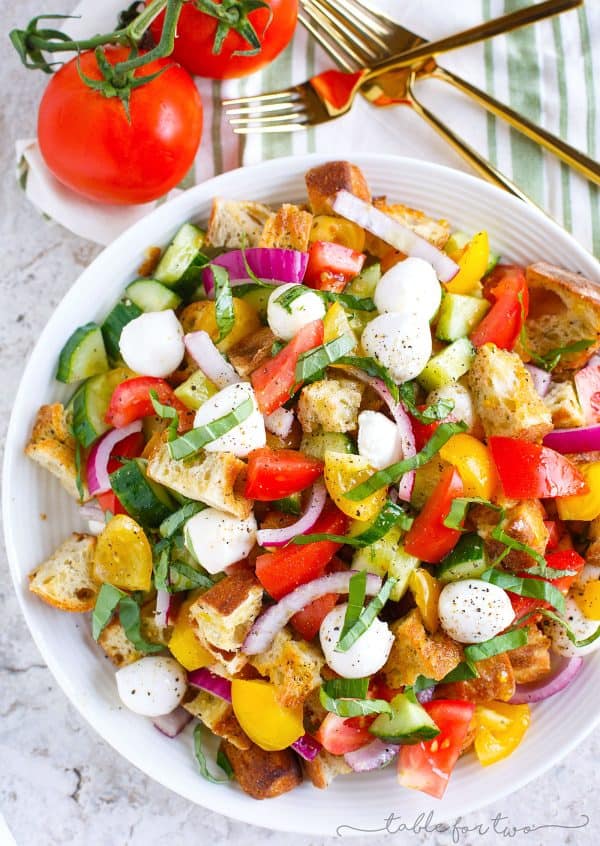 I believe that the older you get, the more gratifying it is to let sh!t go and to not care about the little things. With all the other worries in life, there are just some minute things that aren't worth your time and you can let karma take care of the rest. I firmly believe in karma and firmly believe that the good always win and come out on top.
Some of you might remember this little episode that happened last year. One of them actually reached out to me last week (by total mistake but probably the best mistake) and apologized. She was actually the one I was most upset about losing last year because her and I were good friends (we were exercise buddies and tried a lot of workout studios together on top of just being relatable to one another) and our husbands really liked hanging out with each other. She was the one that I couldn't understand why she unfriended me when she was never involved in the first place. I don't necessarily blame her, though, because I know I've definitely been in her position before. It's difficult to speak up sometimes when you're in a group of friends and even more difficult to do something opposite than what the 'group' wants you to do. Despite all that, the bigger person stems from being able to recognize what was wrong and being able to apologize.
I'm very grateful that her mistake got us talking again and it made me realize being loyal, honest, and genuine can only make you come out on top in the end.
At the end of the day, miserable people only want to bring you down and drag you down to their level because misery loves company. It sucks losing friends but friends wouldn't have done what was done. Just remember that the next time you're in a situation like mine; are they your real friends? And also remember this the next time someone tries to talk you into bullying another; how would you feel if tables were turned?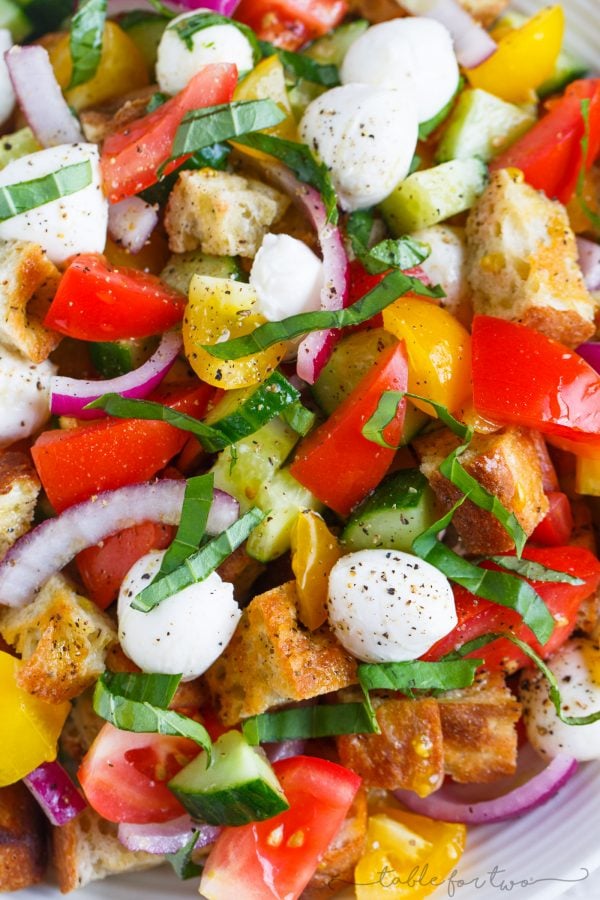 Okay so I've been OBSESSED with panzanella this summer. I know it's been around for ages but this summer, I think I was on a grilled/crunchy bread kick and wanted it incorporated in all my meals This summer panzanella checks off every item on my list: summer produce, grilled bread, basil, and cheese.
You literally toss this all together with olive oil, salt, and pepper and it makes it the most light and refreshing salad for summer!
Summer is almost over so take advantage and make this summer panzanella now and see why I'm so obsessed!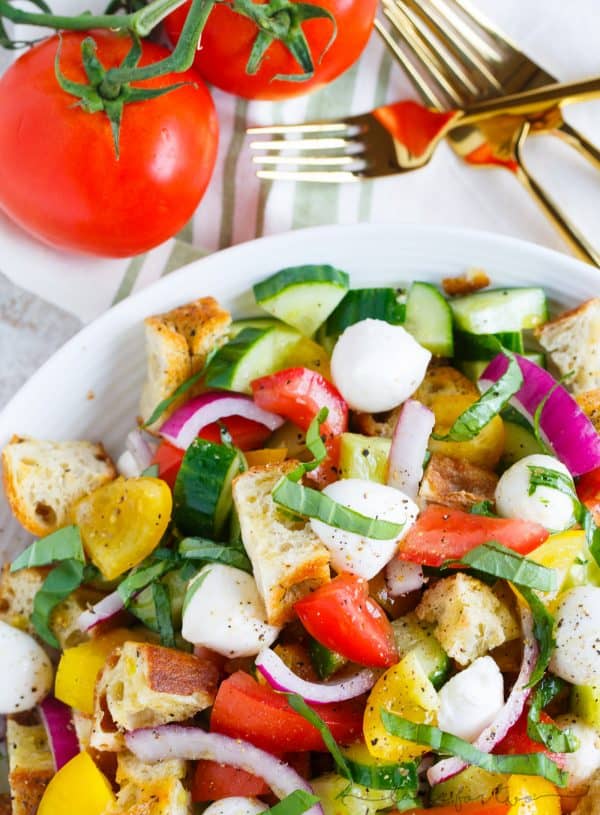 You're gonna want to savor summer and make this ASAP!
Summer Panzanella
This summer panzanella is a refreshing and light summer salad that you will absolutely get hooked on! It's a great way to use up all that abundant summer produce!

Ingredients
2 1/2

cups

herbed focaccia bread,

cubed

1

cup

quartered cucumbers

1/2

red onion,

sliced into half moons

3/4

cup

red grape tomatoes,

quartered

3/4

cup

yellow grape tomatoes,

quartered

8

ounces

mozzarella balls

leaves

Handful of fresh basil,

julienned
Instructions
Preheat oven to 375 degrees Fahrenheit.

Place cubed bread onto a large baking sheet and drizzle with olive oil. Season with salt and pepper.

Bake cubed bread on the middle rack for 10 minutes, until lightly toasted and crisp.

In a large bowl, add the remaining ingredients and toss to mix up. Drizzle more olive oil on top and season with additional salt and pepper, to taste.

Serve and enjoy!
Recipe Notes
We've grilled the bread (sliced the loaf in half and drizzled olive oil, salt and pepper on top) before but we also have toasted this in the oven. Either way you choose to do it is fine.
Posted on August 29, 2016