Fried rice, the staple Chinese take-out entree or the staple filler in Hibachi restaurants. I've been eating homemade fried rice since I was a little tyke. It's a super easy dish to make and I always make it whenever I have leftover rice and veggies. I literally throw everything that's about to go bad into the dish and call it a meal. Or, like last night, when I was lazy, I decided to make fried rice for dinner since it only takes 10 minutes. Well, another 15 or so if you have rice took cook but that's just popping it in the rice cooker and hanging out until it's done.
The way I make fried rice might be different than what everyone else thinks of fried rice. I've always had it numerous ways. Whenever my mom made it, she would throw in whatever veggies she had on hand and whatever leftover white rice we had sitting in the fridge. That's where I got the influence of making fried rice. To me, fried rice is always different. In the sense of ingredients. Sometimes it can have carrots in it, sometimes it will be meatless (like mine was last night), sometimes it'll have deli meat that's about to expire. However, the process of making fried rice is always the same and it's how my mom and I have always cooked it.
I hope you make some yourself so you can enjoy the deliciousness of Chinese take-out in your own home. It's loads healthier too — no MSG and you can tailor the sodium & oil levels yourself!
Also: if you're wondering, "metal chopsticks?" — yeah, I know it's weird & you don't see that often, but we don't like wooden chopsticks because they warp after they've been washed and used for a handful of times and they're more unsanitary. And we aren't going to go buy disposable, individually wrapped wooden chopsticks since that'd be a waste :)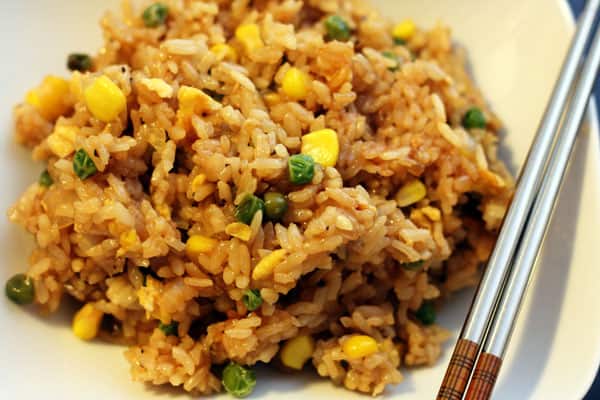 Note: mine was meatless but you can add whatever meats you have on hand. I've made this with deli ham diced in cubes, I've made this with shredded chicken, I've made mine without eggs before. It's a really versatile dish so be creative! :)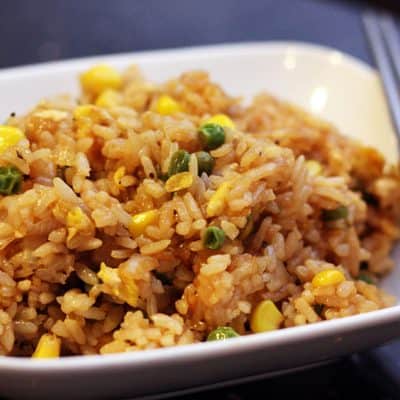 fried rice
Fried Rice a simple meal perfect for using up leftovers in your fridge!
Save
Saved!
Rate
Print
Ingredients
2 ½

cups

uncooked white rice

3

large eggs

1

cup

frozen corn

1

cup

frozen peas

1

medium onion

,

diced

¼

cup

low sodium soy sauce

⅛

teaspoon

pepper

2

tablespoon

vegetable oil
The default measuring system for this website is US Customary. Unit conversions are provided for convenience and as a courtesy only. While we strive to provide accurate unit conversions, please be aware that there may be some discrepancies.
Instructions
Cook your rice however you usually prep it. Or, if you have leftover rice, take that out of the fridge and warm it up a bit to get it soft.

In a large skillet, cook your eggs (break them apart like scrambled eggs), corn, peas and onions in vegetable oil until the onions are translucent. Add in a couple pinches of salt and pepper. If you have meats in your fried rice, you can cook them with this step. Just make sure they're small cube/bite-size pieces to keep the size of the ingredients relatively the same.

Add in the rice. Keep folding it with the veggies until well-combined. If your rice is hard (from the fridge), try to let it sit in the warm skillet for a little bit and then break it up. You want to make sure there are no big lumps of rice.

Pour the soy sauce over the rice. You might want to do this slowly in case it gets too salty for you or in case the rice doesn't soak up all the soy sauce (at this point, it would mean you need more rice). I'd pour it in 1 circle around the skillet at a time and then mix it altogether and see if there is any rice that's still white.

Continue mixing it together until all incorporated and you see no white rice kernels. Sprinkle pepper on top and mix together one last time. Taste it to make sure it's to your liking.

Serve hot and enjoy!
This website provides approximate nutrition information for convenience and as a courtesy only. Nutrition information can vary for a variety of reasons. For the most precise nutritional data use your preferred nutrition calculator based on the actual ingredients you used in the recipe.