Grandma's Christmas Chex Mix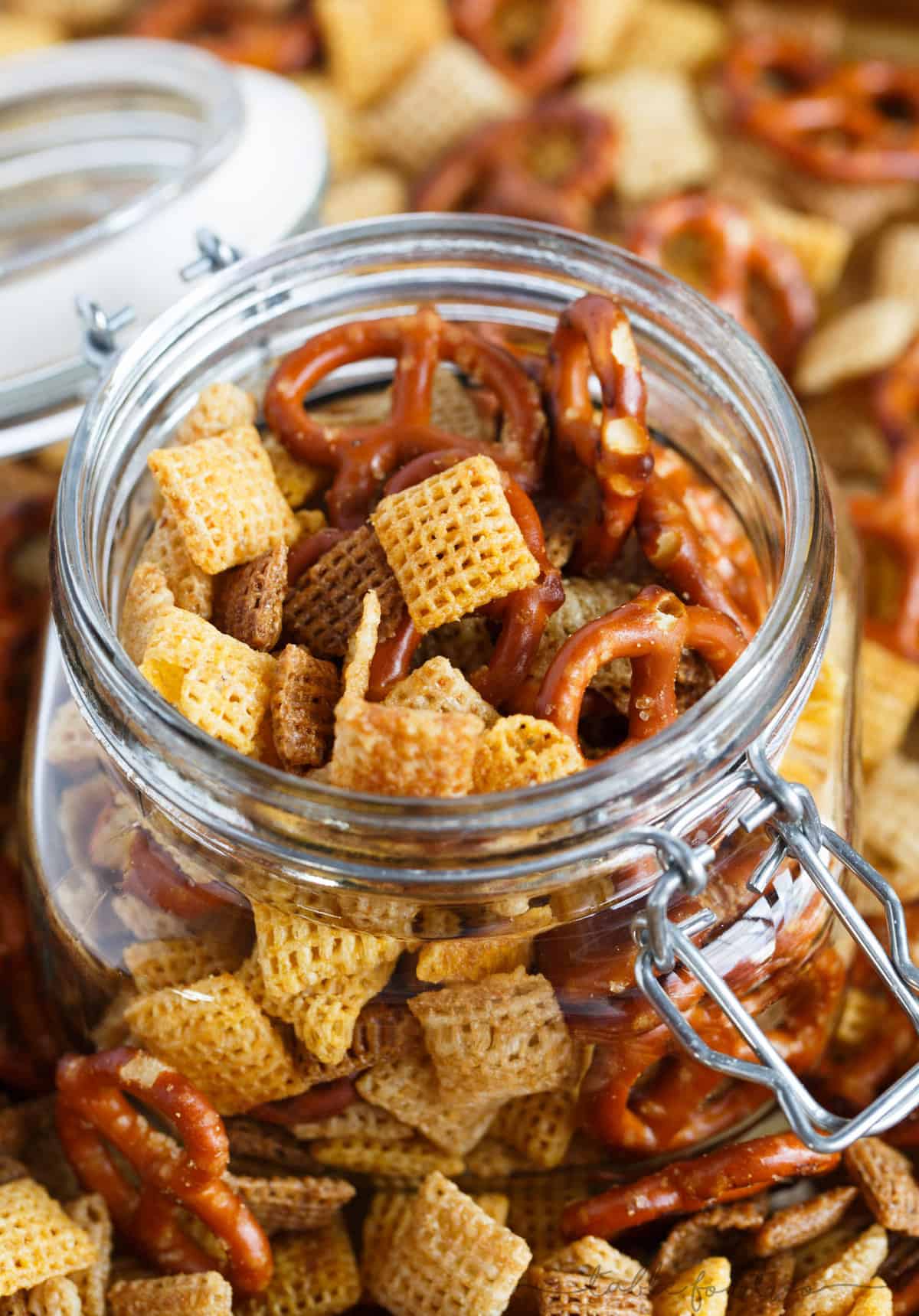 I went to a gift wrapping workshop this past weekend. I never knew how to wrap gifts properly. I've always tried but then resorted to gift bags and pretty much hated everything about wrapping presents. My ends were horrible. I would always end up with way too much material and then I'd scrunch it all up and tape it. Lol, you would know EVERY year which presents were from me.
I'm happy to say that now I know how to wrap properly…I wish I had learned this earlier this year because now I want to wrap all the things and buy all the cute wrapping paper. Although, day after Christmas will be the best day to scoop all those up for next year. Did you know that I actually have a calendar alert on my phone for the day after Christmas so I can always remember to buy all the holiday cards and decorations for next year? Haha #crazybutsmart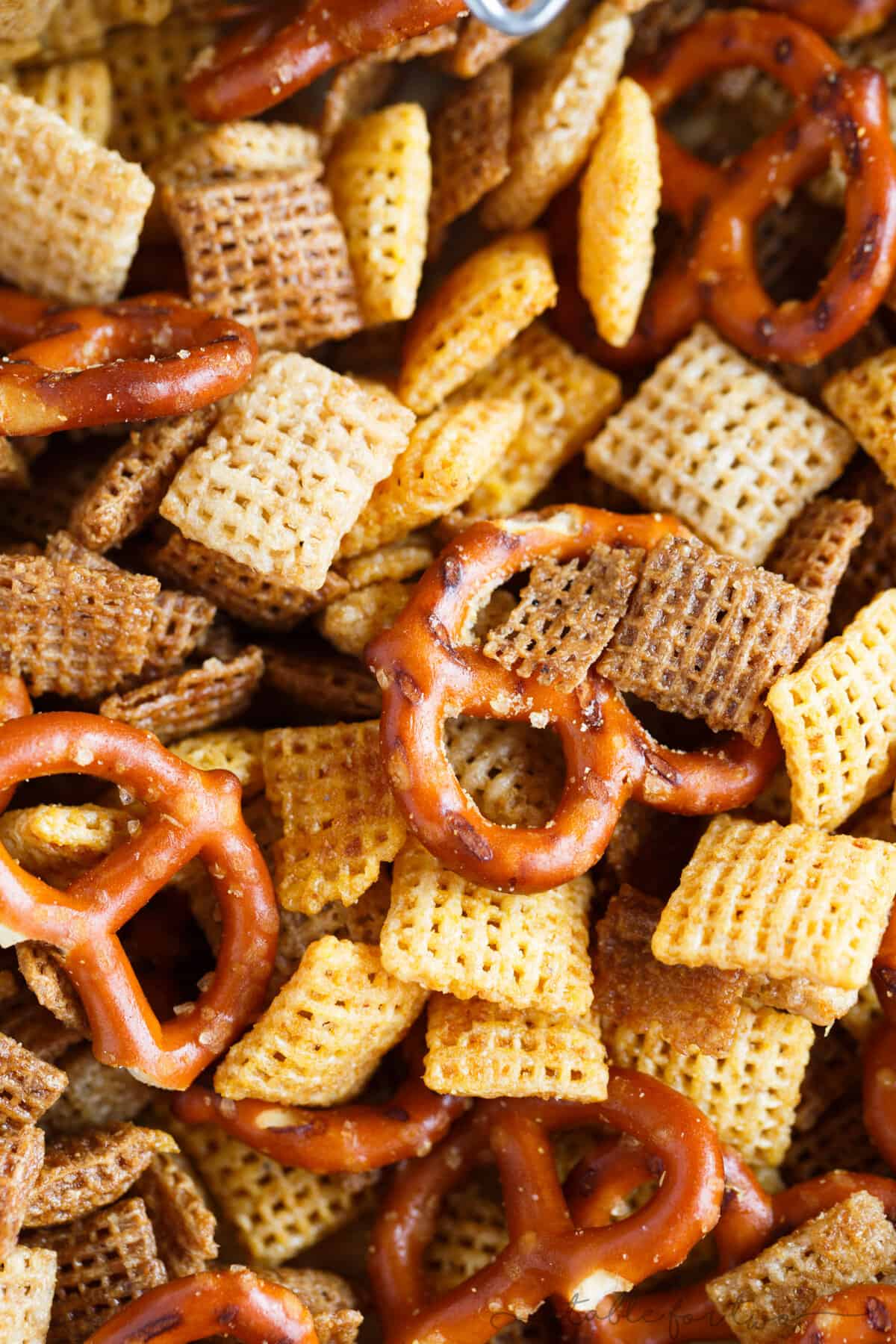 This is like a month of stories from Jason's family. Last week, I talked about titty cookies (peanut butter blossom cookies) and the history of them and this week I'm talking about grandma's Christmas chex mix.
Every single Christmas I have had with Jason's family, there has been an abundant amount of chex mix. Like those large popcorn tins full of chex mix. Prior to Jason's grandmother getting sick, she would make this for them every single year. Since she is no longer able to do so, Jason's mom and aunts take on this task as to preserve the tradition and because it's just not a Christmas without chex mix!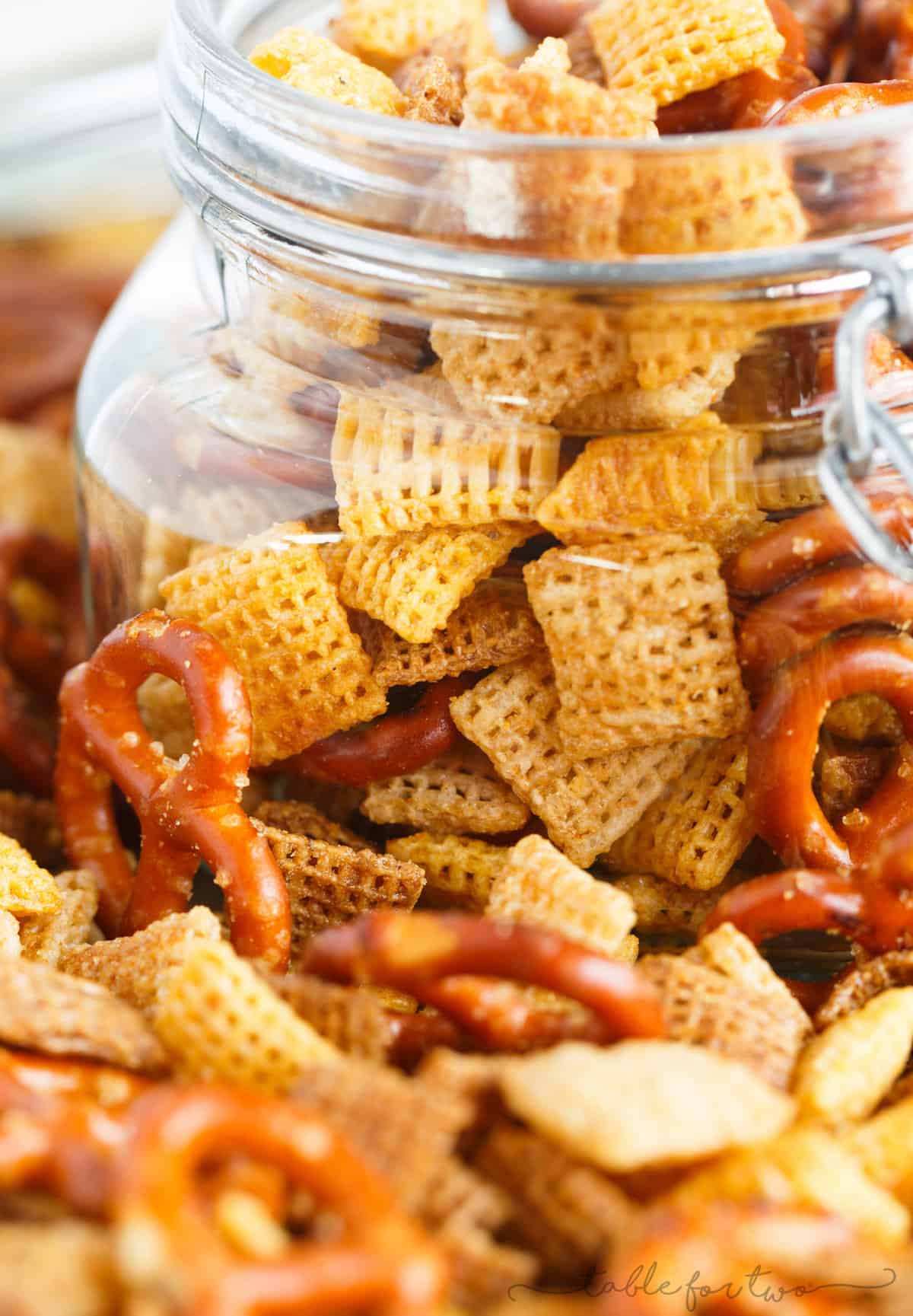 The ones that grandma makes is super garlicky. Everyone ends up with garlic breath so it honestly doesn't really matter ;) I honestly like it that way. One of my favorite spices to use is garlic powder and I am very heavy-handed with that spice.
You can always add holiday colored M&M's to this as well as other ingredients you may like (such as nuts or dried fruit) but we like to keep it simple. I was looking for the rye chips that the store-bought chex mix has but the local grocery store didn't have them and I didn't want to run to Walmart just for rye chips. If I'm being honest here, whenever I buy store-bought chex mix…I pick out all the rye chips and eat them first.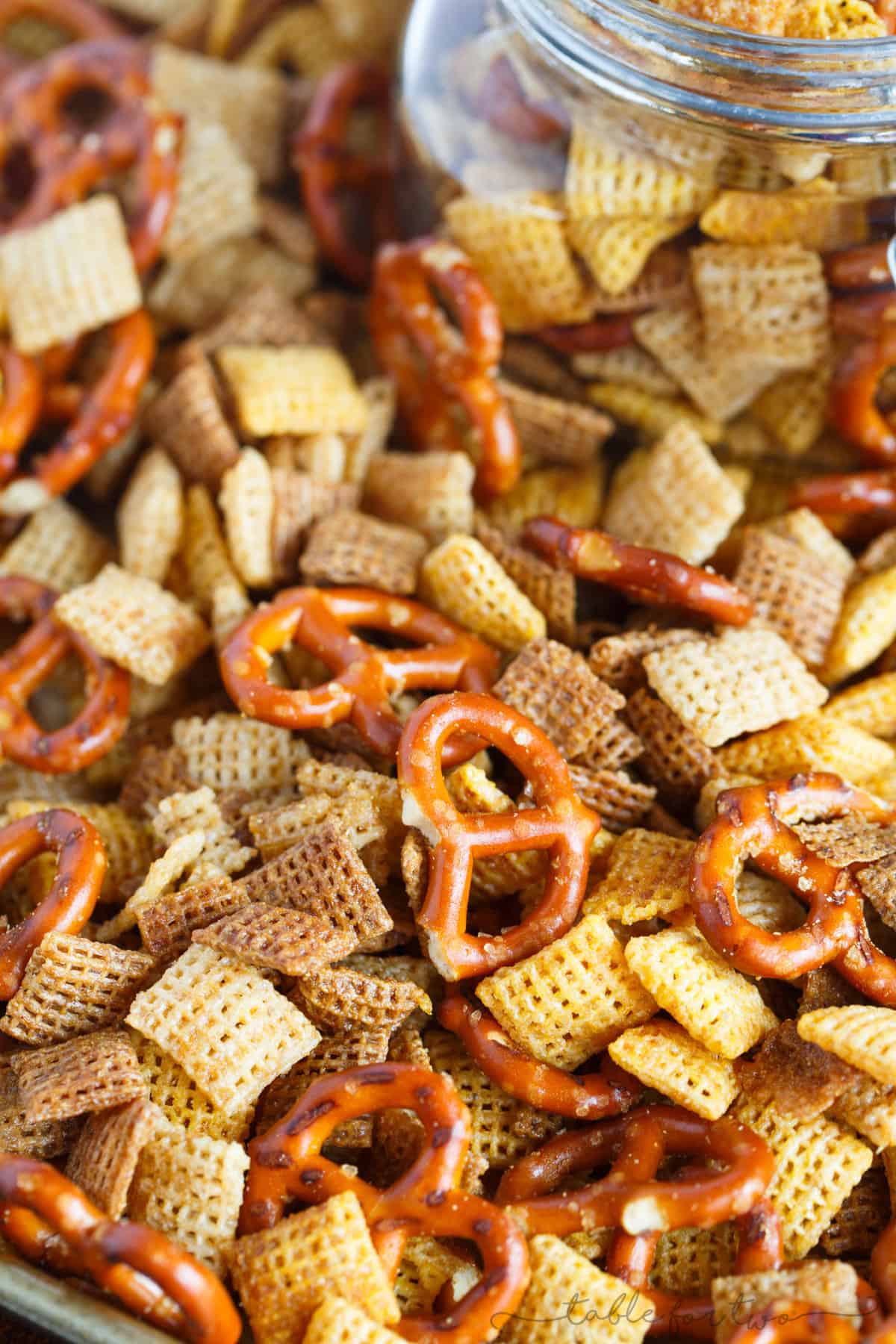 Grandma's Christmas Chex Mix
Homemade chex mix is better than store-bought because YOU control what goes in it!
Ingredients
4

cups

rice chex cereal

4

cups

corn chex cereal

4

cups

wheat chex cereal

3

cups

mini pretzels

10

tablespoons

unsalted butter,

melted

1/3

cup

vegetable oil

2

tablespoons

worcestershire sauce

Garlic powder, to taste

(we use a lot - like 1+ tablespoons, haha)

Salt,

to taste
Instructions
Preheat oven to 250 degrees Fahrenheit and line two large rimmed baking sheets with parchment paper.

In a large bowl, toss chex cereal and pretzels with the melted butter, vegetable oil, worcestershire sauce, garlic powder, and salt.

Pour onto prepared baking sheets in an even layer and bake for 1 hour, tossing halfway through.

Store in an airtight container for up to two weeks.
Recipe Notes
Feel free to add whatever other ingredients you may like in your chex mix. Some suggestions are: nuts (cashews, peanuts, almonds, etc.), dried fruit, chocolate chips, M&M's, and more!
Posted on December 12, 2016