This green monster smoothie is a great way to sneak some greens into your day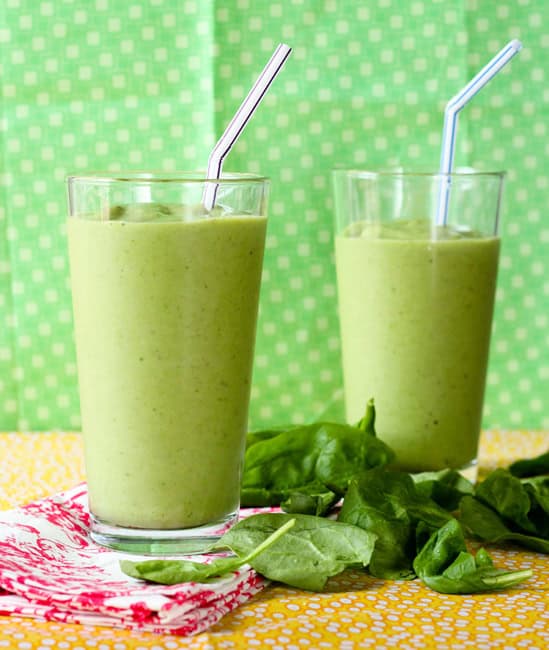 Okay so I gave in. And I'm kind of hooked on this green smoothie sensation. When the whole green thing started, you know, like doing shots of wheatgrass..and then adding green leaves to your smoothies. I was so opposed to it. It wasn't because I didn't want to try it, it was because I was scared I'd taste the spinach or taste something completely disgusting.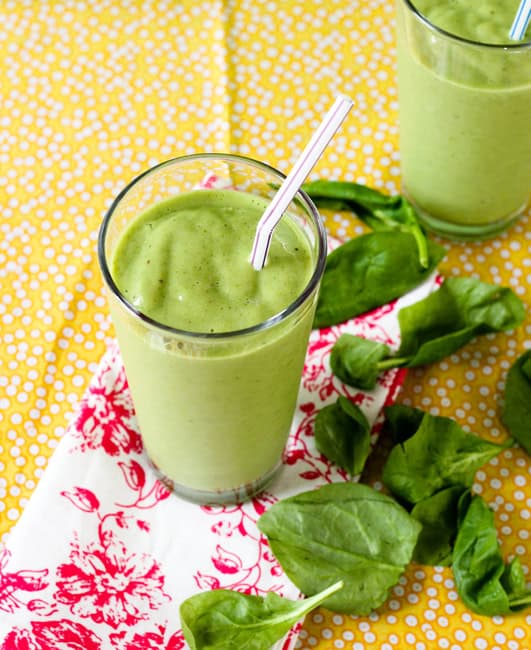 Well, after seeing thousands of bloggers (this number is slightly exaggerated) post their own versions of green smoothies and how none of them croaked upon drinking it, I decided to give it a try. Uh, yeah, I'm hooked. I've been having one every day for breakfast.
If you're scared like me of tasting the leafy greens, I realized this: all the fruit and stuff you put in this drink, the ratio of spinach to fruit/nuts/oats, is like 10/90, therefore, the fruity-ness completely takes over the entire taste. It tastes like a REGULAR smoothie. This is so deceiving and I love it. If I had a kid, I'd force him/her to drink it cause it's good nutrition. I don't care if the green scares them, I'd be like "it's sweet and it's green because Big Bird says G is for Green which means good for you," surely that'll work, right?
You can literally throw anything in this smoothie. I'm going to start throwing flax seeds & oats in them so the protein and fiber will keep me fuller for longer. I know some people use peanut butter and other nut butters, which you can do too, but I haven't tried that yet.
Be green. Drink a green monster and be invincible! Ok, those aren't accurate claims, but you'll feel better about yourself :)
Green Monster Smoothie
A great way to sneak greens into your smoothie - and you can't even taste it!
Servings are adjustable but please note that results, timing, and cookware may vary when adjusting servings.
Ingredients
2

cups

frozen fruit (I used mixed fruit that included pineapples

grapes, strawberries, mangos, and peaches)

1

banana

broken into pieces

1 1/2

cup

almond milk

Large handful of spinach
Instructions
Throw everything in the blender and blend until a smooth consistency. If it gets stuck, turn it off, and use a spatula to break it up and start it again.
Notes
Like I mentioned, you may add oats or flax seeds to this for more protein and fiber. You can also add any type of nut or nut butter or use Greek yogurt.
Nutrition Facts
Green Monster Smoothie
Amount Per Serving (1 smoothie)
Calories 145
Calories from Fat 18
% Daily Value*
Fat 2g3%
Carbohydrates 1g0%
Protein 2g4%
* Percent Daily Values are based on a 2000 calorie diet.
*Nutrition facts are an estimate and not guaranteed to be accurate.