This is a sponsored conversation written by me on behalf of Barilla®. The opinions and text are all mine.
The weather is getting cooler but that is not stopping me from thinking of light pasta recipes like this Mediterranean farfalle toss with shrimp!
It incorporates light and fresh ingredients that you find in the Mediterranean diet and it includes my favorite ingredient to cook with: pasta!
Pasta fuels my creativity. It's the perfect base that allows me to express my individuality because of how versatile pasta is. I have the choice to add in my favorite veggie, lean protein, or fresh herbs and it's already a unique meal in on its own!
It's perfect year-round and for any occasion.
What ingredients are part of the Mediterranean diet?
There are so many wholesome ingredients that are part of the Mediterranean diet and I tried to incorporate as many of them into this pasta toss as possible.
I love light pasta tosses such as this recipe showcased here because it just exudes bright and fresh flavors!
The ingredients that make up the Mediterranean diet include, but not limited to:
Lean and strong cheese
Lean meats and fish
Fresh herbs
Vegetables
I've tossed in a few of my favorite ingredients in this recipe. The full recipe is below so be sure to check that out for the rest of the ingredient list!
Pasta is part of the Mediterranean diet?
Oh yes, it is! What great news, right?
The Mediterranean diet is a healthy way of eating inspired by the traditional dietary patterns of the Mediterranean region.
It incorporates quality food groups, including pasta, that should be eaten often and in reasonable quantities.
I can get behind that! Who doesn't love eating pasta more often?
Since Barilla products are made with few, wholesome ingredients, it is a simple and natural way to incorporate their pasta into your meals!
Tips for making this easy, light and refreshing pasta dish
Get FRESH shrimp! It makes all the difference. Trust me.
Frozen is great in a pinch but there is nothing like fresh shrimp!
The texture is just so much better and so is the flavor.
Use Barilla pasta! As you can see, I chose their Farfalle pasta in the Classic Blue Box.
Barilla are the Masters of Pasta. They've been combining passion, dedication, and innovation to perfect some of Italy's greatest products of 140 years.
They offer quality ingredients for every day home-cooks, like yourself, that are looking to elevate your cooking!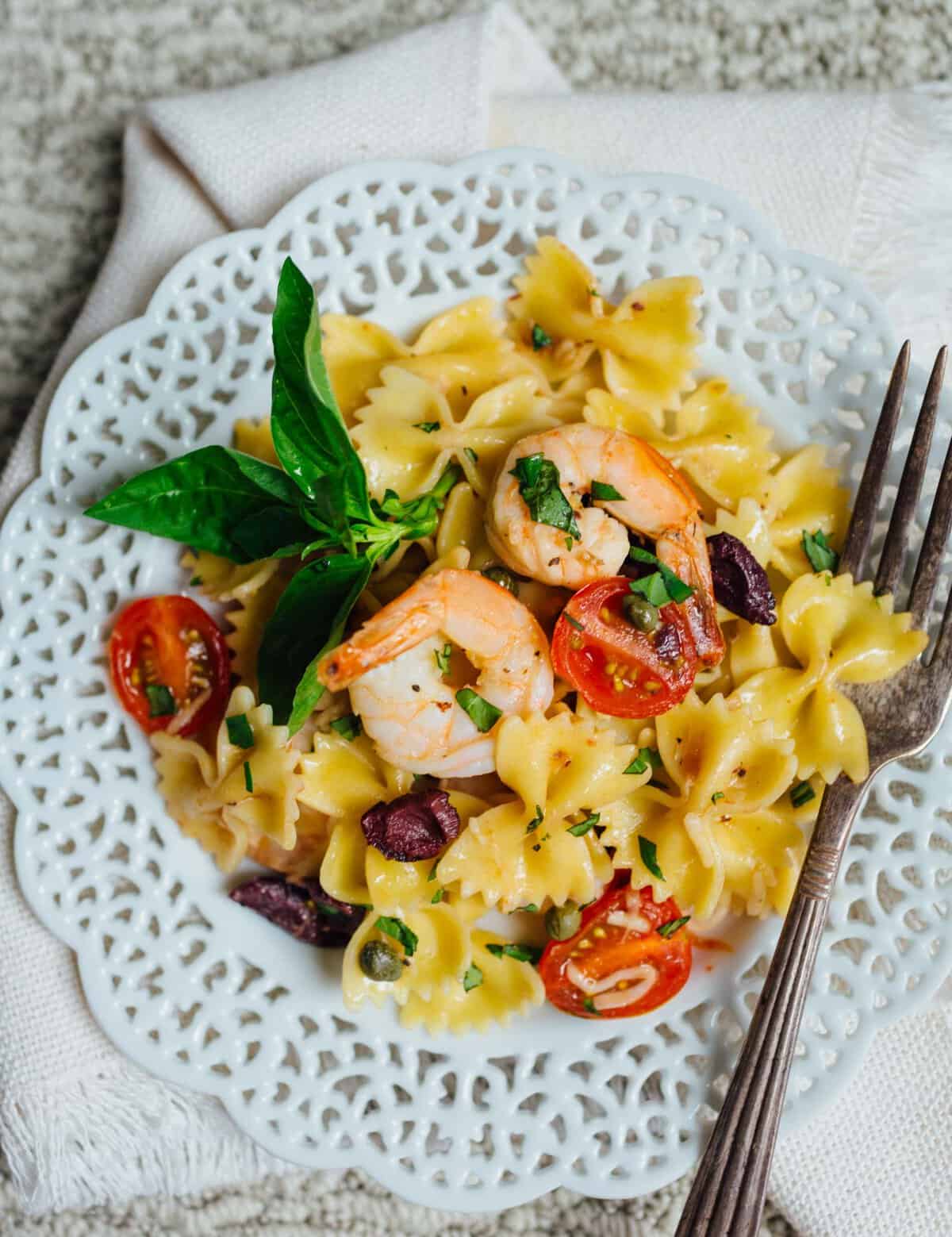 Pasta World Championship
As you may have remembered from my previous post, four young chefs across the U.S. competed in the Barilla World Pasta Masters U.S. Qualifying Event in Chicago on May 30.
Chef Carolina Diaz of Terzo Piano in Chicago was declared the winner and she will go on to represent the United States in the World Pasta Masters.
Fast forward four months later and the Pasta World Championship in Milan is right around the corner! It's on October 24 and 25 and Chef Diaz will face off against 17 other young chefs from around the world.
This is so exciting and I can't wait to hear the outcome! Best of luck to Chef Diaz!
You can read more about Chef Diaz here. Additionally, if you're interested to learn more about the Barilla Pasta World Championship, you can find more information here.
World Pasta Day
Not only is October 25 one of the days of the Pasta World Championships, it is also World Pasta Day!
Might be one of my favorite days of the year because PASTA!
I highly recommend that you celebrate alongside with me! I'll be making this Mediterranean bowtie toss recipe and I think you should too!
If you are interested in more pasta ideas, here are some recipes below that I think you'll love! All these pasta shapes can be found in Barilla's extensive line of pasta shapes.
Mediterranean Farfalle Toss with Shrimp
This light and refreshing pasta dish is tossed with olive oil, lemon, and shrimp for a fresh tasting pasta with loads of flavor!
Ingredients
1/2

box

Barilla Farfalle

2

tablespoons

olive oil, divided

3

cloves

garlic, minced

1/2

pound

fresh shrimp, peeled and deveined

3/4

cup

grape tomatoes, halved

1/4

cup

kalamata olives, halved

2

tablespoons

capers

Juice of 1 lemon

1/3

cup

Parmesan cheese

Handful of basil, chopped
Instructions
Bring a pot of water to a boil and follow the directions on the Barilla box and cook the pasta until al dente.

In the meantime, add 1 tablespoon of olive oil to a large skillet and turn the heat up to medium-high heat. Once the oil is hot, add garlic and cook until fragrant, about 30 seconds.

Add the shrimp and cook until browned on both sides and just cooked through, about 5 minutes.

Turn the heat off and add the tomatoes, olives, and capers. Gently toss to evenly distribute ingredients then add the juice of the lemon.

Once pasta is done cooking, drain and add directly to the skillet with the other ingredients. Toss to incorporate.

Drizzle the remaining olive oil on top and add parmesan cheese and chopped basil and toss again.