Mississippi Roast
I don't know why this is called Mississippi Roast but if I could, I would totally change the name of this roast to be "the best roast for your face." Whatever the name, you just need to make this ASAP! Five simple ingredients, zero effort, 100% dinner & leftover satisfaction!

Updated 3/17 with a video below!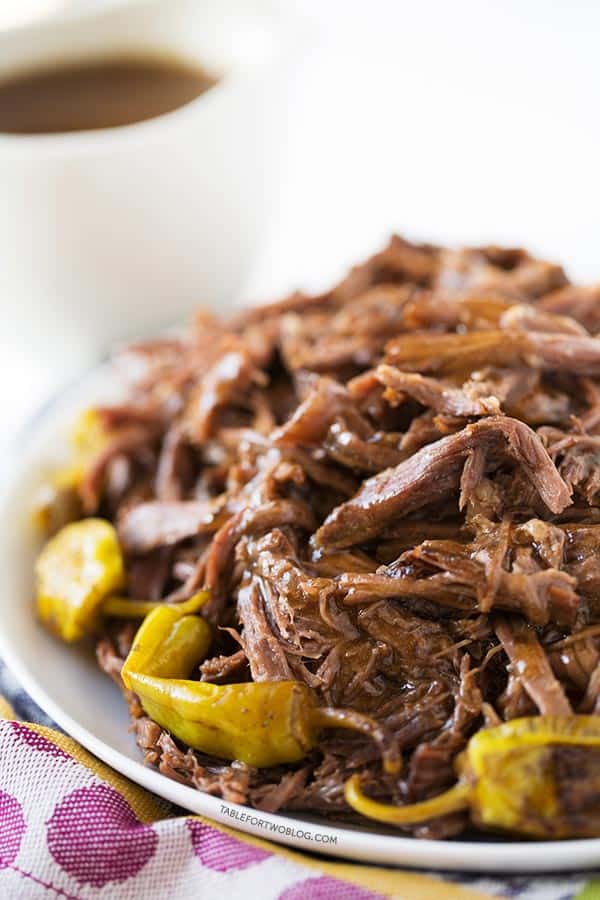 I discovered this awesome invention on Monday. Something called the Internet and how you can pretty much do everything on it, including making your life a whole heck of a lot easier by creating your own shipping labels and just dropping off the prepaid boxes at your local post office. I'm telling you, apparently, I've been living under a rock ;)
How did I not know this?!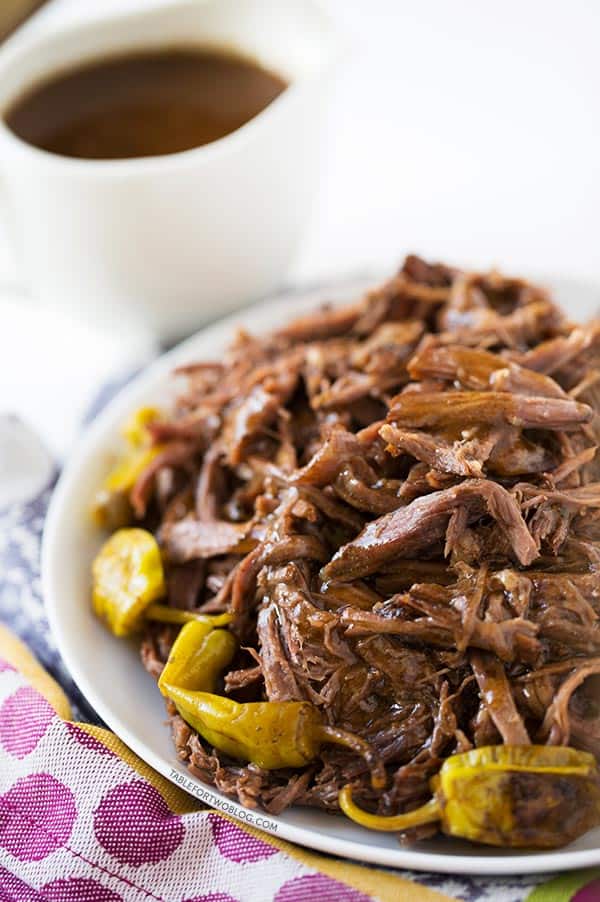 I went to the post office in the city twice on Monday. The first was in the morning and the line was out the door so I thought I'd try later in the afternoon when maybe folks are busy in meetings.
Nope, the second time I went, it was even worse and there was only two people working! There was no way I could spend 45 minutes just waiting in line so I retreated back to my office wondering when I would actually be able to send my packages to my giveaway winners.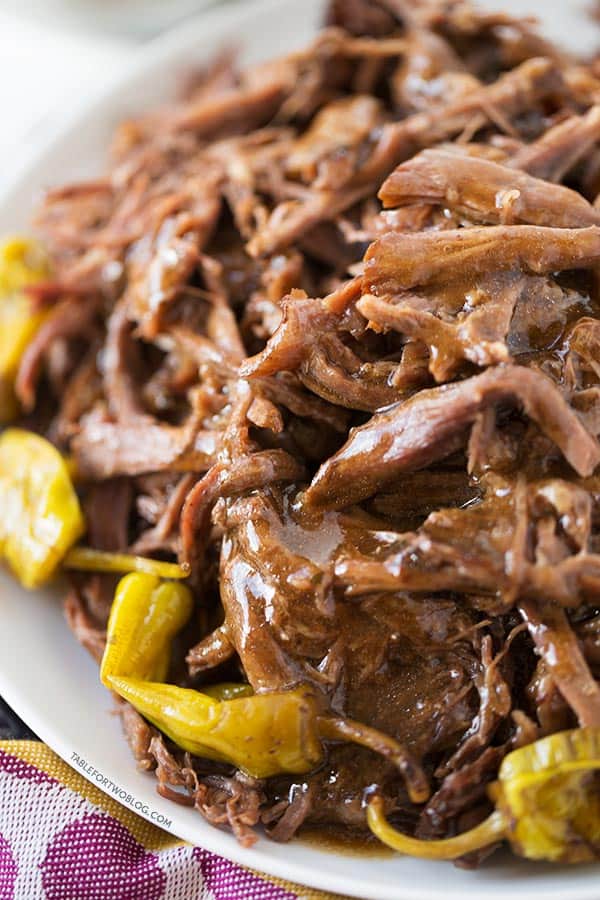 It was then, on my personal Facebook, Gerry and my SIL tipped me off that you can do everything you need to do at the post office, ONLINE. Oh my gosh. Life-changing. And why did I never research this myself? Or pay attention to the hundreds of commercials that have been apparently run on television (so my husband told me)?
I was using flat-rate shipping boxes so I printed out my labels, paid for them online, and then walked to the post office yesterday morning, walked straight up to the counter, bypassing allllllllllllll the impatient looking people in line, dropped off my packages at the counter and swiftly walked outta there.
I may or may not have done a little dance and cheer. Ok, I didn't, but in my head I was doing cartwheels as if I was young and agile again.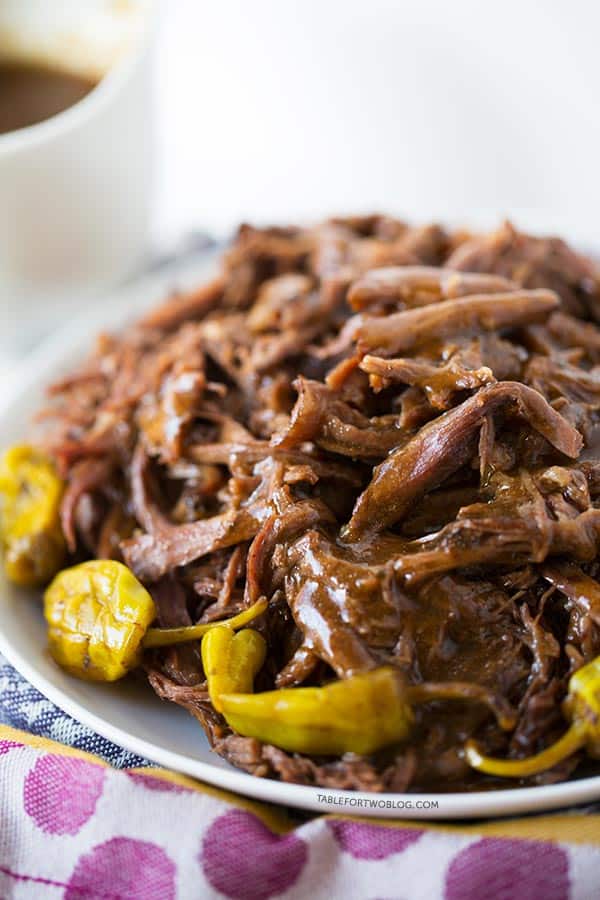 So let's talk about this Mississippi Roast. First, every time I type "Mississippi," I have to say it out loud…like when you do when you're a child and you say it like "M-i-ss-i-ss-i-pp-i" – did you just say that out loud? ;)
Second, this makes for the easiest dinner and leftovers, ever. It's so flavorful and I LOVED building a sandwich with this and eating it for lunch at work. I felt like everyone that walked by my office was so jealous from the smell.
Seriously, this roast is in-your-face delish. The flavors are incredible. Who would've thought that four pantry item ingredients would yield such an amazing roast? It's got so much flavor and I could not stop hovering over the slow cooker waiting for it to be done.
I shouldn't even have to put together a recipe for this since you can just follow these photos below, but for those word-for-word folks, you can print off a copy at the end of the post!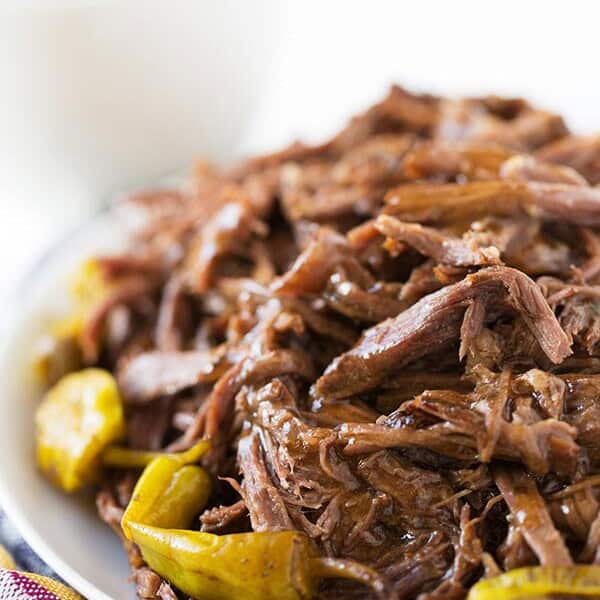 Mississippi Roast
Five simple ingredients, zero effort, 100% dinner & leftover satisfaction! Mississippi roast will be your new family favorite!

Ingredients
3-

pound

chuck roast

1-

ounce

packet of dry ranch seasoning mix

1-

ounce

packet of dry au jus gravy mix

6

tbsp

unsalted butter

1/4

cup

water

5-6

pepperoncini
Instructions
Add 1/4 cup of water into the insert of your slow cooker then place the chuck roast on top.

Sprinkle the dry ranch seasoning mix on top of the chuck roast, then sprinkle the dry au jus mix on top, then place 6 tbsp. of butter on top of the roast, and finally 5-6 pepperoncini around the roast.

Cook on low for 8 hours.

Shred and serve with gravy.
Recipe Notes
Click here for a quick recipe video for your viewing pleasure!
You can serve this with a side of mashed potatoes and vegetables, or serve it on top of white/brown rice, or make a sandwich out of it. The gravy can get pretty salty by itself so I'd go light on the salt for the side dishes that you're serving with this roast.
Yes, if you want to add vegetables to the slow cooker to cook along with the roast, you can certainly do so. I would add it in 2-3 hours before the roast is done. Potatoes, carrots, celery, whatever you like!
Posted on December 18, 2013