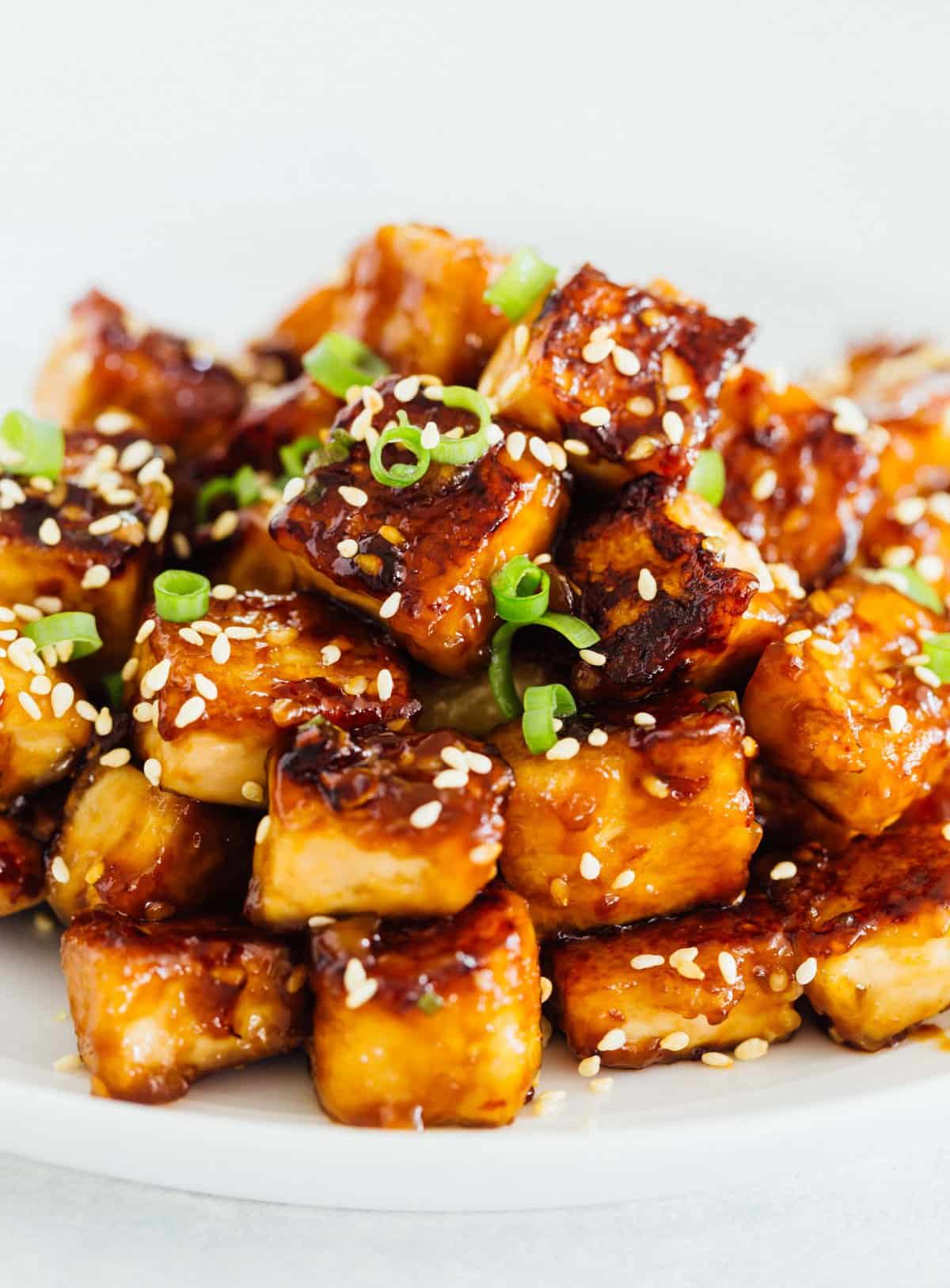 If you've claimed yourself not a tofu fan, you probably just haven't had tofu the right way. I bet you if you had this pan-fried sesame garlic tofu, you would change your tune on tofu!
I have been loving tofu in my dishes lately.
It's a great source of protein and low in fat. It's so tender too and it soaks up all the flavor of the dish. It's a great blank slate and super versatile. Think of it like the vegetarian's chicken, haha
I mean, kind of is. We add chicken to our dishes to flavor it up and have it soak up the flavors of the dish. Tofu is basically doing the same.
I've laid out the steps below on how to prep and cook tofu. Alternatively, I've created a tofu guide that helps demystify the fear of cooking with tofu!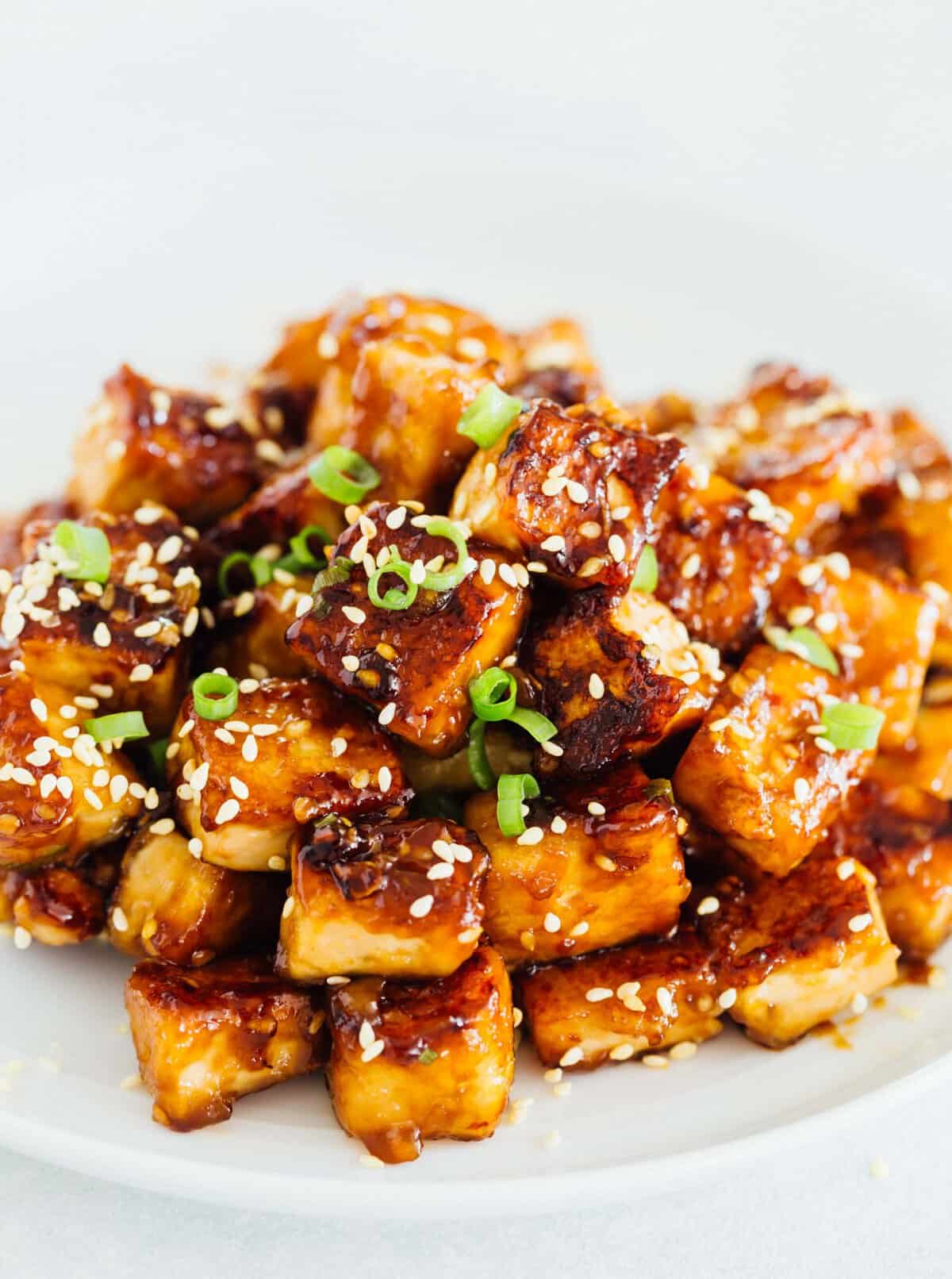 What kind of tofu do you need?
I love getting extra-firm tofu.
If you get soft, it just falls apart completely in the skillet.
How do you get the tofu so crispy? What's the secret?
You gotta drain it well and cornstarch!
So, kind of like my eggplant parmesan recipe where you pull the liquid out of the eggplant, you gotta pull the liquid out of the tofu.
Tofu comes in a package and it's just sitting in water.
And like I mentioned above, tofu soaks up all the flavor in a dish so you can imagine how much liquid tofu is soaking up while sitting in the package.
To get the liquid of out of the tofu, you gotta press it.
It's actually easier than you think; there's hardly any work at all involved!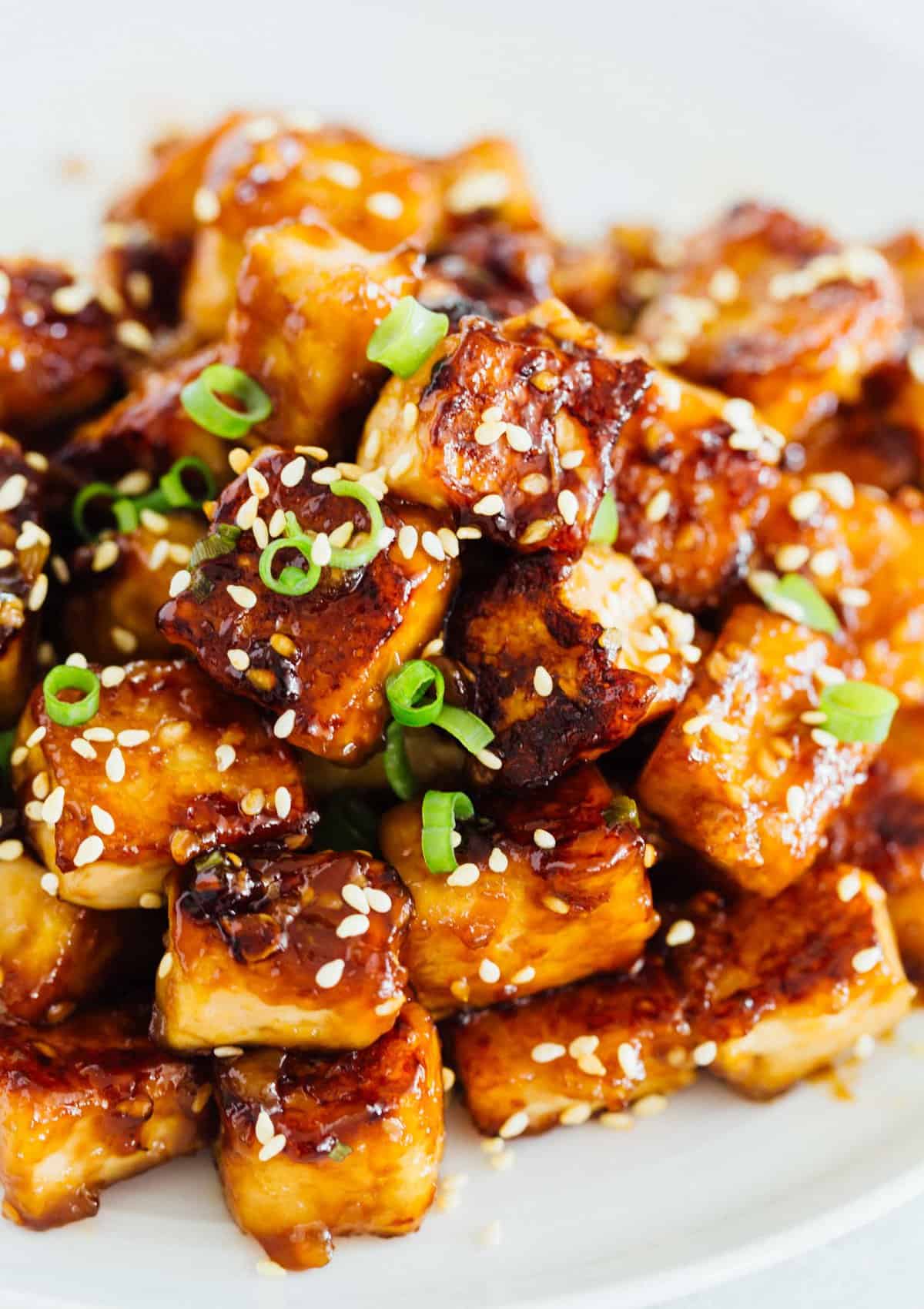 How do you press the tofu to get the liquid out?
You start by opening the package of the tofu and then holding the tofu in place, tip the package upside down so all the water is drained.
Definitely do this over a sink!
Then, on a small plate, place two sheets of paper towels on the plate.
Place the tofu on top.
Then place two more sheets of paper towels on top of the tofu.
Find something heavy like a cast iron skillet and place it on top of the tofu.
Let that sit for about 30 minutes but coming back to check on it halfway through and change out the paper towel.
ALTERNATIVELY and more eco-friendly: place a wire baking rack on top of a rimmed baking sheet. Place tofu on top and then put a heavy object on top and let drain for 30 minutes.
This essentially presses out the liquid of the tofu and gives you a much better way to work with it!
And ensuring it gets crispy and not soggy!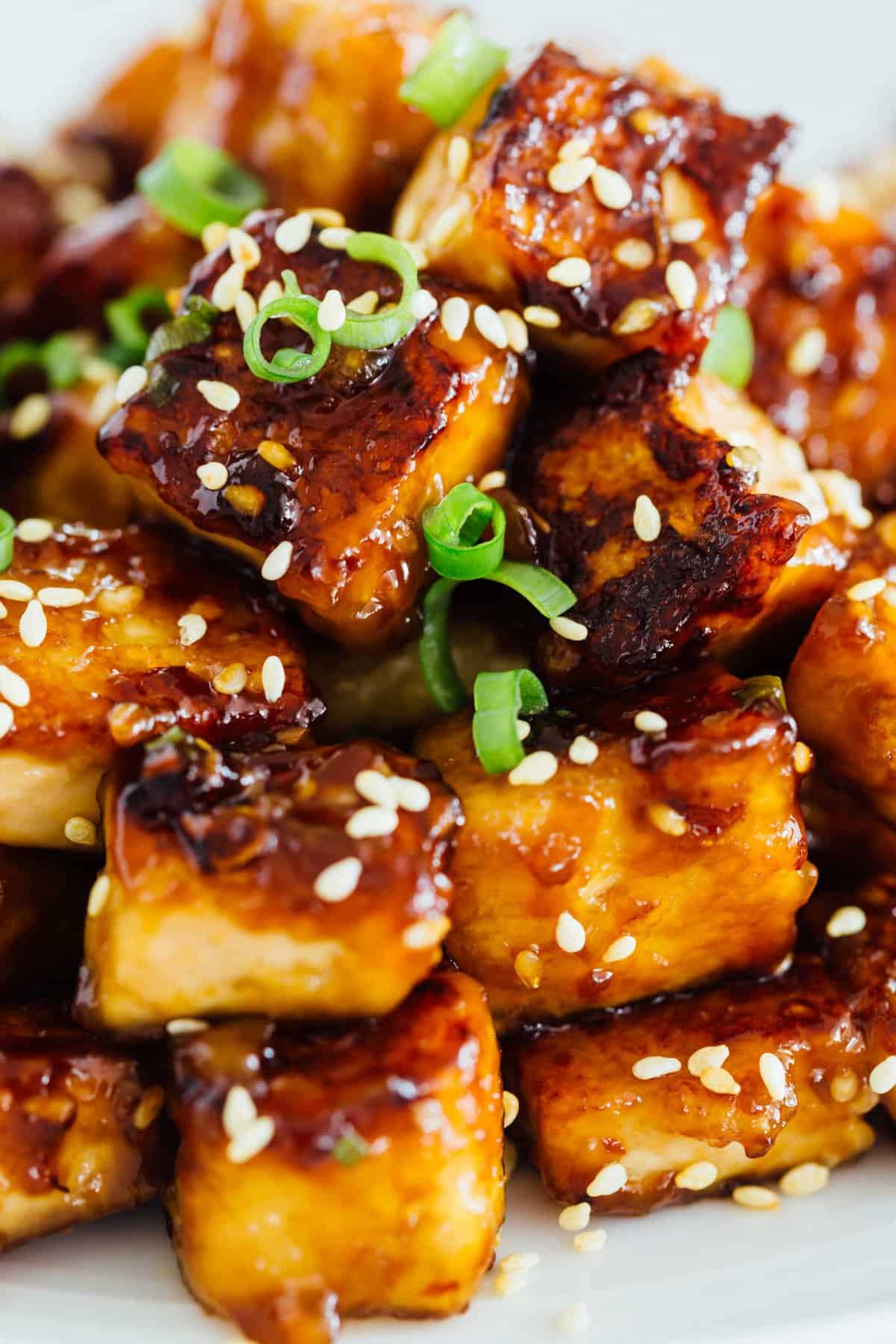 Tips for getting crispy tofu
All the above ways will definitely help to ensure a crispy exterior but also what you use and the method you cook will help too!
First, definitely do the pressing.
Second, coat the tofu in cornstarch.
It's messy but it's worth it.
Third, once you get it in the skillet, DON'T TOUCH IT!
As with all things (browning meats, crisping up the bottoms of potstickers, making fall off the bone ribs), leave it alone and let it do its thing.
If you keep moving it around in the pan, it won't have the time to brown at all.
*Getting several questions about how to get all sides brown if instructed to not touch it. I mean don't touch it initially for 3-4 minutes then you can flip and work on another side, etc. until they are all browned/crispy on all sides. Of course you have to touch it to get all sides brown!
When I say don't touch it, it just means don't keep scooting it around or checking on it. That won't give it enough time to sit in the skillet to get crispy.
The simple ingredients in this pan-fried sesame garlic tofu
There are only a handful of ingredients for the sauce that coats this tofu dish!
Soy sauce
Sambal oelek
Rice vinegar
Honey
Sesame oil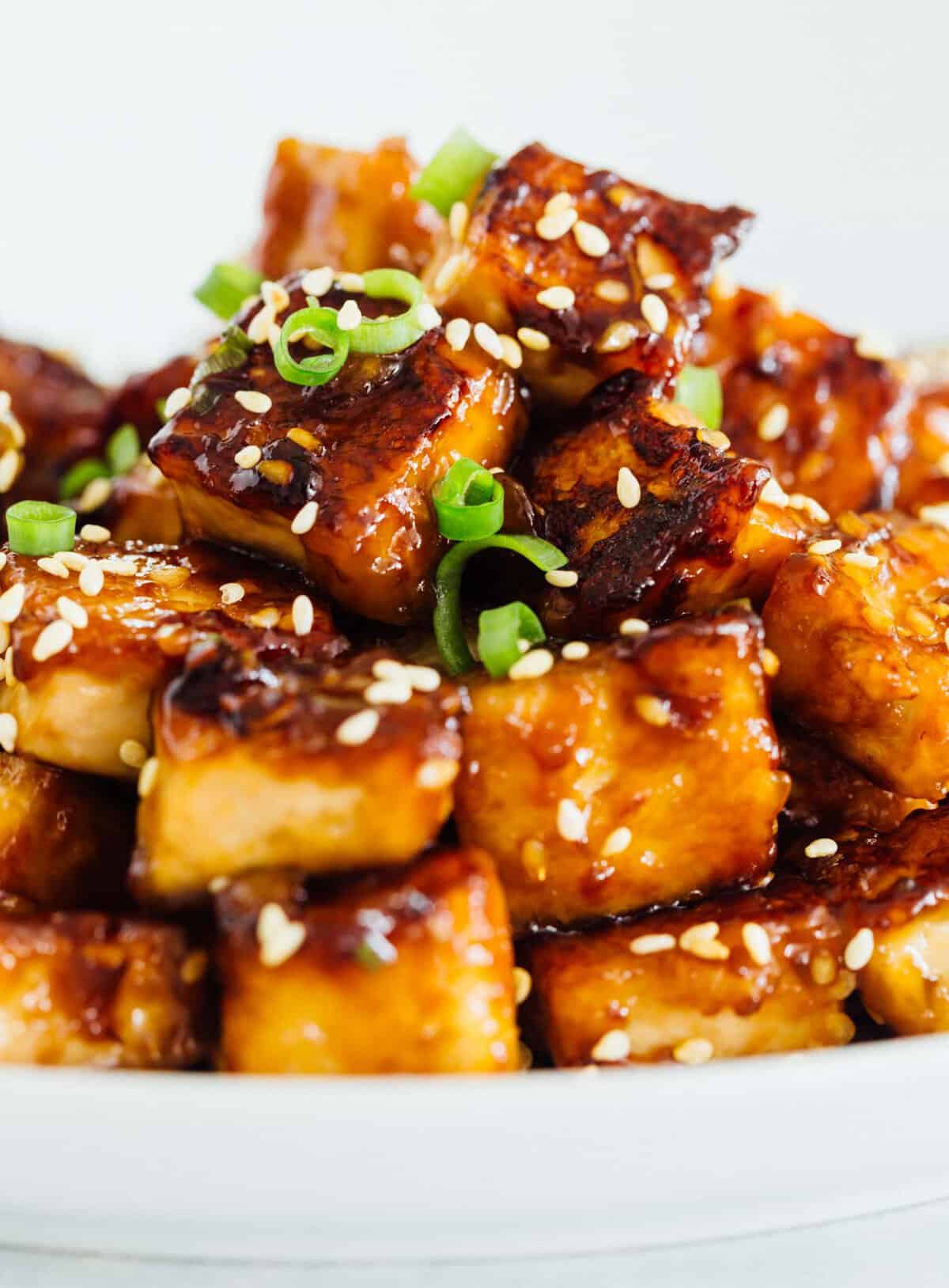 Grab the recipe below and make this pan-fried sesame garlic tofu tonight! Serve it with a side of rice and vegetables or make a tofu bowl!
Why is this recipe locked?
Some content is reserved for TFT Premium (TFT+) members. Membership is FREE and you can read more about it here or sign up below!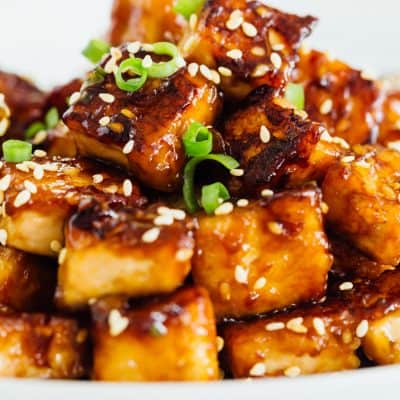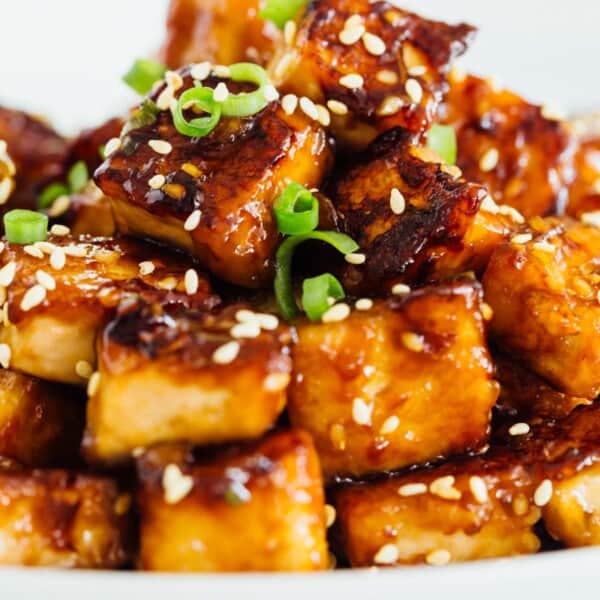 Pan-Fried Sesame Garlic Tofu
This crispy pan-fried sesame garlic tofu is going to change your mind about tofu almost instantly!
Save
Saved!
Rate
Text
Print
Ingredients
14

ounces

extra firm tofu

2

tablespoons

cornstarch

½

tablespoon

sesame oil

1

tablespoon

vegetable oil
For the sauce
¼

cup

low-sodium soy sauce

¼

cup

water

2

teaspoons

honey

1 ½

teaspoons

sambal oelek,

(if you like it less spicy, stick with 1 teaspoon)

1

teaspoon

garlic paste

,

(see notes)

½

teaspoon

rice wine vinegar

1

tablespoon

cornstarch
Instructions
Place two paper towels on a plate then place the entire block of tofu (drained from its packaging liquid) onto the plate. Place two more paper towels on top of the tofu then put a heavy item on top. Not TOO heavy that it would completely crush the tofu but heavy enough that it can squeeze out liquid.

I like using a cast iron skillet.

Leave for 30 minutes and halfway through, change out the paper towels.

ALTERNATIVELY and more eco-friendly: place a wire baking rack on top of a rimmed baking sheet. Place tofu on top and then put a heavy object on top and let drain for 30 minutes.

Once the tofu has drained, slice in half then into cubes and place into a large bowl. Sprinkle cornstarch on top and gently toss with your hands to ensure all tofu pieces are covered.

In a large skillet, add sesame oil and vegetable oil then bring up to medium-high heat.

Once oil is heated up, add the tofu to the skillet and let brown on all sides.

In the meantime, whisk together the ingredients for the sauce.

Once the tofu has browned and crisped up on all sides, add the sauce to the skillet and it should start to thicken immediately. Toss the tofu around to coat then remove from heat.
Recipe Notes
Sesame seeds and scallions are garnish. You can add them if you want but they were mainly added for aesthetic reasons.
A note on sesame oil and vegetable oil: some people have been saying sesame oil has a low smoke point and should not be used to cook/fry. While I haven't had issues with this (you aren't frying the tofu) and nothing has smoked/burned, I have adjusted the recipe to use 1/2 tablespoon of sesame oil in conjunction with vegetable oil to help with the smoking points. You can omit the vegetable oil and just use all sesame oil if you want. Just depends on what you're comfortable with.
I say to use garlic paste because you aren't cooking the sauce long and if you use fresh garlic then it may still be raw and have a bite to it. However, you are more than welcome to use 1 clove of freshly minced garlic!
YOUR NOTES
NUTRITION FACTS
Serving:
1
serving
|
Calories:
313
kcal
|
Carbohydrates:
17
g
|
Protein:
19
g
|
Fat:
16
g
This website provides approximate nutrition information for convenience and as a courtesy only. Nutrition information can vary for a variety of reasons. For the most precise nutritional data use your preferred nutrition calculator based on the actual ingredients you used in the recipe.