Life doesn't get much better than enjoying Surf and Turf! And now, there's no need to overpay a restaurant to serve you your favorite meal – you can make it at home with this easy recipe. Treat yourself to the dinner you deserve tonight!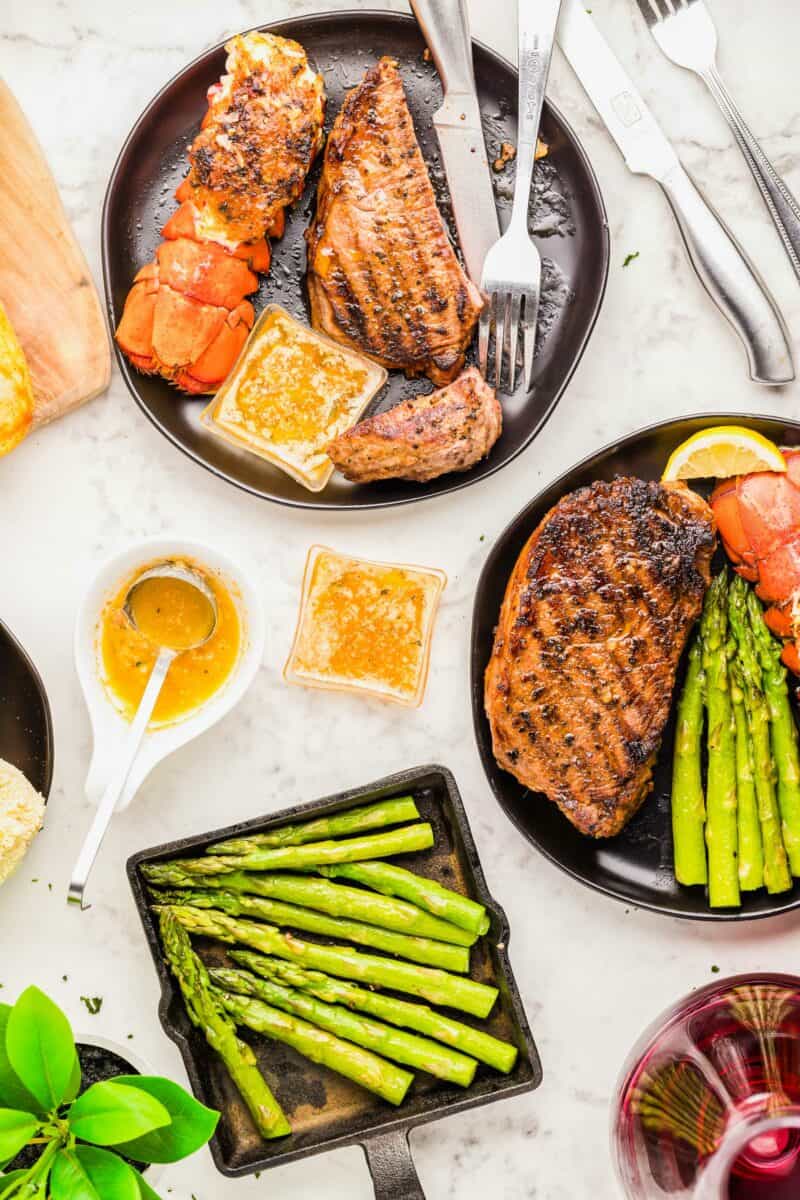 When I see a surf and turf option on the menu, I always pick it – no matter what restaurant I'm visiting! I just can't help myself. I mean, buttery lobster and juicy, tender steak? Yes, please!
However, have you ever gotten a lobster that was rubbery, or a steak that wasn't cooked how you like it? I'm a medium rare girl myself, and I hate when I order a steak, just to have it rare or well done. You may think I'm too specific, but when I'm paying for steak and lobster, I like it just right.
Now that I've started making one of my favorite dinners at home, I don't think I'll ever go back! Now I can make sure that my lobster will always be perfectly cooked and seasoned, and my steak will always be the medium rare that I crave. I'm telling you guys, mastering your own restaurant staples at home is SUCH a reward!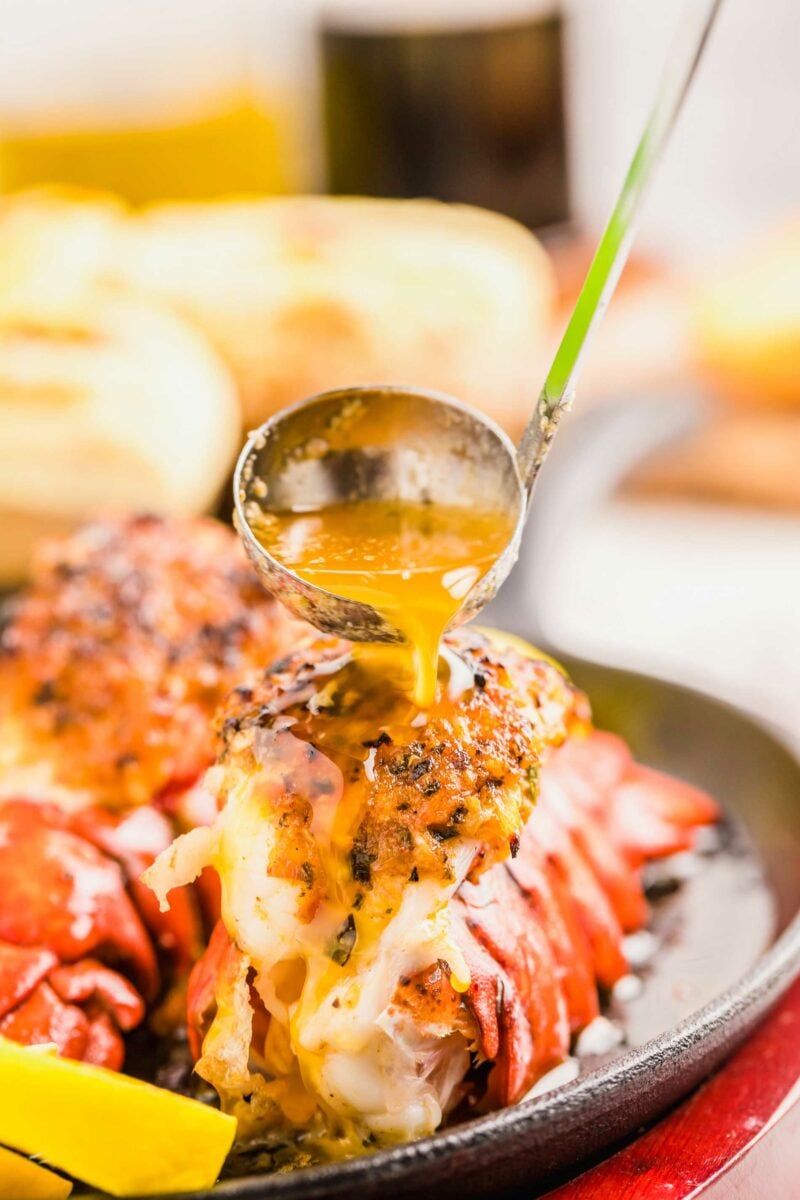 Ingredients
For the steak, you'll need:
Steaks – I use New York strip steaks, and they're always the best.
Salt – Just a dash of kosher salt, to taste.
Black pepper – Freshly ground is the way to go.
Smoked paprika – Use smoked, not plain paprika, for a light smokey flavor that will truly make your mouth water.
Garlic powder – It adds depth to the steak without overpowering the other ingredients.
Butter – Use salted for more flavor.
Garlic – Love garlic? Add another clove!
Worcestershire sauce – Really, I don't think any steak is complete without a splash of this tangy sauce.
Thyme – Use fresh, not dried.
Lemon juice – just like the sprigs of thyme, use fresh lemon juice! Not the bottled stuff.
The lobster will need:
Lobster tails – Use medium, not small tails, so you get more meat.
Shallot – A yellow onion could also be used in a pinch.
Garlic – Add another clove if you're a big garlic lover.
Basil – Fresh, not dried!
Butter – Use salted butter to enhance the flavor of the lobster.
Lemon – Just the juice, not the zest.
Kosher salt – Just a pinch to taste.
Black pepper – Freshly ground is the best!
Smoked paprika – This will be a nice flavor tie in with the steak.
Garlic powder – Because is any dish really complete without it?
What else should I serve with my steak and lobster?
More meat!
Just kidding. I usually serve my surf and turf with Roasted Lemony Pesto Asparagus and Garlic Mashed Potatoes! And, of course, a tall glass of red wine. I deserve it, and so do you!
Check out these other steak and seafood recipes I love!
Grilled Asian Marinated Flat Iron Steak
Grilled Flank Steak with Chimichurri
Salted Lime Butter Grilled Shrimp Skewers
Scallops with Spicy Curry Sauce and Couscous
Surf and Turf
Don't overpay for surf and turf at a restaurant…just make this recipe at home!
Save
Saved!
Rate
Print
Ingredients
For the steak:
2: 10

ounce

New York Strip Steaks

,

about 1" thick

½

teaspoon

kosher salt

½

teaspoon

ground black pepper

½

teaspoon

smoked paprika

1

teaspoon

garlic powder

3

tablespoons

salted butter

3

cloves

garlic

,

crushed

1

teaspoon

worcestershire sauce

4

sprigs thyme

1

teaspoon

lemon juice
For the lobster:
2

medium lobster tails

1

shallot

,

roughly chopped

2

cloves

garlic

1

tablespoon

chopped basil

5

tablespoons

salted butter

1

lemon

,

juiced

½

teaspoon

kosher salt

½

teaspoon

ground black pepper

½

teaspoon

smoked paprika

½

teaspoon

garlic powder
Add Ingredients to Shopping List
Added! Go to Shopping List
Instructions
For the steak:
Prepare steak rub: Add salt, pepper, paprika, and garlic powder to a small bowl and mix. Rub both sides of the steak generously with the seasoning. Let sit for 30 minutes to maximize flavor. Prep lobster tails while waiting

In a separate small bowl, melt the butter. Add worchestire, crushed garlic, and lemon juice. Whisk to combine.

Preheat the broiler for the lobster.

Heat a cast iron grill over high heat. Once hot, place both pieces of steak onto the grill. Cook for 3 minutes. Flip, and add the butter mixture to the pan on top of each steak. Top with 2 sprigs of thyme per steak. Cook for 3 minutes. Lower heat and cover. Cook steak to desired temperature. Check temperature before removing from heat, look for the temp to be 5° less than desired as it will raise about 5° as it rests. Rare will be done fairly quickly and will only need to cook an additional 1-2 minutes, reaching 115° before removing. Medium rare will take an additional 2-4 minutes, reaching 130° before removing. Medium will take 4-5 minutes, reaching 140° before removing. And medium well will take 5-6 minutes, or 145° before removing.

Note: times above are for a 1" thick steak. Because the cut and thickness may vary, the best practice is to sear both sides of the meat as instructed, cover, and use a meat thermometer to check desired temp.

Let the steak rest for 5 minutes.
For the lobster:
Cut a rectangle down the top of the lobster tail shell and discard. Gently pull the lobster meat away from the sides and above the rectangle. Place onto a foil lined cookie sheet or into an oven safe pan.

Roughly chop shallot. Add to a food processor with garlic cloves, chopped basil, lemon juice, salt, black pepper, paprika, and garlic powder. Melt 3 tbsp butter and add to the food processor. Pulse for 15-20 seconds.

Top each lobster with 1 tablespoon of shallot butter paste. Place leftover paste into a saucepan with 2 tablespoons butter over low heat until melted. Set aside.

Place lobster under the broiler for 6 minutes.

Remove from the oven and pour 1 teaspoon of melted butter mixture onto the top. Serve with remaining butter as dip.

Plate lobster tails and steak with your favorite vegetables. Enjoy!
YOUR NOTES
This website provides approximate nutrition information for convenience and as a courtesy only. Nutrition information can vary for a variety of reasons. For the most precise nutritional data use your preferred nutrition calculator based on the actual ingredients you used in the recipe.