15-Minute Spinach Pesto Quinoa Bowl
Probably one of the littlest known facts about me is my love for technology. I mean, we all know I love food but you probably didn't know that I'm a huge nerd, did you? I love to code and I love having geeky conversations with fellow web developers about the up and coming technologies, what platforms they use and all this random mashup of stuff that normal people wouldn't care about. I get giddy on the inside when I find someone that relates to me as a web developer. Jason zones out when I start talking to friends about stuff like this and it's probably like Japanese to him and everyone else around us.
Anyway, so being the huge nerd that I am, I had three tabs open yesterday for tech blogs that were live-blogging the Apple event in California. I swear I tell myself every year when Apple holds an event, I won't get excited about it and I won't bother watching it. Haha, fat chance! Who am I kidding?!
iPhone 6 – anyone getting it? I'm totally pre-ordering it. When I pre-ordered the iPhone 5, I woke up at 3am to order it. #dedication
Ok, enough about nerding it out. Let's talk about this 15 MINUTE QUINOA BOWL!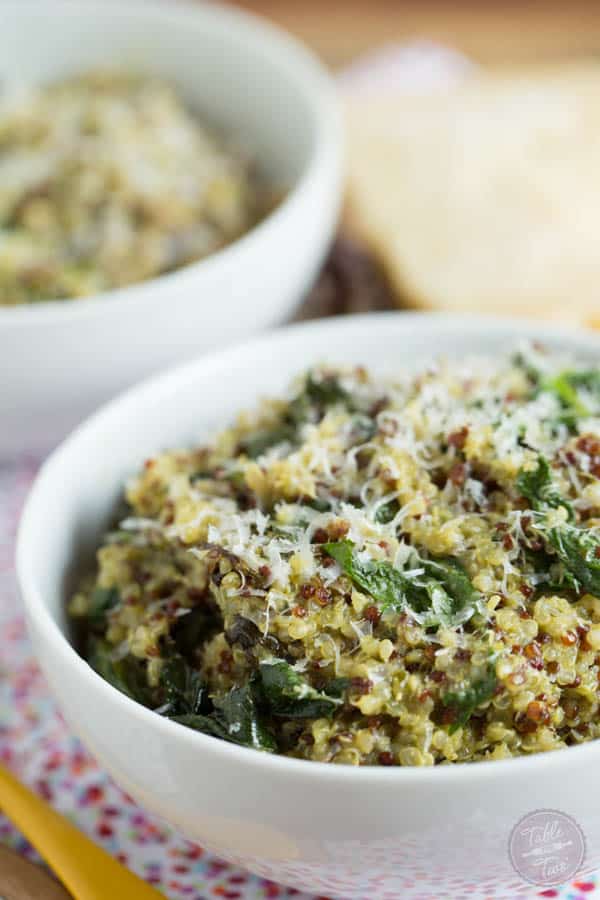 I'm sure we all know by now my affinity for all things pesto. And just when you thought I had enough pesto recipes, I throw just another one at you. This time, it only takes 15 minutes to make! Yes, super super easy and so filling! Don't you love quick dinner ideas? This 15-minute spinach pesto quinoa bowl brought to you by…me! 'Cause one evening I decided I didn't want to cook an elaborate dinner cause I just wasn't having it, then further, I decided I'd just throw everything in a pot and voila! Here you go.
Let's break this down:
quinoa cooks incredibly fast
spinach wilts down and cooks incredibly fast
and well, if you already have pesto on hand, you just gotta throw it in, mix everything around, shave some beautiful parm on top and seriously – quick dinner in 15 minutes. I got you ;)
Spinach Pesto Quinoa Bowl
You'll have dinner on the table in no time with this 15-minute spinach pesto quinoa bowl!
Ingredients
2

cups

multi-colored quinoa,

uncooked

6

cups

baby spinach

4

tablespoons

basil pesto

1/2

teaspoon

kosher salt

1/2

cup

freshly grated Parmesan cheese plus more for topping
Instructions
Cook quinoa according to the instructions on the box or bag. (Instead of water, I used chicken stock for more flavor but if you want to keep this a vegetarian dish, go with water or vegetable stock.)

Once quinoa is done cooking, turn heat to medium then add spinach, pesto, salt, and Parmesan cheese. Stir to combine and heat until spinach has wilted, pesto is evenly distributed, and Parmesan cheese has melted.

Serve immediately with extra Parmesan cheese, if desired.
Recipe Notes
Nutrition Facts
Spinach Pesto Quinoa Bowl
Amount Per Serving (0.25 of recipe)
Calories 470
Calories from Fat 162
% Daily Value*
Total Fat 18g 28%
Total Carbohydrates 64g 21%
Protein 22g 44%
* Percent Daily Values are based on a 2000 calorie diet.
*Nutrition facts are an estimate and not guaranteed to be accurate. 
Posted on September 10, 2014