Halloween has come and gone and we all have flipped our calendars over to the 11th month of the year (wait, have you?). Uhhhhh..November?! Seriously, where has the year gone? I really can't believe holidays are right around the corner and all our pants are going to be busting at the seams from all the eating — or at least mine will be since I can only speak for myself. Some of you might have better self control to all those holiday sweets than I do ;)
Have any of you started to put together your Christmas lists yet? Jason and I have until Thanksgiving to finish ours. I wish one of the things I could have is more time in a day! Work is so silly and it takes up 12 hours of my day (with the waking up at 545am, getting ready commuting to and from the city) and when I get home, I have to fit in a workout AND cook dinner. Don't get me wrong, I love my busy lifestyle and I LOVE cooking, but I just wish I had more of a gap in between all these things. Some nights, we aren't even finished with dinner and dishes until 8:30pm! I'm usually in bed before 10pm too. Yeah, yeah, you moms out there are probably shaking your heads and thinking "wait til you have kids." Haha, trust me — I KNOW. Sigh..I live for the weekends — anyone else with me?
Between your crazy life and mine, I know you can find time to make this: my Cajun chicken pasta. Easy peasy dish and full of flavor. You'll be begging for more (or will your kids & spouse?) and this will definitely be a dish that is part of your dinner rotation menus.
The creamy sauce coats every strand of pasta and the Cajun seasoning gives it the right amount of BAM (ha, see what I did there? Cajun – Louisiana – Emeril, eh eh?). Oh, did I mention that the sun dried tomatoes that gave the dish a nice tangy sweetness? My 2 pounds of sun dried tomatoes I just bought this weekend probably won't last very long. Anyway, what are you waiting for? Well, right, the recipe. Print this baby out and make it ya'll! ;)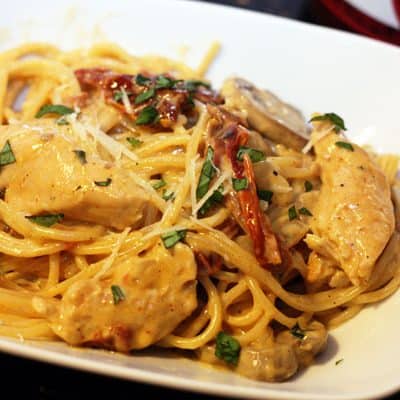 Print
cajun chicken pasta
Try this Cajun Chicken Pasta for a simple weeknight dinner packed with flavor!
Servings (adjustable, but please note that results, timing, and cookware may vary when adjusting servings):
2
Ingredients
4

chicken tenderloins cut into 1-inch cubes

1/2

box of spaghetti

2

tbsp

unsalted butter

1

medium onion,

diced

1/2

cup

sun dried tomatoes,

sliced

1

cup

mushrooms,

sliced

1

tsp

fresh basil,

chopped

1 1/2

tbsp

Cajun seasoning

(like Tony's)

1/2

cup

heavy cream

1/4

cup

freshly grated Parmesan cheese,

plus more for serving
Instructions
In a medium pot for the pasta, season the water with salt and bring to a boil. Cook the pasta until done. Drain well.

In a large skillet, melt a tbsp. of butter on medium high heat and add in the chicken strips. Sprinkle 1 tbsp. of Cajun seasoning on the chicken. Cook the chicken halfway through, it'll finish cooking with everything else.

Melt the other tbsp. of butter and add in the onion, mushrooms, sun dried tomatoes and basil. Sprinkle the other tbsp. of Cajun seasoning over the chicken and veggies. Saute until everything is cooked through, about 5-7 minutes.

Turn down the heat and stir in the heavy cream and Parmesan cheese. Once cheese has melted, let simmer and thicken for a bit, about 8-10 minutes, stirring occasionally.

Once thickened to the desired creaminess, turn off the heat and add in your pasta and mix well, coating the pasta with the sauce. The starch from the pasta should help thicken this too.

Serve with more Parmesan cheese and fresh basil on top.
Notes
Tony's Cajun seasoning is extremely salty (in my opinion) which is why there is no additional salt added to this dish.