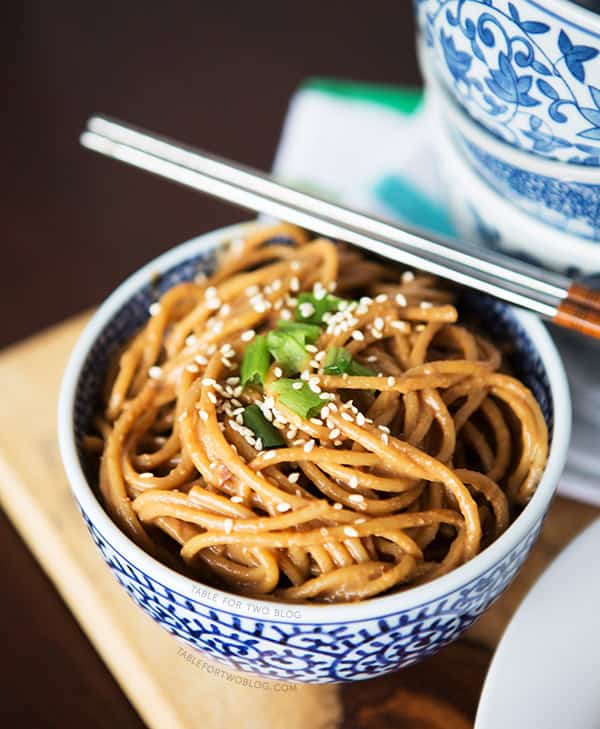 Did everyone have a good long weekend? What did you all do for Labor Day? We just got back from Pensacola Beach last night and the trip was a great way to end summer and get that last summer tan! It was relaxing and I sometimes wish I could spend an endless amount of time by the pool with a mojito in hand, but reality is nice too! Can't get too cushy! :)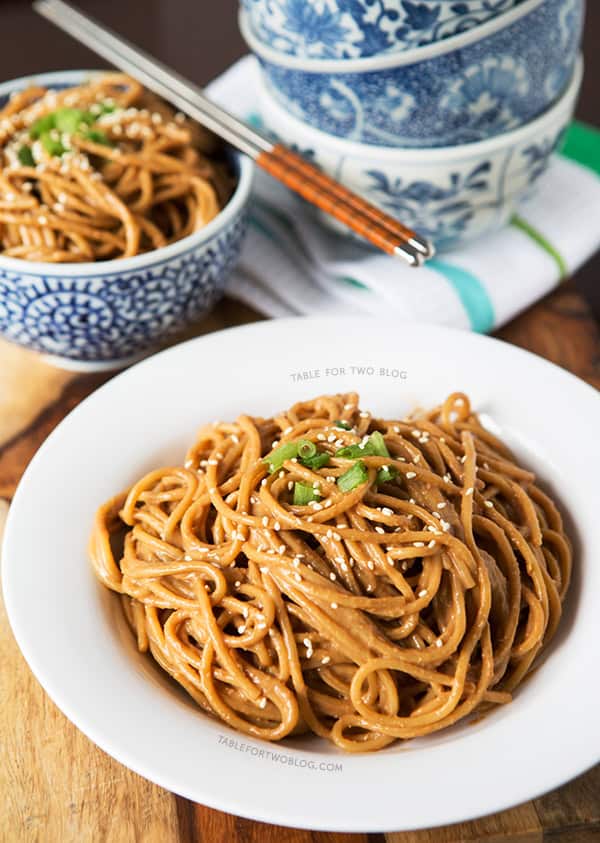 I'm sure a lot of you are sending your kids back to school today, if not already. Where I grew up, we always started school the day after Labor Day so to hear that other kids start weeks before, it blew my mind. I was so stuck on the fact that all schools went back after Labor Day. I guess it makes our school years longer, though. We always got out around mid-June and everyone else was already out of school.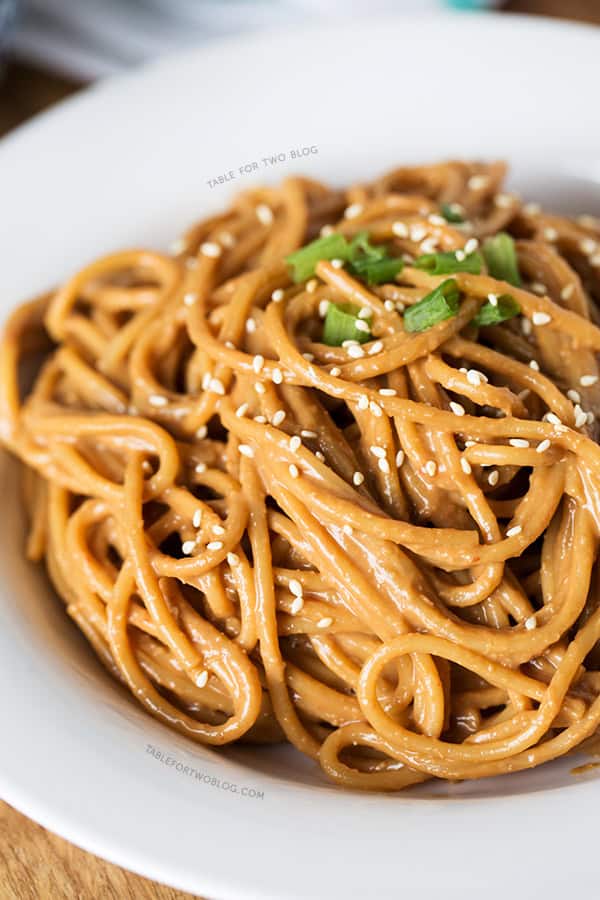 When my brother and I were in grade school, I remember my mom always made us the coolest lunches. My coolest, I mean, it was always unique and diversified. We didn't have peanut butter and jelly, my mom would go out of the way to make sure our lunches were interesting so we wouldn't get tired of them. Some days, we'd get sushi for lunch or fried rice or even a fried egg sandwich. My mom was seriously multi-talented in the kitchen when it came to lunches. One of my favorite dishes my mom made for us were cold peanut noodles. There was something about the ice cold noodles and the creamy peanut butter mixture that made the noodles addicting. This recipe is a similar take to the classic peanut noodles that she'd make for us. This version is a lot spicier but it's just as delicious. Jason and I would keep sneaking into the fridge to eat a few noodles. They didn't last us long at all. It's SO easy to make and it's perfect for school lunches because you don't have to worry about the refrigeration part of the lunch. It's best to eat it cold/room temperature! :)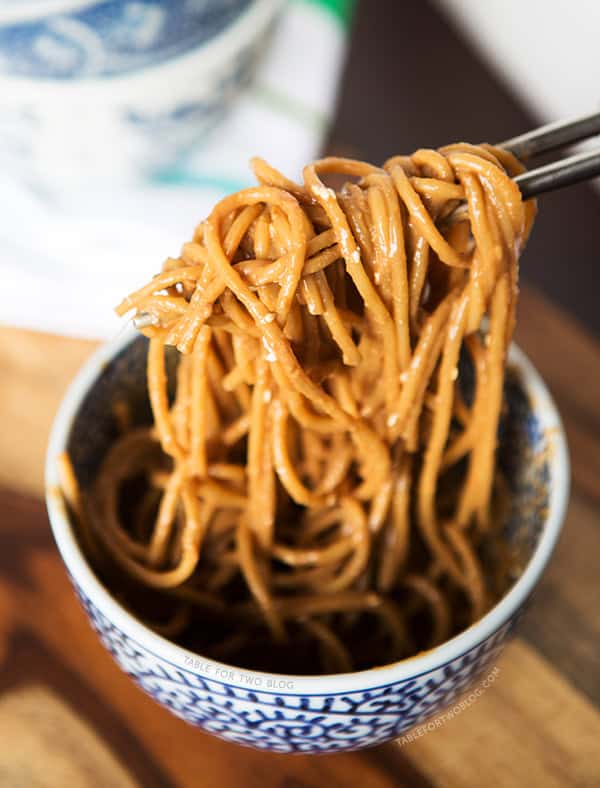 **If your child or children around them have peanut allergies, please be conscious of this as this is dish contains peanuts! Also, if you or your child don't like spicy foods, you can tone down the spice level by reducing the chili garlic sauce, or simply omit it altogether. The sauce will still taste great!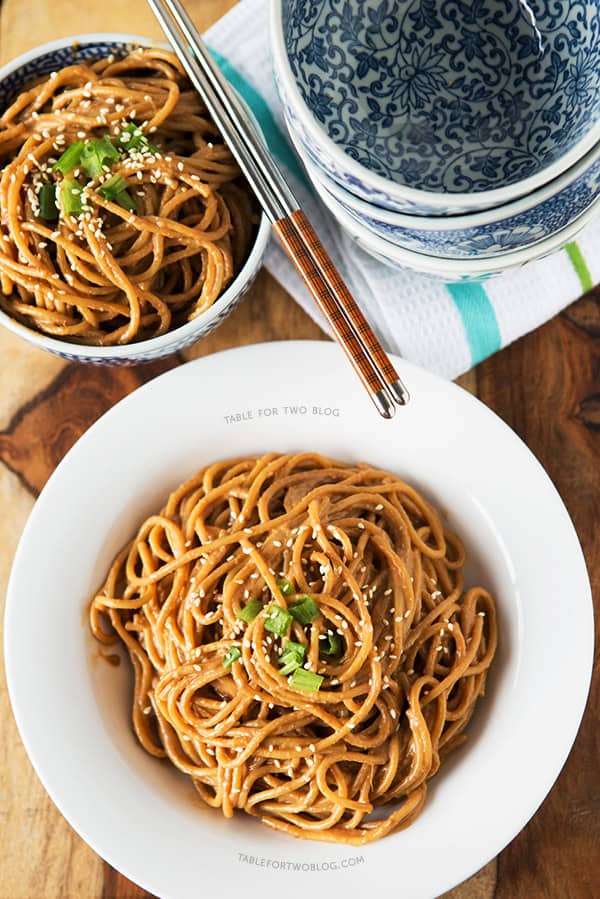 Cold Spicy Peanut Sesame Noodles
These cold spicy peanut sesame noodles are so yummy for any day of the week!
Ingredients
3/4

cup

to 1 pound dried spaghetti noodles,

or Asian rice noodles

2/3

cup

water

1/3

cup

smooth peanut butter

1/4

cup

low sodium soy sauce

1/4

cup

seasoned rice vinegar

3

tbsp

dark brown sugar,

packed

1/4

cup

roasted peanut oil

2

tbsp

toasted sesame seeds,

plus more for topping

3

tsp

chili garlic sauce

1

tsp

sesame oil

1: 1-

inch

piece of ginger,

peeled

1

clove

small of garlic

Fresh scallions,

chopped, for topping
Instructions
In a large stockpot, bring water to boil then add spaghetti noodles and cook according to box. Drain well when done.

In a jar of a blender, combine water, peanut butter, soy sauce, rice vinegar, brown sugar, peanut oil, sesame seeds, chili garlic sauce, sesame oil, ginger, and garlic. Process until smooth.

After pasta is done cooking and drained, add to a large glass bowl. Pour the peanut sesame sauce over the noodles and toss to coat. The mixture/sauce will be very runny and it will look like you made way too much. Trust me, once you pop it in the fridge, the sauce sets up and it's perfect :)

Cover and refrigerate for at least one hour - the longer, the better. I had mine in there for at least three. I love when it's super cold and the sauce is nice and thick.

Toss noodles again prior to serving. Top with fresh scallions and sesame seeds.
Recipe Notes
Source: Food Network
Nutrition Facts
Cold Spicy Peanut Sesame Noodles
Amount Per Serving (1 serving)
Calories 505
Calories from Fat 171
% Daily Value*
Total Fat 19g 29%
Total Carbohydrates 72g 24%
Protein 12g 24%
* Percent Daily Values are based on a 2000 calorie diet.
*Nutrition facts are an estimate and not guaranteed to be accurate.