This dark chocolate mug cake is, well, a dark chocolate version of my famous chocolate mug cake that everyone loves. You gotta have options when the craving hits!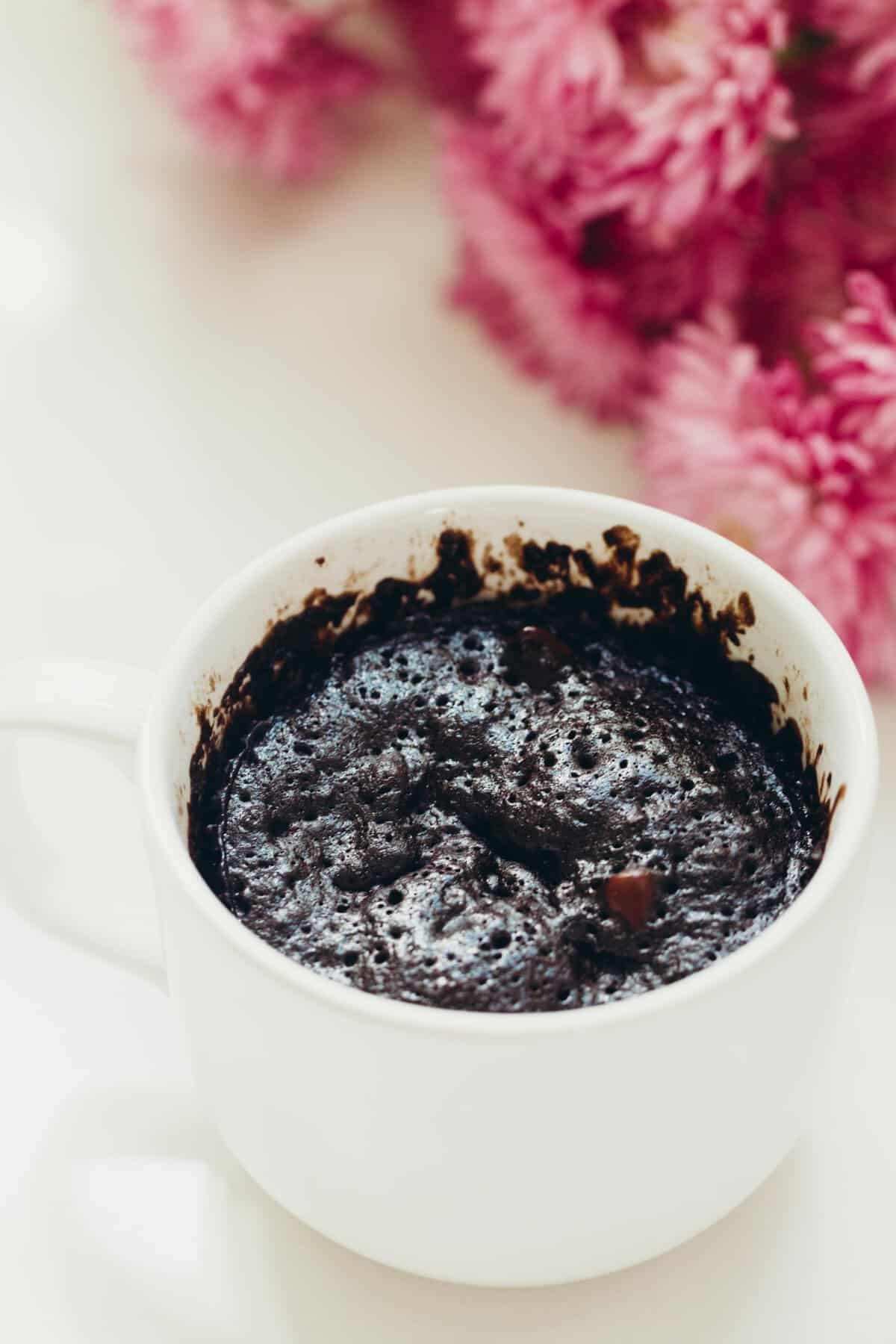 Your mug cake queen is back with a different version of my chocolate mug cake.
A DARK chocolate mug cake.
Because I am a dark chocolate FIEND and I love chocolate that is like 72% or more cacao.
If you thought the chocolate mug cake was bitter (and had to add more sugar to it to make it more sweet), then you probably won't be a fan of this one.
But I like having options for everyone, especially since I have a vanilla mug cake too!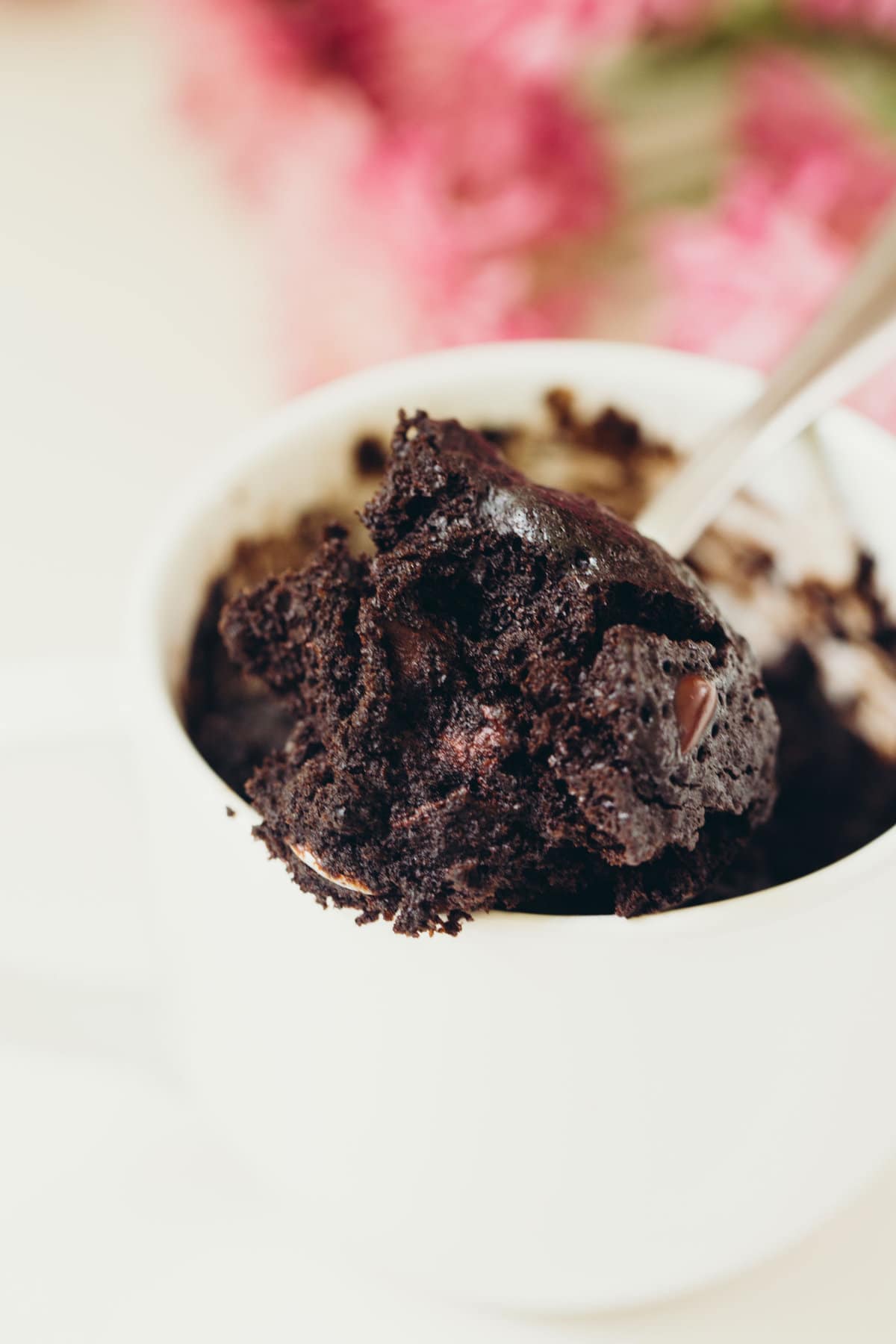 If you're familiar with my chocolate mug cake then the basics are still the same.
There is still no egg in this and this is still a dessert for one or two.
All the rules of my chocolate mug cake basically apply to this dark chocolate one.
With some little tweaks. So let's get into it.
What is the difference between this dark chocolate mug cake version and your regular chocolate version?
Basically the chocolate you're using and also the measurements.
Since this is pretty much an extra dark chocolate version, I upped the sugar measurement a tad.
I also added in dark chocolate chips instead of the dollop of hazelnut spread in the center.
I also swapped out the vegetable oil to use coconut oil because I feel that dark chocolate just tastes better with a hint of coconut flavor.
But since we're using coconut oil, you don't want it to seize with all the other cold ingredients, so the batter is slightly more runny because I warm up the liquids a bit.
We'll get into that in the directions below, though!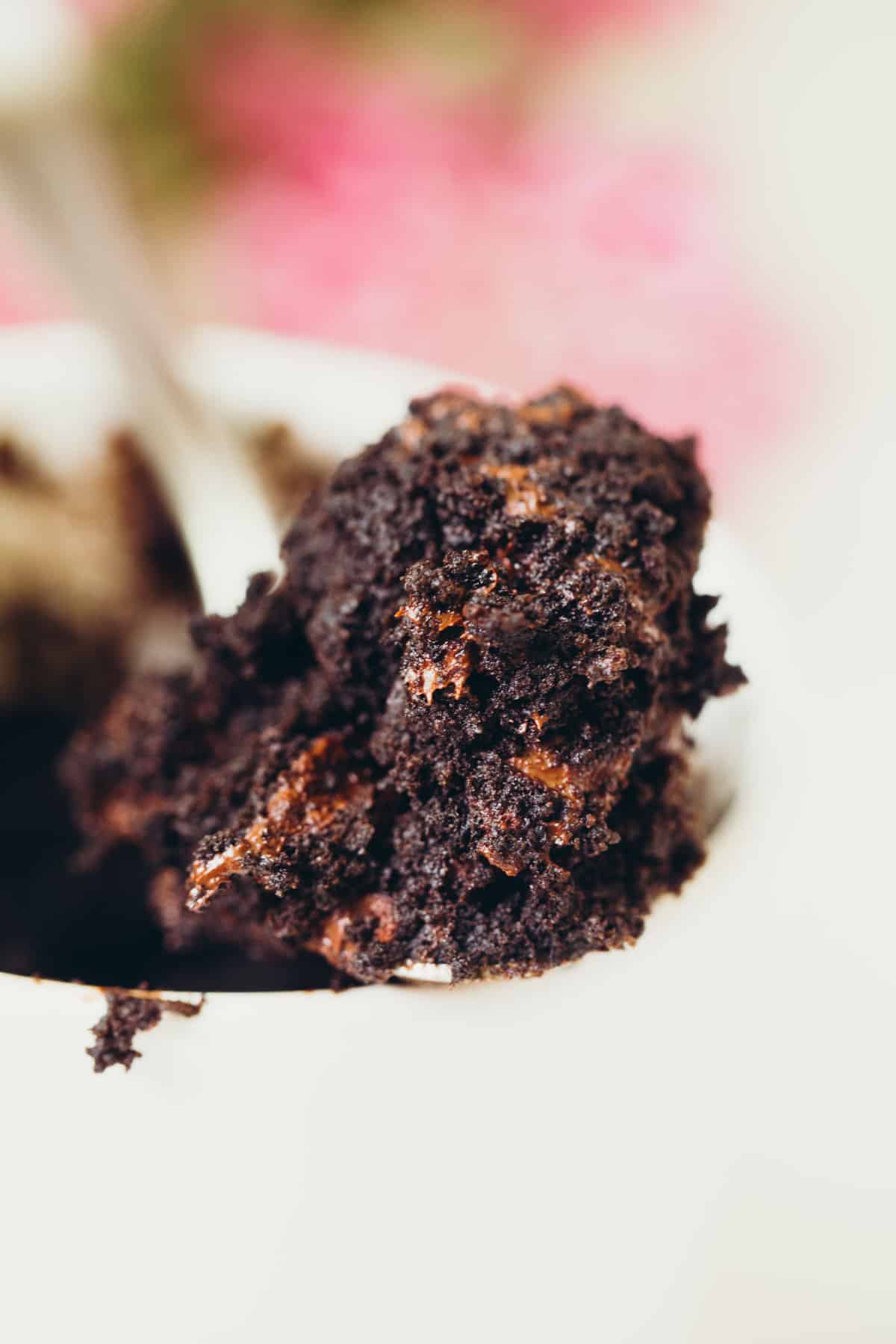 Is it still made without eggs?
Yep! And I'm going to explain it again because I get asked this a lot.
The reason why this mug cake is made without any eggs is because that is what makes it have a spongey texture!
If you think about it, it makes sense. Why would you put an entire egg into a mug cake when a regular full-sized cake often asks for one or two eggs?
This isn't a full-sized cake. And of course I'm not going to ask you to divide an egg in half.
Just omit it! Best texture, ever!
Is it still only microwave-friendly?
Yes. I didn't test for the oven because honestly, who wants to heat up a giant oven to make a single-serving dessert?
The whole point is that you can make this in the microwave when you're in a pinch.
And I realize not everyone has a microwave so I apologize, but no, I didn't test for the oven.
Can you make this with self-raising flour?
You can, but I tested it with self-raising flour and it just came out spongey and not the texture I wanted.
I like my cakes light, fluffy, and moist and with the self-raising flour, it just didn't yield the results I wanted.
There have been many people who have used self-raising flour in my original chocolate mug cake recipe and didn't notice a difference so if you're up for the challenge, I say go for it.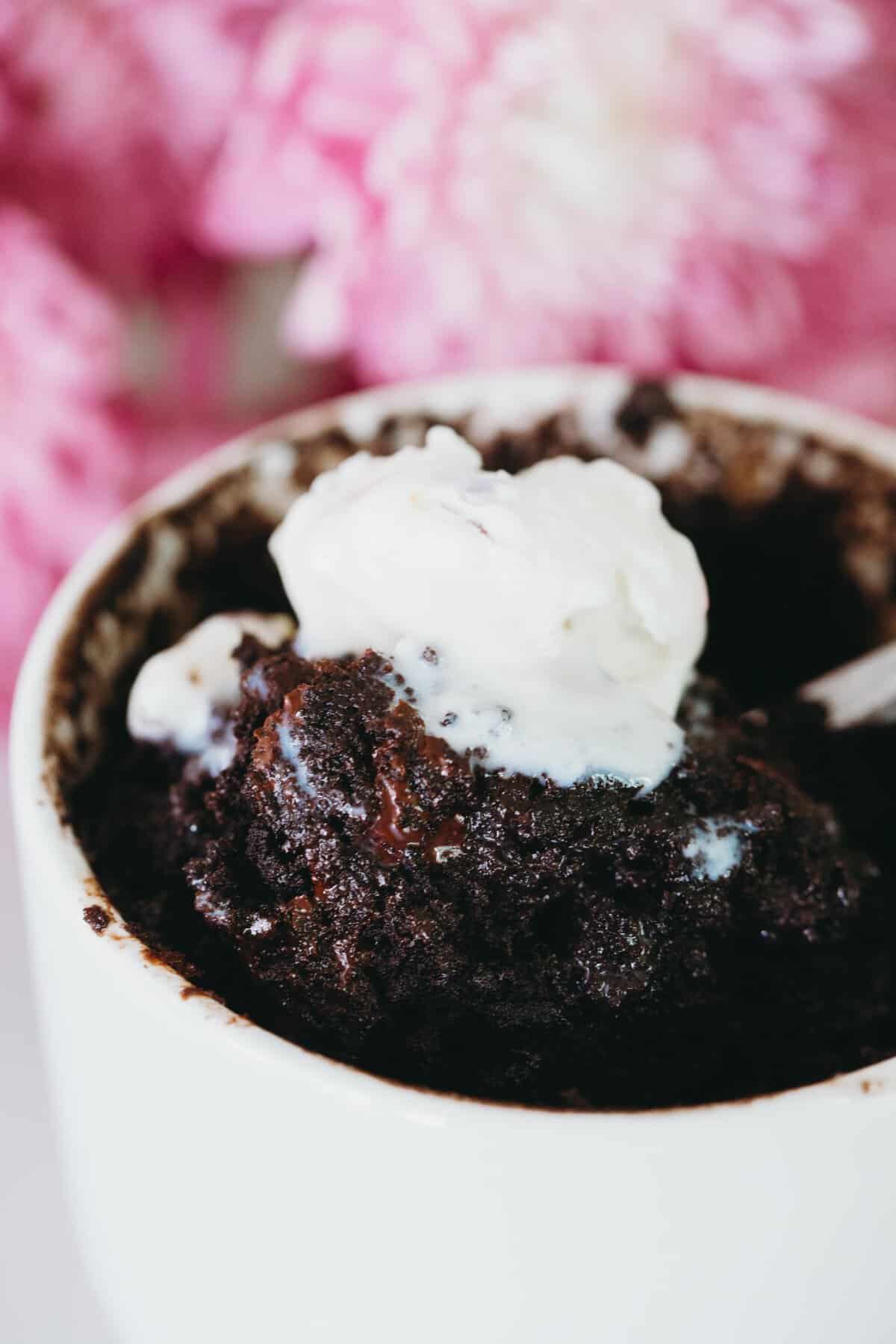 Should I make the chocolate mug cake or this dark chocolate mug cake first?
That 100% depends on you. Personally, I would make the chocolate mug cake first because that was the original and where it all began.
Then, you can see if prefer something even darker and richer, like this dark chocolate version.
I prefer the dark chocolate version because, like I said above, I am a dark chocolate fiend and will always choose dark chocolate any day.
I mean, it can't hurt to try both, right? Make one version for yourself, make another for a friend or partner.
No one will be upset that you made them cake in a mug!
What is your favorite add-in or topping for this dark chocolate mug cake?
As you can see above, I added in dark chocolate chips. SO good.
I also added a scoop of cake batter ice cream because who doesn't love ice cream on a warm cake?
You could do whipped cream or even a dollop of peanut butter in the center.
Omg dark chocolate + peanut butter sounds so heavenly, doesn't it?!
Okay, you gotta go grab your mug now and make this dark chocolate mug cake ASAP!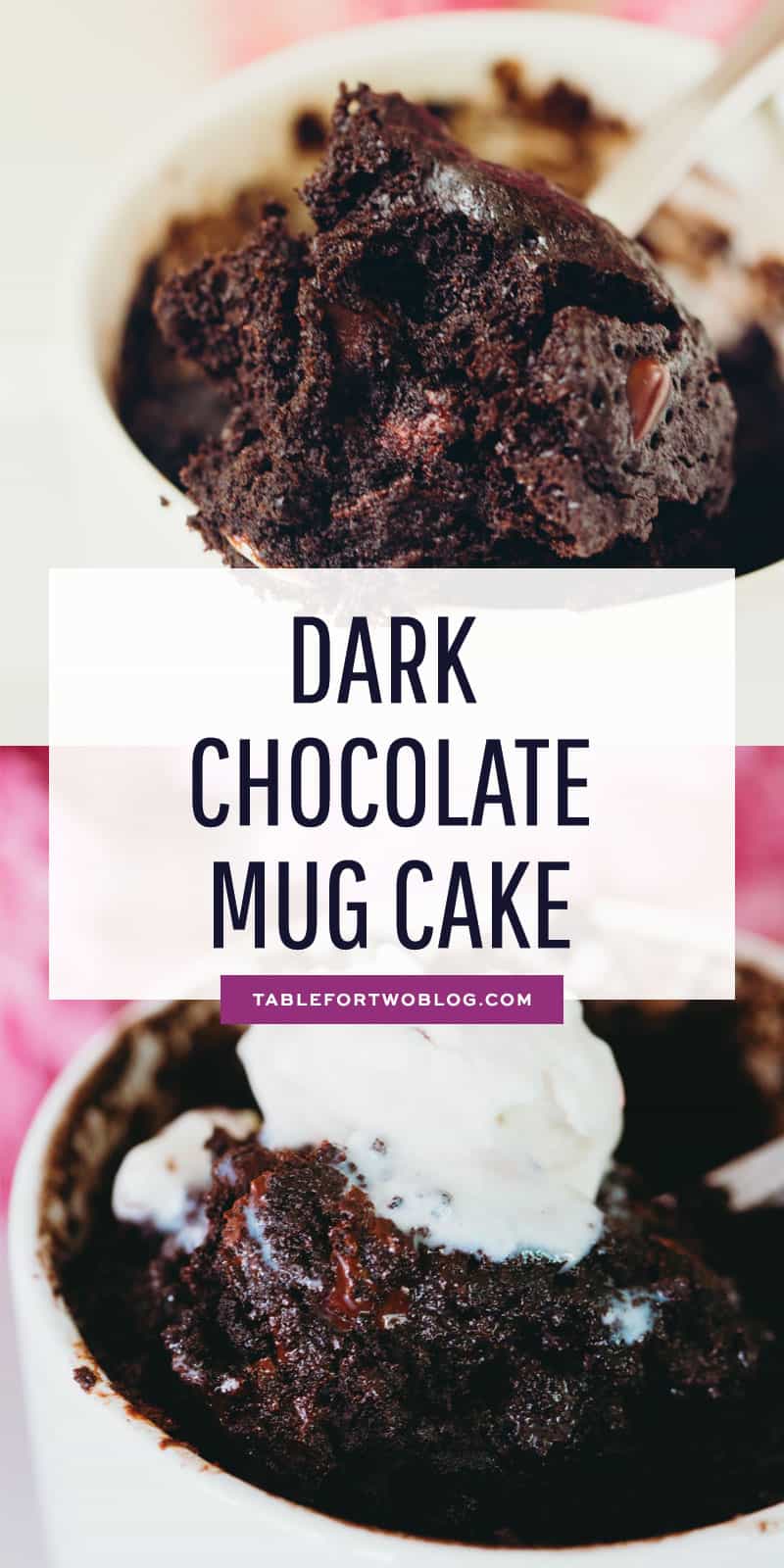 Other mug cake recipe flavors that you should try if you love mug cakes:
Dark Chocolate Mug Cake
This dark chocolate mug cake is a variation off my original famous chocolate mug cake!
Save
Saved!
Rate
Print
Ingredients
¼

cup

all-purpose flour

2

tablespoons

dark chocolate cocoa powder

¼

teaspoon

baking powder

3

tablespoon

granulated sugar

⅛

teaspoon

salt

2

tablespoons

dark chocolate chips

¼

cup

+

1

tablespoon warm milk,

(you'll want to pop this in the microwave for like 30 seconds so it's not super cold otherwise it'll seize up the coconut oil)

2

tablespoons

melted coconut oil
The default measuring system for this website is US Customary. Unit conversions are provided for convenience and as a courtesy only. While we strive to provide accurate unit conversions, please be aware that there may be some discrepancies.
Instructions
In a medium bowl, whisk together dry ingredients and dark chocolate chips.

Whisk in the milk and coconut oil until all ingredients are combined and batter has no clumps.

Pour batter into a microwave-safe mug. Mine was a 14-ounce mug. You want enough head space for the cake to rise without pouring over.

If you're adding peanut butter or any nut butter spread, at this time, put it in the middle of the batter. Just drop it in the middle, no need to push it down and sink it in the batter. It does that on its own when it cooks! :)

Place a paper towel into the microwave and set the mug on top (this is to catch any batter if your mug cake overflows).

Microwave mug cake for 90 seconds on high (PLEASE READ NOTES CAREFULLY BELOW)

Carefully remove from microwave and enjoy!
Recipe Notes
Please note that ALL microwaves are different therefore can yield different results and can overcook this mug cake if you aren't careful. My microwave is 950 watts and I cooked mine on 100% power for 90 seconds. This is slightly longer than the original chocolate mug cake because the batter is thinner because the liquids are warm vs. cold liquids. Knowing this information, it may help you better judge how long to cook yours for and at what power.
If you're looking for the original chocolate version, here is the link.
If you're looking for a vanilla version, here is the link to The Moistest Vanilla Mug Cake recipe!
NUTRITION FACTS
Serving:
1
mug cake
|
Calories:
606
kcal
|
Carbohydrates:
55
g
|
Protein:
10
g
|
Fat:
42
g
|
Saturated Fat:
16
g
|
Fiber:
7
g
|
Sugar:
21
g
This website provides approximate nutrition information for convenience and as a courtesy only. Nutrition information can vary for a variety of reasons. For the most precise nutritional data use your preferred nutrition calculator based on the actual ingredients you used in the recipe.
There is an affiliate link in this post.