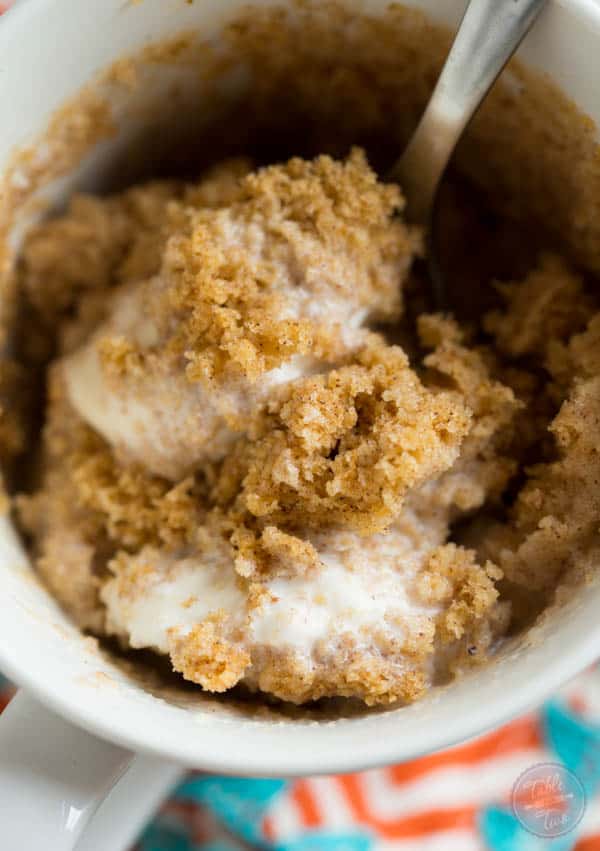 Last week, I was deciding whether or not to take Thursday and Friday off work just for 'me' time since Jason was out of town. How could I say no to the temptation of not having to go to work? It was pure bliss and I'm so glad I did it. Although, the 'me' time I had wanted meant knocking out a bunch of recipes and doing blog work but since it was a rainy day on Thursday, I did everything but recipes. Darn weather completely foiled my plans of a productive day! I was just so lazy and I sat on the couch most of the day watching mindless TV and surfing the web on my laptop. Le sigh – some days, you just need that though! So I guess it wasn't too much of a fail that I got to relax. :)
Oh, and then SCANDAL on Thursday night and my big Olivia Pope wine glass that I finally put to good use! I'm SO happy it's back on!! I think it's been a good 7 months since the last season (which, thinking about it – has 7 months really gone by that fast?!). What are tv shows are you excited about? I have The Voice and How To Get Away with Murder on DVR right now. I'm hoping HTGAWM is as good as Scandal because I'd love another show to get hooked on this Fall!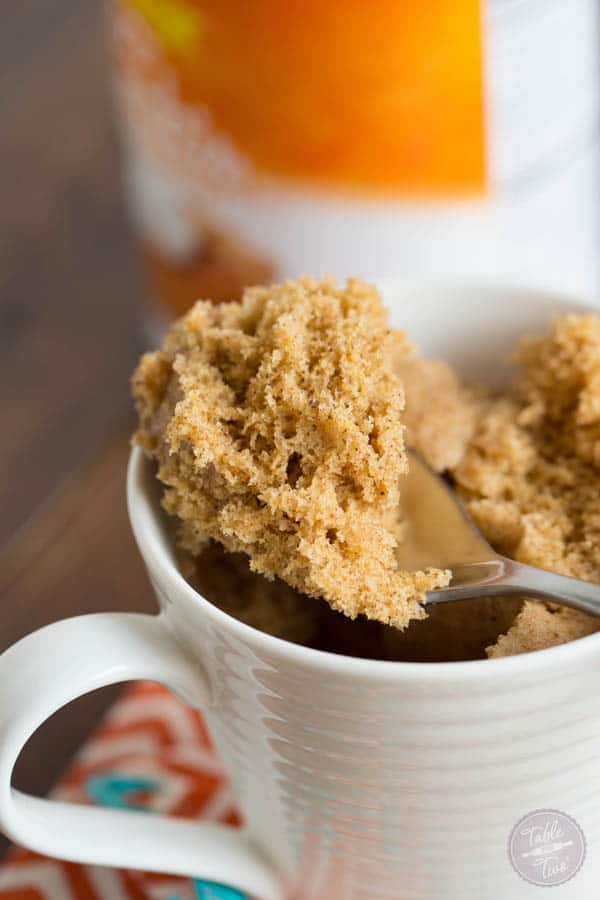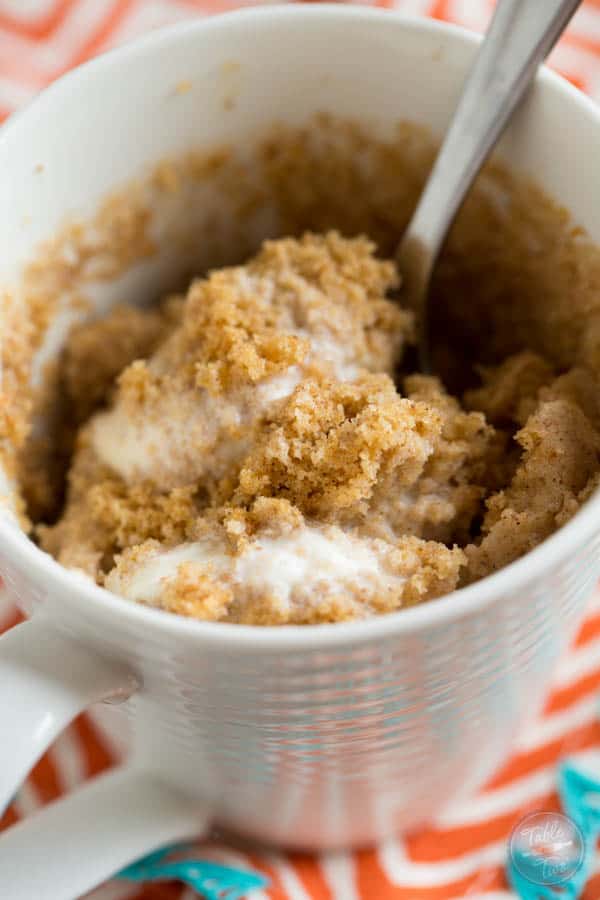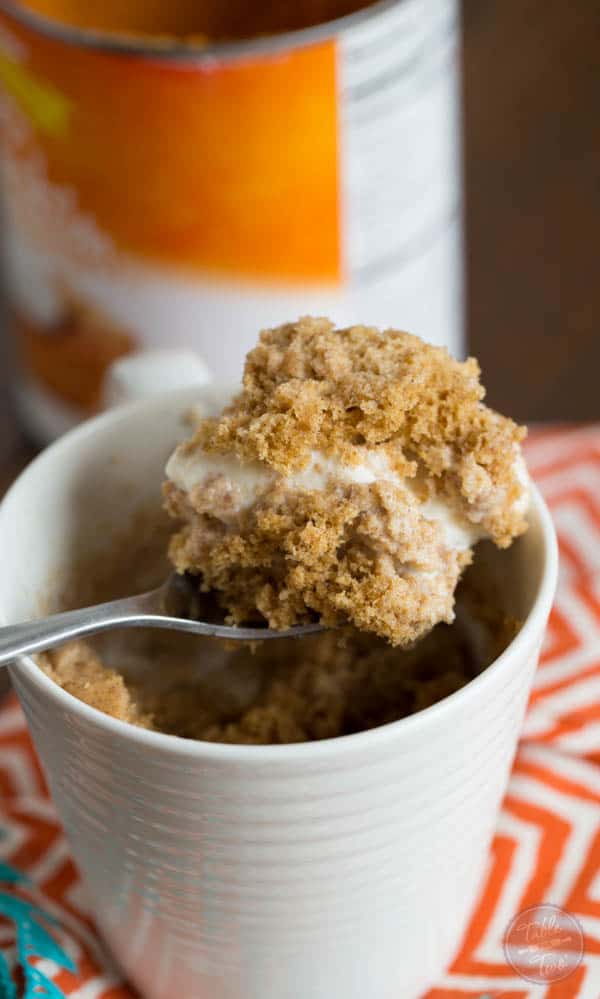 Apparently it's mug cake Monday's around here! Last week, I gave you a salted caramel apple spice mug cake and today, in celebration that October is literally right around the corner, I'm giving you a pumpkin spice mug cake!! So now you have FOUR mug cakes to choose from so whatever mood you're in, they'll be sure to satisfy that sweet tooth!
This pumpkin spice mug cake was one of my favorites because I really do love pumpkin season but I really try not to push pumpkin until October (or very close to October) because I feel that when things are seasonal, they shouldn't be rushed! I'm already so mad that I'm seeing Christmas items in stores. Anyway, I hope you'll enjoy this mug cake. We topped ours off with a creamy vanilla bean ice cream and oh my goodness, it just sent this pumpkin spice mug cake over the top!! The warm center and the cold ice cream were just completely made for each other. It's made to be devoured…so what are you waiting for? :)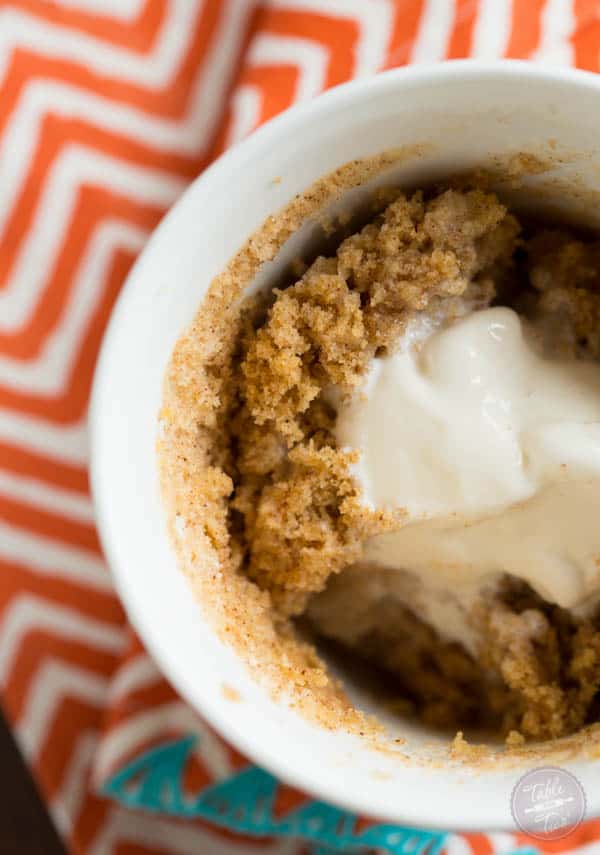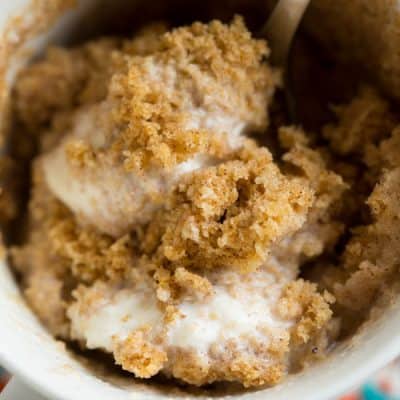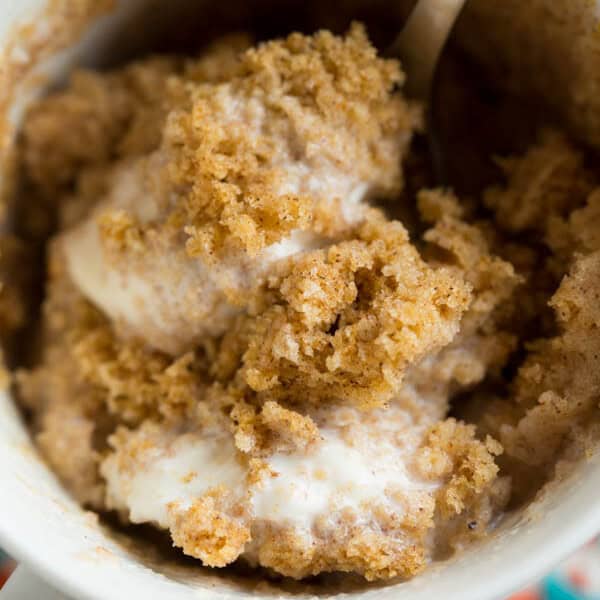 Pumpkin Spice Mug Cake
Pumpkin spice mug cake topped with creamy vanilla bean ice cream is Fall perfection...in a mug!
Ingredients
1/4

cup

all-purpose flour

1/2

teaspoon

baking powder

4

teaspoons

granulated sugar

1/2

teaspoon

pumpkin pie spice

Pinch of salt

1

teaspoon

pumpkin puree,

NOT pumpkin pie filling

2

tablespoons

milk

1/4

teaspoon

vanilla extract

1

teaspoon

vegetable oil

1/2

tablespoon

water
Instructions
In a small bowl, whisk together the dry ingredients.

Make a well in the center of the dry ingredients then add the wet ingredients. Whisk everything together until combined and no lumps remain.

Pour batter into a microwave-safe mug. Mine was a 14-ounce mug. You want enough head space for the cake to rise without pouring over.

Place a paper towel into the microwave and set the mug on top (this is to catch any batter if your mug cake overflows).

Microwave mug cake for 1 minute and 10 seconds on high (PLEASE READ NOTES CAREFULLY BELOW)

Carefully remove from microwave, add a scoop of vanilla ice cream on top and devour! Alternatively, you can use

homemade salted caramel sauce

too or whatever topping you want!
Recipe Notes
Please note that ALL microwaves are different therefore can yield different results and can overcook this mug cake if you aren't careful. My microwave is 950 watts and I cooked mine on 100% power for 1 minute and 50 seconds. Knowing this information, it may help you better judge how long to cook yours for and at what power. If you feel that your batter is still too wet after 1 minute and 10 seconds, feel free to zap it a little longer.
Yes, no eggs in this either. Eggs is what makes typical mug cakes spongey!
**This recipe is specifically made for the microwave. I developed it for the microwave. I don't know cook time or temperature for an oven...I'd imagine it'd be a very quick cook time at a low temp., but since I didn't test the recipe for an oven, I cannot give specifics. Sorry!
If you're looking for other variations of mug cakes, give these three a try:

Chocolate Mug Cake, Vanilla Mug Cake, Salted Caramel Apple Spice Mug Cake