Salted Caramel Apple Spice Mug Cake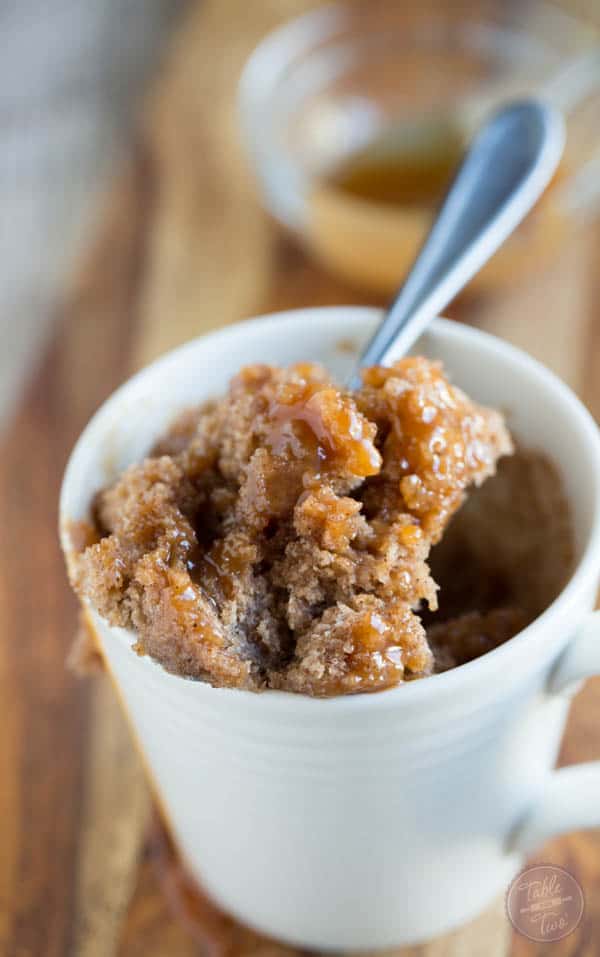 Remember last week I was telling you about my water bottle and how I lost it at a nail salon and then my Pure Barre instructor found an extra one in the back storage and I was finally reunited with my water bottle? Well, you won't believe this but I lost it again.
5 days after having been reunited with it.
This time, it flew out of a car window. On the interstate. Going 70mph. No joke.
I really wish I were kidding but I'm not. A huge bug landed on me while we were driving home on Thursday and if you know anything about me, you know that I hate bugs. Like haaate and get really sweaty and have an anxiety attack. It landed on me and the window was open so Jason told me to just flick it out the window. I did that but it didn't go out the window. Instead, it landed on my lunchbox. I tried to flick it off my lunchbox but it wouldn't come off so my BRILLIANT idea was to hold the handles of my lunchbox and put it out the window and hope that the wind would take the bug with it. Nope, didn't work. So then I shook the lunchbox. You see, my lunchbox has a little water bottle holster thing and in my freakout moment, I obviously wasn't THINKING. On the second shake, we watched something fly out. Yeah..it was my water bottle. RIP water bottle.
The bug was still in the car and I lost my beloved water bottle.
Damn bugs.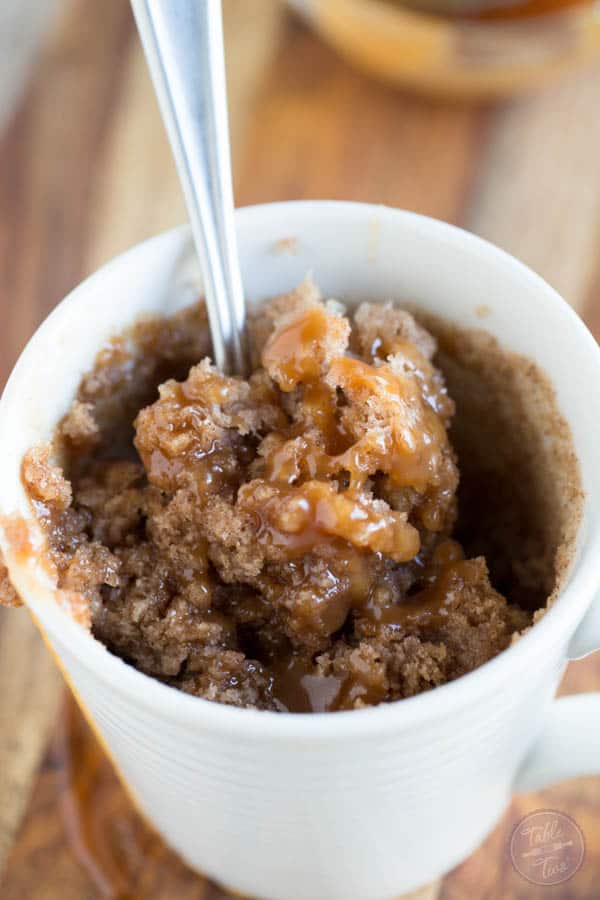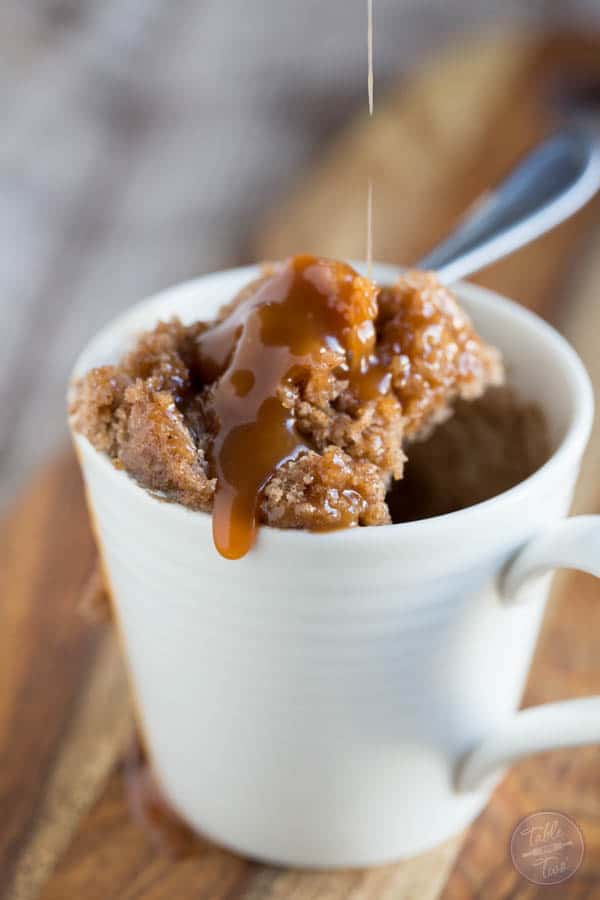 So I wasn't kidding you when I said you should make a batch of salted caramel because you're going to need it in this salted caramel apple spice mug cake!
Have you tried my other mug cakes? The chocolate one is the most popular and then the vanilla one for those that don't want something that rich.
If you've tried my other mug cakes then you know what you're in for. Moist, fluffy, and the best kinda dessert ever! Since it's apple season, I figured I'd come up with an apple-flavored one. Drizzle the salted caramel all over the top and omg, best dessert ever! You can share but it's single-serving so sharing is definitely optional ;) it took me 7 tries to finally get this to be the texture I wanted and I hope you enjoy it just as much as we do!! :)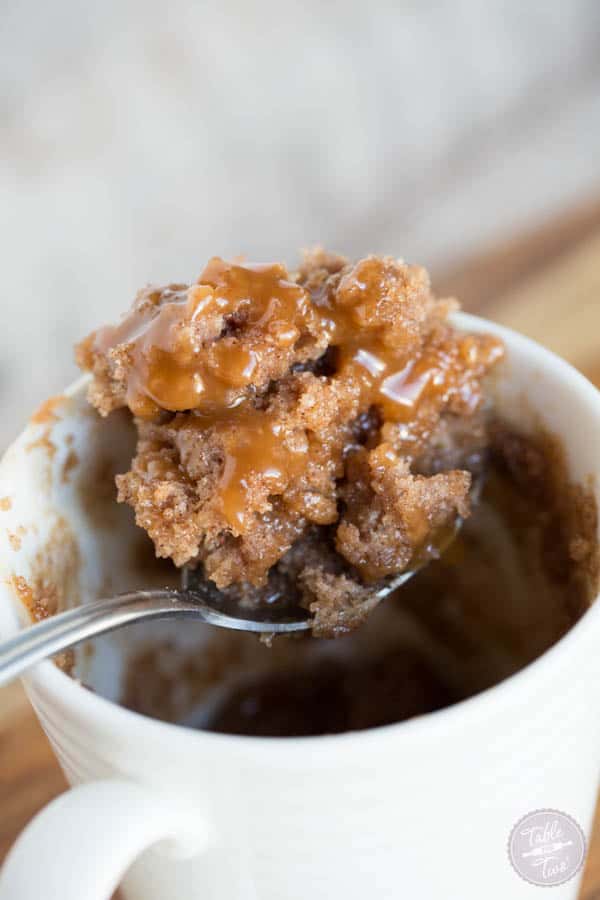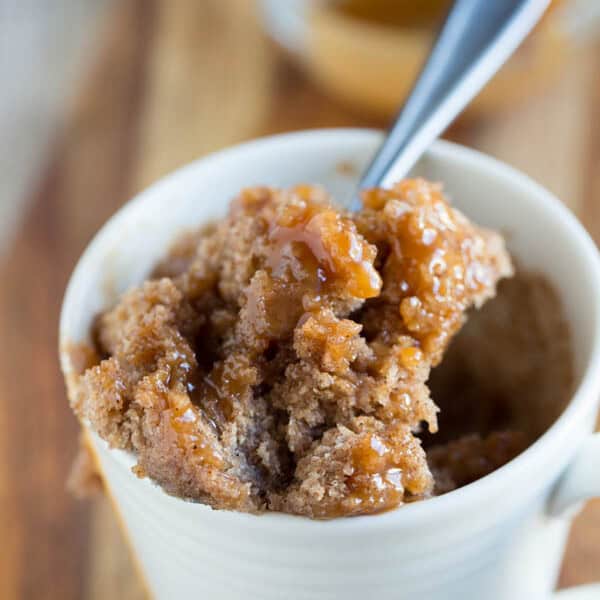 Salted Caramel Apple Spice Mug Cake
Less than 5 minutes gets you a single serving cake to satisfy that sweet tooth!
Ingredients
1/4

cup

all-purpose flour

1/2

teaspoon

apple pie spice

1/2

teaspoon

baking powder

3

tablespoons

granulated sugar

Pinch of salt

1 1/2

tablespoons

unsweetened applesauce

2

tablespoons

milk

1

teaspoon

vegetable oil

1

teaspoon

water
Instructions
In a small bowl, whisk together the dry ingredients.

Make a well in the center of the dry ingredients then add the wet ingredients. Whisk everything together until combined and no lumps remain.

Pour batter into a microwave-safe mug. Mine was a 14-ounce mug. You want enough head space for the cake to rise without pouring over.

Place a paper towel into the microwave and set the mug on top (this is to catch any batter if your mug cake overflows).

Microwave mug cake for 1 minute and 50 seconds on high (PLEASE READ NOTES CAREFULLY BELOW)
Recipe Notes
Please note that ALL microwaves are different therefore can yield different results and can overcook this mug cake if you aren't careful. My microwave is 950 watts and I cooked mine on 100% power for 1 minute and 50 seconds. Knowing this information, it may help you better judge how long to cook yours for and at what power. This batter is wetter and more moist than my other mug cakes hence the longer cook time. If you feel that your batter is still too wet after 1 minute and 50 seconds, feel free to zap it a little longer.

Yes, no eggs in this either. Eggs is what makes typical mug cakes spongey!

**This recipe is specifically made for the microwave. I developed it for the microwave. I don't know cook time or temperature for an oven...I'd imagine it'd be a very quick cook time at a low temp., but since I didn't test the recipe for an oven, I cannot give specifics. Sorry!

If you're looking for other variations of mug cakes, give these two a try:

Chocolate Mug Cake, Vanilla Mug Cake
Posted on September 22, 2014