Another take on my classic chocolate mug cake in case you aren't feeling chocolate and wanting a fruity pie flavor!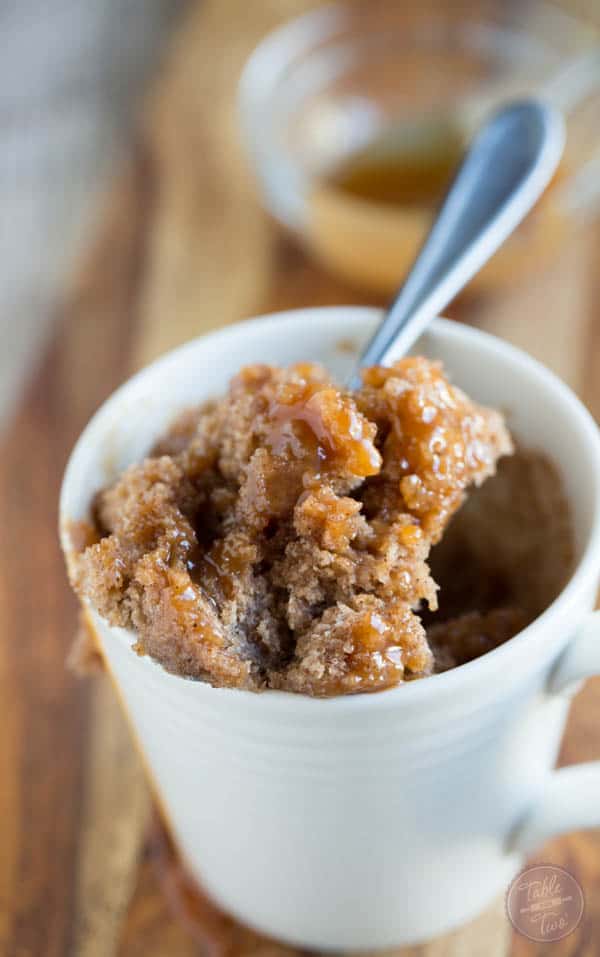 Clearly I'm obsessed with making mug cakes because I have five different mug cake flavors on the site.
The chocolate mug cake is obviously the classic and the most popular.
So, if you haven't tried that one yet, I highly recommend.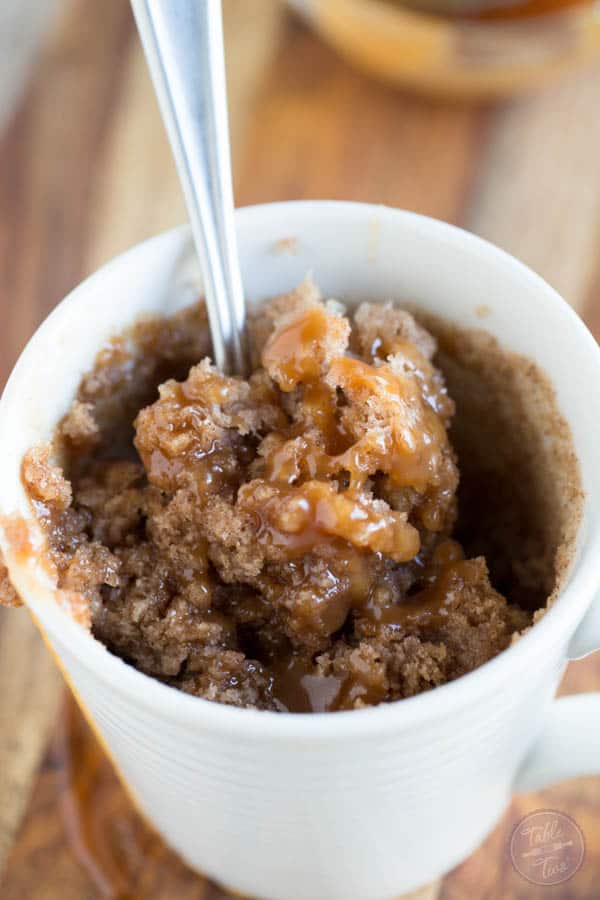 Also, for this mug cake, you should make a batch of salted caramel because you're going to need it in this salted caramel apple spice mug cake!
It definitely elevates the flavor and who doesn't love salted caramel?
This mug cake reminds me of a salted caramel apple pie.
You must top this a la mode! A giant scoop of vanilla ice cream would be DIVINE.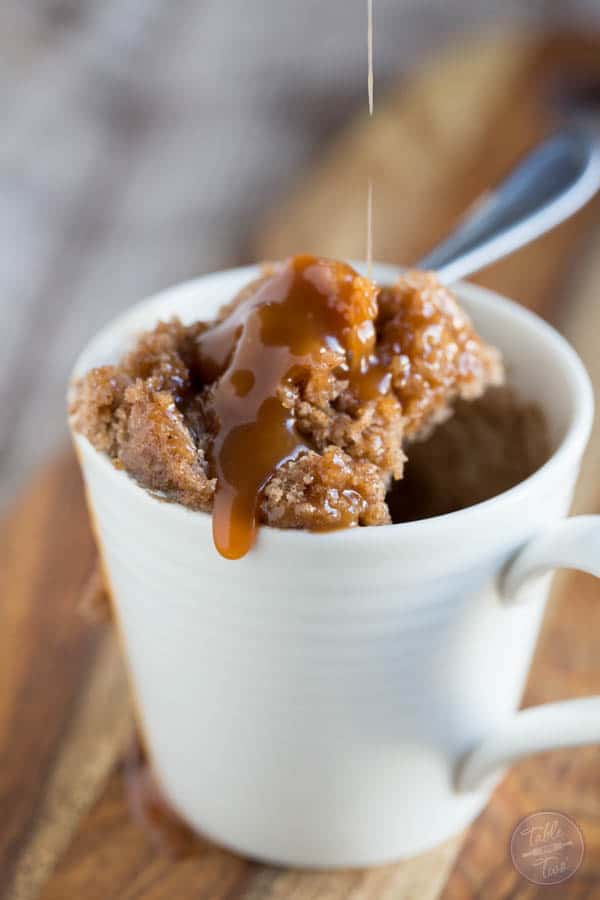 If you've tried my other mug cakes then you know what you're in for.
Moist, fluffy, and the best kinda dessert ever!
During apple season, I figured I'd come up with an apple-flavored one.
Drizzle the salted caramel all over the top and omg, best dessert ever!
You can share but it's single-serving so sharing is definitely optional ;) it took me 7 tries to finally get this to be the texture I wanted and I hope you enjoy it just as much as we do!! :)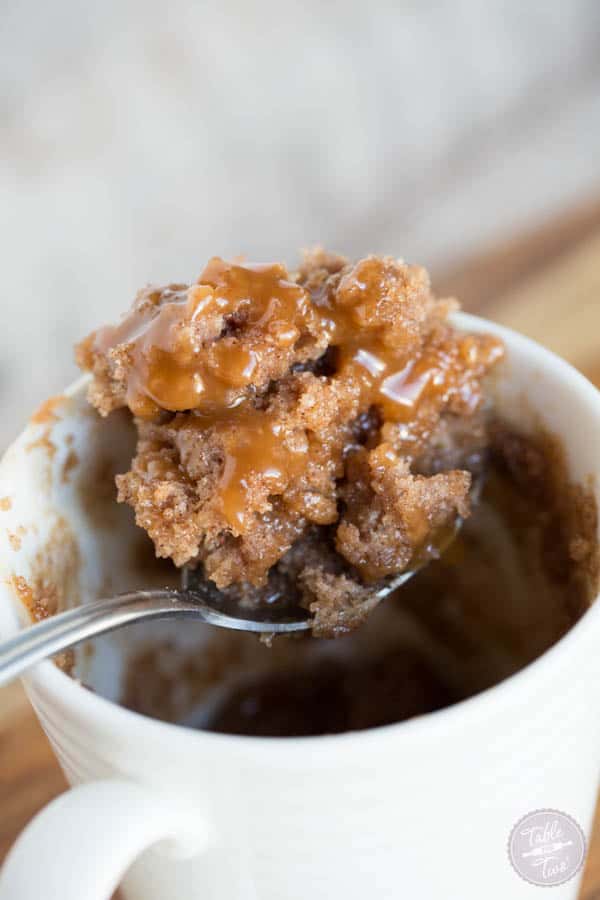 Other mug cake recipes you must try:
Salted Caramel Apple Spice Mug Cake
Less than 5 minutes gets you a single serving cake to satisfy that sweet tooth!
Servings are adjustable but please note that results, timing, and cookware may vary when adjusting servings.
Ingredients
1/4

cup

all-purpose flour

1/2

teaspoon

apple pie spice

1/2

teaspoon

baking powder

3

tablespoons

granulated sugar

Pinch of salt

1 1/2

tablespoons

unsweetened applesauce

2

tablespoons

milk

1

teaspoon

vegetable oil

1

teaspoon

water
Instructions
In a small bowl, whisk together the dry ingredients.

Make a well in the center of the dry ingredients then add the wet ingredients. Whisk everything together until combined and no lumps remain.

Pour batter into a microwave-safe mug. Mine was a 14-ounce mug. You want enough head space for the cake to rise without pouring over.

Place a paper towel into the microwave and set the mug on top (this is to catch any batter if your mug cake overflows).

Microwave mug cake for 1 minute and 50 seconds on high (PLEASE READ NOTES CAREFULLY BELOW)
Notes
Please note that ALL microwaves are different therefore can yield different results and can overcook this mug cake if you aren't careful. My microwave is 950 watts and I cooked mine on 100% power for 1 minute and 50 seconds. Knowing this information, it may help you better judge how long to cook yours for and at what power. This batter is wetter and more moist than my other mug cakes hence the longer cook time. If you feel that your batter is still too wet after 1 minute and 50 seconds, feel free to zap it a little longer.
Yes, no eggs in this either. Eggs is what makes typical mug cakes spongey!
**This recipe is specifically made for the microwave. I developed it for the microwave. I don't know cook time or temperature for an oven...I'd imagine it'd be a very quick cook time at a low temp., but since I didn't test the recipe for an oven, I cannot give specifics. Sorry!
If you're looking for other variations of mug cakes, give these two a try:
Chocolate Mug Cake, Vanilla Mug Cake
Nutrition Facts
Salted Caramel Apple Spice Mug Cake
Amount Per Serving (1 Serving)
Calories 404
Calories from Fat 135
% Daily Value*
Fat 15g23%
Carbohydrates 64g21%
Protein 4g8%
* Percent Daily Values are based on a 2000 calorie diet.
*Nutrition facts are an estimate and not guaranteed to be accurate.