Spicy Sausage, Spinach, and Mushroom Gnocchi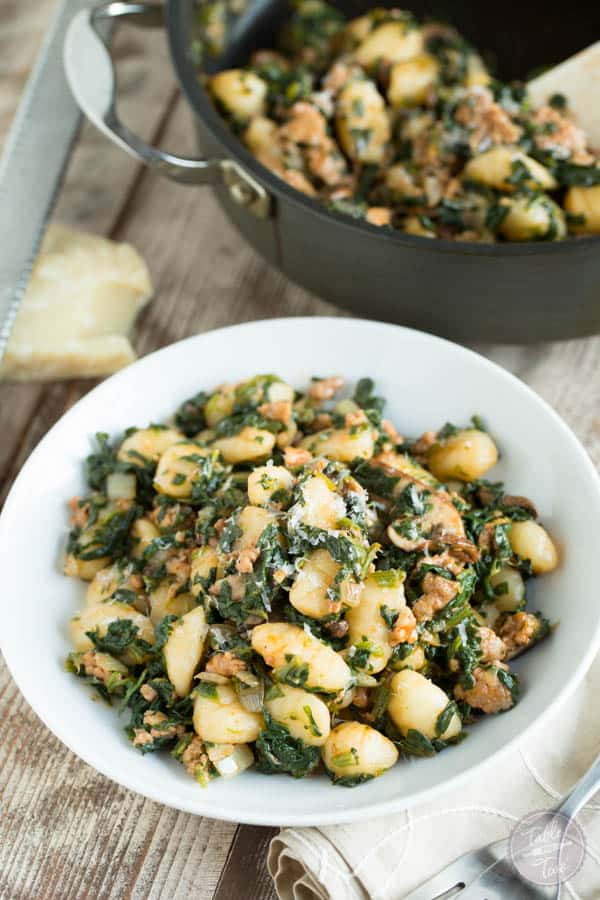 This past Wednesday, I went with my friend and tried out SoulCycle after work. Have you ever heard of it? It's like this ridiculously crazy spin class that's a whole body workout because you do upper body work while you cycle, too. I've never done a spin class before and I think I've ruined any other spin class for myself because I don't think there are any other spin classes quite like SoulCycle. All day at work on Wednesday, I was fretting over the class. I definitely am the worst with cardio but I need to start incorporating it in my exercise routine. Pure Barre is great for strength and toning but there isn't a whole lot of cardio.
Anyway, I can say that SoulCycle was the hardest cardio workout I've ever done. I walked out there DRENCHED in sweat. My arms (I know, right?) were so sore that night because of the number of pushups we did. Yes, you actually cycle and do pushups on the handle bars at the same time. AND at the end, you do weight work with your arms while cycling.  Three days after my first Soul class, I was still sore. I will say, though, that I did LOVE the class and I will be returning maybe once a week (it's so expensive!!). I love the environment and music. You cycle in the dark in candlelight and the instructor and music is SO uplifting and motivating. I heard that you can burn up to 700 calories in one class. That's like Thanksgiving dinner!! Haha, woo!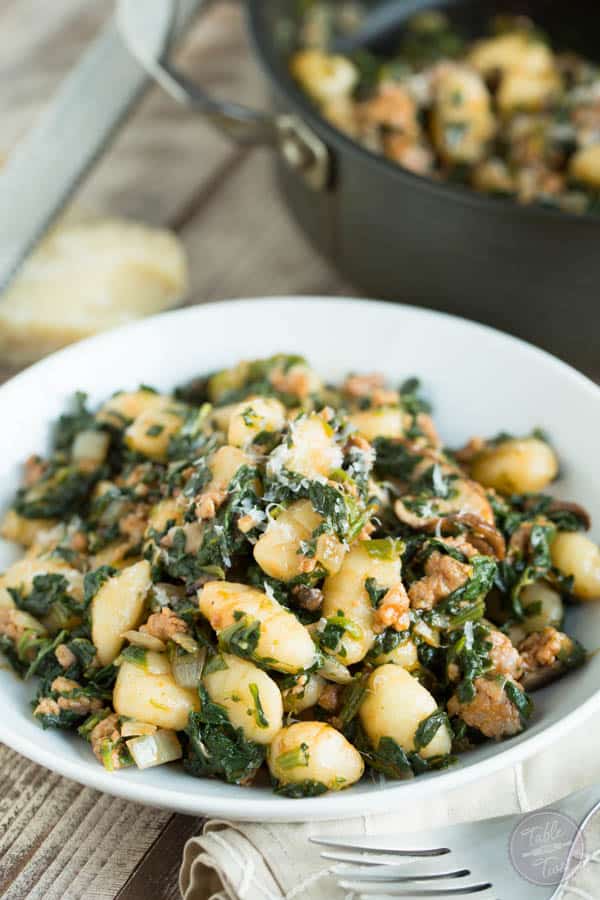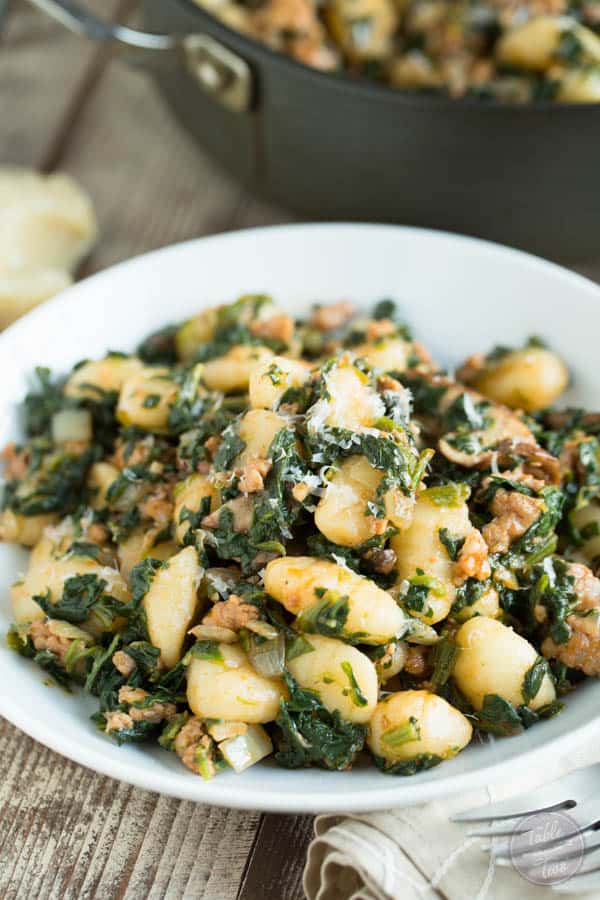 I love quick weeknight dinners just as much as the next busy person. Gnocchi is something we don't eat often but I was walking the aisles of World Market and saw packages of gnocchi so I grabbed two and figured I'd make something with them 'cause of their versatility. Trust me, if you can boil water, you can cook gnocchi. It takes like 5 minutes to cook gnocchi :) I don't do the homemade gnocchi – I could, I just don't have the time and I'm sure you don't either, so grab yourself a package of pre-made gnocchi and get this dish on your dinner table!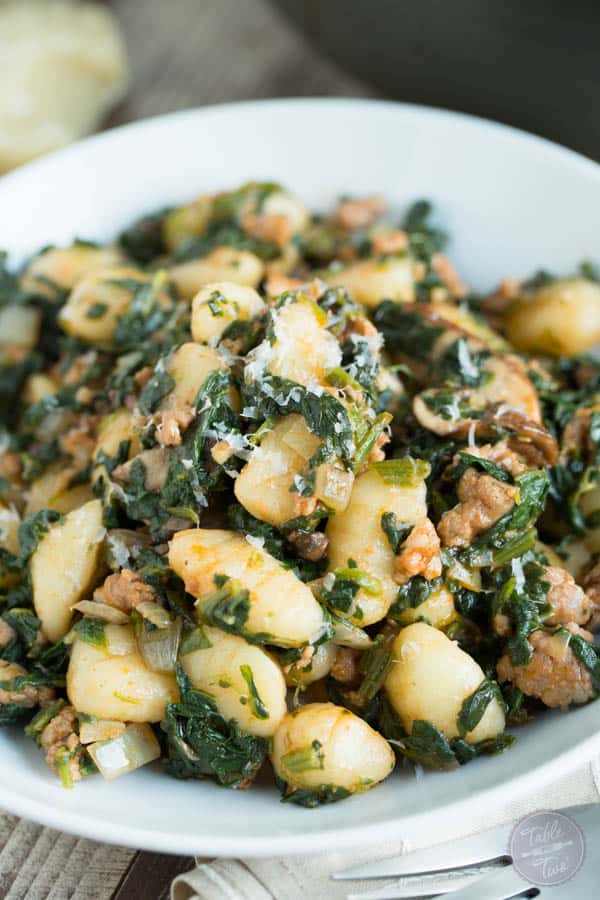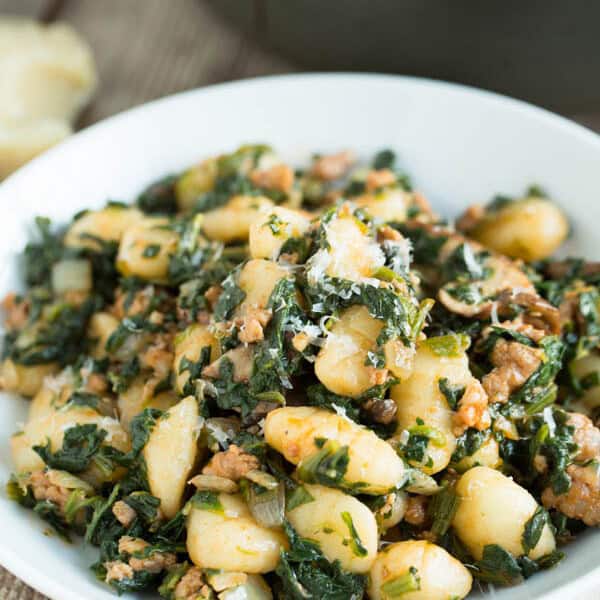 Spicy Sausage, Spinach, and Mushroom Gnocchi
This 15-minute gnocchi is SO flavorful and easy to whip up that you'll want it on your dinner table multiple times a week!
Ingredients
1: 16

ounce

package of potato gnocchi

3/4

pound

spicy pork sausage

1

diced onion,

about 3/4 cup

8

ounces

of baby portobello mushrooms,

sliced

10

ounces

of chopped

frozen spinach (thawed and excess liquid squeezed out)

1/2

teaspoon

Kosher salt

1/4

teaspoon

ground black pepper

Freshly grated parmesan cheese,

to top
Instructions
Bring a pot of water to a boil and follow the instructions on the gnocchi package. Drain well once done.

In the meantime, brown sausage in a skillet over medium high heat and break it into smaller pieces with a wooden spoon. Add the onion and mushroom to the skillet then saute until softened, about 5 minutes.

Toss the drained spinach in the sausage mixture.

Add the gnocchi to the skillet and gently toss to evenly distribute the ingredients. Season with salt and pepper.

Serve hot and top with freshly grated parmesan cheese, if desired.
Posted on December 08, 2014