Creamy Sundried Tomato Fettuccine
Holy wow. I'm still recovering from this weekend. I think I'm getting too old to drink like I used to in college. If you follow me on Instagram, you'll have seen that this past Saturday was my bachelorette party! I'll be blogging about it very soon! I had way too much fun and went a tad overboard on the drinking. Never again, never again.
My tolerance just isn't what it used to be. I'm seriously paying for it! I spent most of Sunday morning in bed with a raging headache and all I wanted to do was sleep. The only thing that got me out of bed was when Jason went to pick up some greasy take-out pizza from our favorite local pizza joint. It never tasted so good.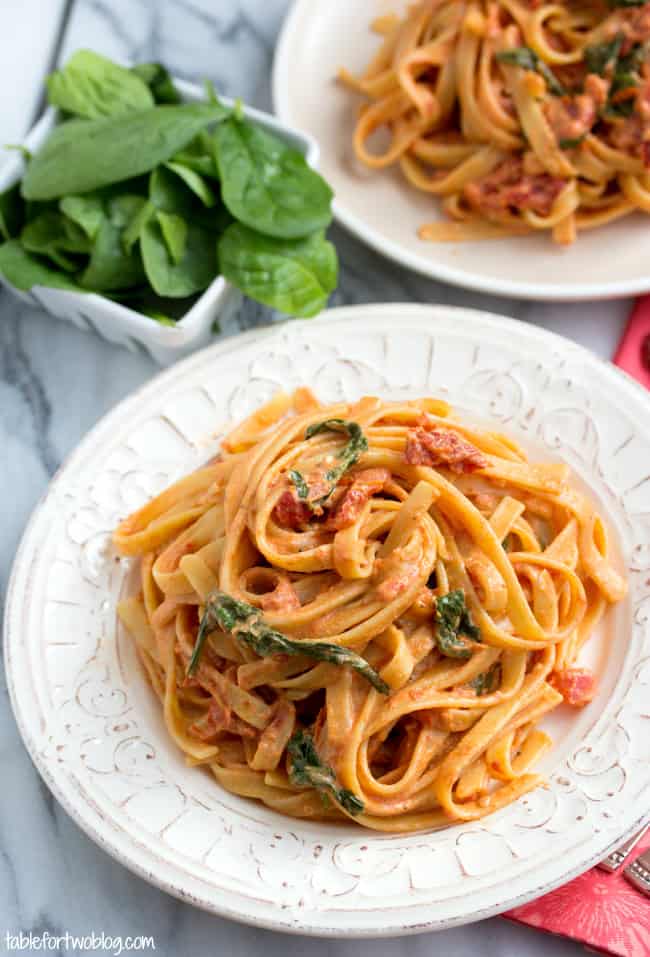 A few months ago, me and two of my girlfriends decided to meet up for happy hour at Cheesecake Factory (have you guys seen their new happy hour specials? They're kind of ridiculously awesome.
I know Cheesecake Factory is so generic, but their drink specials and the appetizers they have during happy hour are pretty well worth it). We got some drinks, some apps, and of course, we had to get some carbs. My FAVORITE pasta is their sundried tomato & chicken fettuccine. Of course it's loaded with cream and a whole 'lotta bad, but I can't ever resist it. It's a huge guilty pleasure. Plus, I feel better about the whole situation because I know I can't ever eat the entire thing so really, it isn't that bad, right?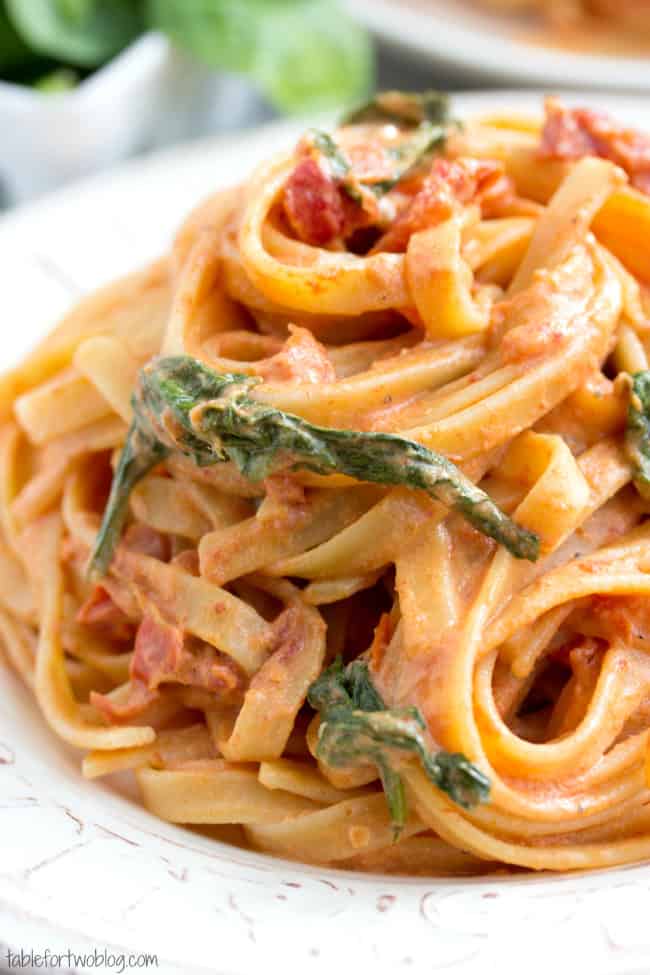 I wanted to recreate it at home and lighten it up a bit. You guys are in for a TREAT. This pasta is SO creamy and scrumptious. Jason and I were shoveling it in our mouths. Very attractive. You won't miss the boatload of cream and best of all, you won't be feeling too guilty.
Now, I didn't do the nutritional information on this so don't yell at me if you end up doing it and it's not lightened up enough to your standards. To me, it's a TON lightened up compared to what you get from Cheesecake Factory. Plus, I added in spinach (you could add kale if you wanted or whatever greens) – greens always counteract everything! ;)
Anyway, I really really hope you make this pasta dish. You will absolutely love it just as much as Jason and I did. It's very close to Cheesecake Factory's sundried tomato fettuccine (I omitted the chicken, but you can add it if you'd like) but you won't have to work two times as hard at the gym after it!
Creamy Sundried Tomato Fettuccine
A lightened up version of the Cheesecake Factory's Creamy Sundried Tomato Fettuccine pasta dish!
Ingredients
3/4

pound

dried fettuccine

1

cup

reserved pasta water

4

tbsp

olive oil

5

cloves

garlic,

minced

1/2

cup

sundried tomato halves,

sliced

1: 14.5

ounce

can of petite diced tomatoes,

drained

1

tbsp

tomato paste

2

tbsp

granulated sugar

1/2

cup

plain non-fat Greek yogurt

1/4

cup

light sour cream

1 1/2

cups

baby spinach

Salt & pepper,

to taste

Crushed red pepper flakes,

optional
Instructions
In a large stockpot, bring water to a boil, add 1 tbsp. of olive oil then add your fettuccine. Cook according to direction on the box then drain (reserving 1 cup of the pasta water) and set aside.

In a small bowl, combine the plain Greek yogurt and light sour cream, mix together with a spoon and set aside.

While the pasta is cooking, in a large skillet, add the remaining 3 tbsp. of olive oil to the skillet over medium high heat. Once the oil is heated up, add garlic and sundried tomato halves. Sauté until fragrant, about 2 minutes.

Turn the heat down to medium low and gently add the diced tomatoes, tomato paste, and granulated sugar. Stir until well-incorporated.

Swiftly whisk in the Greek yogurt and sour cream mixture. You'll want to slowly add it in but whisk fast to get it all incorporated well. After all of it has been added and combined, bring the heat up to medium high and let it simmer and thicken for about 5-7 minutes.

Season the sauce with salt and pepper, to taste, then add in the baby spinach. Once the spinach has wilted, you may add in the cooked pasta and turn off the heat.

Toss to coat the pasta. If the mixture seems too thick, this is where you can slowly add the reserved pasta water (DO NOT add the full cup all at once, pour slowly and stir and see if you need more).

You may top with crushed red pepper flakes, if desired.

Serve hot.
Recipe Notes
You must NOT omit the sour cream in this recipe. I have already done the testing and failed with just Greek yogurt in the sauce. Since the Greek yogurt contains zero (or low) fat, it will curdle as soon as you add it to the hot mixture (since we aren't taking the time to temper it). To ensure that it doesn't curdle, you must mix the sour cream with the Greek yogurt. Sour cream contains fat and this fat will prevent the Greek yogurt from curdling and separating. If you have experience cooking with Greek yogurt and are comfortable with omitting the sour cream and replacing it with all Greek yogurt, by all means, go for it. However, I cannot promise you success as I have done this twice and my sauce has separated. The only success I got was when I mixed my Greek yogurt with sour cream.
Nutrition Facts
Creamy Sundried Tomato Fettuccine
Amount Per Serving (1 serving)
Calories 540
Calories from Fat 135
% Daily Value*
Total Fat 15g 23%
Total Carbohydrates 81g 27%
Protein 16g 32%
* Percent Daily Values are based on a 2000 calorie diet.
*Nutrition facts are an estimate and not guaranteed to be accurate.
Posted on February 18, 2013