The Moistest Chocolate Mug Cake
This is the moistest chocolate mug cake you will ever have. It's not spongey or dry like other mug cakes! I personally tested this recipe FOUR times to finally achieve this amazing texture!
Updated 9/26: recipe video added below! :)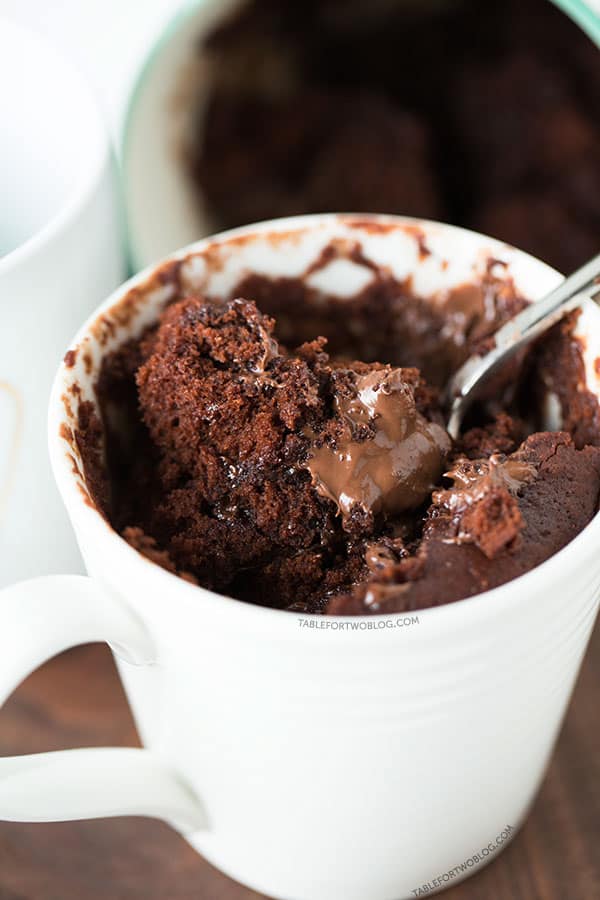 Ok, so you're probably so over mug cakes and you're probably rolling your eyes at me right now but STOP! I promise you this isn't like any other mug cake out there. I've tried a bunch of mug cakes and I hated them. I thought they were a really neat concept for a quick dessert fix but nothing would ever beat baking an entire cake or cupcake. I hated that all the mug cakes came out SPONGY and they had the grossest texture.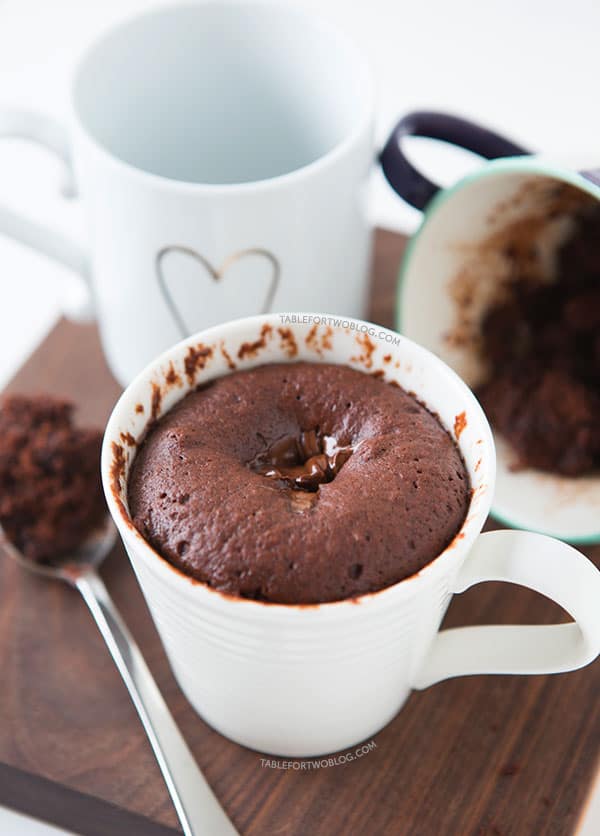 Last week, I was CRAVING chocolate like none other. It was a pretty dire situation. We didn't have any desserts in the house because I hadn't been baking and I didn't want to run out to get anything so I thought I'd give a mug cake a shot. It ended up turning into a recipe development hour because the first batch came out horrible. Like, I threw it in the trash can and it was just one lumpy sponge thing. The second one was slightly better but still really bad. The third, I switched out some ingredients and added a little bit more of some and it came out how I wanted but I knew it could've been better so on the fourth try, I finally got it to work and the exact texture I wanted.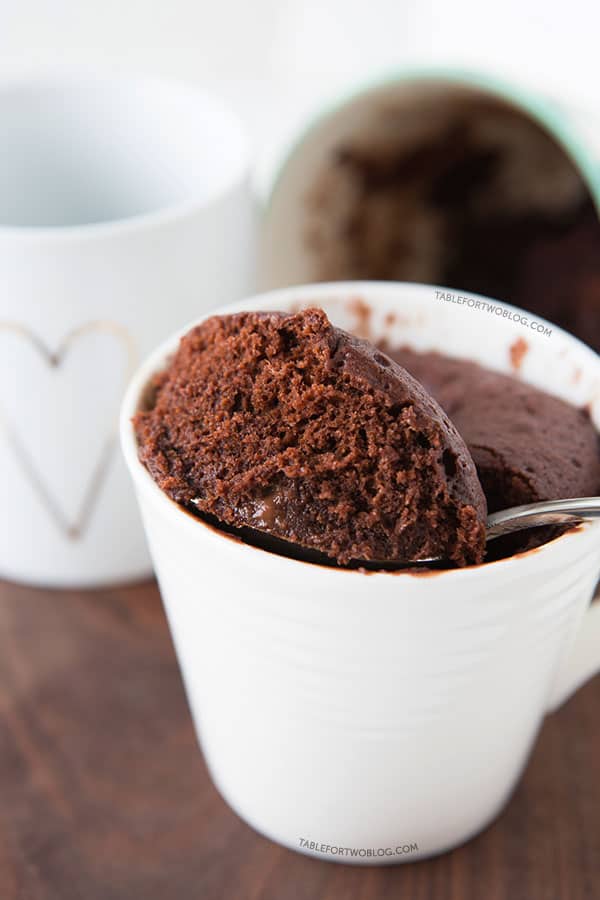 You guys, this is the moistest chocolate mug cake I've ever tasted before. I'm not joking! You have to try this and see for yourself. It's a great alternative to baking an entire pan of brownies & it's a super awesome quick fix for that chocolate craving! Jason loved it and said it tasted like brownies! Yay :)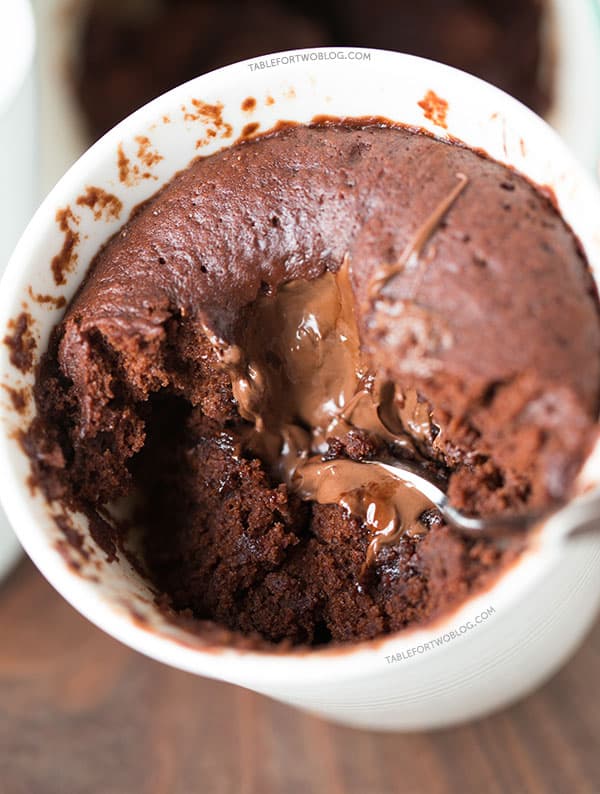 I mean seriously. How could you not want to drop everything and go make this immediately?!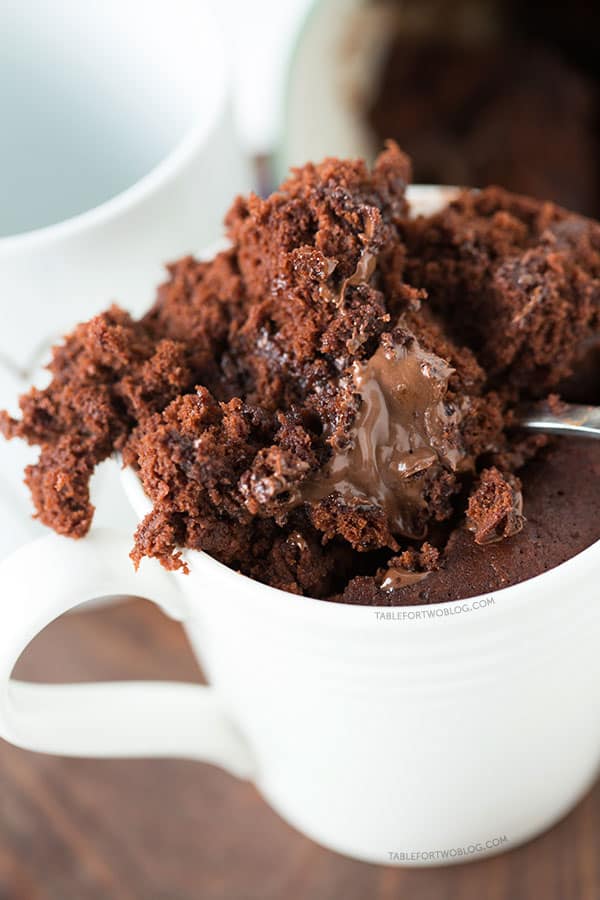 The Moistest Chocolate Mug Cake
This best and moistest chocolate mug cake you will ever have. It's not spongey or dry like other mug cakes! You will never use another chocolate mug cake recipe again!
Ingredients
1/4

cup all-purpose flour

2

tablespoon unsweetened cocoa powder

1/4

teaspoon baking powder

2

tablespoon granulated sugar (you can add 1 tbsp. more if you like it a bit sweeter)

1/8

teaspoon salt

1/4

cup + 1 tbsp. milk

2

tablespoon vegetable oil

1

tablespoon hazelnut chocolate spread
Instructions
In a medium bowl, whisk together dry ingredients.
Whisk in the milk and vegetable oil until all ingredients are combined and batter has no clumps.
Pour batter into a microwave-safe mug. Mine was a 14-ounce mug. You want enough head space for the cake to rise without pouring over.
Add 1 tbsp. of hazelnut chocolate spread in the middle of the batter. Just drop it in the middle, no need to push it down and sink it in the batter.
Place a paper towel into the microwave and set the mug on top (this is to catch any batter if your mug cake overflows).
Microwave mug cake for 70 seconds on high (PLEASE READ NOTES CAREFULLY BELOW)
Carefully remove from microwave and enjoy!
Recipe Notes
Recipe Notes
Video for the recipe can be seen by clicking here!
Please note that ALL microwaves are different therefore can yield different results and can overcook this mug cake if you aren't careful. My microwave is 950 watts and I cooked mine on 100% power for 70 seconds. Knowing this information, it may help you better judge how long to cook yours for and at what power.
You can totally omit the tablespoon of chocolate hazelnut spread if you want or use a different spread of your choice (peanut butter, biscoff, etc.). I just thought it made the cake even more moist but the cake itself is moist enough without it!
**This recipe is specifically made for the microwave. I developed it for the microwave. I don't know cook time or temperature for an oven...I'd imagine it'd be a very quick cook time at a low temp., but since I didn't test the recipe for an oven, I cannot give specifics. Sorry!
No eggs? Correct. There are NO EGGS in this recipe. Why? Egg is what makes the mug cake spongy. If you think about it, when you bake a full-sized cake, you typically use 1 or 2 eggs...for a mug cake to use 1 egg is A LOT!
Self-rising flour? I have tested this with self-rising and it does NOT work. At least I felt it didn't work because it was too spongy for me. You are more than welcome to use it, however, please keep in mind that I don't recommend this method.
If you're looking for a VANILLA version, here is the link to The Moistest Vanilla Mug Cake recipe!
Posted on February 24, 2014