Move over Wendy's. I've got a fresh new take on the hot honey chicken sandwich. A crunchy, golden brown piece of fried chicken smothered in spicy honey is sandwiched between brioche buns and cooled down just the right amount by a crisp, refreshing slaw. Crunch. Crunch. Crunch. It's the perfect bite.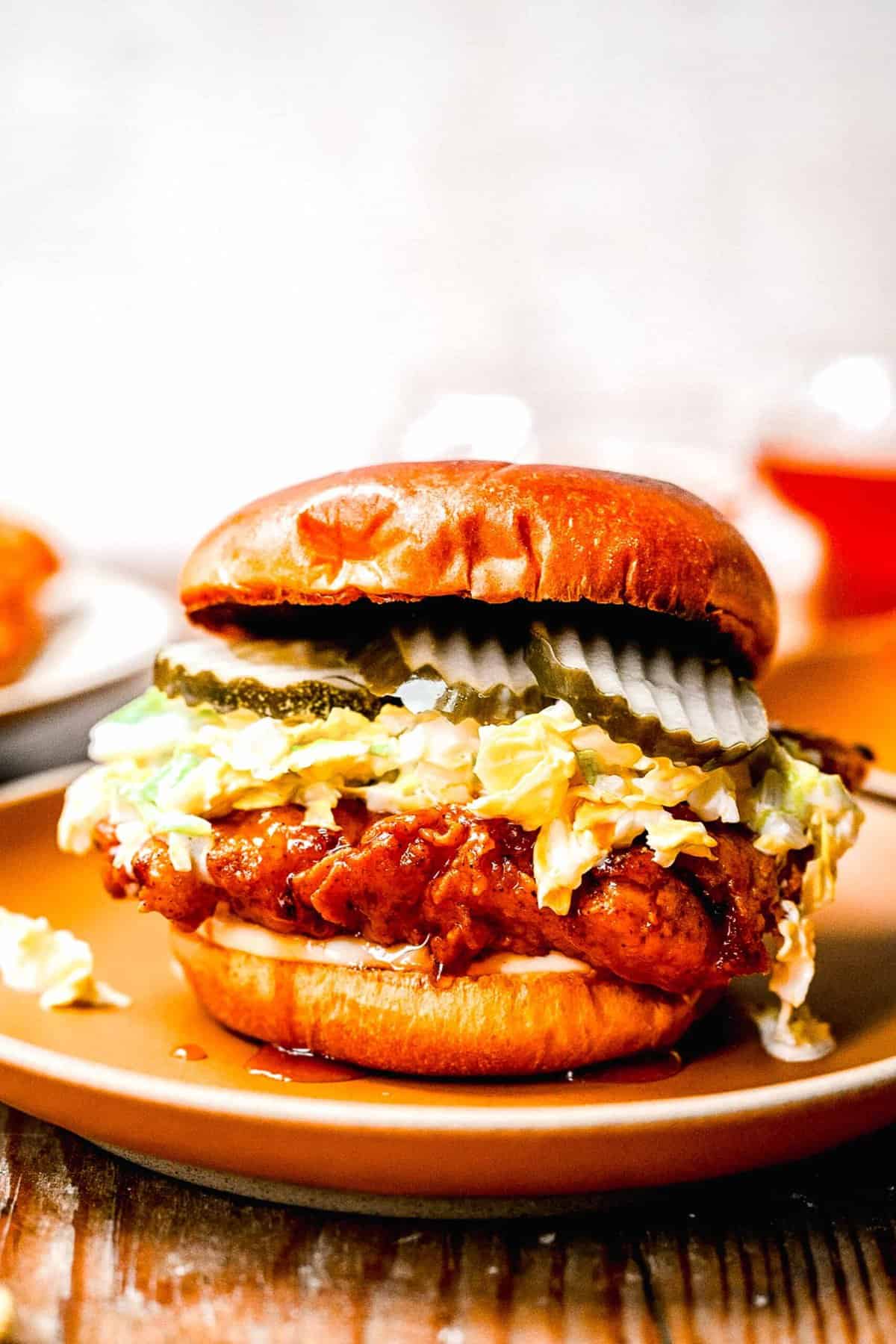 A fried chicken sandwich is a timeless classic. There have been so many different takes on it over time but this is one of my favorites. My hot honey chicken sandwich packs such a punch of flavor and has a crunch to it that will have you dreaming of the next time you get to see it on your plate.
Spicy honey coats pieces of breaded and fried chicken breast in this hot honey chicken sandwich. The mayonnaise based dressing that pulls together the crunchy slaw balances the chili flavor in the hot honey beautifully. Add a little sweetness from the honey itself and you've got yourself a sandwich that delivers a symphony of flavors that play beautifully together. Not too sweet. Not too spicy. Just right.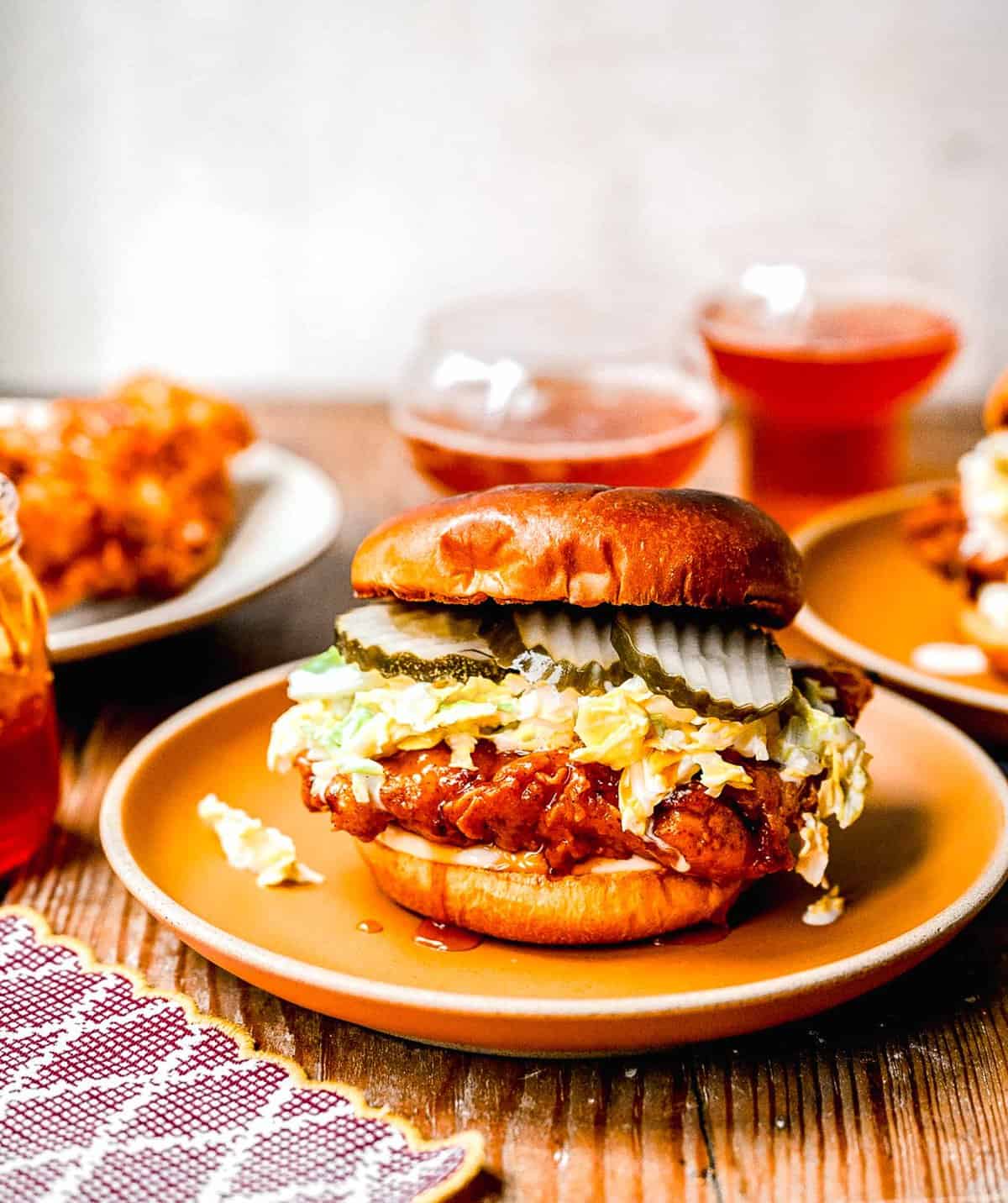 What is a Hot Honey Chicken Sandwich?
A hot honey chicken sandwich is a concept inspired by the famous fast food chain, Wendy's. Their version is a flavor-packed, crunchy fried chicken sandwich consisting of a fluffy bun and golden brown fried chicken coated in a wow-worthy spicy honey. The sandwich is made complete by the addition of bacon, pepper jack cheese, and pickles.
My sandwich has the same backbone (delicious fried chicken coated in spicy honey on a yummy bun) but I decided to top it a little bit differently. I skipped the bacon and the cheese and opted for a crunchy, refreshing slaw.
Why You'll Love this Recipe
This flavor-packed sandwich is sure to land this recipe a place on your list of favorites. Here are just a couple of things that make it so special.
BIG flavor. Sweet, spicy, savory. Yum! There is so much going on in this sandwich that your taste buds might just explode with excitement. Prepare yourself.
Balanced. Sure this is a spicy sandwich. The "hot honey" in the title gives it away. The great thing about it though is that the spice is beautifully tempered by the sweetness of the honey and the cool neutrality of the slaw. It makes for the perfect combination.
Crunch. I don't know about you but I love a good crunch when I bite into my fried chicken. This sandwich delivers that and more with the addition of a crunchy slaw.
Like Wendy's…but better for you. Fast food is something we all crave every once in a while. It's delicious but, let's face it, it's not always the best for you. This hot honey chicken sandwich brings you all of the satisfaction without any of the mystery additives often found in fast food.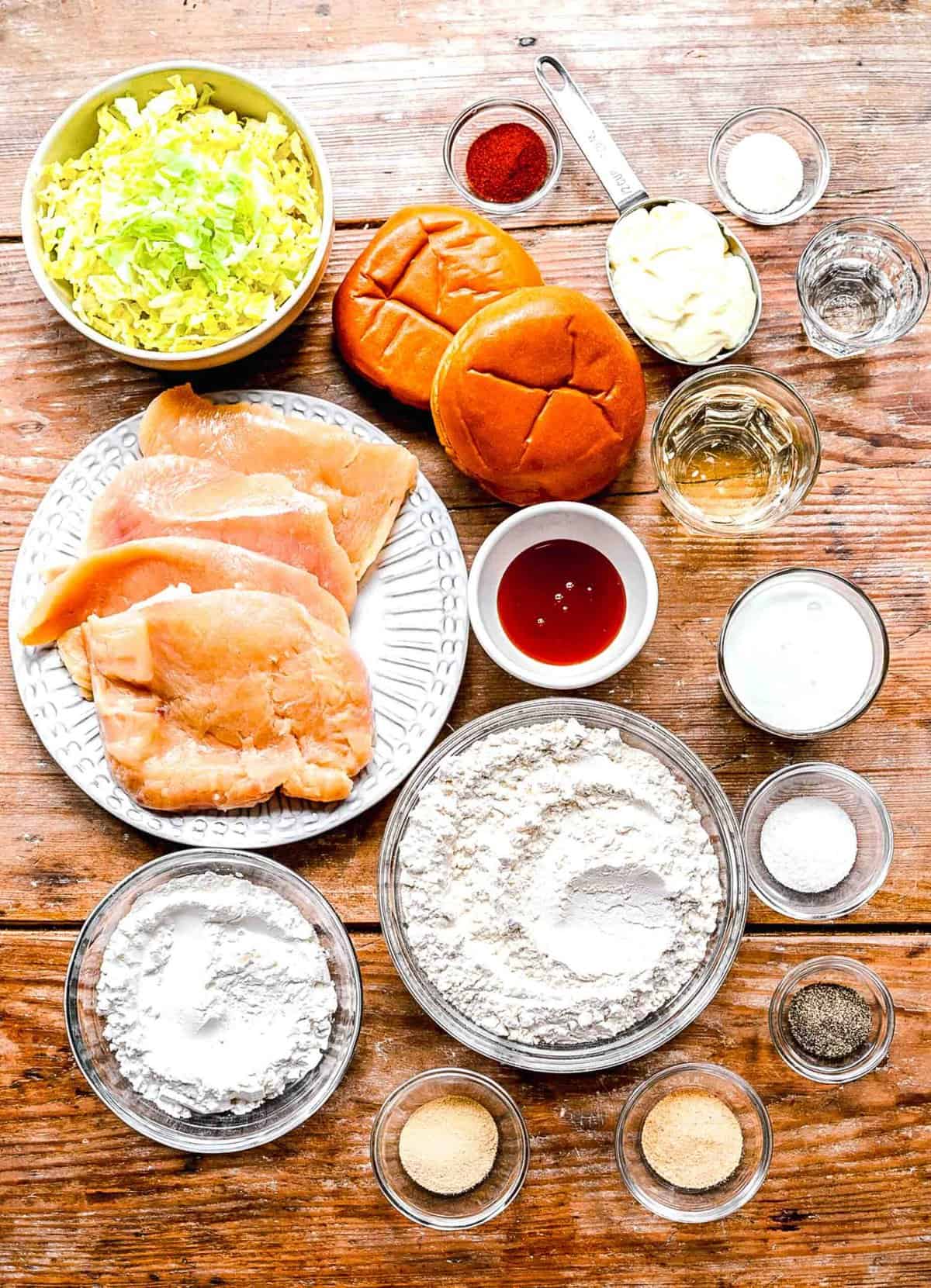 What You'll Need
Time to hop in the car and get yourself to the grocery store! This is a recipe you don't want to miss. Here's a list of what you will need. Don't forget to scroll to the recipe card below for detailed measurements.
Buttermilk – The acidity of the buttermilk helps to tenderize the chicken and imparts a beautiful flavor.
Pickle juice – This is optional. It lends a nice flavor to the chicken and makes it extra tender and juicy but you will still end up with a successful sandwich without it.
Chicken breasts – They should be boneless and skinless. Look for smaller chicken breasts. Larger ones will overpower the sandwich and make it a little too tricky to eat. If you can't find small chicken breasts, you can cut larger chicken breasts in half or use chicken thighs instead.
Vegetable oil
Flour coating
All-purpose flour – Feel free to use your favorite 1:1 gluten-free flour instead.
Cornstarch
Smoked paprika
Garlic powder
Onion powder
Kosher salt
Pepper
Easy Cabbage Slaw (Optional)
Green cabbage – Shredded. You can often find shredded cabbage at the grocery store if you want to make things a little easier on yourself.
Mayonnaise
White vinegar
Granulated sugar
Kosher salt
For serving
Hot honey – There are some great storebought versions on the market (we like Mike's Hot Honey) but feel free to make your own. Just simmer 1 cup of honey and 2-3 tbsp chili flakes for a few minutes before removing it from the heat and allowing the flavors to meld for about 10 minutes. I suggest straining the honey in order to remove the red pepper flakes.
Brioche buns – You will want to toast these.
Mayonnaise
Pickles – If you are short on time, feel free to skip the slaw and let the pickles shine as the main topping.
How to Make a Hot Honey Chicken Sandwich
Just a bit of marinating, dredging, frying, and mixing up a quick slaw. That's all it takes. Here's an overview of how to make these crunchy chicken sandwiches. Make sure to scroll to the recipe below for more detailed instructions.
Pound the chicken pieces to even thickness.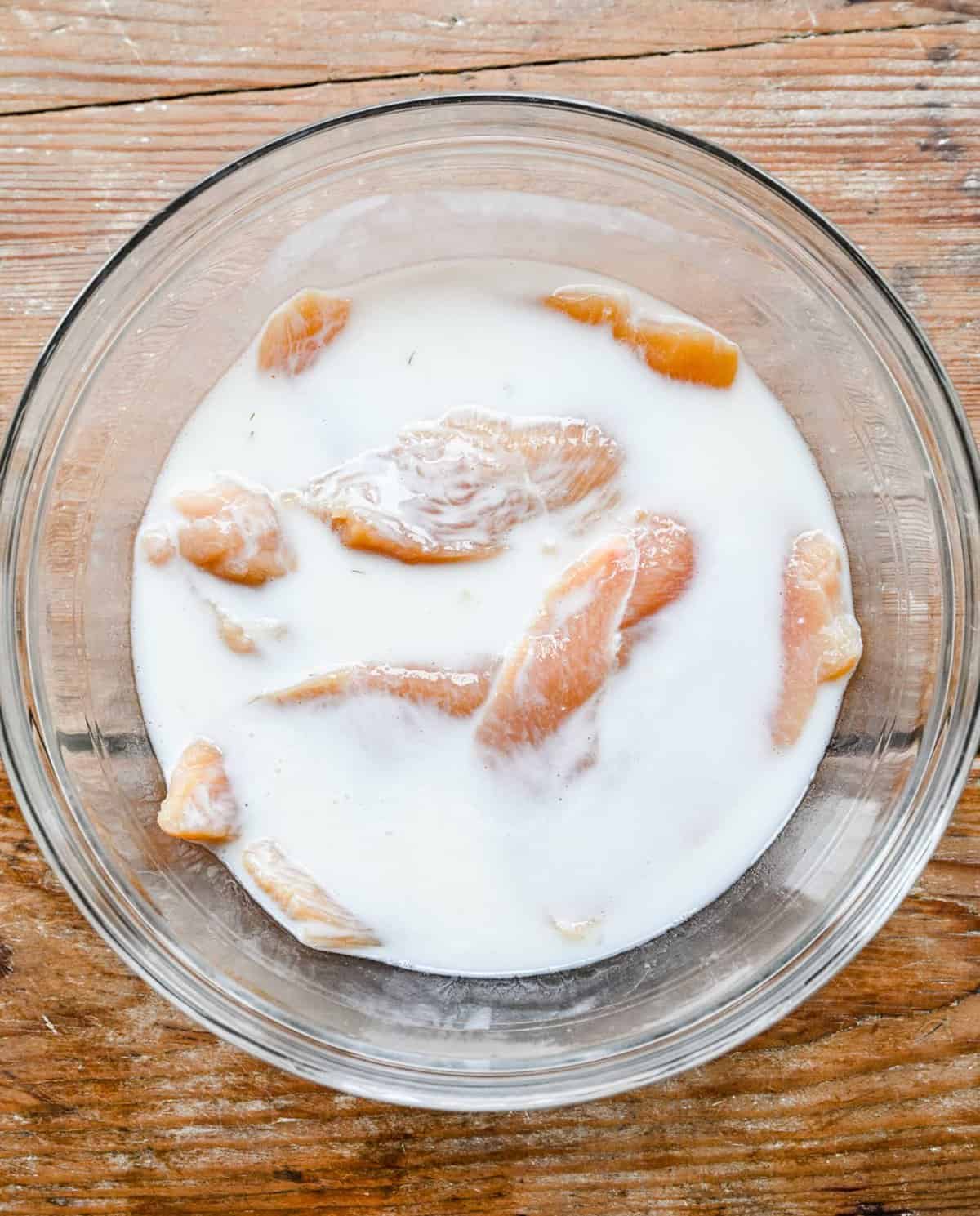 Marinate the chicken. Mix together the chicken, buttermilk, and pickle juice and refrigerate covered for at least 4 hours.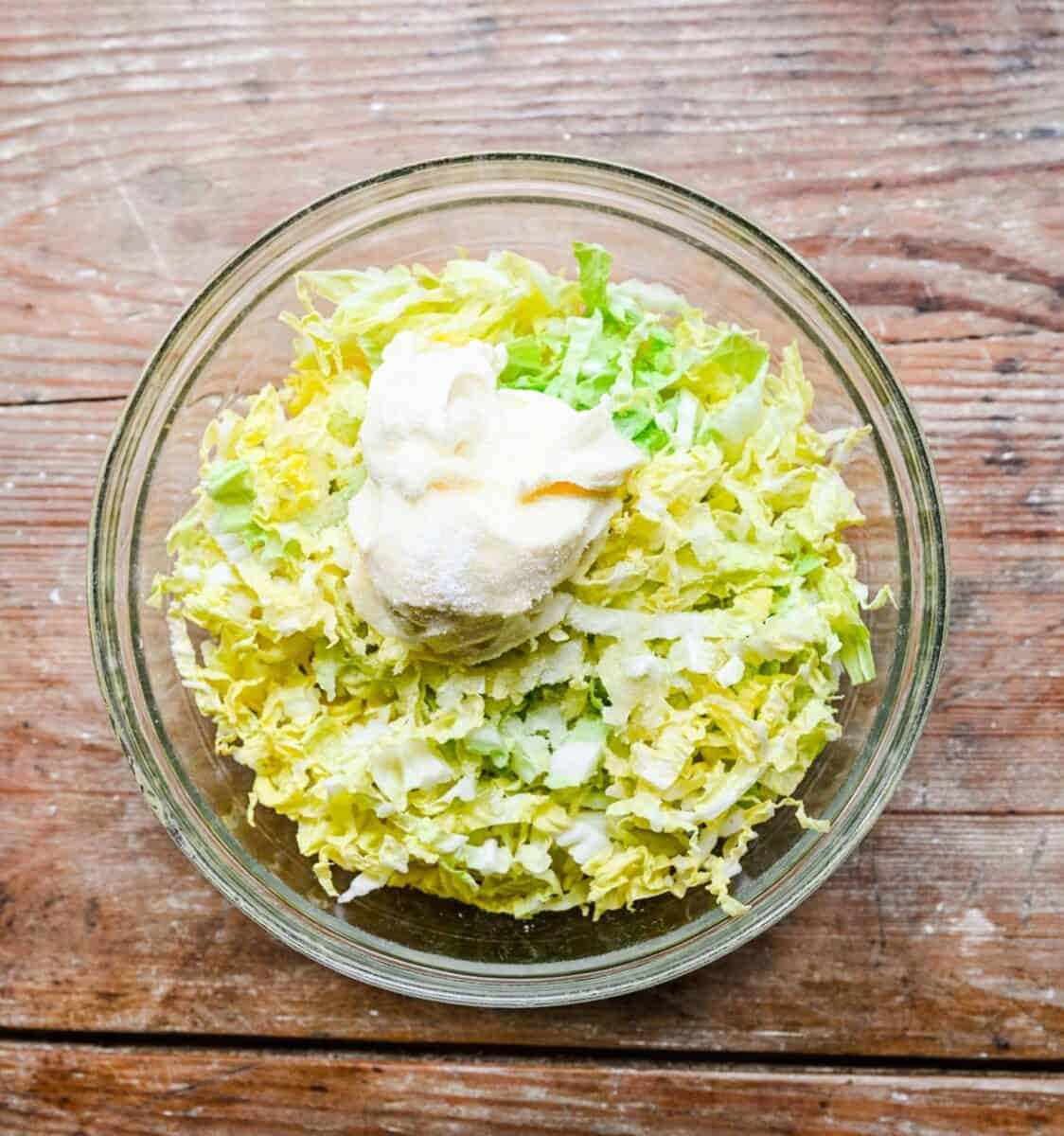 Make the slaw. Mix together the cabbage, mayo, vinegar, sugar, and salt and place in the refrigerator.
Heat the oil to 315˚F in a large cast iron pan.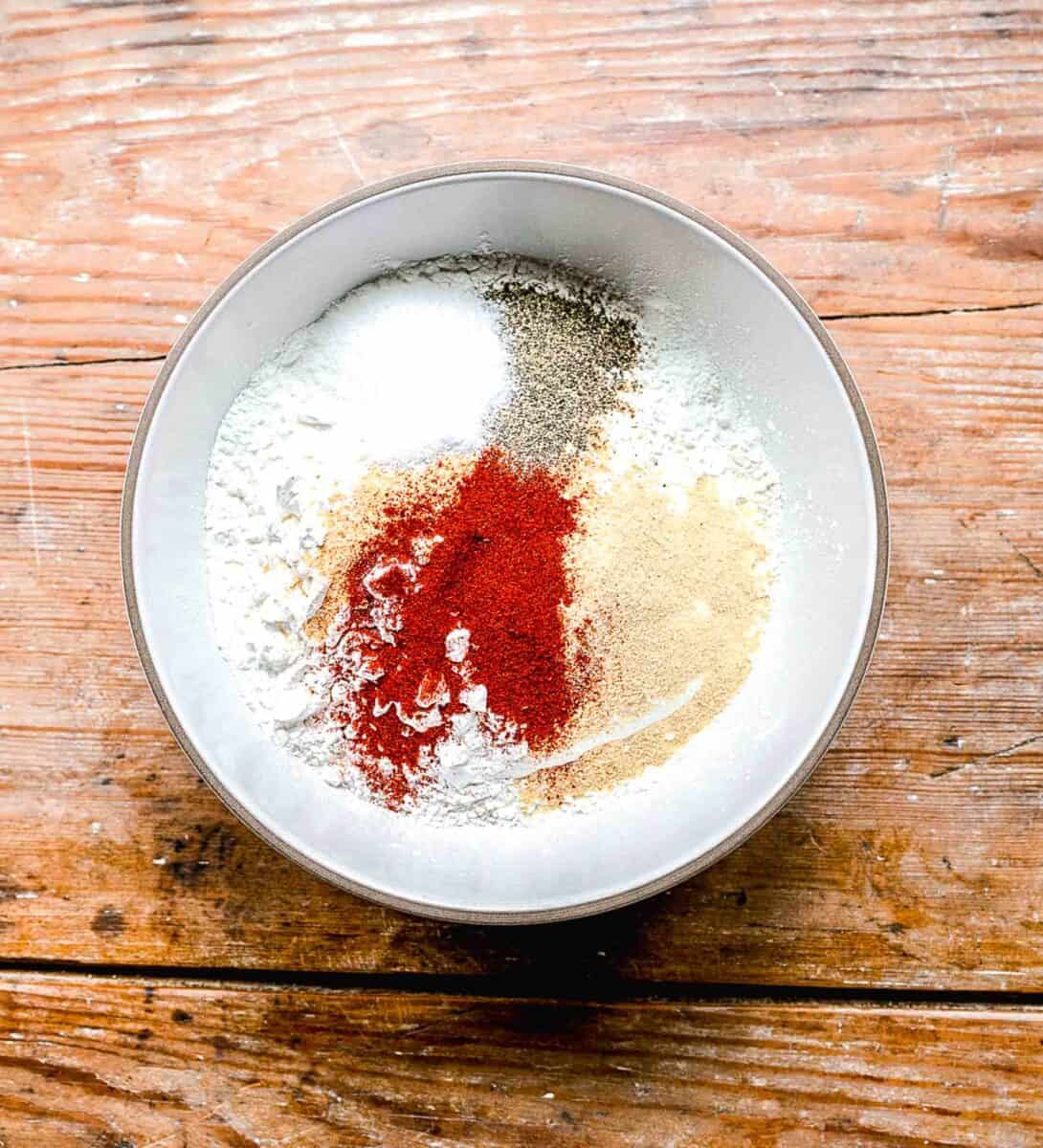 Make the flour coating. Whisk together the flour, cornstarch, paprika, onion powder, garlic powder, salt, and pepper.
Dredge the chicken in the flour mixture, dip it in the buttermilk mixture, then dredge again.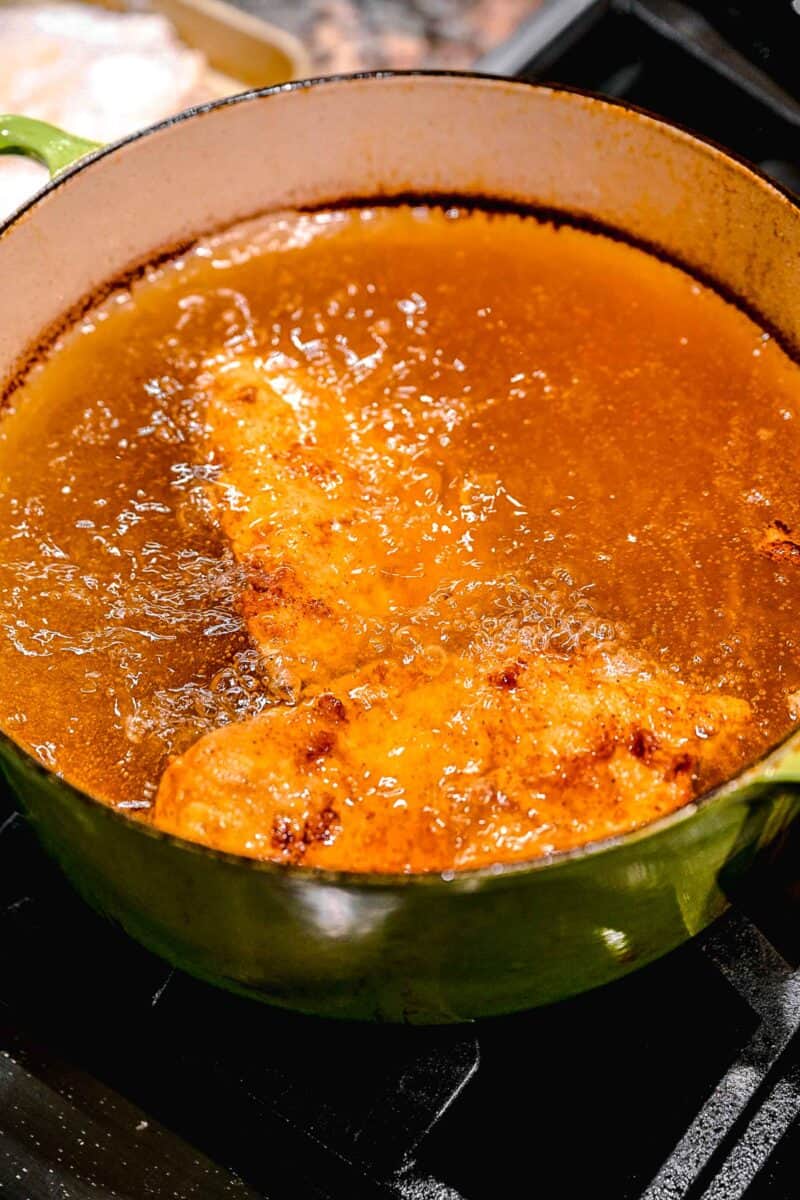 Fry the chicken for 6-8 minutes. Do this in batches.
Rest the chicken on a cooling rack to drain any excess oil.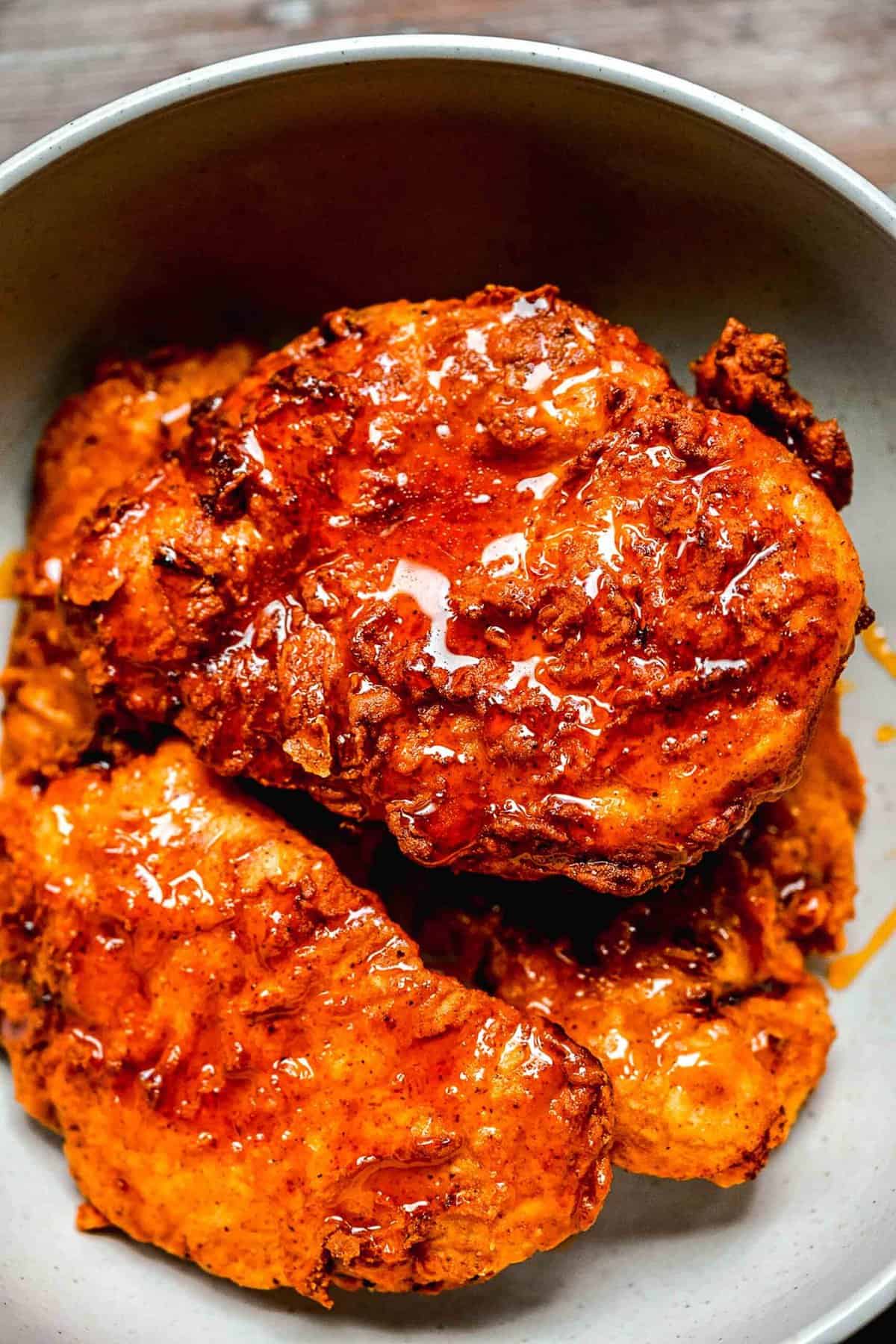 Coat with honey. In a large bowl, combine the chicken and hot honey and toss to coat.
Assemble the sandwiches. Toast the buns and spread them with mayonnaise. Top with the fried chicken, slaw, and pickles. Close the sandwich and dig in.
Tips for Success
Set yourself up for the perfect hot honey chicken sandwich by following these simple tips and tricks from yours truly.
Don't skimp on the marinating time. Giving the marinade time to work on the chicken will end you with a much more tender, flavorful, juicy bite. Allow the chicken to marinade for at least 4 hours. If you have time to let it marinade overnight, that's even better.
Get the oil temperature right. Oil that is too hot will burn the breading before cooking the chicken all the way through. Oil that isn't hot enough will seep into the breading, ending you with a soggy, greasy mess. So try to get the oil to the perfect 315 degrees F. A candy thermometer can be very helpful here.
Fry in batches. It can be tempting to try to fry the chicken all at once. Don't do it. Crowding the oil will lower the temperature, making it so that the chicken can't fry up properly. Another one-way ticket to a soggy, greasy mess.
Give the slaw time to sit. After tossing the slaw together, give it some time to soak in the mayonnaise mixture. It will impart flavor and soften the cabbage just the right amount.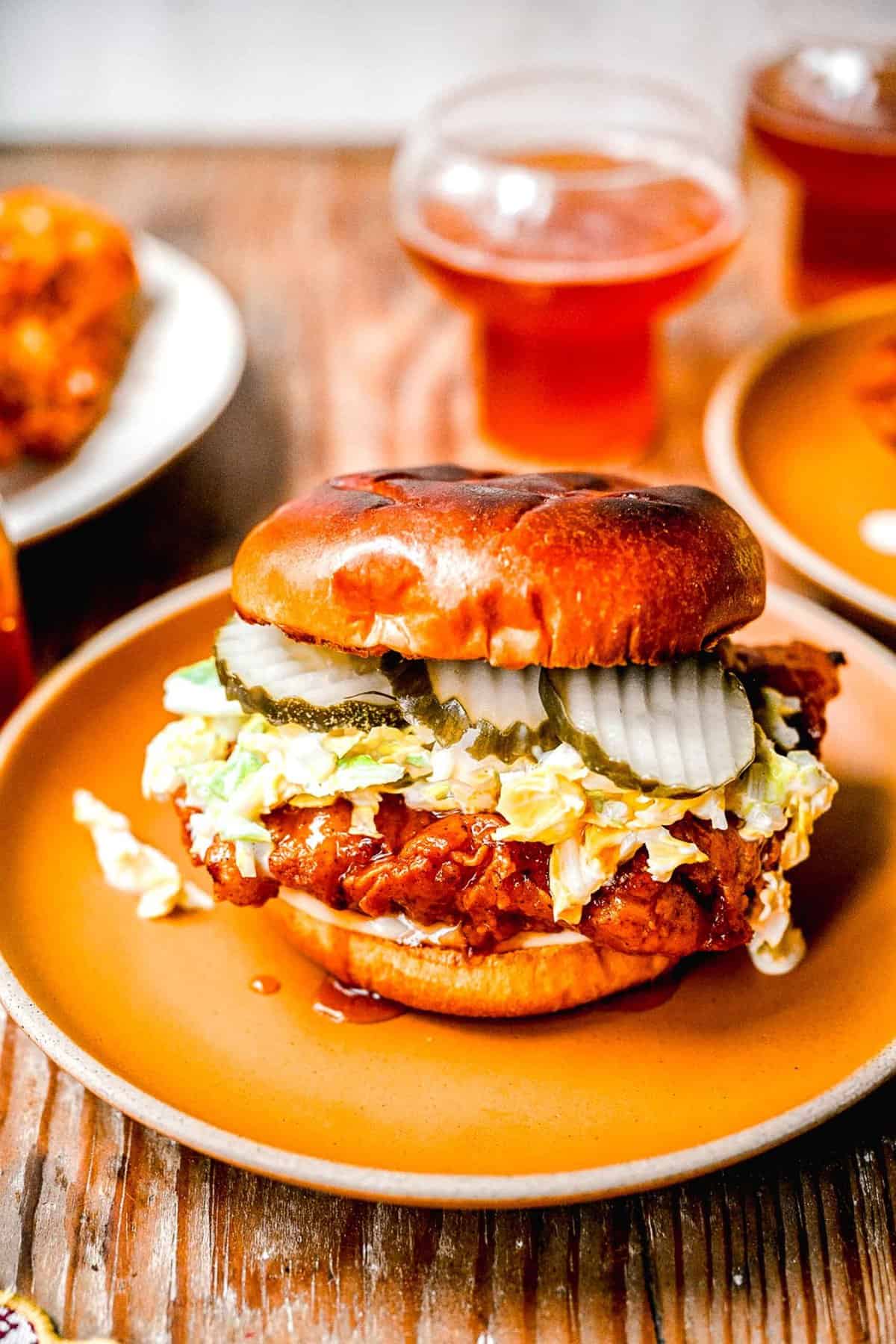 Variation Ideas
The base of this sandwich is strong. Crunchy fried chicken on a brioche bun? Yes, please. It provides the perfect canvas for experimentation. So if you aren't a hot honey fan or if you're just looking to play around in the kitchen a bit, here are some fun variations on this recipe.
Use a different sauce. It will no longer be a hot honey sandwich but it will still be delicious. Try a classic barbeque sauce or ranch.
Add an Asian flare. Swap the hot honey out for teriyaki sauce or a sweet chili sauce and make an Asian slaw. Try the slaw from these Slow Cooker Korean Tacos.
Add bacon. Craving the Wendy's version? Crisp up some bacon and throw it on top of the fried chicken. Delicious.
Think about cheese. Wendy's version of this sandwich has not only bacon but also pepper jack cheese. Feel free to skip the slaw and add a thin slice or two of your favorite cheese to the sandwich. It should melt beautifully over the hot chicken.
Skip the bun. The fried chicken, slaw, and hot honey are perfectly satisfactory on their own. So for those of you trying to cut out a carb or two, skip the bun. I promise you'll be just as satisfied.
What Goes With This Sandwich?
Between the protein from the chicken, the carbs from the bun (and the flour coating), and a bit of greenery from the slaw this sandwich is a meal in and of itself. If you'd like to pair it with a fun side or two, however, here are some of my suggestions.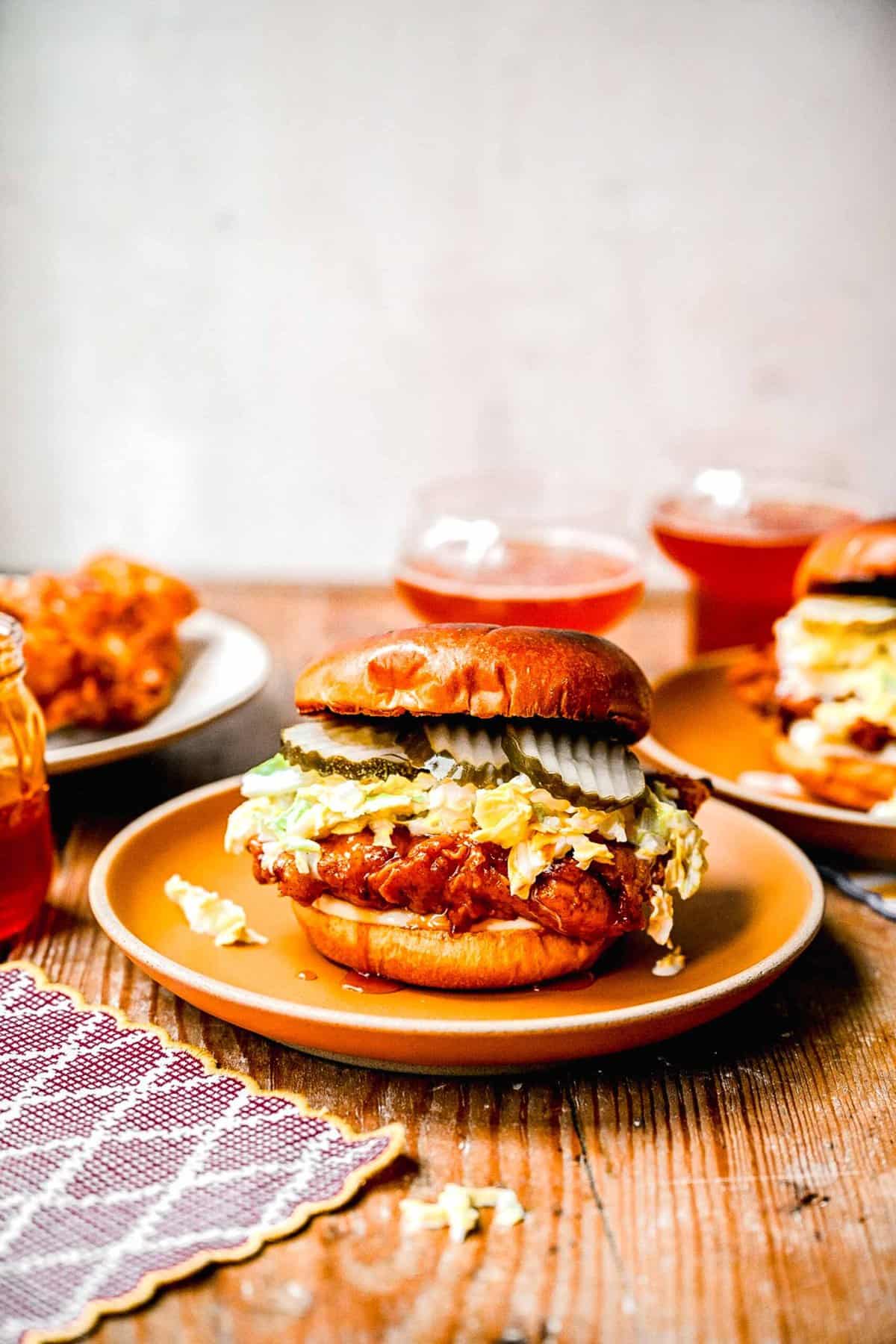 How to Store and Reheat Extras
Allow the fried chicken to cool before sealing it in an airtight container. Place the slaw in a separate airtight container. Store both components in the refrigerator for up to 3 days. Keep in mind that the chicken will lose some of its crunch as it sits and the slaw will get a bit soggy. So it is best to enjoy as soon as possible.
When it's time to serve, preheat the oven to 400 degrees F. Arrange the chicken on a wire rack over a baking sheet and bake for 15-20 minutes or until heated through. When the chicken is warm, assemble the sandwiches and you're good to go.
More Tasty Sandwich Recipes to Try
Sandwiches are such a convenient way to get a meal in. They pretty much have everything you need all between two slices of bread. I love this hot honey fried chicken sandwich but here are a few more of my favorites. Try them!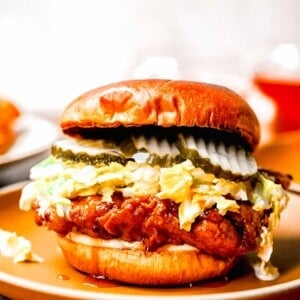 Hot Honey Chicken Sandwich
Crunchy fried chicken tossed in spicy honey is served in a brioche bun with a cool, crunchy slaw. Yum!
Save
Saved!
Rate
Print
Ingredients
6

ounces

buttermilk

3

ounces

pickle juice

,

optional

24

ounces

boneless skinless chicken breasts (about

4

breasts, 6 ounces each),

pounded thin

Vegetable oil
Flour coating:
2

cups

all purpose flour

⅔

cup

cornstarch

½

tablespoon

smoked paprika

2

teaspoon

garlic powder

2

teaspoon

onion powder

2

teaspoon

kosher salt

1

teaspoon

pepper
Easy cabbage slaw:
4

cup

thinly sliced green cabbage

½

cup

mayonnaise

2

tablespoons

white vinegar

½

tablespoon

granulated sugar

¾

teaspoon

kosher salt
For serving:
½

cup

hot honey

4

brioche buns

,

toasted

4

tablespoons

mayonnaise

Pickles
The default measuring system for this website is US Customary. Unit conversions are provided for convenience and as a courtesy only. While we strive to provide accurate unit conversions, please be aware that there may be some discrepancies.
Instructions
Pound each chicken breast to an even thickness (about ½" thick).

Add chicken, buttermilk and pickle juice to a large bowl and toss to coat. Cover and refrigerate for 4-6 hours (or preferably overnight).

To make the slaw, toss together the cabbage, mayo, vinegar, sugar and salt until well combined. Cover and refrigerate until ready to serve.

Heat 3 inches of vegetable oil in a large cast iron pot to

315

°F

While the oil is heating, whisk together flour, cornstarch, paprika, onion powder, garlic powder, salt and pepper in a large bowl.

Dredge each chicken breast in flour mixture, then return to buttermilk mixture, then dredge a second time in flour mixture. Repeat with remaining chicken.

Fry chicken in 2 batches, cooking for 6-8 minutes, until golden brown and chicken is cooked through (

165

°F

internal temperature).

Transfer to a cooling rack over a baking sheet lined with paper towel to soak up any excess grease. Once chicken is done, transfer to a large bowl and toss with hot honey until well coated.

Toast the buns and spread 1 tablespoon mayo on the bottom of each bun. Top with a fried chicken cutlet, then cabbage slaw, pickles and other half of the bun.
NUTRITION FACTS
Serving:
1
sandwich
|
Calories:
1347
kcal
|
Carbohydrates:
153
g
|
Protein:
56
g
|
Fat:
57
g
|
Saturated Fat:
18
g
|
Polyunsaturated Fat:
20
g
|
Monounsaturated Fat:
9
g
|
Trans Fat:
0.1
g
|
Cholesterol:
275
mg
|
Sodium:
2830
mg
|
Potassium:
959
mg
|
Fiber:
4
g
|
Sugar:
41
g
This website provides approximate nutrition information for convenience and as a courtesy only. Nutrition information can vary for a variety of reasons. For the most precise nutritional data use your preferred nutrition calculator based on the actual ingredients you used in the recipe.